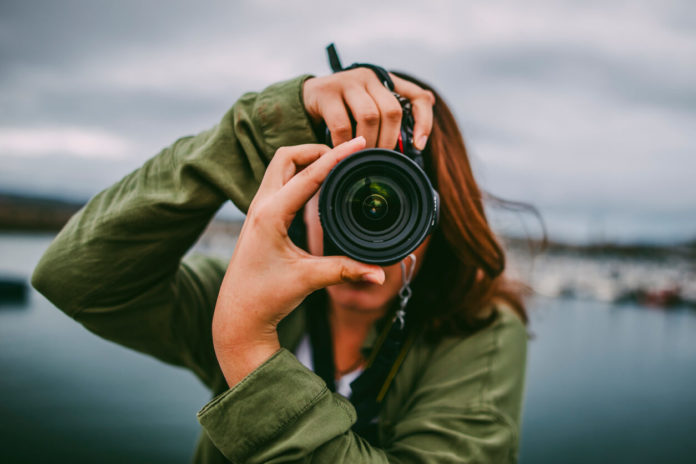 Looking to find an amazing DSLR camera for under $1000? Great! I am gonna take you through 10 different options of camera all below $1000. Each option is a great model from well-known brands like Nikon, Fuji, Pentax, Sony and Olympus.
First of all if you're just getting into photography there are probably cheaper options for your new found interest, but if you have higher budget then fantastic! Read on!
Photography allows you to capture and render the world in a way you understand and appreciate more than most. This beautiful art is fulfilling, and it is no wonder many people pick it up either as a hobby or profession. The only catch here is that you are only as good as your gear, with most equipment very pricy, we bring to you the best cameras under 1000.
The most popular shooters that offer the best aesthetics and different cool modes to work with are the mirrorless interchangeable lens cameras (MILCs) and the Digital Single Lens Reflex cameras (DSLRs) which also use interchangeable lenses. In most cases, entry level photographers are torn between choosing a mirrorless camera or DSLR camera. This is the reason why we have pitted them against each other below.
DSLR vs Mirrorless
Firstly what is a DSLR and how is it different from a Mirrorless one! Here is our review of the best Mirrorless ones under $1000.
Weight and Size
The DSLR cam is operated when light passes through the lens and hits a mirror at a 45-degree angle. The light is then shot onto the viewfinder; at this point, the user can inspect the image with the viewfinder to see exactly what the lens sees at the time. There is no digital processing involved, unlike the mirrorless options. On a mirrorless camera, there are no mirrors; the light goes to the sensor, where it is processed and displayed on the electronic viewfinder (EVF) or LCD screen. The mirrorless cameras have fewer components; this makes the mirrorless camera much smaller and lighter when compared to the stocky DSLR shooters.
Lenses
The DSLR range has more reach as the system is much older than the newer mirrorless technology. This means using a DSLR camera would give the user access to more equipment to work with. This does not mean mirrorless cams do not have lens coverage; they have a lens that can cover many options, with many more in development.
Viewfinders
On the DSLR you are treated to the traditional optical viewfinder, which is favored to the electronic viewfinder you would find on mirrorless cams. This is because the optical viewfinder has a more natural, look, it is lag-free and is in most cases clearer. Although some mirrorless cams offer state of the art electronic viewfinders, pros prefer to work with the tested and trusted optical viewfinder. An advantage to using the EVF version is that the larger LCD screen can often show additional information about the image.
Autofocus
The DSLR has a clear advantage here, although not as clear as it used to be or compared with the newer mirrorless cams. This is because mirrorless cams can sometimes lag when being used. The cams can be weak in live view but are faster at tracking subjects.
Continuous Shooting
This is one aspect that the smaller mirrorless cameras outlast the stocky DSLRs. The design o mirrorless cams make them achieve higher shooting speeds. Cheaper mirrorless models have been seen to beat the speeds of some of the best DSLR cameras. The mirrorless cams are better at this because they have fewer moving parts.
Video
DSLR shooters used to reign supreme in this category but are not being taken over by mirrorless cams, with most of them featuring 4k videos, with the exception of the cheaper models. The shift in recent years has been due to mirrorless cams offering various video features that most can't match.
Features
DSLR entry level cameras offer manual controls, with the mirrorless cams being able to match all the features. In this category, it is hard to split the two, even harder to pick out which is the best photographers camera as they both do exceptionally well. So if you are looking for a range of fun features to play with, both will do just as well.
Best DSLR cameras under $1000
If you are contemplating buying a new camera, the following are the coolest on the market and should guide your decision making. Enjoy!
1. Canon EOS 4000D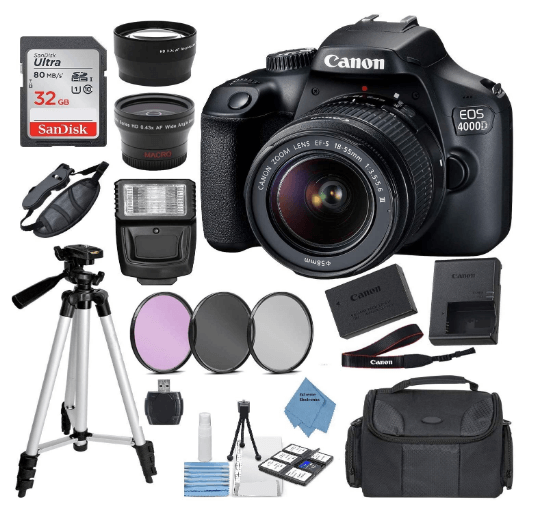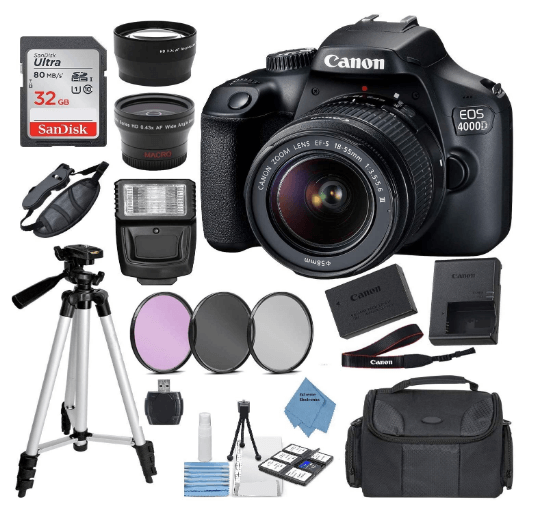 The Canon EOS 4000 is an advanced digital camera that incorporates the method of a single-lens camera and the optics with a digital imaging detector. It features an aps c sensor, continuous shooting, as well as an autofocus system. The reflex technique makes a unique and important difference between DSLR and other digital cameras. It is indisputable that this camera is the best pick for under 1000. This item consists of a lens mount, focusing LCD screen, pentamirror, condenser lens and others. The various engineered components of this camera are made of quality materials that enhance its durability. Lastly this device comes highly recommended because of all these excellent features. Also, the weight and budget price make it a good travel camera.
2. Canon EOS Rebel T7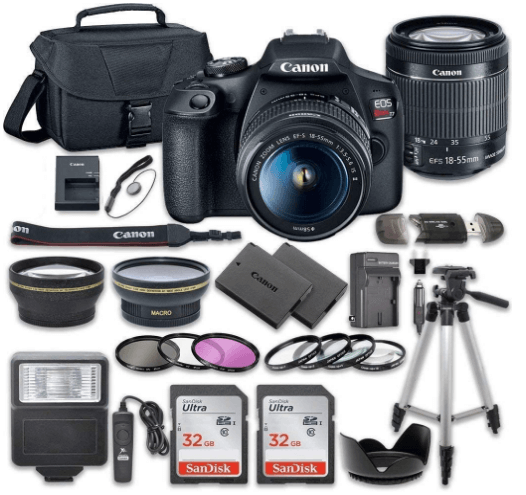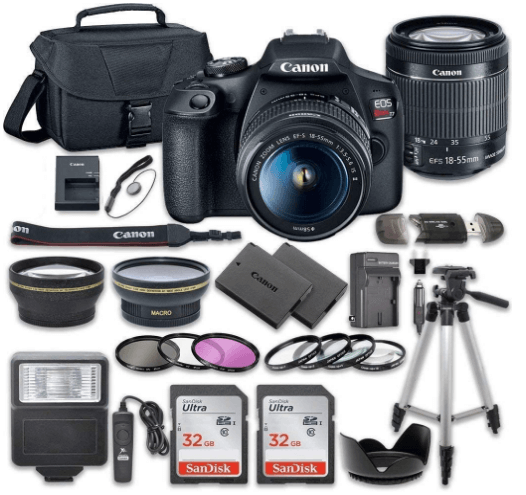 For better picture quality and control over images from compact cameras, Canon EOS Rebel T7 is above. The T7 detail set is wide enough for those that want to improve their photography skills, and it is simplified for those not familiar with the camera use. This camera is one of the first DSLR under $1000 whose image quality is evidence of standard. This camera is structured such that it provides a 1-touch control to access most relevant shooting parameters like the low light adjuster and autofocus system. Furthermore it is lightweight and the grip covered in rubber for a better handhold by the user.
3. Canon Digital SLR Camera Kit [EOS Rebel T6]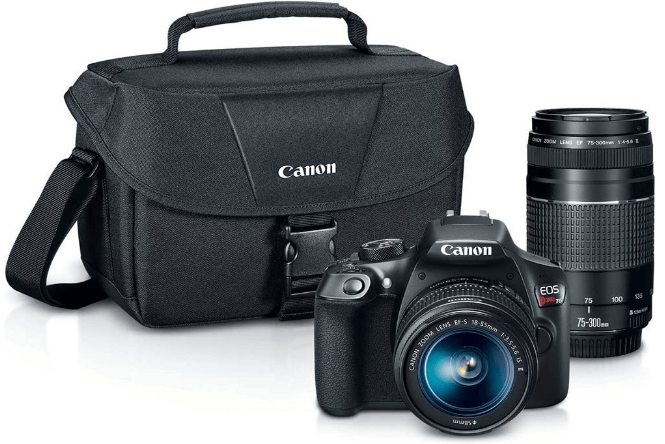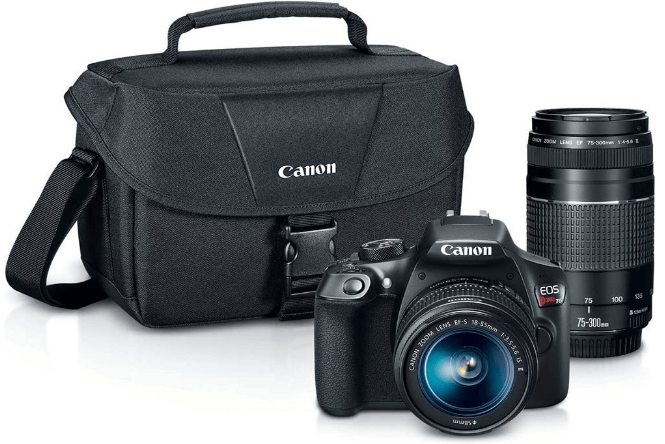 Canon EOS, Rebel T6 camera, combines the single-lens reflex technology with an autofocus system and 18MP CMOS autofocus sensor to capture high-quality pictures and achieve better image stabilization than most Canon cameras under 1000 dollars (cheaper Canon options). In addiction it has a DIGIC 4+ Image processor that speeds up processing and delivers great shots even in low light, thanks to the wide aperture of 100-6400 1SO.
The aps-c sensor, LCD screen, the image stabilization properties and colorful images produced by the EOS Rebel undeniably makes it stand out as one of the best Canon options under 1000. Finally there is a dial to choose between portrait or landscape view which works perfectly as a high-quality webcam. This is why you can connect the cameras beta software to Mac or Windows PC.
4. Nikon D3500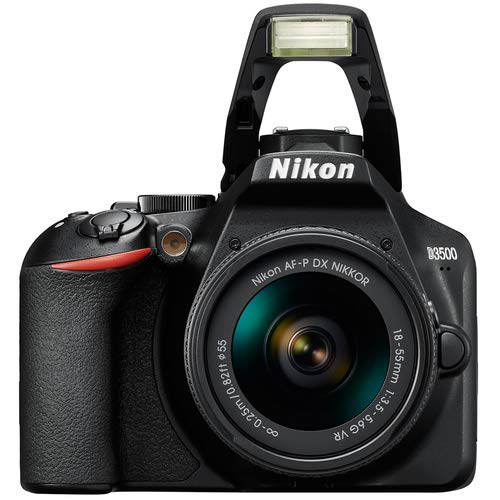 Sensor: APS-C CMOS | Megapixels: 24.2MP | Autofocus: 11 points | LCD: 3.0-inch, 921,000 dots | Maximum continuous shooting speed: 5fps | Video: 1080p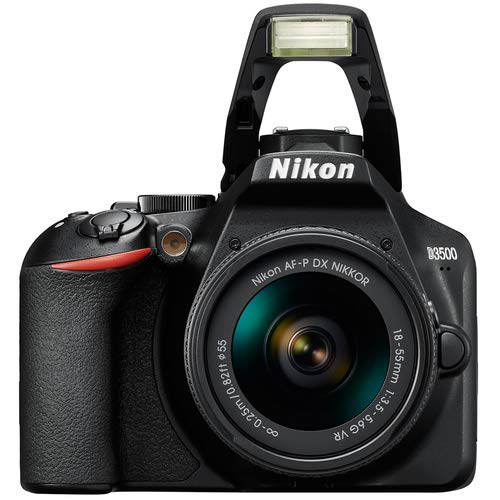 Sensor: APS-C CMOS | Megapixels: 24.2MP | Autofocus: 11 points | LCD: 3.0-inch, 921,000 dots | Maximum continuous shooting speed: 5fps | Video: 1080p
The entry-level D3500 from Nikon could be the best cheap DSLR camera, when you consider the accessories the Nikon D3500 comes with and the capabilities of the camera itself. The 24.2MP camera offers 1080p video recording at a rate of 60 fps, and 5 fps when shooting stills. The ISO reaches a level of 25600, which is perfect for low-light shooting.
5. Nikon D5600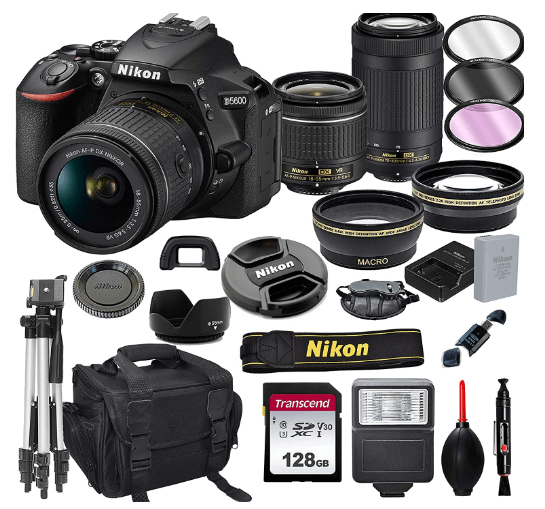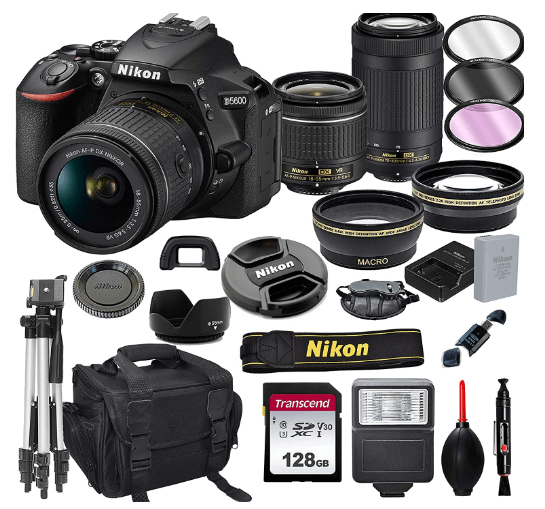 This camera (full Nikon D5600 review) is one of the latest Nikons under 1000 that serve more use than its cost. It comprises a lens kit, lens blower, tripod, camera bag and many other components. The additional 128GB SD card enhances the shooting of 4k video, 3D and full HD giving the nicest quality results. Some of the great features of this best 4k option under 1000 camera include the Vari-angle touchscreen, time-lapse movie recordings as well as snap bridge Bluetooth and wi-fi. It is without a doubt that Nikon D6500 is the best camera to those desiring professionalism and advancement in photography and videography. Included in the package is a three piece filter kit.
If you are buying a camera for professional use, the D5600 camera comes highly recommended as it is a favorite for the following reasons; its continuous shooting speed of 5 frames per second, the array of lenses available for use. This shooter type is excellent as it comes with Transcend memory card that can capture 3D, Full H$, 4K, raw and jpeg still images.
6. Canon EOS 250D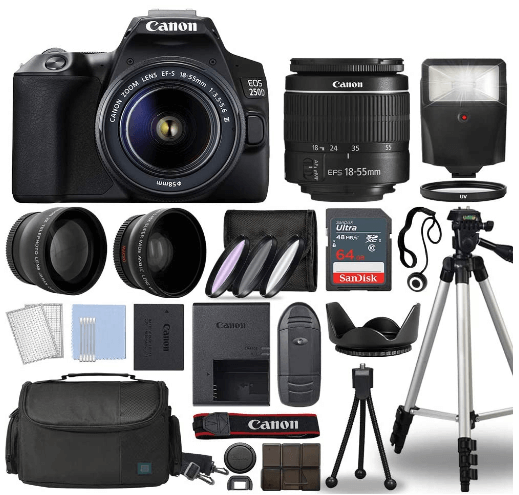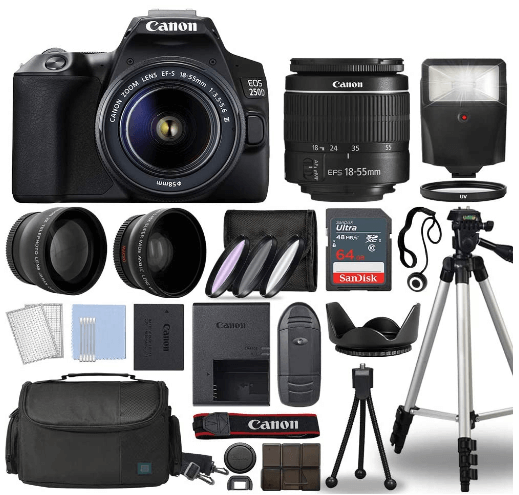 This camera gets some credit for finding a way to do it all. The Eos 250D is ideal for either a seasoned photographer or entry level enthusiast. If you are out with family or friends and intend to capture those awesome moments, this is the cam. This cam gets a seat at the table as one of the best dslr cameras for the following reasons. It comes ready out the box with 24.1 Megapixel dual pixel cmos sensor and 4k capabilities. It is a powerful DIGIC processor to add that pro touch to all your shots. It has a vari angle lcd lens fitted to you can take selfies and capture many shots at different fun angles. It has creative assist and shoots at a speed of 5 frames per second. This cam has bluetooth and wi fi connectivity so you can share data easily.
7. Canon EOS REBEL SL3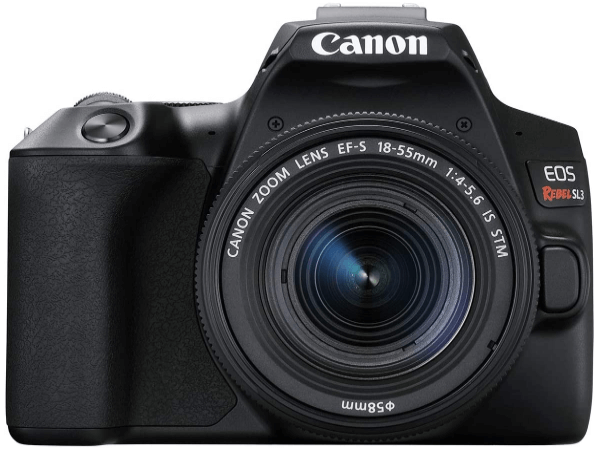 Sensor: APS-C CMOS | Megapixels: 24.1MP | Autofocus: 9 points | LCD: 3.0-inch, 1,040,000 dots | Maximum continuous shooting speed: 5fps | Video: 4K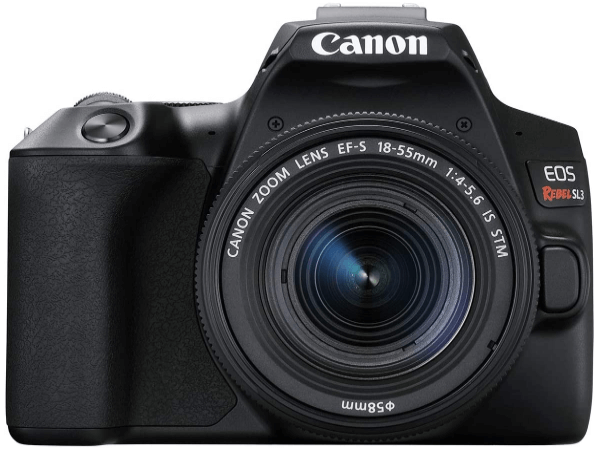 Sensor: APS-C CMOS | Megapixels: 24.1MP | Autofocus: 9 points | LCD: 3.0-inch, 1,040,000 dots | Maximum continuous shooting speed: 5fps | Video: 4K
The Canon EOS SL3 is an example of the few shooters on this guide that offers a range of new features and improvements over its predecessors. The camera has a better processor, the DIGIC 8, for shooting 4K resolution photos and videos. It uses an EF-S 18-55mm lens kit with an Image Stabilization function and an ISO range of 100-25,600 to capture moments at the best settings. This camera is one of the top 10 DSLR under $1000.
The Rebel SL3 weighs approximately 450 grams and measures 4.82 x 3.65 x 2.75 inches. It has a deep grip structure that makes handling comfortable for smaller and larger hands. It is also has a side-hinged touchscreen LCD display for taking high-quality ground-level, overhead, or selfie shots. The responsive screen an be tilted to any preferred angle to ease the shooting process.
Users can employ either the optical viewfinder or Live View monitor for taking the pictures. The Live View mode allows users to view changes in their settings in real-time. You can make as much as 1600 images with the easy to use optical viewfinder on a full charge. This drops to a range of 300-350 when the Live View mode is used for shooting. It has a shooting speed of 5 fps. This great cam makes photography easy as it has a optical zoom feature of 1.00x at the most affordable price on the market.
8. Pentax KP 24.32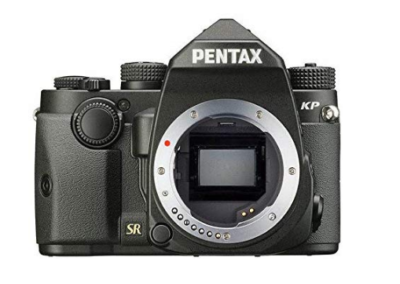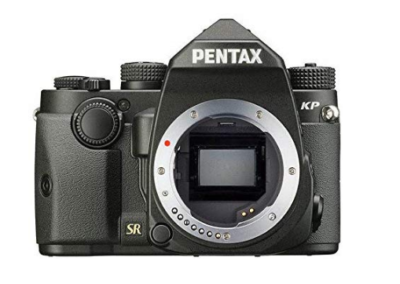 This is a high-performance Pentax digital camera (more Pentax Cameras) that uses the optical technology of a 24.3MP Single Lens Reflex to capture high-quality digital images and feature them on its three inch display.
The Pentax KP uses a special pixel shift technology to move Its sensor around the object in four different accessions at a one-pixel difference. This captures four different images of the object that are combined into a single image with four times higher resolution than the traditional one-shot result image and shoots at a speed of 6 fps, all at an affordable price.
Pentax KP body design is very compact, relatively light with rubber coverings for resistance against dust and bad weather. It also features a built-in Wi-Fi that is compatible with PCs as well as mobile devices.
9. Nikon D7500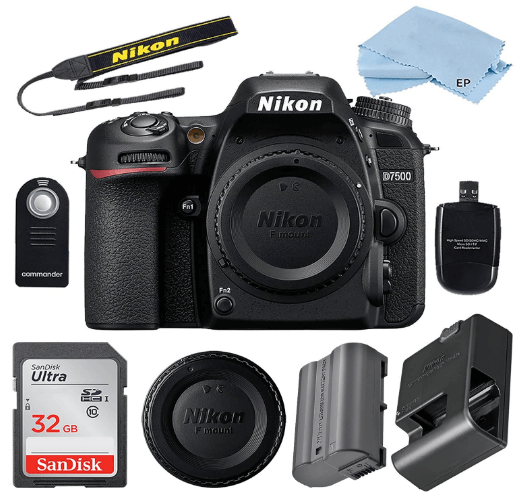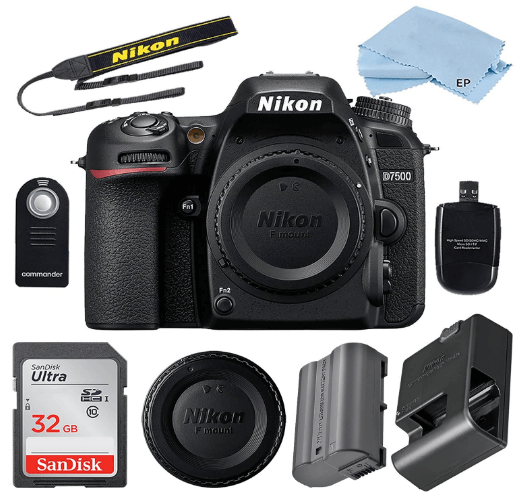 The Nikon D7500 is a high-quality camera that comes equipped with 20.9MP photo resolution, 4k video quality, and All-in-one Zoom Lens. This device is outstanding, with its continuous shooting and low light features to ensure that you do not miss a single moment, even when the surrounding is not well illuminated. The camera also has amazing battery life as compared with several other devices, as well as advanced photo system type-c (aps c) which is the best camera type for recreational purposes. This device is pocket friendly and can be easily used by all ages. It has a 4.5 star out of 5-star ratings from almost 500 users. This great cam is a level above many others on the list as it has tilting screen that allows you pinch to zoom, at a sweet price.
10. Pentax K-70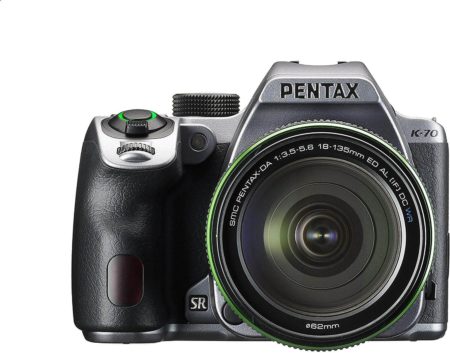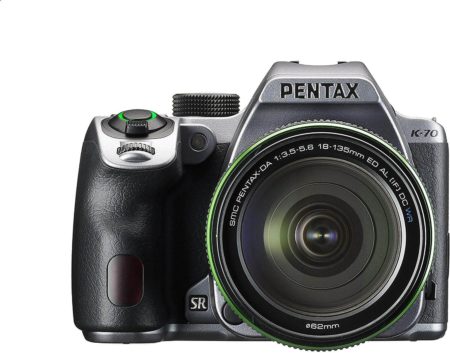 The Pentax k-70 is an amazing camera available on the market today. The device comes with 24.24MP camera resolution, a body that is not only dustproof, but also weather-resistant, and a shake reduction mechanism to allow for image stabilization even in an unstable environment. It also has a screen with a nightlight, an optical zoom of 1.00X, as well as continuous shooting features so that the camera can continue to take pictures even in the dark; ensuring that no moment is missed. The in-built aps-c (advanced photo system type-c) feature makes it the best camera for families to savor great memories at the right quality. So it has been rated 4.5 stars out of 5 stars by over 150 users.
11. Olympus Evolt E510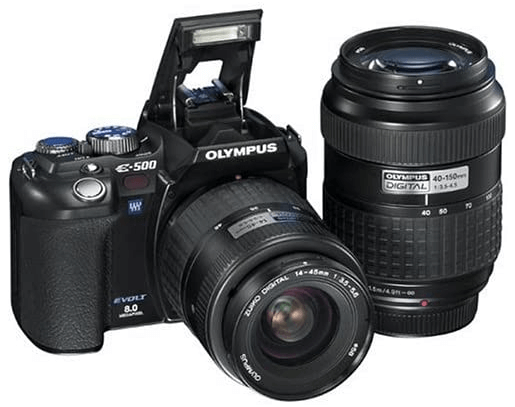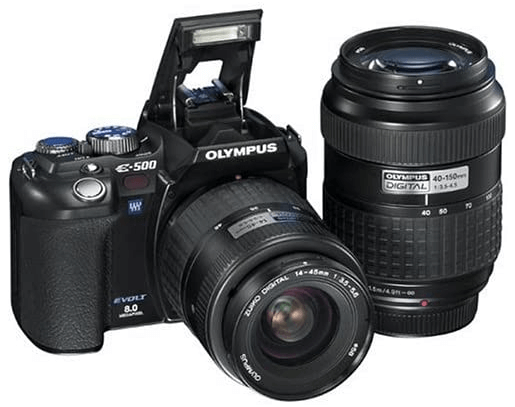 This guide would be incomplete without the inclusion of this camera under 1000. This camera takes a seat among the best cameras to use because it offers a different mode to shoot different event. The Olympus Evolt E510 is a favorite because of its super small, lightweight ergonomic design, making it good for travel and its shooting speed of 2.5 frames per second and an upgraded 10 megapixel sensor to capture the nicest photos in low lighting conditions. The Olympus Evolt is a powerful product as it has auto and manual autofocus systems.
12. Sony Alpha A7 (Full Frame)
Table could not be displayed.
The Sony Alpha A7 gives the user plenty of reasons to love it, the most exciting that puts this device a level above others on this list is the full frame 24.3 Megapixel resolution that balances low noise and gradation. The full frame on the Sony Alpha gives your shots a good look when compared to shots taken by cameras that have the crop effect. The Sony Alpha would fit easy into your hands because of it lightweight and ergonomic design, and at this price, the Sony Alpha is a steal. If you are looking to upgrade to the next best thing, a cam that has plenty cool gizmos, lightweight and does everything right, then you are looking for the Sony Alpha.
Which DSLR camera is best for professional photography?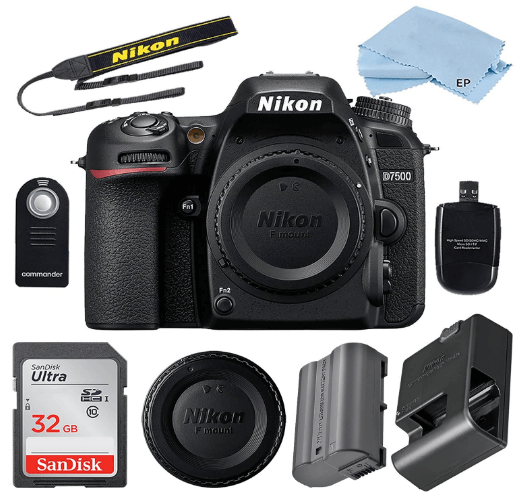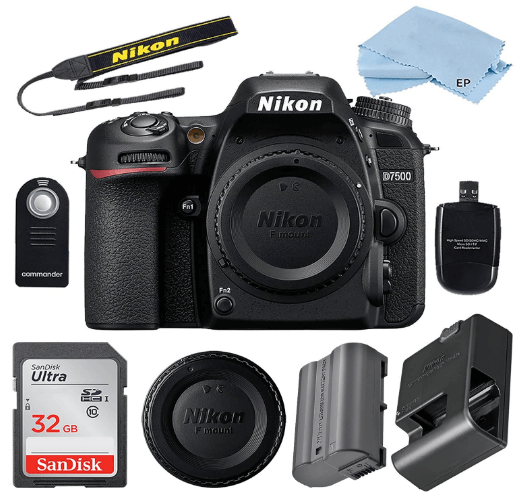 The Nikon D7500. All the cameras on this list are good, but this stands out due to its exceptional build. It has all the gizmos you would need to create quality images. What makes this cam stand out is its exceptional video quality, it's ultra HD 1080p is one to beat.
Features to look out for when choosing DSLR Shooters
Video Recording
Hardly would you find a modern-day DSLR shooter that is incapable of recording vides, what then matters in your selection is the quality of the video. You want to make sure that the cam can record 4K videos. This ensures that all your productions come out nothing short of perfect. One other thing is how well the camera captures sound to better the whole video experience.
Sensor Size
Secondly every camera on the market has a sensor inside. The job of the sensor is to capture light and make it into an image. The size of the sensor would determine quality, with the larger ones creating images with better quality. The ones with the best quality are the aps-c and micro thirds sensors.
Wi-Fi
Having a built-in wi-fi in your camera saves the photographer a lot of stress. When you are on the road, and you are in need of space on your shooter, you can wirelessly send pictures and videos to your smartphone or any other device without using any wires.
Durability
Last but not least it is important that you go for a camera with a superior build. Materials like magnesium amalgams have been seen to suit cameras greatly. If you intend to shoot outdoors, you should be on the lookout dustproof and waterproof cameras. For this extra feature, you would need to spend a little more. But it would be worth the expense in the long run.
Last update on 2023-10-05 / Affiliate links / Images from Amazon Product Advertising API