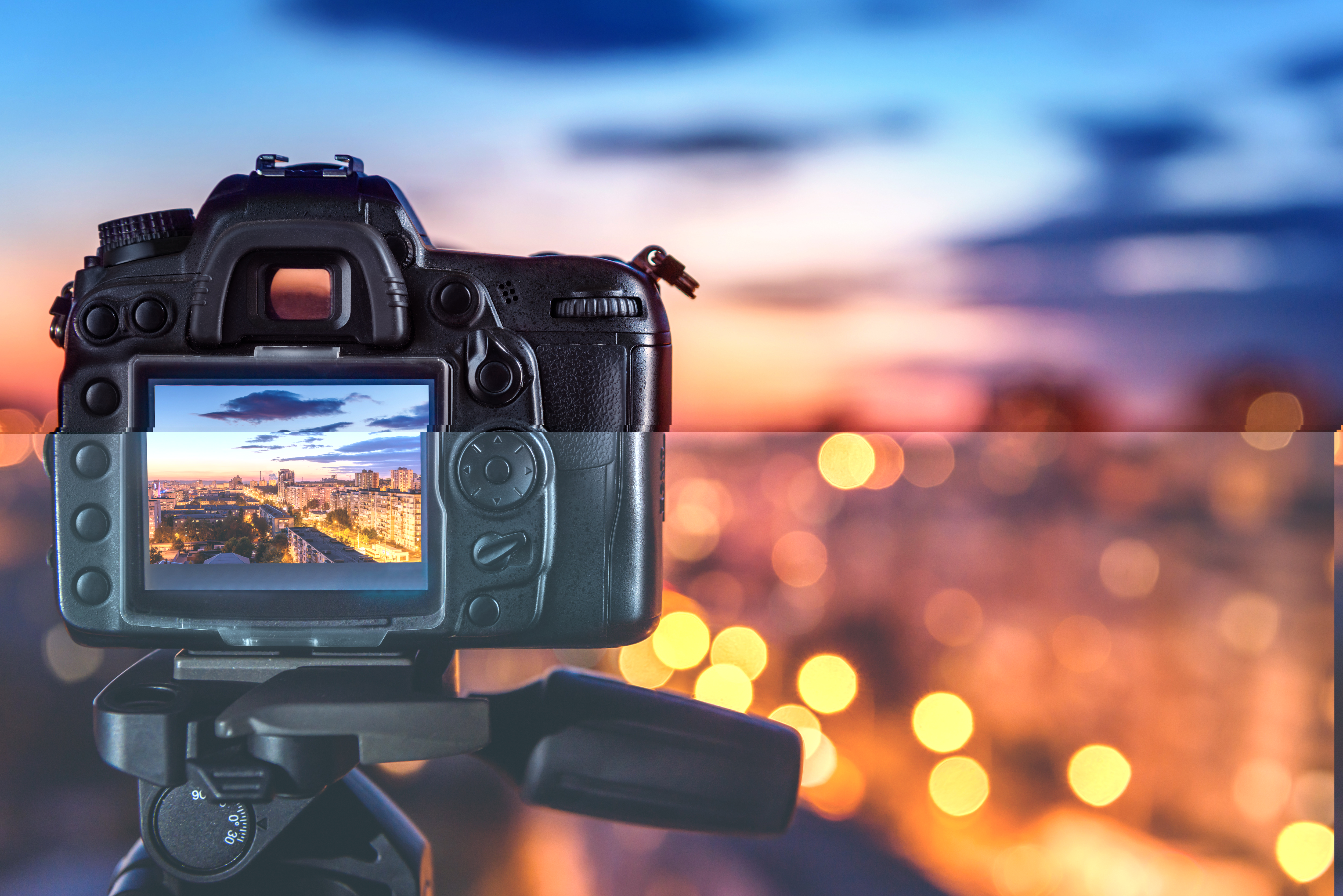 If you are looking to buy a DSLR for the first time, it can be difficult to distinguish between the different models on offer. There are so many different features to look out for, and not to mention a wide range in prices. So, how do you know which one to choose? We are here to help with this comprehensive buying guide to choosing the best DSLR camera for beginner or expert users. We've chosen almost 20 great cameras and outlined their key features as well as their pros and cons, so you can easily see how they compare to one another. You'll also find some buying tips and pointers, so you know what you should look for in a camera, as well as our top picks if you really can't decide.
What is a DSLR Camera?
Before diving into the reviews, let's start with the basics – what exactly is a DSLR? It stands for Digital Single-Lens Reflex, and means this is a camera which uses a mirror and a prism inside. These reflect light to bring the image from the lens to the viewfinder, so when you look through the viewfinder of a DSLR, you see things exactly the same way as the lens sees them. DSLRs come with a range of features and at a wide range of price points, so they make the ideal choice for amateurs, hobbists and professionals alike.
Which DSLR is Best for Me?
With such a wide range of DSLRs out there, it can be difficult to know which is the best to choose. However, there is no easy answer to this question, as each camera won't suit all needs. Consider looking for the best entry-level DSLR camera if you are looking for a step up from a smartphone camera or a point-and-shoot camera. They are great for beginners as they are usually reasonably priced but still have a reasonable amount of features and functions. However, if you are looking for an upgrade or need something for professional use, you'll need something considered to be the best professional DSLR camera.
Which Lenses Will I Need?
Some DSLRs are sold as body only, which means you will need to buy a lens before you can start shooting with it. Others come with a kit lens, which are ideal for starting out with to get a feel for the camera. However, they tend to be lower quality lenses from the manufacturer's cheaper range, so it's often necessary to purchase others for different purposes and photographic styles.
So, how do you know which lens to choose? First, there are two main types of lens – zoom and prime. The former, as the name suggests, give the ability to cover a range of focal lengths and hence zoom in and out on the subject. On the other hand, prime lenses have a fixed focal length. Prime lenses generally produce better quality images, so it's worth investing in at least one. Think about the type of subjects you will be photographing in order to determine the right lens to buy.
Factors to Consider when Buying a DSLR
There are loads of differences between the models on offer, so it's important to carefully consider the following factors to ensure you find the perfect camera.
Budget
We've already discussed how cameras come at a range of price points, so think about how much you can afford to spend on your new DSLR. You can check out the best DSLR camera under 500 and still get loads of great features, but if you want one of the top-end cameras, be prepared to spend a few thousand.
Purpose
If you're a beginner looking for a first DSLR, your needs will be different from a professional wedding photographer. Think realistically about what you will be using the camera for and hence the level of features and quality you need.
Brand
When it comes to DSLRs, the big two names are Nikon and Canon. If you've previously owned a camera, you might like to stick to the same brand to keep it simple. However, don't be afraid to step away from these brands and consider others. We've included a couple of picks from Sony, Leica and Pentax if you prefer to see what other names have on offer.
Sensor Size
This is a big factor when it comes to choosing the right camera. Full-frame cameras come at a price, but do hold certain advantages over crop sensor models. Again, it's important to consider your intentions with the camera and this will help determine which type to go for. Indeed, some photographers prefer to have both body types for different shooting purposes.
Lenses & Accessories
When buying a camera, it may come with a basic lens included, as well as some accessories. However, you will probably want to purchase other lenses to successfully be able to capture other types of shots. Look at the other types of lenses and accessories which are on offer to ensure you can find something which is suitable. Also check the prices of compatible lenses you may wish to purchase to ensure they fall within your budget.
Weight & Size
If the camera will be used now and then, the size and weight perhaps doesn't matter too much. However, if it will be used for longer shooting sessions, you might like to consider these factors more carefully. These are also important considerations if the camera will be used when traveling.
Video Capability
Our final consideration is that of the camera's ability to record video. Some DSLRs are capable of recording video in 4K resolution, which is certainly a must-have feature if you are going to make a lot of videos. If the camera doesn't do 4K video recording, there's a good chance it can record in 1080p instead, which is still excellent quality.
Best DSLR Camera 2020

Now, we will present our DSLR camera best buy list, which features 20 different offerings from all the major brands. Whether you are a beginner or a professional, there is sure to be something here to take your fancy.
1. Nikon D850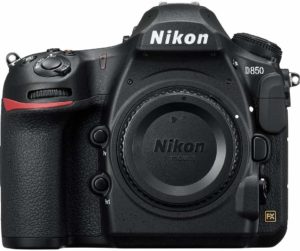 First up we have one of the top-range models from Nikon, the D850. Coming in at around $3000 for the body only, this is one of the more expensive picks, and is suited more to professionals and semi-professionals. This 45.7 megapixel, full-frame camera also offers 4K video recording. It can also record in slow motion at 1080p, at a rate of 120 fps. There is a tilting touchscreen which allows for easy viewing at any angle, and the battery life on the D850 is excellent. When it comes to continuous shooting, the D850 has a rate of 9 fps. The AF system on this camera is excellent, and the camera also performs outstandingly in low-light situations.
Pros
Very high resolution
Excellent performance in low-lighting conditions
Cons
High price
Large and heavy (2lbs)

2. Canon EOS Rebel T7i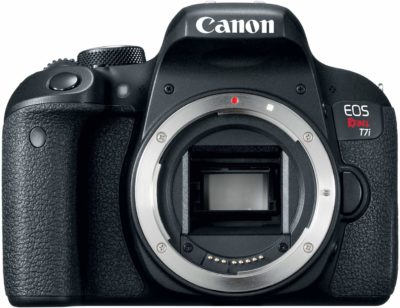 Wondering which is the best DSLR camera for beginners Canon or Nikon? We'll let you decide with the Canon EOS Rebel T7i. It offers a range of possible methods of connectivity such as WiFi, Bluetooth and NFC. The quality of the images is ideal, with 24.2 megapixels, and a metering range of EV 1-20. Continuous shooting is a breeze with the T7i, as it offers an impressive rate of up to 60 fps. This camera offers excellent and fast autofocus. It's easy to use too, as you can use the touchscreen display to simply tap on the part of the image you want to focus on. The camera has a wide ISO range, with a maximum of 25600, so it handles low light situations with ease.
Pros
Excellent features, yet easy to use
Great ISO range
Cons
WiFi transfer can be difficult to use
Doesn't record 4K videos

3. Nikon D3500 with Accessories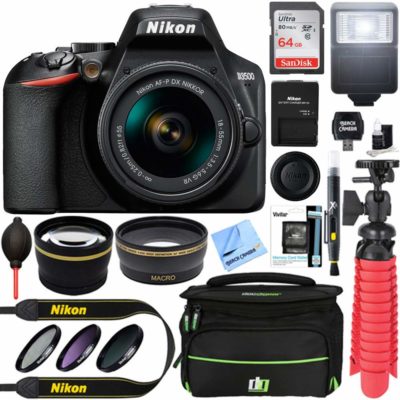 The entry-level D3500 from Nikon could be the best cheap DSLR camera, when you consider the accessories it comes with and the features of the camera itself. The accessory bundle includes a flash, 64GB memory card, strap, lens filters, a battery charger, a storage bag for the camera, a tripod and lens converters that offer telephoto, wide-angle and macro effects. The 24.2MP camera offers 1080p video recording at a rate of 60 fps, and 5 fps when shooting stills. The ISO reaches a level of 25600, which is perfect for low-light shooting.
Pros
Excellent for beginners
Great value for money
Cons
Average-quality accessories
SnapBridge app doesn't always work well

4. Canon Rebel T6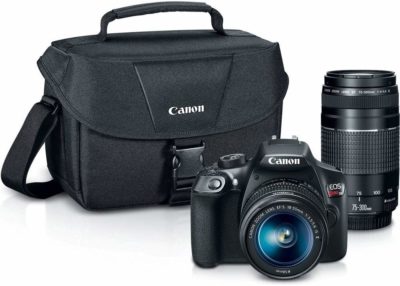 This 18MP camera from Canon comes bundled with two lenses, so it's perfect for beginners to get started taking a range of shots straight away. The camera has built-in Wi-Fi and NFC to make sharing photos to a laptop or mobile device easy and convenient. The maximum ISO on this camera is 6400, but can be expanded to 12800. It can be used to shoot HD videos, and when shooting videos you can use manual focus and exposure controls. In this set, you get the basic 18-55mm lens, as well as a 75-300mm zoom lens, perfect for capturing further away subjects.
Pros
Great for beginners and well-priced
Excellent build quality
Cons
Can be difficult to focus
Photo quality can be sub-par

5. Canon 4000D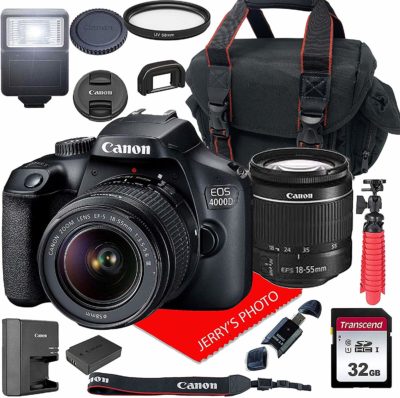 Here we have another offering from Canon, which comes with a full range of accessories. The 4000D is an 18MP camera, and it comes with an 18-55mm lens. It also comes with a 32GB SD card, neck strap, bag, tripod, lens cover and more. You can easily make your photographs more personal, with filters to add a more creative look. The camera shoots at a rate of 3 fps, and has a 2.7 inch LCD screen to see the finished photographs.
Pros
Accessory kit makes this ideal for new photographers
HD video recording
Cons
May be outgrown quickly by those looking to progress
Images can only be saved as JPEG files

6. Nikon D3300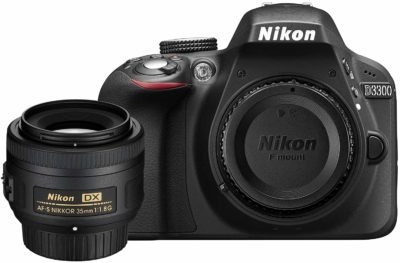 Next up we have a Nikon DSLR camera, the D3300 to be precise. It has a 24.2MP DX sensor, and can shoot at a continuous rate of 5 fps. The autofocus is excellent on this model, as there are 11 autofocus points, and 3D tracking is possible for moving subjects. The ISO range is 100-25600, so it's ideal for low light shooting. The D3300 is easy to use and has an excellent battery life, so you won't be reaching for the charger constantly. Here, the camera comes with a 35mm F/1.8 lens, which is excellent for portraits.
Pros
Very easy to use in manual mode
High-quality, sharp images
Cons
Doesn't have Wi-Fi, but adapters can be bought separately
Maximum video length is 30 minutes

7. Canon Rebel T7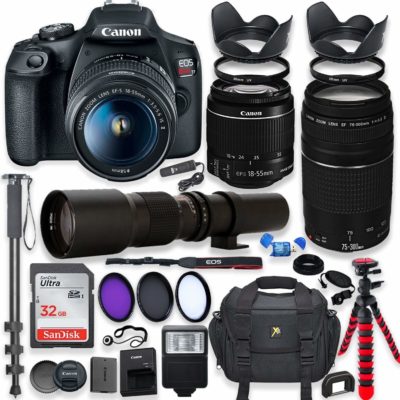 The Canon Rebel T7 is a 24.1 MP camera which has built-in Wi-Fi for easy transfer of photographs. It comes with three lenses – the usual 18-55mm kit lens, a 75-300mm zoom lens as well as a 500mm telephoto lens. So, it can easily be used to get a wide range of shots, no matter how close or far away the subject is. You'll also find some different filters included, as well as a memory card, a mount for the telephoto lens, a small tripod, and more. The T7 offers the ability to record full HD videos, shoot stills at a rate of 3 fps and has ISO 100-6400.
Pros
Great range of lenses and accessories included
Easy to use even in manual mode
Cons
Not much of an upgrade from T6 model
Included tripod is poor quality

8. Nikon D7500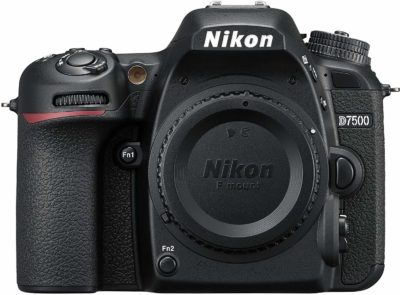 Next up we have what could be the best 4K DSLR camera, the D7500 from Nikon. It takes stunning quality images and has a tilting LCD touch screen. The camera is equipped with a 51-point autofocus system as well as group autofocus, so take a clear and crisp image is easy with this model. It can shoot continuously at a rate of 8 fps, and can take 4K videos. The videos will also benefit from stereo sound and auto ISO.
Connecting to a computer to upload photos is really easy with the D7500 – it is equipped with WiFi as well as Bluetooth. You can install the SnapBridge app from Nikon to make this even easier. The D7500 is one of the best in its class and is perfect for those looking for an upgrade. There are options to purchase this body with different lenses depending on the type of photography you are interested in.
Pros
Outstanding image quality
Great upgrade from the D3xxx and D5xxx series
Cons
Can be difficult to use
SnapBridge interface isn't user-friendly, and file size limitations can be problematic

9. Nikon D5600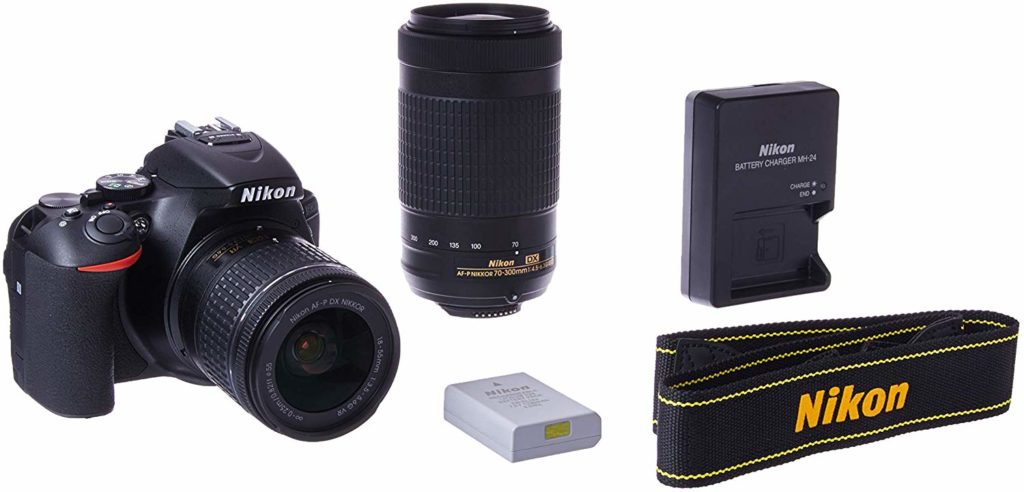 The D5600 from Nikon has a 24.2MP sensor and a 3.2-inch variable angle touchscreen. The camera can record video at a rate of 60 fps and in full HD quality, 1080p. Like many other Nikons on our list, it's equipped with SnapBridge connectivity, for easy transfer and sharing of photos. The battery life on this model is excellent, and can last almost 1000 shots before it needs recharging. This is a great pick for all ability levels – auto mode is perfect for beginners, whereas it offers plenty of features for more advanced users too. The image quality from the D5600 is fantastic – users will love the high level of detail and clarity in their images. There is a range of compatible Nikkor lenses which can be used for all types of photography.
Pros
High-resolution sensor means even the kit lens takes great shots
Wide ISO range for great low-light performance
Cons
Again, SnapBridge doesn't always work well
Autofocus is poor when recording video

10. Nikon Coolpix B500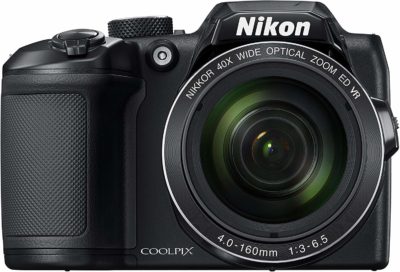 Here we have another Nikon camera, but this time it's one from the Coolpix range. It has a 16MP sensor and comes with a 40x optical zoom lens which is perfect for getting closer to the action. The highest ISO level is 6400, and the camera has a 3-inch tilting LCD screen. It's capable of recording HD videos at a rate of 30 fps, and has a range of connectivity options. The camera uses AA batteries, so it's worth investing in some decent rechargeable ones to ensure you never have to go without them.
Pros
Really easy to use
Excellent zoom
Cons
Focus on videos sometimes doesn't work well
Works best in outdoor natural light

11. Canon EOS 6D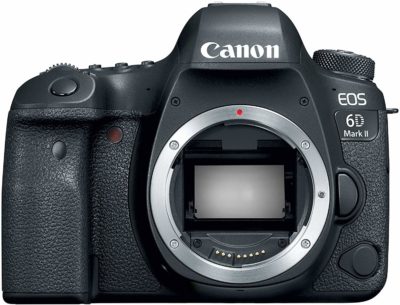 Next up we have another Canon model, this time it's the 6D Mark II. It's one of the pricier models on our list, but it has some excellent features which make its price tag well justified. It has a full-frame, 26.2MP sensor, which makes for some excellent photographs. The autofocus system is excellent, with 45 focal points, and this can be utilized when using a Canon EF lens. The touchscreen LCD display is 3 inches across and has variable angles so it can easily be viewed when shooting from different viewpoints. The maximum ISO is 40000, which makes for excellent low-light shooting. The camera has GPS, WiFi, NFC and Bluetooth, so there are plenty of ways to connect. Finally, you can also enjoy continuous shooting at a rate of 6.5 fps – perfect for capturing a sequence or a fast-moving subject.
Pros
High ISO 40000 for shooting in poor lighting conditions
Excellent connectivity options
Cons
Higher price point
Poor dynamic range

12. Canon 90D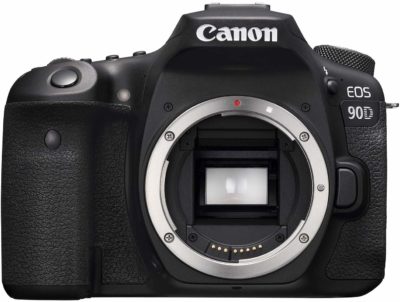 Here we have another Canon camera – the 90D. It offers outstanding image quality thanks to the 32.5MP sensor. This camera has an excellent continuous shooting speed of up to 10 fps, so if this is a feature you require, the Canon 90D is certainly worth considering. This is also an excellent choice for the videographers out there, as it offers 4K video recording capabilities. The camera is capable of face detection, focusing on the eyes, and has an excellent autofocus system, so you'll never have to deal with blurry images again!
Pros
The 32MP sensor ensures photos have lots of detail and can be cropped if necessary
High number of fps in continuous shooting
Cons
Missing some features of other cameras in its class such as dual card slots
Video recording is limited to 30 minutes

13. Canon EOS Rebel SL2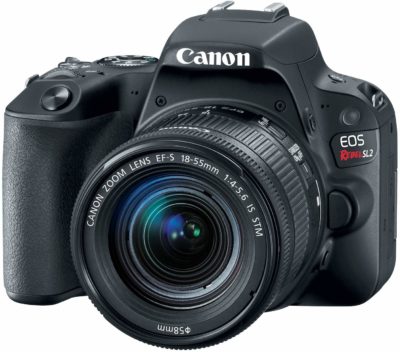 The Canon SL2 has a 24.2MP CMOS sensor and a 3-inch variable angle touchscreen. It also has various options for connectivity including WiFi and NFC. You can record HD videos with this camera and it's also possible to connect an external microphone for improved sound quality. The Rebel SL2 is equipped with a useful touchscreen that can be used for autofocusing as well as releasing the shutter. Overall, this is an excellent DSLR for beginners, and it is a lovely compact size which is perfect for those who travel often. It's a great step up from a point and shoot camera as it's easy to use yet takes great quality photos.
Pros
One of the smallest DSLRs on the market, perfect for travel
 Screen flips in all directions, so the camera can even be used for selfies!
Cons
Only 9 autofocus points
The included lens is low quality – so it's best to purchase an upgrade

14. Sony Alpha a6000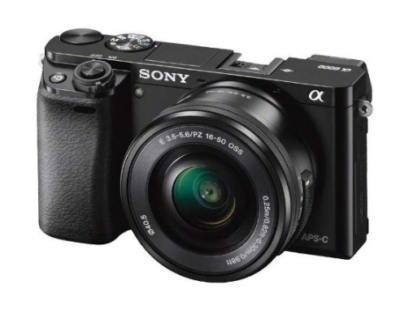 If you prefer to branch out from Canon or Nikon, you might like to consider a Sony camera. This one comes as a bundle including everything you need to get started – a 16-50mm lens, 64GB memory card, lens filters, a small tripod, spare batteries and more. The high ISO of 25000 means this camera performs exceptionally well in dimly-lit locations. The AF system on this camera is outstanding – there are 179 phase-detection points and 25 contrast-detection points. So, capturing any moving subject is made easy with this Sony Alpha. The camera can be used to capture sharp videos in full HD, and the autofocus continues to work when taking videos. So, this could be considered the best DSLR camera for video.
Pros
Excellent for recording videos
 Small and light, perfect for travel
Cons
Poor battery life
Kit lens is cheap and low-quality

15. Sony a68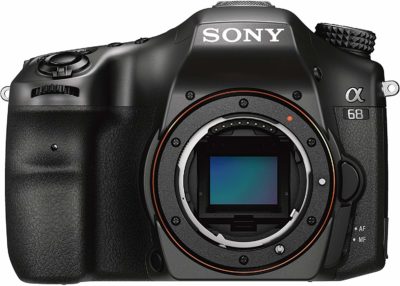 Here we have another excellent pick from Sony. It has an awesome 4D focus AF system, with a 79-point phase-detection that covers a wide area. The 24.2MP sensor gives great-quality images, and you can shoot continuously at a rate of 8 fps. Full HD videos can be taken with this camera and the LCD screen is a good size at 2.7 inches, and can be adjusted in angle. The camera is equipped with SteadyShot which allows for easy image stabilization. The ISO range is 100 – 25600 (the maximum is 12800 when making movies).
Pros
Multi-interface shoe allows for multiple accessories to be added
LiveView shows an accurate preview
Cons
Not weather sealed, so can't be used in the rain
Screen doesn't swivel

16. Nikon D5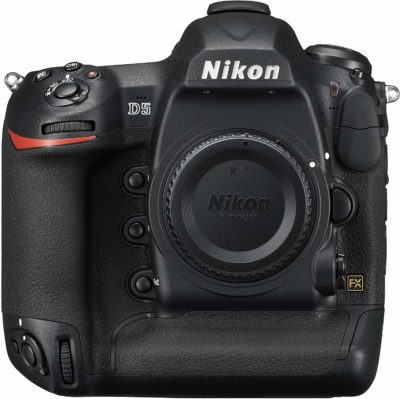 The Nikon D5 is perhaps one of the most expensive DSLRs on our list, but it is packed full of amazing features that make it a great choice for professionals. It has a full-frame, 20.8MP FX-format sensor as well as the EXPEED 5 image processor. The touchscreen LCD screen is a great size at 3.2 inches. This is a good pick for videographers too, as it can record ultra-HD 4K videos at a rate of 30 fps. It has the widest range in ISO of any Nikon full-frame model, with a maximum of 102,400, which can be expanded to an astonishing 3,280,000.
This camera is excellent for shooting in continuous bursts, as it can process 200 images in RAW format in a single burst. This is a great choice for professionals as there are dual card slots, so no need to worry about an SD card failing again. Overall, this is a top-of-the-range flagship camera which is excellent for professional use, however the features, and the price tag, may be overwhelming for beginners or novice users.
Pros
Uniquely large ISO range
Excellent for continuous shooting
Cons
Very pricey
Heavier than many other DSLRs

17. Nikon D500
Our next best Nikon DSLR is the D500, which has a 20.9MP sensor in the DX format. The screen is 3.2 inches diagonally from corner to corner and can be tilted for various angles. It has an incredible ISO range of 100 to 1,640,000 and an excellent 153-point autofocus system. The D500 is a great pick for continuous shooting, as it can take 10 fps for up to 200 frames in a single burst. Videos can be recorded in 4K quality and at a rate of 30 fps. You can find Bluetooth, WiFi and NFC on this camera to make for easy transfer of photos and videos to a computer for sharing or editing. Low-lighting conditions are handled with ease by the D500, and it is also excellent for those shooting wildlife or sporting events.
Pros
Great mid-range camera in terms of budget and features
Buffer is excellent
Cons
Battery life is poorer than some other models, especially when using WiFi
Limited focus points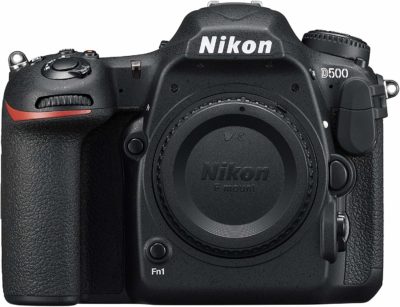 18. Leica Q
If you want to move away from Nikon or Canon, Leica is another excellent brand worth considering. Here we have the Leica Q, which has a full-frame 24.2MP sensor. The camera is equipped with a 3-inch touchscreen LCD monitor. There is a useful electronic viewfinder which automatically activates when the camera is brought up to the eye. The autofocus is also excellent on the Leica Q – it's fast and sharp every time. Also, the AF can be controlled using the touchscreen or the buttons. Manual focus is also possible, and there are systems available to help with this. It's possible to take RAW format photos independently from their JPEG counterparts in order to save space.
Pros
Easy to use
Excellent image quality
Cons
Autofocus options are not easy to access from the menu
Electronic viewfinder (EVF) doesn't always work well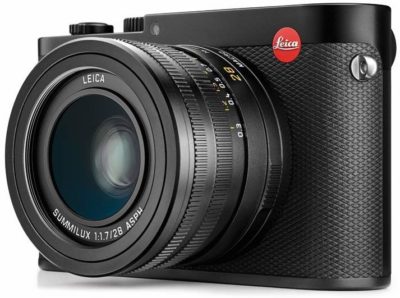 19. Pentax KP
Pentax is another great brand for those looking for a change from Canon or Nikon. The KP has shake-reduction technology which is especially useful when using a slower shutter speed. It has a 24.3MP sensor and a high ISO range of 100 – 819,200, so it performs well in darker situations. The camera is weather-resistant and dustproof, so it can handle anything you can throw at it! Another excellent and very useful feature of this camera is the pixel shift resolution technology. When the shutter is released, four images are combined simultaneously to create one high-resolution image. The LCD monitor can be tilted vertically in either direction to make shooting at different angles a lot easier, and can help ensure you get the perfect shot in more awkward positions. Overall, this is an excellent camera for its class and price.
Pros
Tilting screen makes high and low shots easy
Very good image quality
Cons
Battery life is not great especially when using live view
Difficult to find a good prime lens to fit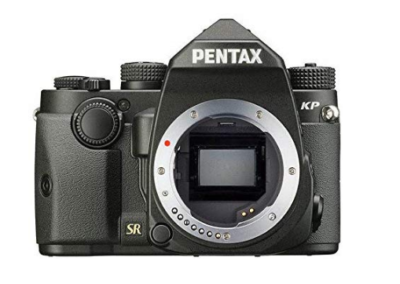 20. Leica V-Lux
Finishing off our list we have another Leica, the V-Lux to be precise. It is perfect for making videos, in 4K resolution. It has very fast autofocusing, one of the best in its class in fact. You can find WiFi for easy sharing and editing of photos and a 2.36MP EVF. This camera makes taking portraits easier, as it is equipped with a face and eye detection autofocus mode. It also has tracking and 49-area modes, so it's always easy to get your shot in perfect focus. It's not possible to change the lens on this camera, but it covers 25 – 400 mm, so you wouldn't need to anyway.
Pros
No need to change lenses, so don't need to carry loads of gear
Performs well in poor lighting conditions
Cons
Performance is not as good at 400mm
Not very weatherproof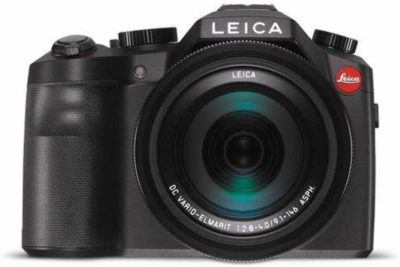 Our Best Buy DSLR Camera
After looking at 20 great models in-depth, it's time to decide which takes the spot as the best camera DSLR overall. In this case, we've decided to go with the Nikon D5. It's one of the more costly cameras in our guide, but we feel the price tag is justified for the excellent features and outstanding image quality it produces. It is perfect for professionals as it boasts a dual card slot and excellent buffer which can process continuous bursts of up to 200 images. The D5 has the biggest ISO range of any Nikon, and possibly any DSLR, making it the ideal choice for low-light photographers.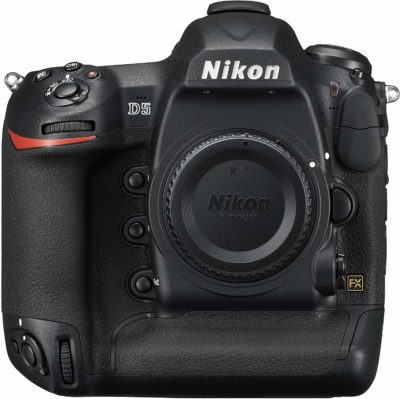 Best Inexpensive DSLR Camera
If you're looking for the best affordable DSLR camera but don't want to compromise on features, the Nikon D3300 is always worthy of consideration. It has a very reasonable price tag yet takes lovely photographs and has a range of features for all user levels. You can also find compatible lenses at a reasonable price to enable you to take different styles of photographs. WiFi works well when an external adaptor is used, and it's easy to transfer files using the Nikon app. The D3300 is easy to use, even in manual mode, so it is perfect for beginners as well as more experienced users looking for something low-cost.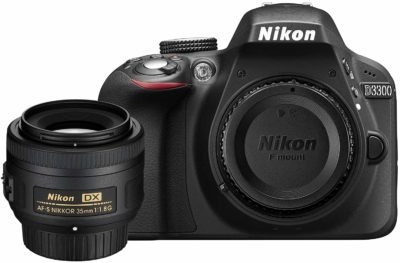 Which is the Best DSLR Camera for Beginners?
If you are looking for your first DSLR, choosing between the different models can be somewhat overwhelming. Consider our budget buy above as one of the best starter DSLR camera models for those new to photography, or looking to upgrade from a point-and-shoot. However, there are loads of other fantastic options out there, such as the D3500 from Nikon or perhaps the T7i from Canon if this is your preferred brand. But don't rule out others such as the Sony Alpha, although you might wish to purchase a better lens when you get the hang of using the camera.
What is the Best DSLR Camera for the Money?
Perhaps you're looking for the best DSLR camera under 1000 without compromising on features. There are quite a few cameras which offer excellent value for money. Some which stand out above others are the Canon T7 bundle, Nikon D3500 and D5600 and the Leica V-Lux. However, it's important to consider what you need in terms of features and functions. Sometimes, a lower price tag with limited features might be sufficient, whereas other users will have to splash out on a top-of-the-range model in order to have the features and quality they need.