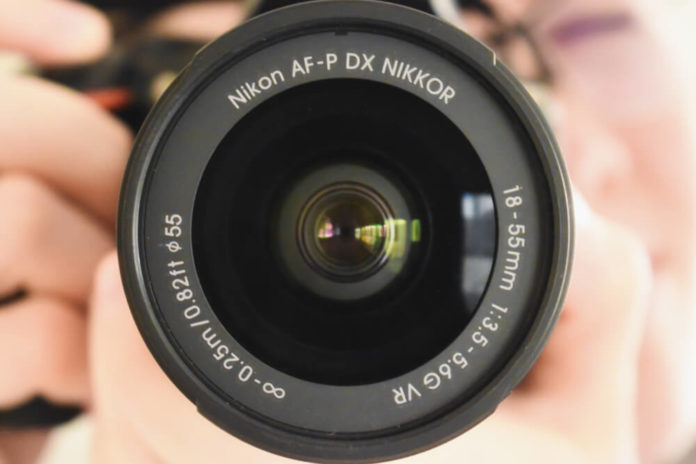 Looking for a detailed review of the D5600? Or maybe wondering where to buy the Nikon D5600 and curious how it compares to other camera brands with similar specifications? Your have come to the right place if you have answered "yes" to either of the above! Here we have a detailed review to help you understand it in full.
The D5600 is part of Nikon's D5000-series, a great camera for Nikon DSLR beginners and intermediate users alike.
This series of camera are the only DX-format DSLRs from Nikon with a vari-angle screen making them a really versatile camera. A small lightweight camera with great image quality making it a must-have camera for anyone.
Considerations choosing the Nikon D5600 Camera
Build and Handling
When choosing a digital camera the build and handling should be a big consideration, as it is how the camera will feel and fit into your hands. The D5600 is small and lightweight almost that of an SLR-style mirrorless camera, but with a deep grip so that you still feel like you've got a firm hold of the camera. Being a small camera, some of the buttons are also small, this doesn't after the functionality just some of the icons are harder to read. Auto-focus is a great feature of this Nikon camera, the touch display screen control enables you to tap an item in the scene and the auto-focus will come into play and take a single picture of your desired object in full focus.
Performance
The Nikon D5600 features the SnapBridge system, a great way to have a constant connection to your phone, uploading photos you have taken straight from your camera. The battery life of this DSLR camera is great and will beat most mirrorless cameras easily, with an 820 shot average lifespan the D5600 will keep going and going.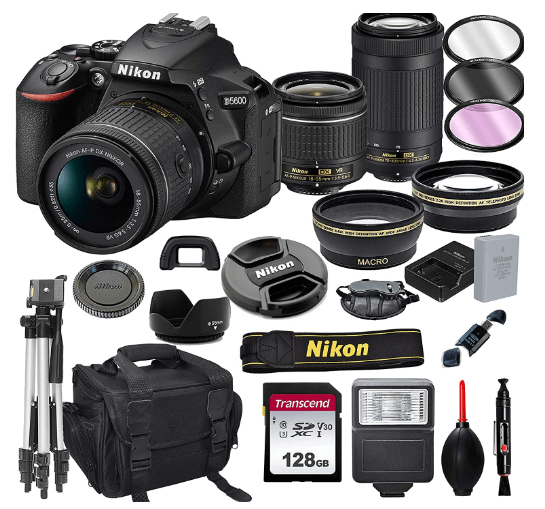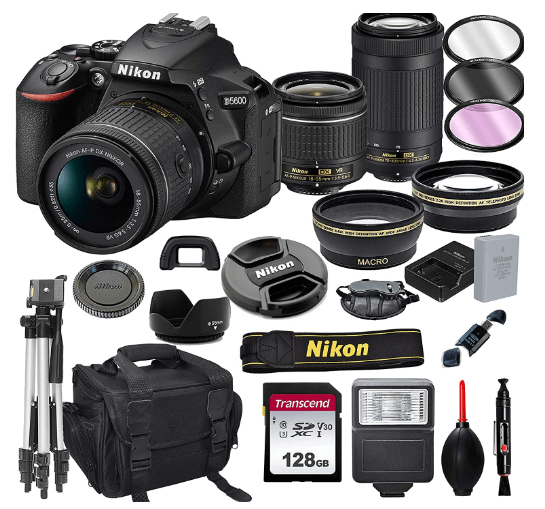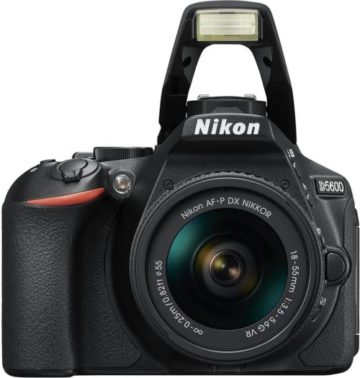 Image Quality
Nikon has used a 24.2mp chip so as you would expect the image quality is very good, with great resolution and not having a low pass filter, there is more space for detail in the images you are taking. With an impressive dynamic range, this amazing digital camera from Nikon has the potential to reclaim lots of shadow detail from shots using the lower ISO settings.
Accessories
When buying a camera, accessories can take a big part in choosing the right camera for you and if that is the case there will be no worries when it comes to the D5600. With the addition of extra lenses, microphones, flash boxes and even camera bags many upgrades can be made to make this entry-level camera accessible to the more experienced photographer.
The Nikon D5600 Review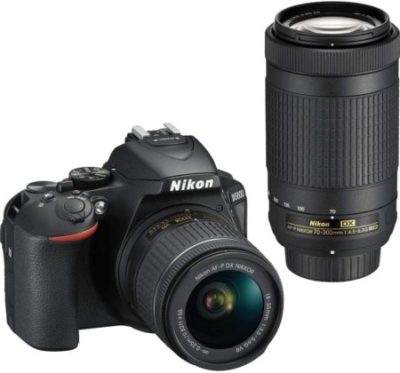 D5600 Features
The Snapbridge system from Nikon is a great design that keeps your phone and camera connected in perfect harmony, using low-energy Bluetooth connectivity you can select multiple images to be transferred to your phone in a 2MB jpeg format or one individual image at full size, but still only as a jpeg formatted image. All done by downloading the Snapbridge app onto your mobile device and linking the two together. This amazing system can also be used to transfer your movies wirelessly, and for the remote capture of still images –Nikon  in these two uses of the app Wi-Fi is used instead of Bluetooth.
The D5600 DSLR camera comes with an 18-55mm lens which is great and compact, also offering Nikon's silent auto-focus and four stops of image stabilization. The combination of D5600 features is great to get you started for general photography but to make the most of the cameras 24MP sensor, you'll want to be thinking about adding extra lenses.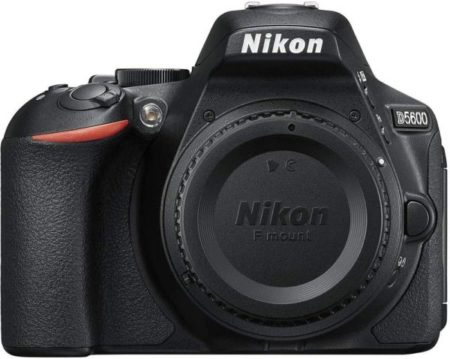 D5600 Performance

The Matrix metering system used in the D5600 works well with multiple lighting situations, although you could have to use negative exposure in high-contrast compositions to keep some detail and to recover shadow detail in post-processing. Alternatively, the D5600's Active D-Lighting system works great in these situations, keeping more detail when shooting JPEG formatted images. The auto white balance works great in a range of different lighting conditions, capturing natural-looking shots, but under some artificial lighting, a yellowish tone can be seen in images captured so you may want to have an experiment with the settings in these situations. With a burst shooting speed of 5fps, there hasn't been an increase from the older model and some mirrorless cameras available are offering much more speed in this area, so if you are looking for action shots maybe this isn't the camera for you.
D5600 Accessories
Many accessories are available for the D5600 DSLR with lenses being a top addition. The kit comes with an 18-55mm lens but a small upgrade can improve the quality that this camera will perform. Any lens that fits the Nikon F-mount fixture will fit this camera perfectly. There's a microphone port on the side of the camera to gain higher quality sound in video capture. There is also a wide range of camera bags that are specifically designed for this camera, with different compartments for different lenses, camera flash box's, lanyards and much more.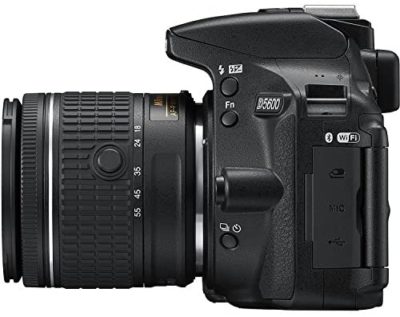 D5600 Image Quality
Regarding quality, there are no bad surprises to be found with the Nikon, with the same sensor used from the D5500 the 24.2MP chip is there to impress. The resolution is amazing as you would think with the large number of pixels used in the sensor and with a low-pass filter not being used greater detail can be captured. For even better results from this camera it is advised that you upgrade from the 18-55mm kit lens that is included with this Nikon camera.
It appears that the images taken at lower sensitivities are clean with very little or no noise present. When the camera reaches ISO6400 and above is where the image quality starts to take a noticeable effect with both the luminance and chroma noise starting to become more prolific. The images are still usable in the higher settings but the detail carries on declining with saturation reduced very visibly at the highest sensitivity. The available dynamic range is impressive with shadow detail being able to be recovered on images shot at a lower ISO but this recovery is limited to about ISO1600 being able to stand up to close image inspection.
Display Screen – The display screen on this digital camera is a great 3.2-inch touchscreen, the view on this screen shows 95% of the image you're taking which is a common amount in these affordable DSLR cameras, so extra scrutiny is needed in the very edges of your image to see if it is the size and shape of the object you want to capture. Similar to the previous model the D5600's large various-angle touchscreen display promotes the use of Live View but is still struggling a little regarding the autofocus feature. When capturing well-lit subjects the D5600 takes accurate and detailed shots when compared to mirrorless cameras that are available on the market, but in darker areas, the Nikon D5600 digital camera struggles to get focus, and you'll soon find yourself switching to the viewfinder setting.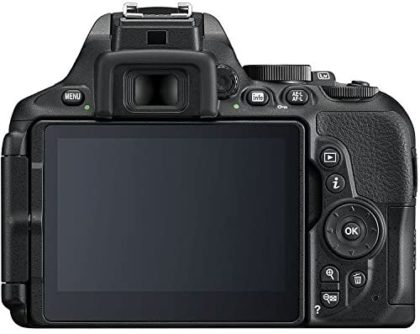 Nikon D5600 specifications
Regarding the specs of the D5600, they don't differ too much from its predecessor the D5500 both boasting a 24.2mp and APS-C CMOS sensor with the optical low pass filter gaining more quality and detail from the images taken. Nikon F-mount is used for any additional lenses, enabling greater image quality. With more recent cameras starting to use the more impressive 4K video technology the Nikon offers a 1080p video quality which will still give you full HD viewing for any of your captures. There is a microphone built-in the camera but also a 2.5mm port located on the side for a dedicated microphone providing higher sound quality.
Battery life is a whopping 820 shot average, more than double the length of the mirrorless camera competitors only having a 330 shot life. The multi-angle touch display screen is 3.2 inches with a massive 1,037,000 dot resolution, but the screen only covers 95% of the image captured so it is wise to check the very outermost sections of your desired subject. 39-point AF is directed through this touchscreen making objects take full focus easier than ever before, a burst shooting setting is featured in this camera and offers a super-fast 5 frames per second burst. A few different connectivity options are available in the D5600 having Wi-Fi, NFC and Bluetooth settings. All these camera specs hold a superlight 465g total weight.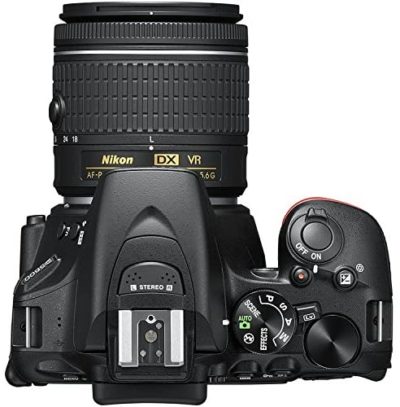 Verdict
In this Nikon D5600 review, we have noticed that the D5600 isn't worlds away from the previous model, the D5500. Most of the specifications are the same and the SnapBridge technology is a step in the right direction but this feature needs a bit more polish to fix connectivity problems occurring in different ways on different devices. Putting this comparison aside, the D5600 is a really good mid-range DSLR camera that would be a great tool for beginners and more experienced users alike.
There are no stand-alone features that stand out and draw overall appeal, but the combination of all the features provide a great spec'd DSLR. The high-resolution 24.2MP sensor will produce high quality images that will not disappoint, however it is the lack of 4K video capture that keeps us wanting. The 39-point autofocus system built in the touchscreen is a great addition, with objects being able to take the cameras focus with just one tap while polished overall handling makes the Nikon D5600 camera one of the best entry-level DSLRs available.

Last update on 2023-06-09 / Affiliate links / Images from Amazon Product Advertising API