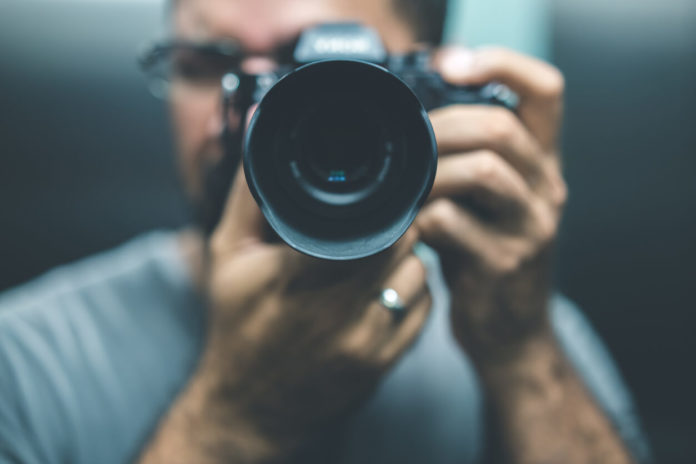 Choosing a digital camera is never an easy decision, and when you have a budget in place, things can be even more challenging. However, $700 is a reasonable budget for a new camera and, in fact, you can even find a mirrorless camera within this price range. Whether you are a new photographer or looking to upgrade from a cheaper, more basic camera such as a point and shoot, finding the best camera under $700 is easy with our comprehensive guide. Below, we will outline everything you need to know about buying a camera, and we have also picked out ten of the best cameras in this price bracket.
This article was updated May 22, 2021
Considerations When Choosing Cameras Under $700
Buying a camera is a big decision, so there are a few important factors to keep in mind before settling on one. Here are some features to look at, in order to choose the camera best suited to your needs.
Type
At this price point, there are three main types of cameras you might be considering – bridge cameras, DSLRs, or mirrorless cameras. Each offers its own advantages and disadvantages. For example, bridge cameras offer a very long zoom range, mirrorless cameras are more compact and lightweight, whilst DSLRs tend to have more compatible lenses. Do some research into each type to find the one which is best for what you intend to use it for.
Sensor Size
The sensor is a very important part of the camera. They come in two main types – full frame and cropped frame, with the former offering better performance in low light conditions. However, cropped frame sensors can be advantageous when it comes to zooming in to far-off subjects. These smaller sensors offer a tighter field of view, meaning you can get closer to your subject with the same lens.
Megapixels
The number of megapixels the camera has relates to the amount of detail that can be captured in an image. A higher number of megapixels means the images will have more detail and can be printed at a larger size.
LCD
There are two things to look for in the camera's LCD – the size and the number of dots. A bigger screen will allow you to look at your images or scroll through the menus more easily, whilst a higher number of dots means images are shown in more detail. You might also like to consider if the screen is articulated or not or if it is touch-enabled.
Battery Life
It goes without saying, but you won't want the camera's battery to run out halfway through shooting the perfect picture. Many DSLRs have an impressive battery life, allowing hundreds of images to be captured on a single charge, but it is worth checking nonetheless. You might wish to buy a backup battery to ensure you never run out of charge when it matters most.
Image Quality
Of course, you will want to choose a camera with decent image quality. As noted above, the number of megapixels is linked to the image quality, but you might also wish to look at the color science and the low-light performance for example. It's a good idea to check out sample images shot on your chosen camera before committing to buy, to ensure you are happy with the overall appearance of the images.
Video Quality
Some users are also interested in shooting video, so in this case, it makes sense to also check out the camera's video resolution. Many newer models are capable of shooting 4K video. Full HD 1080p quality is also very high and would be sufficient for most users. Some cameras offer additional video features such as slow-motion recording, which can be desirable for some videographers or vloggers.
Features
As well as each of the points noted above, you might wish to look at any other features the camera has. These vary between different brands and models, so take a thorough look at the camera's specifications and ensure it has everything you are looking for in a camera. For example, check the ISO and shutter speed range, the maximum burst rate, as well as any lenses or accessories that are included with the camera.
12 Best Digital Cameras Under $700
Now we know a little bit more about what to look for in a camera under $700, let's take a look at 12 of the best options on the market today. We've picked out some excellent models from some of the biggest names in photography, such as Canon, Nikon, and Sony, so there is sure to be something in our buying guide to suit your needs.
1. Sony Alpha a6000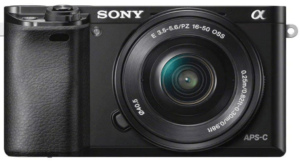 Sensor: Full-frame, back-illuminated | Megapixels: 24.2MP | Autofocus: 179 points | LCD: 3.0-inch, 921,000 dots | Maximum continuous shooting speed: Up to 11fps | Video: 1080p
Our first pick is a mirrorless camera that offers Full HD video quality as well as excellent image quality. It performs well in low-light situations thanks to the wide native ISO range of 100 to 25600, and for really dark conditions, it is possible to expand this to 51200, but don't expect the image quality to be very good at this setting. You'll never miss a shot again with the a6000, as it features a very fast burst rate of 11 frames per second. The 179-point AF system also helps ensure you won't miss the perfect shot – they will always be in focus.
The battery life is good on the Sony digital camera, allowing around 360 shots to be captured on a single charge. This is a great travel camera as it is around half the weight and size of the average DSLR, yet it still offers the Sony E lens mount for interchanging lenses for maximum versatility. It is also the ideal vlogging camera thanks to the tilting LCD, and you can instantly share videos and images using NFC or Wi Fi. The camera is easy to use, even for new photographers, thanks to the intuitive controls. There are seven buttons that can be customized with one of over 470 functions so you can have easy access to the things you need most often.
2. Nikon D5600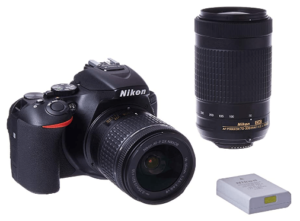 Sensor: APS-C sensor | Megapixels: 24.2MP | Autofocus: 39 points | LCD: 3.2-inch, 1,037,000 dots | Maximum continuous shooting speed: 5fps | Video: 1080p
Our next pick is a Nikon DX-format digital SLR camera. The 3.2-inch vari-angle touchscreen on this model makes it a great choice for shooting self-portraits or for use as a vlogging camera. The video quality is also great for vloggers – 1080p at 60 fps. You can also use the camera to create fun time-lapse videos. The camera comes with a versatile 18-55mm zoom lens so it is ready to use straight from the box.
Shooting fast-moving subjects is no problem for the Nikon D5600, as it has a burst shooting speed of 5 fps. Connectivity is another strong point of this camera – it comes with NFC, Bluetooth, and Wi-Fi, so there are plenty of options for connecting to another device. This DSLR camera has an excellent battery life and can be used to capture around 1000 shots on a single charge. So, it is sure to last for a whole day shooting.
The entry-level camera features 39 autofocus points and the stepping motor ensures autofocusing is almost silent. The Expeed image processor found in this camera ensures it performs well in low light, as does the maximum ISO of 25600. There is also a built-in flash to help brighten a scene.
3. Canon PowerShot G7X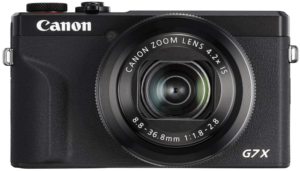 Sensor: 1-inch CMOS | Megapixels: 20.1MP | Autofocus: 31-points | LCD: 3.0-inch, 1,040,000 dots | Maximum continuous shooting speed: 8fps | Video: 1080p
The Canon Powershot G7X features a 1-inch CMOS sensor offering a wide dynamic range and ensuring images are captured in high quality. It is a point and shoot camera, so it is easy to use and doesn't require the user to purchase additional lenses as would be necessary with a DSLR. The lens is equivalent to a 24-100mm and offers a wide aperture of f/1.8 at the 24mm end. Upon zooming in fully, the maximum aperture is reduced to f/2.8, but this is still sufficient to obtain a lovely bokeh effect on your imaging.
The Canon camera features a 3-inch tilting LCD monitor. It can move 180 degrees up and 45 degrees down, so it is perfect for capturing self-portraits or shooting at difficult and awkward angles. The built-in Wi-Fi means it is easy to share and upload images to social media whenever you like. The continuous shooting speed is fast on the PowerShot at up to 8 fps. You can even shoot in RAW in the burst mode, so all the images captured will be top quality. This does require a UHS-I SD card to be fitted in the camera, however. There are a few preset modes to capture different types of scenes such as landscape, fine detail, and monochrome, so you can tailor the appearance of your images.
4. Canon EOS 800D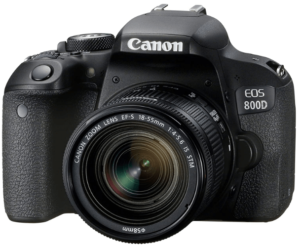 Sensor: APS-C CMOS | Megapixels: 24.2MP | Autofocus: 45 points | LCD: 3.0-inch, 1,040,000 dots | Maximum continuous shooting speed: 6fps | Video: 1080p
Our next pick is another Canon, this time it is the Canon EOS 800D, a DSLR with a 24.2MP CMOS sensor. The 800D is also equipped with the Digic 7 image processor. It features a 1.04-million dot touchscreen LCD with vari-angle functionality. The built-in Wi-Fi and NFC means that both images and videos can easily be sent to a smartphone to share with friends and family or post to social media.
A useful 18-55mm kit lens is included with the 800D, so you can start shooting a variety of subjects right away. The camera is also sold with a range of other accessories, making it a great entry-level camera for complete beginners. Some of these accessories include a tripod, filters, an SD card, and a carrying case – everything you need to get out and start using the camera straight away.
5. Sony CyberShot RX100 III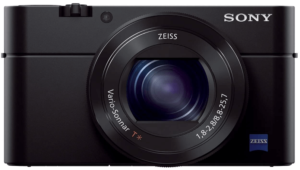 Sensor: 1-inch Exmor R | Megapixels: 20.1MP | Autofocus: 25 points | LCD: 3.0-inch, 1,229,000 dots | Maximum continuous shooting speed: 3fps | Video: 1080p
If the Canon EOS doesn't take your fancy, perhaps this Sony CyberShot will suit your needs. The compact camera features a one-inch Exmor R sensor that performs very well in low light situations. The Bionz X image processor also helps boost low-light performance. The built-in lens offers a maximum aperture of f/1.8 and a zoom range equivalent to 24-70mm, so it is suitable for a variety of types of shots whether it's a landscape scene or a portrait of pets or people.
The Cyber-Shot features an OLED viewfinder and a multi-angle 3-inch LCD screen. It comes bundled with a 32GB SDHC card, a case, a camera cleaning kit, and a USB card reader for laptops that don't include an SD slot. Videographers will also love this camera thanks to its HD movie recording functionality – it makes a great vlogging camera for under $700.
6. Canon EOS 60D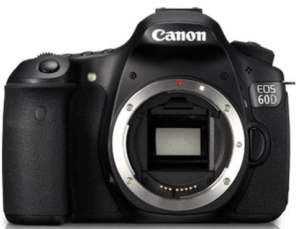 Sensor: APS-C CMOS | Megapixels: 18MP | Autofocus: 9 points | LCD: 3.0-inch, 1,040,000 dots | Maximum continuous shooting speed: 5.3fps | Video: 1080p
Our next pick is another from the ever-popular Canon EOS range. The 60D is one of the cheapest cameras featured in our guide, but don't let the lower price tag fool you as this is still an excellent camera. It features an 18 megapixel APS C CMOS sensor and can shoot at a maximum rate of 5.3 frames per second. Like most of the cameras under $700 we have featured, the Canon EOS 60D can record video footage in 1080p HD quality. And, you can make use of the manual controls when video recording.
This entry level camera has a maximum ISO of 6400, so it's not as suitable for low light shooting as some other models. However, this will be sufficient for most situations for many users. The 3-inch screen on this DSLR camera flips out so it can easily be seen when shooting self-portraits. The included 18-55mm lens offers image stabilization to ensure shots are free from the effects of camera shake.
7. Nikon D7500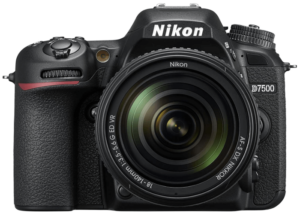 Sensor: CMOS | Megapixels: 20.9MP | Autofocus: 51 points | LCD: 3.2-inch, 922,000 dots | Maximum continuous shooting speed: 8fps | Video: 4K
Our next favorite camera under $700 is the D7500 from Nikon. This is one of Nikon's higher-end DSLR cameras and, as such, has a range of impressive features. It is capable of shooting stunning Ultra HD 4K video with stereo sound, and it is even possible to capture a time-lapse sequence in 4K resolution. The D7500 has a powerful AF system with 51 AF points and 15 cross-type sensors. So, you can be sure your subject will always be in sharp focus, no matter where it is in the frame.
It is easy to connect this camera to a smartphone by downloading the Nikon SnapBridge app and using the camera's WiFi and Bluetooth capabilities. The LCD screen on this camera is touch-enabled and measures 3.2″, so it is easy to control and ideal for clearly viewing pictures. The D7500 has a 20.9MP sensor and the Expeed 5 image processor, to capture very high quality, sharp pictures. It also performs very well in low light situations such as weddings and concerts. The camera body is weather-sealed to ensure it can withstand being used in any condition and is resistant to moisture and dust.
8. Sony ZV-1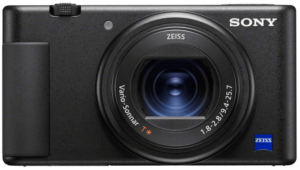 Sensor: 1-inch Exmor RS CMOS | Megapixels: 20.1MP | Autofocus: 425 points | LCD: 3.0-inch, 921,600 dots | Maximum continuous shooting speed: Up to 24fps | Video: 4K
Next up we have another of Sony's excellent compact cameras – the ZV-1. This is designed primarily as a vlogging camera as it has a flip-out screen and a wind screen for the microphone to ensure the sound quality is excellent, even outdoors. The ZV-1 will keep your face clear and bright when shooting a vlog video. There is also a button to quickly and easily defocus the background, which will make vlogger's videos look even better. It's also possible to lock focus on the eyes, and autofocus can be obtained very quickly, in just 0.03 seconds.
This isn't just a video or vlogging camera, however. There are plenty of excellent features on this camera for photographers, too. The built-in lens offers a zoom range of 24-70mm, in 35mm terms, so it can be used to shoot a variety of subjects without the need for additional lenses. Image stabilization is also included with this camera to ensure your shots are sharp and crisp. The camera weighs only 10.4 ounces so it is ideal for traveling with and comfortable to use for long periods. It is also dust and moisture resistant, so using this camera outside is no problem.
9. Panasonic Lumix G85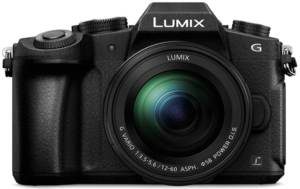 Sensor: Micro four thirds | Megapixels: 16MP | Autofocus: 49 points | LCD: 3.0-inch, 1,040,000 dots | Maximum continuous shooting speed: 9fps | Video: 4K
This mirrorless camera from Panasonic offers a range of excellent features for under $700. It includes a versatile 12-60mm lens and features a 16MP sensor as well as 5 axis in-body image stabilization. The sensor's no low pass filter ensures every photograph has a stunning level of detail. The LCD monitor measures 3 inches and can tilt to different angles to make it easier to shoot in awkward positions. The screen is also touch-enabled so this camera is easy to control.
The G85 can record 4K video and there is a unique post-focus feature. This helpful feature allows you to capture stills from a 30fps 4K video, and set the focus point afterward. There is a port for adding an external mic if you really want to ensure your videos are top-quality. When shooting stills, the shutter sound is very quiet – this means this camera is ideal for situations when you don't want to cause a disturbance such as at a wedding or when shooting wildlife. The rugged body of this camera means it is dustproof and splashproof, so it can be used in any environment without worrying about the risk of damage.
10. Nikon D3500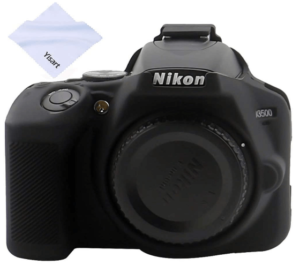 Sensor: APS-C CMOS | Megapixels: 24.2MP | Autofocus: 11 points | LCD: 3.0-inch, 921,000 dots | Maximum continuous shooting speed: 5fps | Video: 1080p
Our next pick is another Nikon, this time it's the budget-friendly D3500. This is a great camera for beginners looking for their first DSLR camera thanks to its intuitive design. Of course, the photo quality is great and the 1080p Full HD video resolution won't disappoint either. The APS C CMOS sensor in the D3500 is 15x larger than that found in a typical smartphone, to ensure the photographs are sharp and detailed.
Nikon's Snap Bridge app can be used in conjunction with the D3500's Bluetooth for instantly sharing photos and videos. There is an optical viewfinder on this camera, and it comes bundled with an 18-55mm lens to start shooting straight away. New photographers will love the automatic mode on this camera, which makes it as easy to use as a point and shoot, yet with DSLR-quality photos being produced. Of course, it is also possible to take full manual control of the settings after learning how to use all of the buttons and controls. It is possible to shoot in RAW format and the D3500 is relatively compact for a DSLR.
11. Canon EOS Rebel T6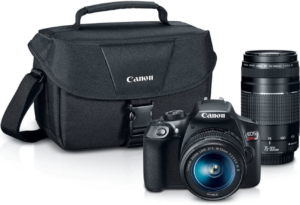 Sensor: CMOS | Megapixels: 18MP | Autofocus: 9 points | LCD: 3.0-inch, 920,000 dots | Maximum continuous shooting speed: 3fps | Video: 1080p
Nearing the end of our guide, we have a very popular model from the Canon EOS Rebel range. The T6 comes with the standard 18-55mm kit lens as well as a telephoto zoom lens with a range of 75-300mm – perfect for shooting distant subjects such as sports matches or wildlife. There is also a protective carrying bag included to keep the camera and lenses safe. The camera features an 18-megapixel CMOS sensor and the Digic 4+ image processor so you get high-quality images every time.
The Canon EOS Rebel T6 can also be used to capture stunning Full HD videos and it is possible to manually control the exposure when shooting video. You can also make use of the live view shooting mode on the 3-inch LCD monitor, which has 920k dots to show images and videos in a high level of detail. It's even possible to turn this camera into a high-quality webcam, which is ideal for working at home. The low light performance on this camera is good thanks to the wide ISO range of 100-6400. In terms of connectivity, there are a few options on the T6. It features both Wi-Fi and NFC, and the Canon Camera Connect app can be downloaded to your smartphone to make sharing and transferring files even easier.
12. Canon EOS Rebel SL3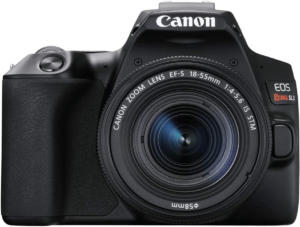 Sensor: APS-C CMOS | Megapixels: 24.1MP | Autofocus: 9 points | LCD: 3.0-inch, 1,040,000 dots | Maximum continuous shooting speed: 5fps | Video: 4K
Our final pick of the best digital cameras under $700 is another Canon EOS Rebel, this time it's the SL3 model. The SL3 is equipped with a 3-inch vari-angle touchscreen, so it is a great choice if you need to shoot self-portraits or videos of yourself, perhaps for vlogging purposes. This model is the lightest and smallest in Canon's EOS range of DSLRs, so it is perfect for traveling. Despite the smaller size of this camera, it still contains a 24.1 megapixel CMOS APS-C sensor, as well as the Digic 8 image processor, so you get outstanding image quality.
The autofocus system on this model has 9 AF points and there is also eye detection autofocus to help ensure portraits are perfectly sharp every time. The camera can shoot video in 4K resolution, and can even capture time lapse footage of the same quality. There is both Bluetooth and Wi-Fi on the Canon EOS Rebel SL3, so it is very easy to share photos with friends and family or to post them on social media sites. The ISO ranges from 100-25600 on this camera, so it is able to perform well in very poorly lit conditions, making it a good choice for weddings or concerts where natural lighting can be limited.
Best Buy Overall
After looking at 12 great options, we have picked our overall favorite camera for under $700. The one which stands out above the others is the Sony Alpha a6000. It has a whopping 179 focus points, to ensure every shot is tack-sharp. The a6000 also has a wide native ISO range of up to 25600 to ensure low-light performance is excellent. Of all the cameras on our guide, this one has the fastest burst shooting speed of up to 11 frames per second – perfect for capturing a fast-moving subject. One of the most useful features of the Sony a6000 is the customizable buttons which can be set with any of the 470+ functions.