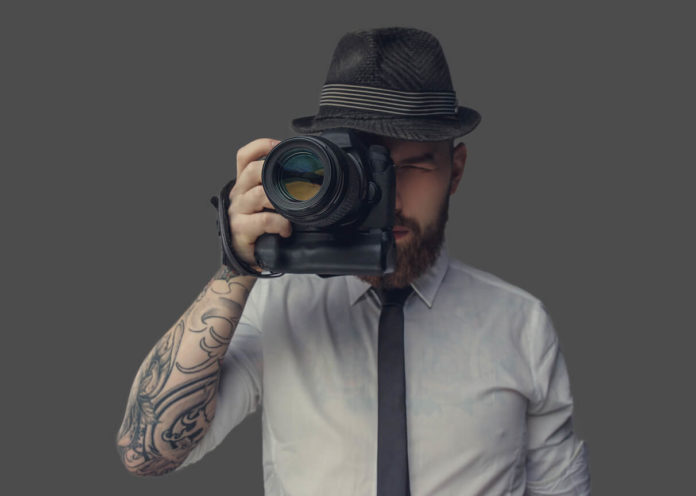 With a budget of around $2000, there are many excellent mirrorless cameras and DSLR cameras available to choose from. At this price point, there are flagship APS-C and Four Thirds sensor cameras from some of the biggest brands, as well as some full frame sensor cameras. Whilst $2000 might not be quite enough for a high-end professional model, enthusiasts are sure to find something here offering excellent image quality. In addiction there's a range of other useful features to make them a better photographer. In this buying guide, you will find everything you need to know about choosing the best cameras under $2000.
Choosing the best DSLR cameras under $2000?
Before spending a large sum of money on a camera, there are a few things worth keeping in mind to ensure you choose the very best your money can buy. So here are some of the factors you might like to consider.
Type
First of all you should ask yourself: am i looking for a mirrorless camera or do you prefer using DSLR cameras? Each type offers its own pros and cons, so think about what you are looking for from your camera and choose the type that best suits your needs.
Specifications
Secondly a camera should have all-round high specifications. Think about what is most important to you as a photographer – high burst shooting rate, excellent video performance, a fast and accurate AF system with many focus points, or a weather-sealed body with high build quality.
Image Quality
Of course, a $2000 camera should be capable of producing very high-quality images. Take some time to look at sample photographs shot on your chosen camera, comparing the color science between different brands, and ensure they have the great image quality you are looking for.
Video Quality
Video performance might be a deciding factor for some users. Most $2000 cameras are capable of video recording in 4K resolution and some allow the user to manually control the settings whilst shooting.
Weatherproofing
Again at higher price points, it is reasonable to expect a camera to be weather sealed so it can be used outdoors in less-than-ideal weather conditions.
Connectivity
Most higher-end cameras offer many options when it comes to connectivity. For example it is standard for a camera to be equipped with both Wi-Fi and Bluetooth with many also offering NFC and GPS for geotagging your images.
Lenses
Finally if you are upgrading from an existing camera, you might like to choose one which is compatible with any existing lenses you already own. Otherwise check the camera's lens mount and look for compatible lenses. Also, take into consideration the type of lenses on offer for your chosen model and ensure there is something to suit the type of photography you are interested in. Keep in mind the cost of the lenses as this will add considerably to the overall cost of the camera bundle.
Best cameras for under $2,000
So let's take a look at our top 10 picks of the best mirrorless cameras and DSLRs and discover our top 10 DSLR and mirrorless cameras in this price bracket.
1. Canon EOS R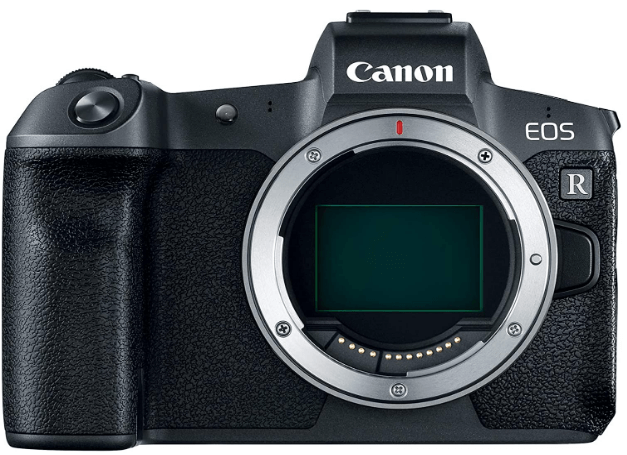 Type: Mirrorless | Sensor: 30.3MP CMOS | Video: 4K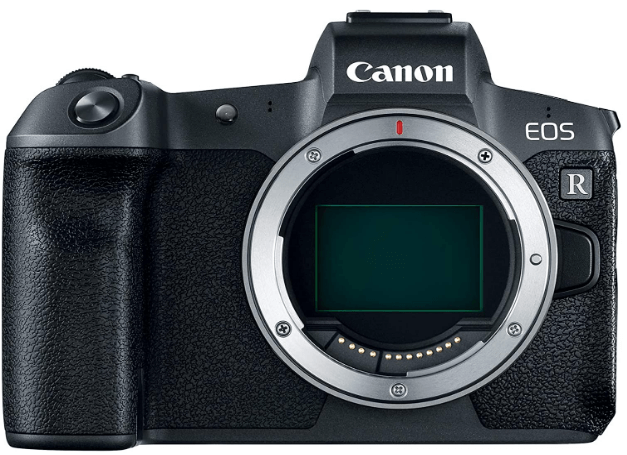 Type: Mirrorless | Sensor: 30.3MP CMOS | Video: 4K
Our next pick is a mirrorless full frame camera from Canon, the EOS R. This 30.3MP camera offers DIGIC 8 processing power and an electronic viewfinder with 3.69 million dots. The Dual Pixel CMOS AF system has a massive 5655 manually-selectable focus points, so you can be sure your shots will always be in perfect focus, no matter where they are in the frame.
The Canon EOS R has a TFT LCD screen so it is easy to use and can be viewed at any angle, even in bright sunlight. In terms of lenses, there are many available that can be used thanks to the mount adapter. This means both EF and EF-S lenses can be used with the EOS R. Furthermore there's also a control ring on the mount adapter which can be customized to give you better control over important settings.
2. Panasonic Lumix GH5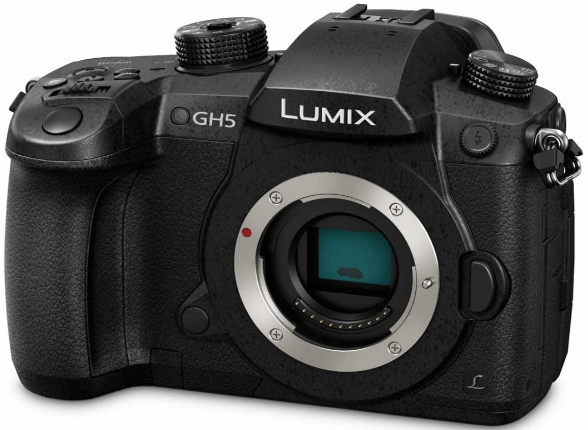 Type: Mirrorless | Sensor: 20.3MP Micro Four Thirds | Video: 4K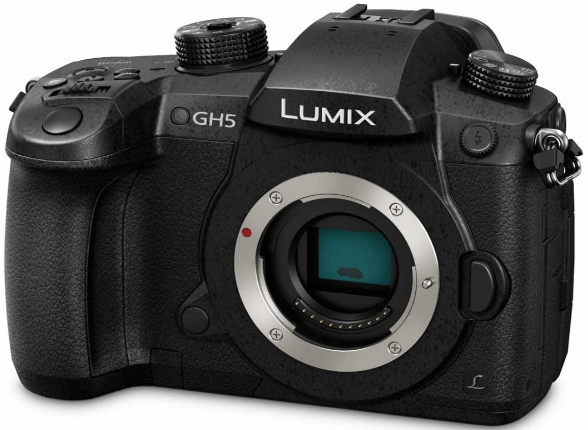 Type: Mirrorless | Sensor: 20.3MP Micro Four Thirds | Video: 4K
Our penultimate pick is one of Panasonic's mirrorless interchangeable lens cameras, the Lumix GH5. Firstly it is ideal for both stills and video thanks to the 4K video capability and 20.3MP Micro Four Thirds sensor. Therefore the sensor has no low pass filter and offers a high dynamic range. The durable magnesium body is splash-proof and freeze-proof to 10 degrees.
This camera has dual image stabilization meaning camera shake is almost completely eliminated. This even works with classic lenses without OIS, so your shots will always be free from blurring. The GH5 has two SD card slots and there are three different ways to use them. The battery life is very good on this model, it can be used for around 400 shots before a recharge will be necessary.
3. Nikon Z 6II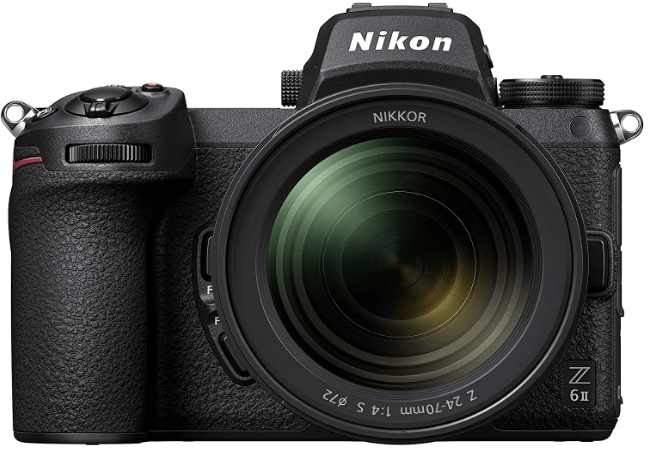 Type: Mirrorless | Sensor: 24.5MP BSI | Video: 4K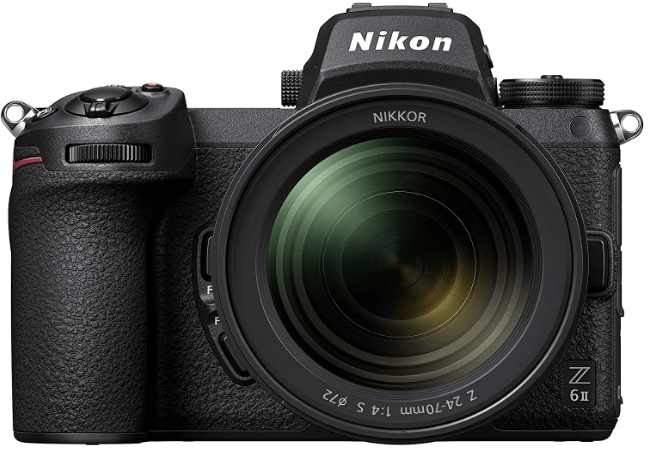 Type: Mirrorless | Sensor: 24.5MP BSI | Video: 4K
Our final Nikon comes from the mirrorless range – the Nikon Z 6II. This model features a 24.5MP backside-illuminated full frame sensor so it performs very well in low-light situations. The Z 6II is also an excellent choice if you are looking for speed – it is capable of continuous shooting at an incredible 14 fps. This mirrorless camera has a high-quality magnesium alloy body as well as a dual card slots, so it is a great choice for professional users.
The autofocus system on this camera is one of the best, with a massive 273 AF points. The battery life on this model isn't as good as you would expect from a DSLR, lasting around 340 shots. Fans of long-exposure shots will be delighted with the 900-second exposure of the Z6 II, perfect for tracking stars and capturing movement in never-before-possible ways. In summary, the Z6II is one of the best full frame mirrorless cameras out there.
4. Canon EOS 6D Mark II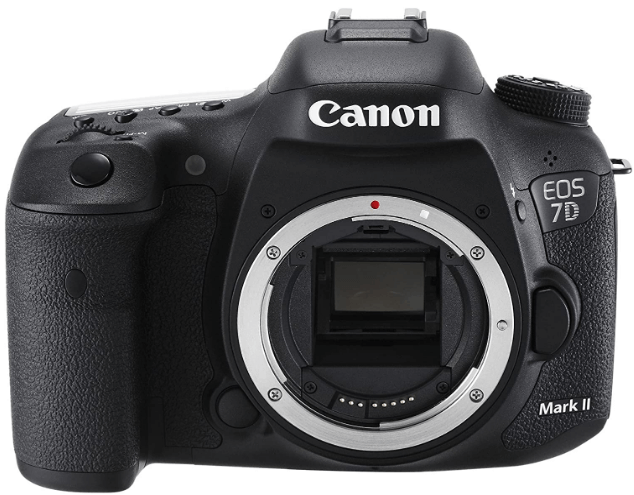 Type: DSLR | Sensor: 26.2MP APS-C CMOS | Video: 1080p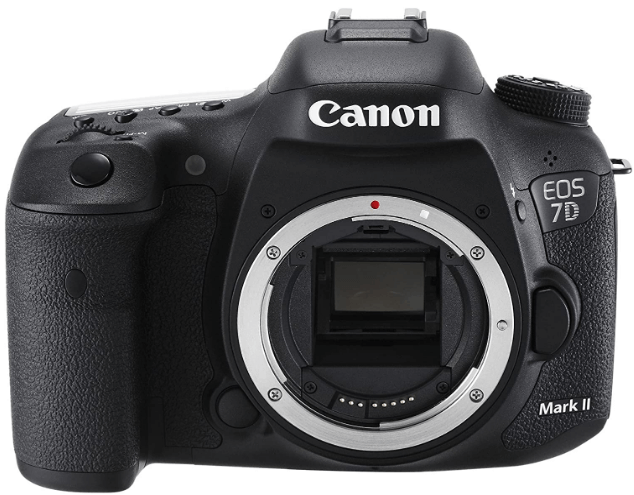 Type: DSLR | Sensor: 26.2MP APS-C CMOS | Video: 1080p
Our next pick is a Canon DSLR, the 6D Mark II. This model features a 26.2MP APS-C sensor and is capable of burst shooting at an impressive rate of 10 fps. In addiction the camera also has dual DIGIC 7 image processors and a dual pixel autofocus system. One unique feature of the 7D Mark II is the in-built GPS and digital compass, perfect for adding location data to your images.
Both image and video quality are excellent on this model. Video is shot in 1080p resolution, which is sufficiently good quality for the majority of users. Finally when it comes to shooting stills, the camera is fast and accurate and performs very well in low levels of light.
5. Pentax K-1 Mark II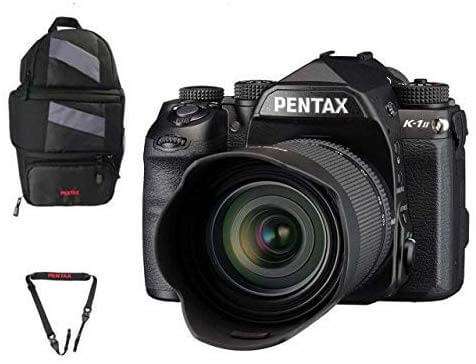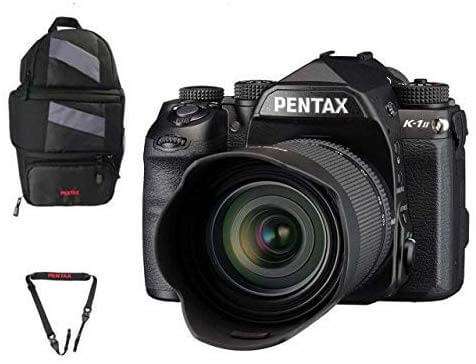 The Pentax K-1 has an impressive sensor resolution of 36 MP, and it is also filterless and has shake reduction. Whilst this is a full-frame camera, it also offers APS-C crop mode so it can be used with Pentax K-mount lenses. Additionally the K-1 is the pixel shift resolution, which allows four images to be combined into one with maximum sharpness and bright, bold colors.
To further help improve image quality, this camera has Engine Accelerometer for faster focusing, reduced noise, and maximum sharpness. Last but not least the body of this camera is weather-resistant and made from magnesium alloy, so it can be used in any weather conditions.
6. Sony a77II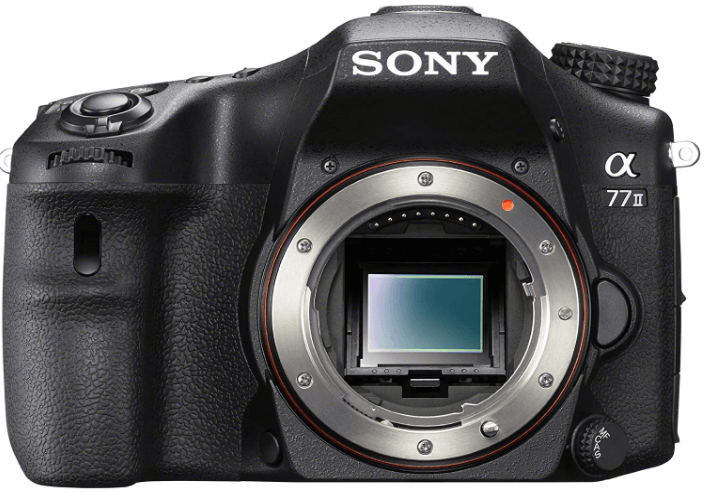 Type: DSLR | Sensor: 24.3MP APS-C | Video: 1080p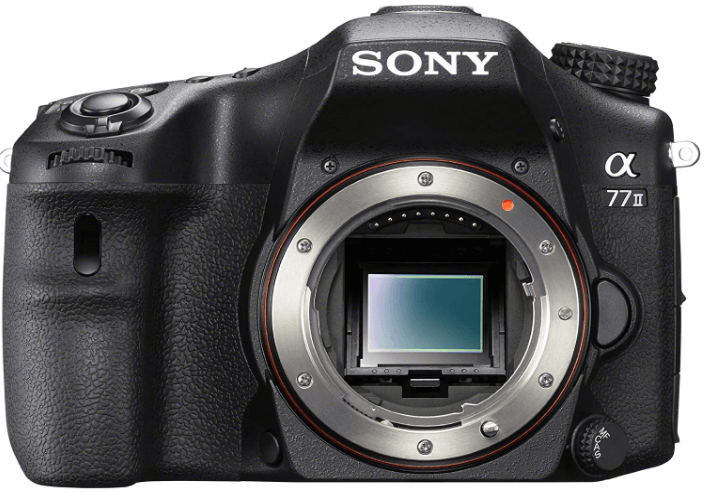 Type: DSLR | Sensor: 24.3MP APS-C | Video: 1080p
Sony's a77II offers a fantastic 79-point phase-detection AF system and can shoot at a maximum speed of 12 fps. The 24.3-megapixel sensor ensures images are full of detail and the camera features sensor shift image stabilization. The ISO range is from 100-51200 on this camera and it comes with both Wi-Fi and NFC for easily transferring images to another device.
The Sony a77II has an electronic viewfinder and is capable of 1080p HD video recording, besides it weighs only 1.43 pounds.
7. Sony Alpha 7C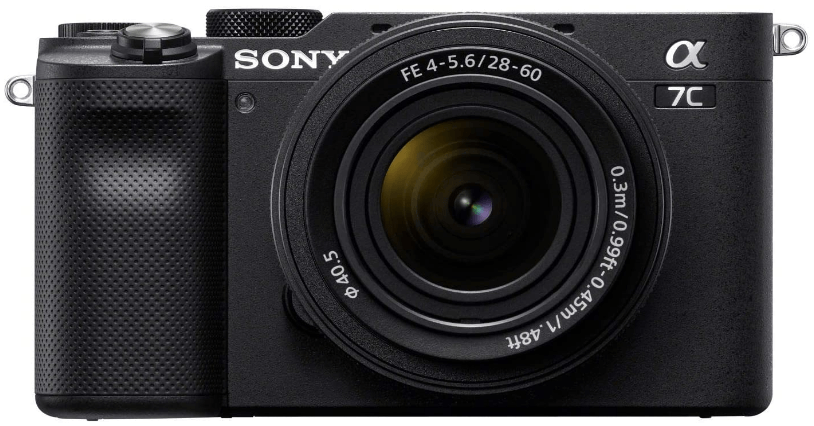 Type: Mirrorless | Sensor: 24.2MP back-illuminated | Video: 4K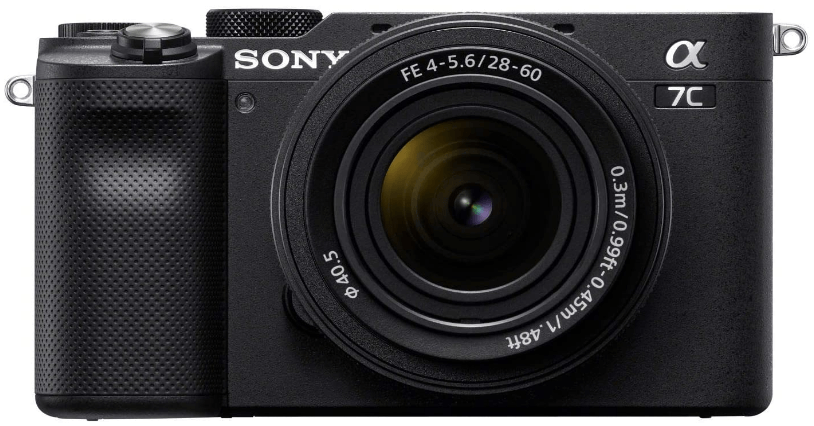 Type: Mirrorless | Sensor: 24.2MP back-illuminated | Video: 4K
Our next pick is another Sony, but this time it is a mirrorless model. It comes in at the higher end of the price scale, however, it is the smallest and lightest full frame camera on the market. There are a massive 693 phase-detection AF point and 425 contrast AF points, offering 93% coverage. The Alpha 7C features a 24.2-megapixel back-illuminated sensor and is capable of recording 4K video footage.
The 15-stop dynamic range ensures all the detail will be captured even in the darker parts of the scene. The a7C has an ISO range of 50-204,800 so it performs very well even when light is very limited.
8. Nikon D850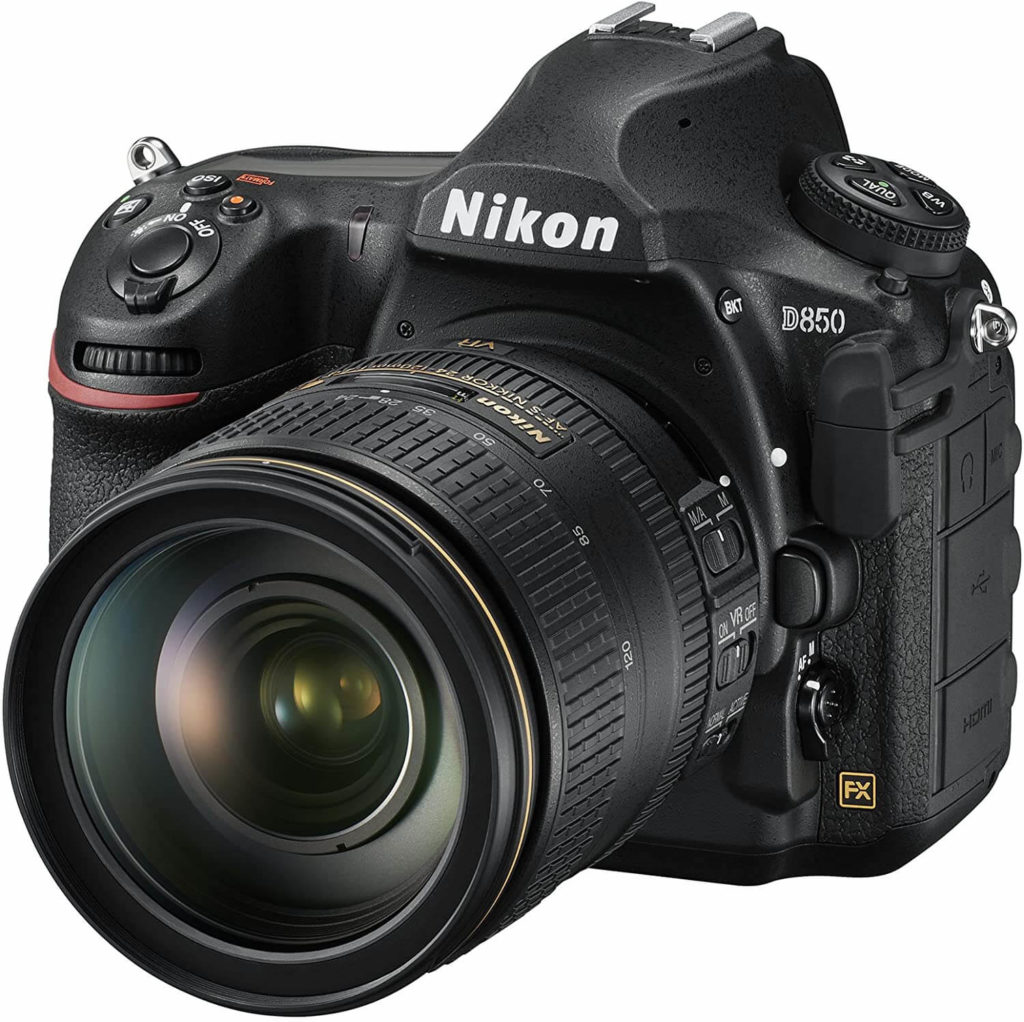 Type: DSLR | Sensor: 45.7MP BSI | Video: 4K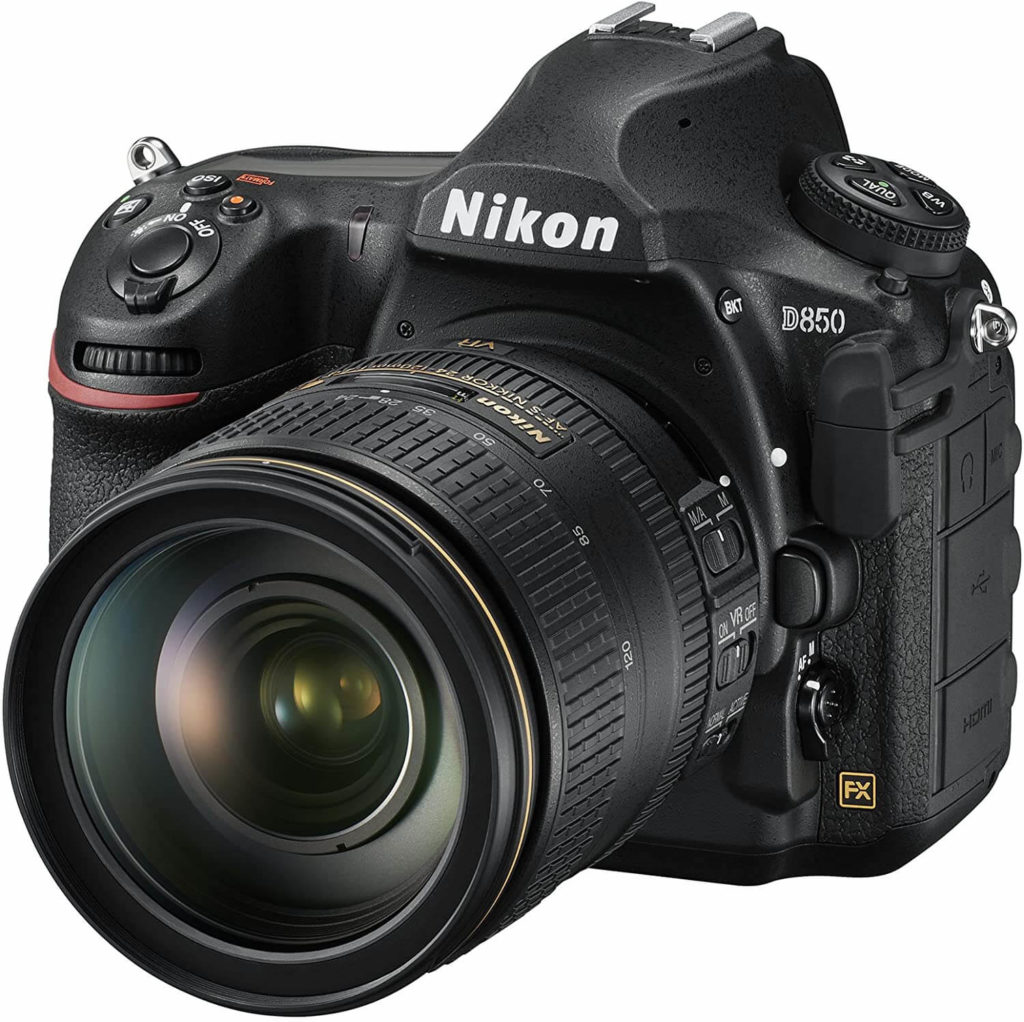 Type: DSLR | Sensor: 45.7MP BSI | Video: 4K
Kicking off our buying guide is one of the best Nikon DSLRs for enthusiasts – the D850. Whilst this DSLR camera comes at the higher end of the price range, it has a range of outstanding specifications. Firstly the 45.7-megapixel image sensor with an outstanding dynamic range. Secondly the continuous shooting speed is very fast on the D850, faster than its predecessor – the Nikon D750, at up to 9 frames per second at full resolution and with full autofocus.
Like many high-end Nikon interchangeable lens cameras, the D850 can capture 4K video, or drop down to 1080p resolution to capture slow-motion shots at 120 frames per second. In Addiction it has a 3.2 inch vari-angle LCD touchscreen means this camera is easy to use thanks to the intuitive controls. One benefit of the D850 over the Nikon D750 is the former's autofocus system, with 153 points compared to the 51 of the D750.
9. Nikon D500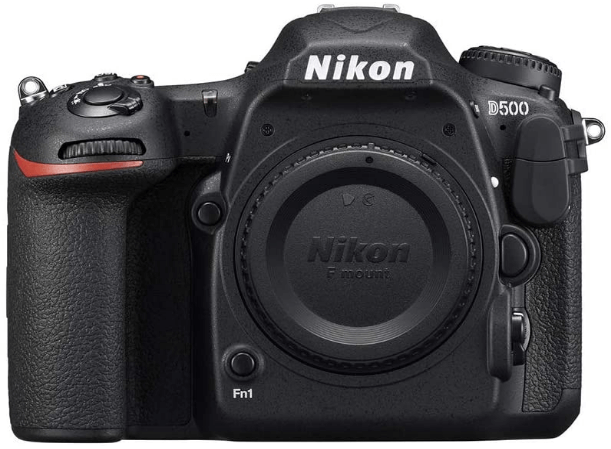 Type: DSLR | Sensor: 20.9MP CMOS | Video: 4K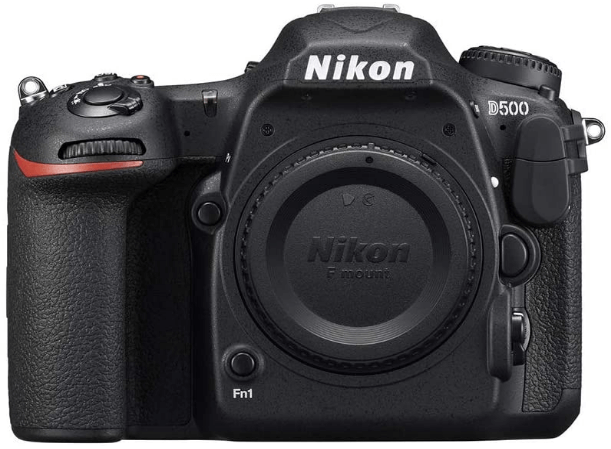 Type: DSLR | Sensor: 20.9MP CMOS | Video: 4K
Our next pick is another Nikon, yet this time it is a cropped-frame model with a 20.9MP CMOS sensor, the Nikon D500. It is ideal for both stills and video, with the ability to shoot 4K video as well as a burst shooting speed of 10 frames per second. The D500 boasts a very high resolution tilting LCD touchscreen, measuring 3.2 inches and with 2539k dots. The native ISO on this model is 51,200, and this can be extended to a massive 1,640,000 for extreme low-light situations.
The D500 has a very capable autofocus system with 153 AF points, to ensure your subject is always in sharp focus. Both Bluetooth and Wi-Fi can be found on this model, so sharing photos and videos is easy. The body is built from durable carbon fiber and magnesium alloy so it is dust-, water- and drop-resistant.
10. Fujifilm X-Pro3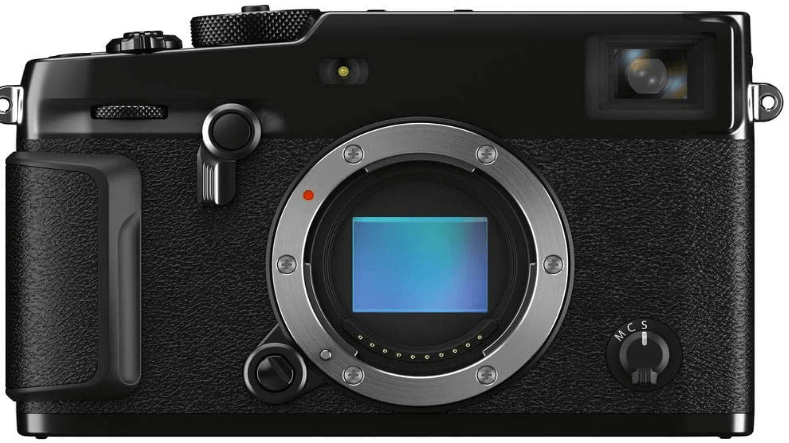 Type: Mirrorless | Sensor: 26.1MP CMOS | Video: 4K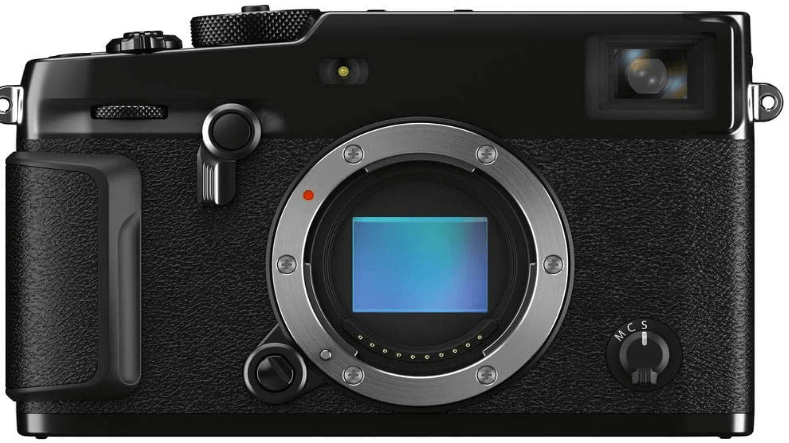 Type: Mirrorless | Sensor: 26.1MP CMOS | Video: 4K
Lastly we have the Fujifilm X-Pro3 mirrorless camera. Firstly, It features a 26.1-megapixel CMOS sensor which is back-illuminated. Secondly, the camera boasts the X-Processor 4. The body has titanium elements, so it is around seven times more durable than stainless steel, and it is also weather-sealed.
The X-Pro3 features a 3.69-million dot OLED electronic viewfinder, to give an accurate, fast, and high-quality vision of how your finished shot will look. There are 16 different modes on the camera to replicate different film effects, including classic negative.
Our Best Buy Camera under 2000$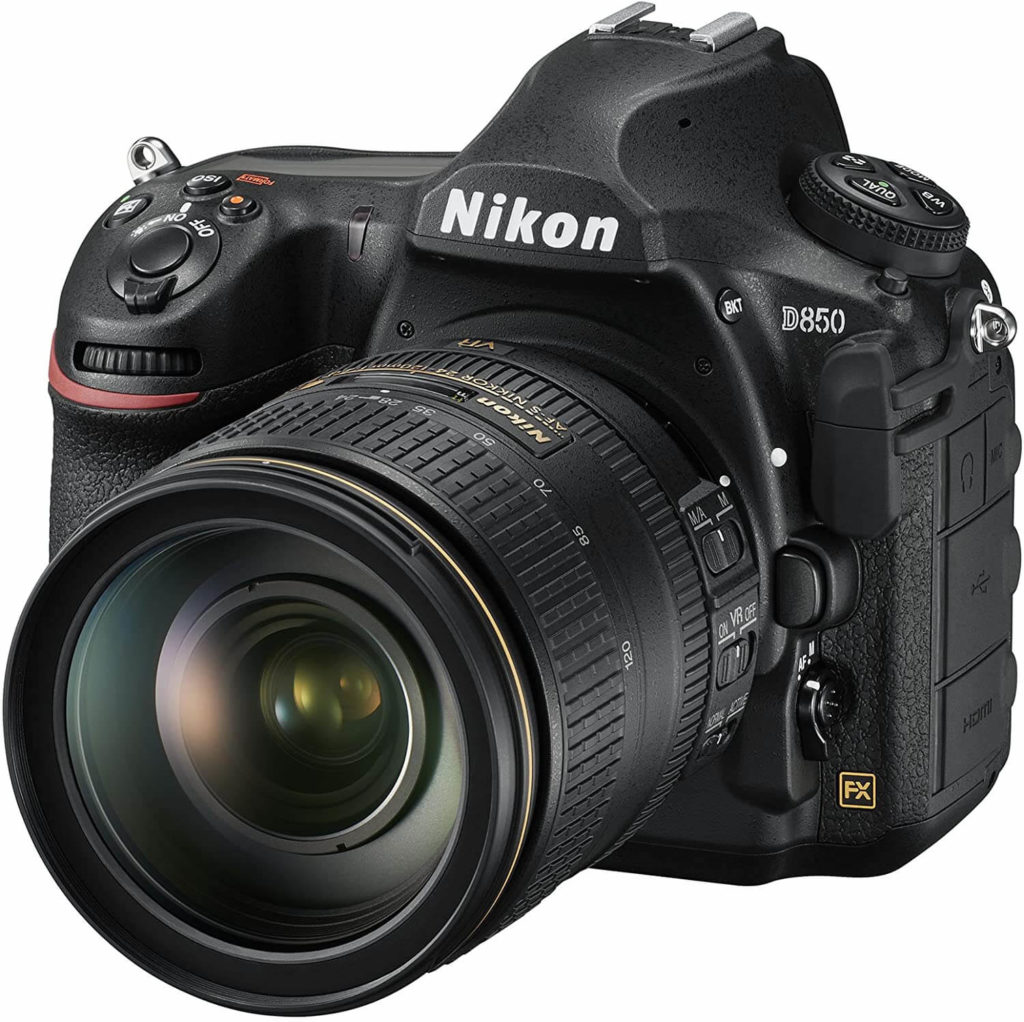 Type: DSLR | Sensor: 45.7MP BSI | Video: 4K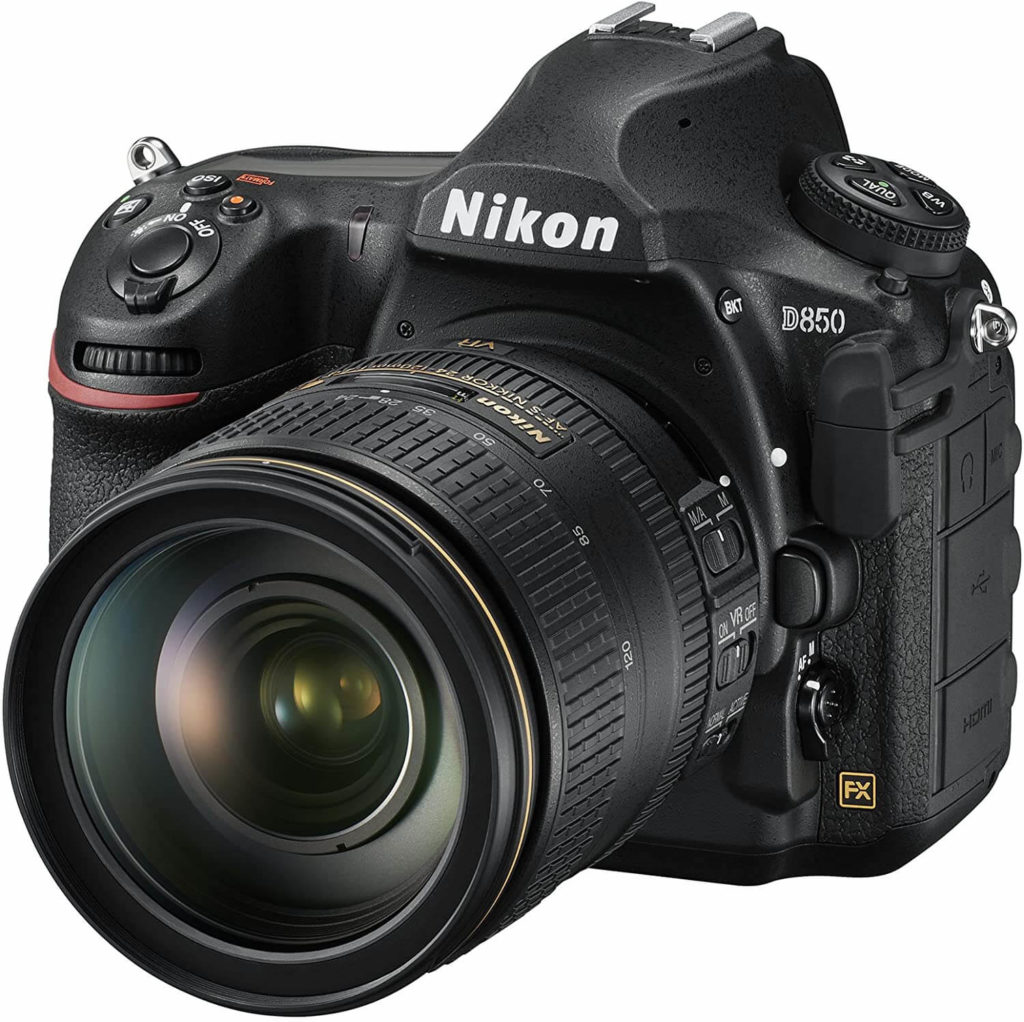 Type: DSLR | Sensor: 45.7MP BSI | Video: 4K
All in all, after looking at ten great picks, we have chosen the best camera for $2000. Our winner is the Nikon D850, thanks in part to the 45.7-megapixel back-illuminated sensor. It is also great for capturing high-speed action with a burst speed of 9 fps whilst keeping the full resolution. The vari-angle touchscreen is another nice feature which is sure to come in handy, and the autofocus system on the D850 is very capable.
Last update on 2023-10-05 / Affiliate links / Images from Amazon Product Advertising API