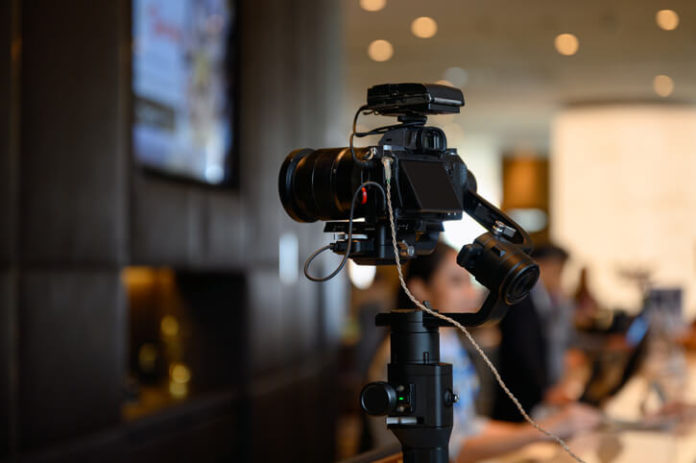 Looking for the best camera under $600 and wondering what options are available in this price range? You're in the right place: in this comprehensive guide we have looked at all the best digital cameras under 600 dollars. We have included all the top camera brands such as Sony, Canon, Panasonic, Nikon, Pentax and many others.
When people want to capture the special moment, appreciate nature and their  environment, they look to photography. In Fact it allows you to express yourself with the world as your inspiration in every shot. Foremost the shutter sounds and camera clicks give the sense of fulfillment that entry level and professional photographers can not get enough of. Then pursuing your love of photography is not all lilies and roses as the cost to get high-end gear can be overwhelming for many, especially for beginners who are just picking up the art.
So if you are new into photography or you just need a simple camera to help immortalize your memorable events, you would be in search of a budget camera, preferably entry level that would not be difficult to get used to. You have set your eyes on the prize, and we have helped you look over the price in this review of the best budget digital cameras under $600.
Considerations Choosing $600 Cameras
Firstly when buying a camera you have some specification to keep an eye out. So have a look at the important factors you would need to consider before swiping your card!
Size
The size of the camera matters but not in the way you think. In some cases, bigger is better, depending on the purpose of the camera. If you intend to capture spectacular nature shots or motion pictures, you might need to get an interchangeable lens for your DSLR or mirrorless camera. This means that your set up would be bulky, but it would reciprocate with superior image quality.
Brand
The popular brands understand that different people need their cameras for different things. So they have created different camera ranges to satisfy every need. They have created the budget camera range and given these cameras some really cool technical gizmos that would ensure you have fun when it's being used.
Features
The following are features to your shooter that you need to get behind. For a shooter to be truly awesome, it must do well in the following.
Image Stabilization
This is one feature you want in your cameras, as it gives a pro look to your shots. Shooters with optical image stabilizers help you to reduce the amount of blur as a result of your hand shaking during shooting. It also helps to capture moving objects better.
Aperture
The part of the camera that helps you regulate how much light can pass through the diaphragm and also helps in focusing the light rays is the aperture. A lot of unfocused light rays will find a way into your cam if it has wide open lens instead.
Megapixel
The megapixel count in photographer cameras is the measure of the cameras ability to capture the crispest details without losing too much quality when the shot is zoomed in without the employ of an optical zoom lens. Higher-end cameras come with a lot of storage space because the more the megapixels, the more the space taken by the images.
Viewfinder / LCD screen
The viewfinder allows the photographer to inspect the shots taken and allows him to make minor adjustments to the settings. There are two viewfinder variants, the electronic viewfinder like the one found in mirrorless cams and optical viewfinders like the ones in dslr cameras. An lcd screen is an alternative to the viewfinder; it is a sizeable screen that also allows you to tweak the properties of the image.
Zoom
Zoom is probably the most popular feature on here. It gives the photographer the ability to get closer shots without physically moving closer to the object. There are two variants:
Digital Zoom: These lenses are less preferred to the other variant because they are designed to capture the image, and then zoom in on a particular part of that image. This grossly reduces the quality of the image, and in situations where you zoom beyond the sensor size, the image loses focus.
Optical Zoom: This lens bring the object closer before the image capture. This makes it retain better image quality, as it does not need to resize images.
Portability
If you are interested in picking up a shooter for vlogging or everyday use, it is advised that you pick up a portable camera. These cameras are ideal for when you want to travel, so you can easily put it in your pockets or travel bag. The portability makes the shooter easier to handle and would not allow for any discomfort.
Battery life
How good the battery is would determine how much you get done with your shooter. Cameras with continuous shooting abilities and state of the art lcd screen consume a lot of battery. So when you are buying cameras with the aforementioned features, you want to make sure that it has a long-lasting battery to enable you to create for extended periods.
Best Cameras Under $600 in 2021
The following is a carefully put together list of the best budget cameras under $600. Enjoy!
1. Canon EOS Rebel T7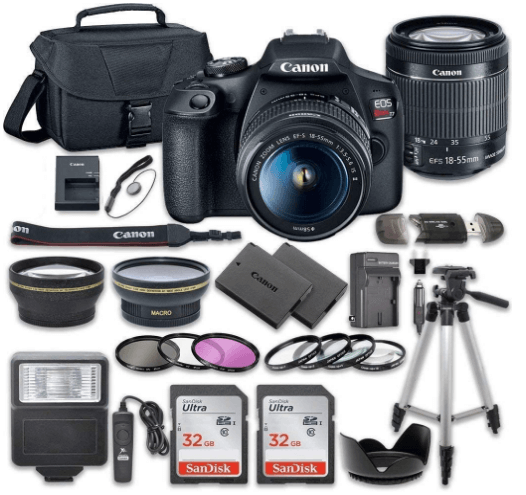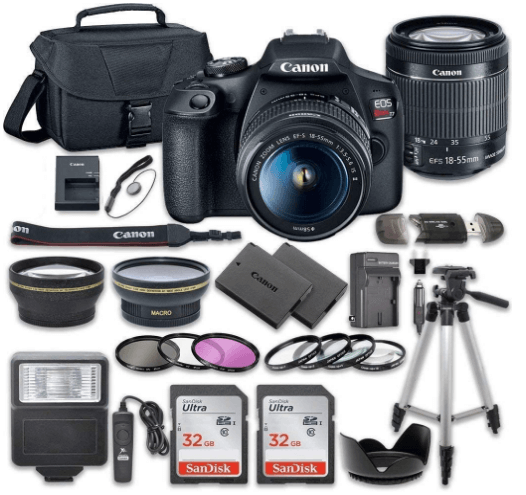 The Canon EOS Rebel has near-perfect image quality with its 24.1 megapixels APS-C sensor. So if you buy this $600 Canon camera, you won't have to worry about getting extra parts because it comes with most of the equipment you will need.
The lens is an 18-55mm, and it can shoot 3FPS continuously. At 9.33 pounds, it is a pretty lightweight camera that you can take for outdoor shootings. With a 50 inch tripod and an extra battery, you get great value for your money. For outdoor events such as parties and sporting events, this camera will perform wonders. So if you are looking for the best DSLR under 600, the Rebel T7 is a safe bet.
2. Nikon Coolpix B600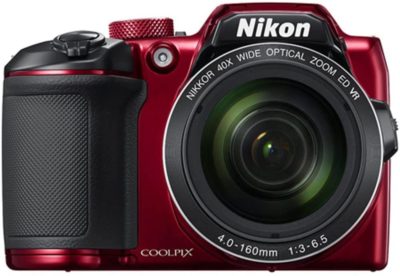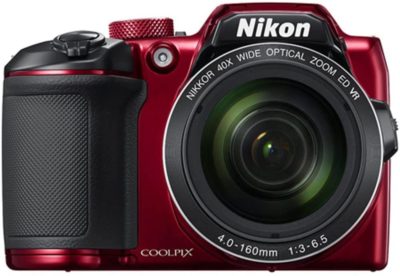 Of all the best bridge cameras under $600, the Nikon COOLPIX B600 has a spectacular optical zoom of 60X that's made possible thanks to a compact yet bright 16MP 1/2.3 in sensor paired with a NIKKOR VR Lens with 24-1440mm focal length.
Even professional photographers will appreciate the image quality and the ease with which they can just "point-and-shoot" even at the greatest distances. In addiction this camera include its WiFi connectivity and Bluetooth. These features allow for remote control, instant file sharing, and other features that can be accessed via its LCD screen display. Finally it can record full HD Video.
3. Kodak Pixpro AZ652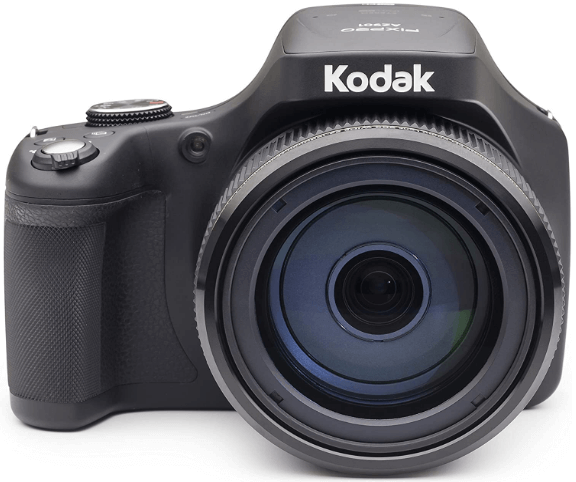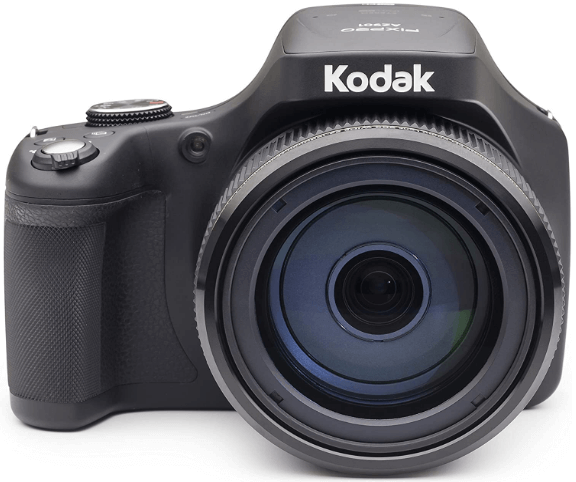 This is a continuous shooting camera with a zoom lens. The camera can shoot 5ps per second continuously and produces images in JPEG and RAW format. Kodak has reached a new level of budget but powerful devices with this Pixpro AZ652 as it delivers versatility straight into the hands of users at an affordable price. The camera is also equipped with a 360 degrees scan panorama which enables better surround photos to be taken. With an optical zoom of 65x, you can be sure you will be able to take any photo your heart desires with the right amount of exposure.
4. Canon Powershot SX740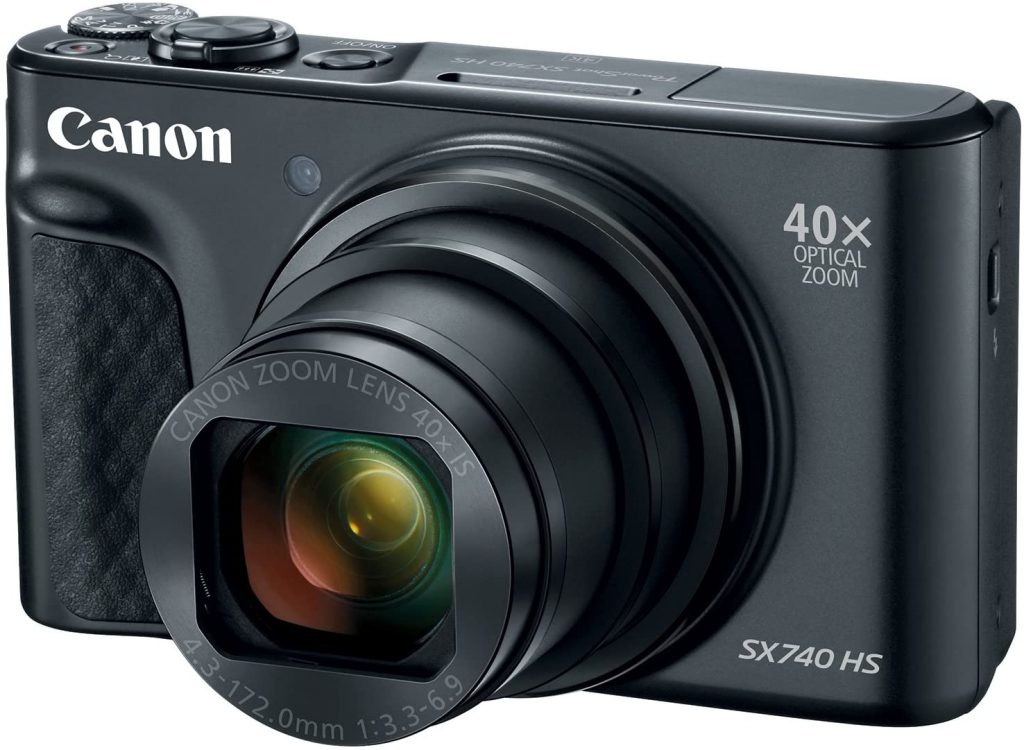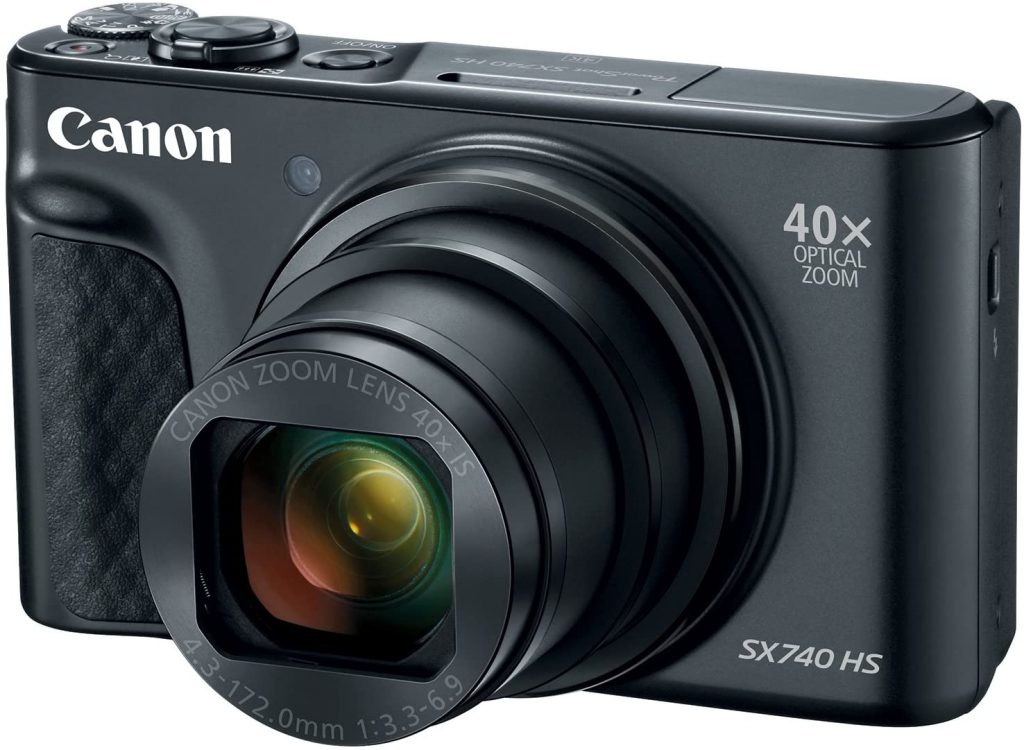 For an entry-level camera with image stabilization and a good autofocus system, the Powershot SX740 is the perfect fit. For an amazingly low price, this camera gives you a 40x optical zoom, in-built Wifi and NFC, 4K UHD video, and 20.3 MP, with image stabilization. It also comes with an image processor that allows you to take stunning photos in a low light environment. The 3.0 LCD allows for a perfect view of all images, including wide angles and with its superb battery mode, you do not have to worry about taking your camera on the road. This is a good camera for you if you plan to take photos in a low light area.
5. Panasonic Lumix FZ80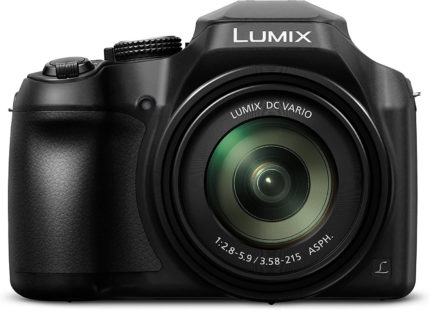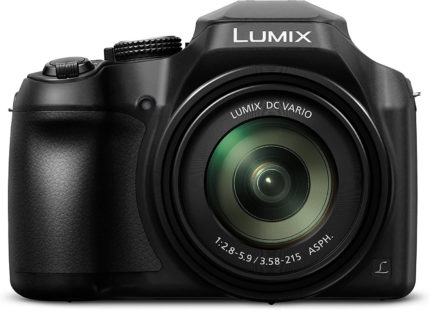 If you are looking for the best camera for point and shoot photos, this camera will definitely foot the bill. It is great for enthusiasts who are not used to the various settings of a camera but need something powerful. It is equipped with wide-angle lens and extra-long zoom lens for awesome shots and great flexibility of scenes. With Wifi capabilities, a travel charger for when you are on the road, and the included 64GB memory card it is also a camera that's ready for the occasional traveler. The camera also has a comfortable grip to steady your hands if you plan to take moving shots. The Lumix FZ80 is a beginner-friendly and relatively low cost camera that's well within budget and packs a punch.
6. Pentax K70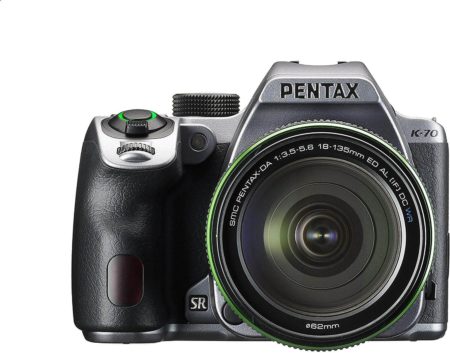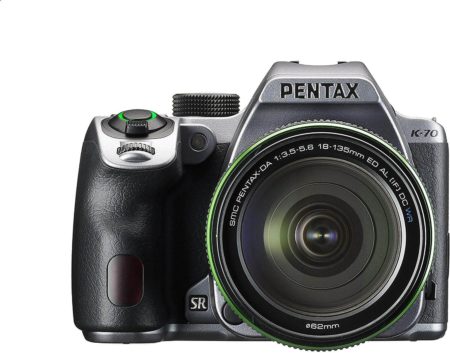 One of the best cameras under $600 is the Pentax K70. It is a DSLR camera that is effective and efficient for taking quality photos. It has a weather and dust resistant body that makes it perfect for outdoor activity. These DSLR cameras have 24.2 megapixels with a large APS-C cmos sensor. It also comes with motion correction and Pixel Shift Resolution which also help boost the prowess of the camera. The Pentax K70 has nine built-in sensors that help different simulations and movements that may distort your pictures, and it corrects them. If you are looking for a camera that you can take outdoors and that is also reasonably priced, you do not need to look further.
7. Canon EOS M50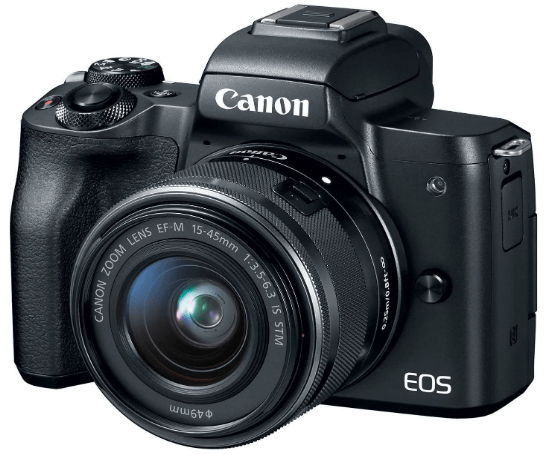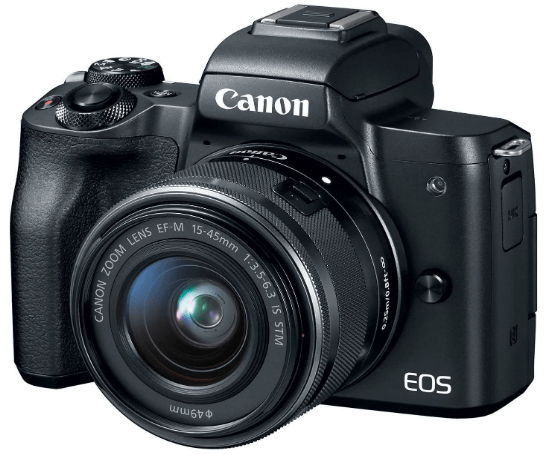 Mirrorless cameras hold the advantage over regular DSLR cameras, making them look out of place. The canon camera is a beauty to own. It comes with a 24.1-megapixel (APS-C) sensor and DIGIC8 image processor both combining fantastically to deliver stunning image quality, 4K video recording and a wide range of coverage. It is equipped with an improved dual pixel CMOS autofocus system for faster autofocusing and brighter images, a built-in Bluetooth technology, wi-fi, NFC and that makes it is easily connectable to mobile devices. With dimensions 2.3×4.6×3.5inches and weighing 13.7ounces, this stylish beauty comes with a built-in high -resolution electronic viewfinder and vari-angle lcd screen for ease of visibility and usability. This is often regarded as the best digital camera under 600 dollars, and its dual pixel autofocus system makes it a bargain at that price.
8. Sony Alpha A6000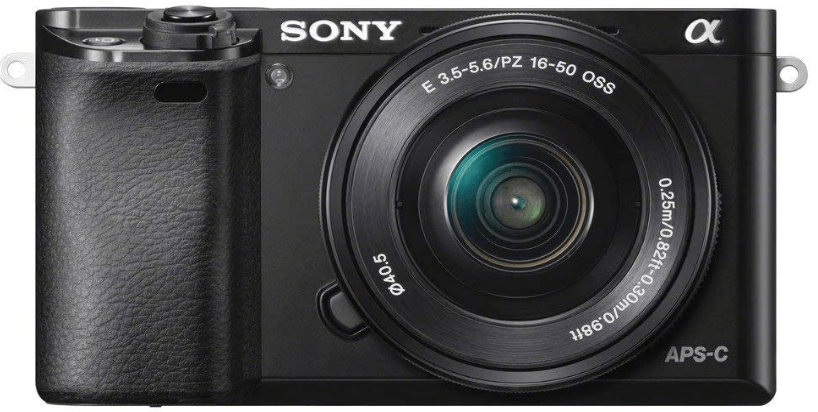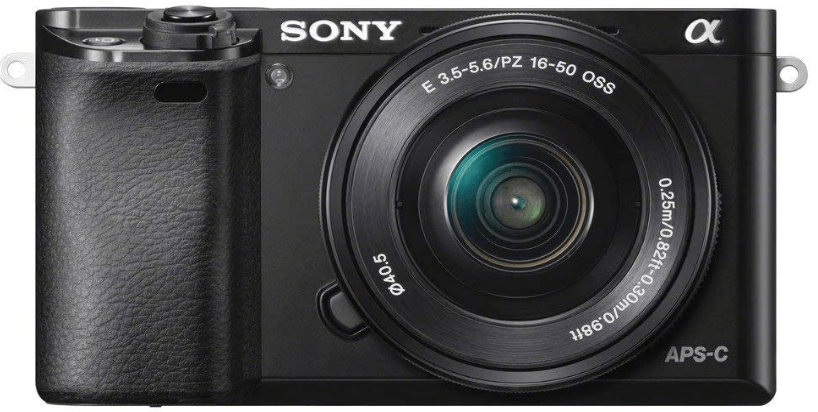 Sony Alpha a6000 is one of the best mirrorless digital single-lens reflex cameras. It is a compact but versatile device that has a built-in 24.3MP pixel system with a shooting speed of up to 11FPS. With a button dial, its continuous shooting system allows you to shoot up to 11 photos in just one second. This system makes it easy to capture several images in quick succession without missing short but significant moments.
9. Panasonic Lumix GX85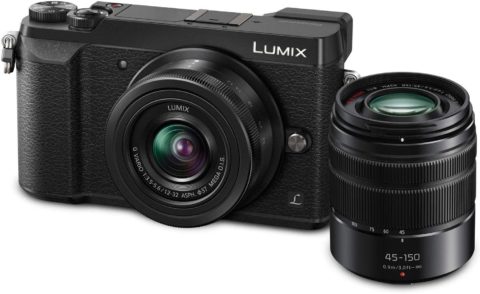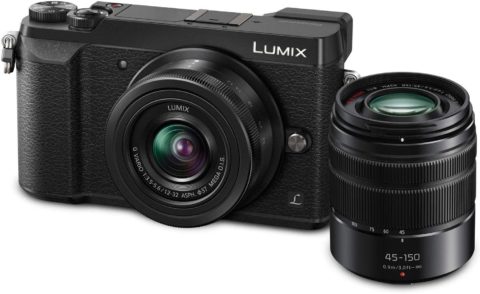 This compact Panasonic LUMIX 4K Digital Camera DMC-GX85WK does more than what a regular digital camera delivers. This 16 Mega-pixel camera allows for 4K video recording with all 5-axis dual image stabilization fully functional during recording and allows for live cropping via its touch screen. Its in-built 0.2-inch 2764K-dot electronic viewfinder allows for improved visibility and exposure correction under harsh sunlight.
To accommodate a large number of shooting conditions, these mirrorless cameras come with over 27 lens options that are totally interchangeable. Of the best cameras out there for this price, this one stands out because of its shooting speed when compared to any other modern hybrid mirrorless camera on the market.
10. Sony A5100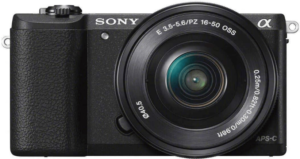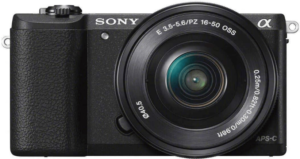 If you are looking for the best camera in photography with a price tag you can get behind, the Sony a5100 is one of the best cameras around. With a rechargeable battery and its Ultra-fast autofocus (179 AF points and 6Fps), this camera is one that can fulfill all your needs. It has an interchangeable lens and optical zoom, which all contribute to an awesome photography experience. If you are looking for awesome video quality, the Sony a5100 records in 1080p, and it is compatible with both Windows and Mac OS. If you need a camera that will deliver power, portability, and speed, this camera has got it all. Little to no wonder why it is dubbed the best camera under 600$.
What is the best 4K camera under $600?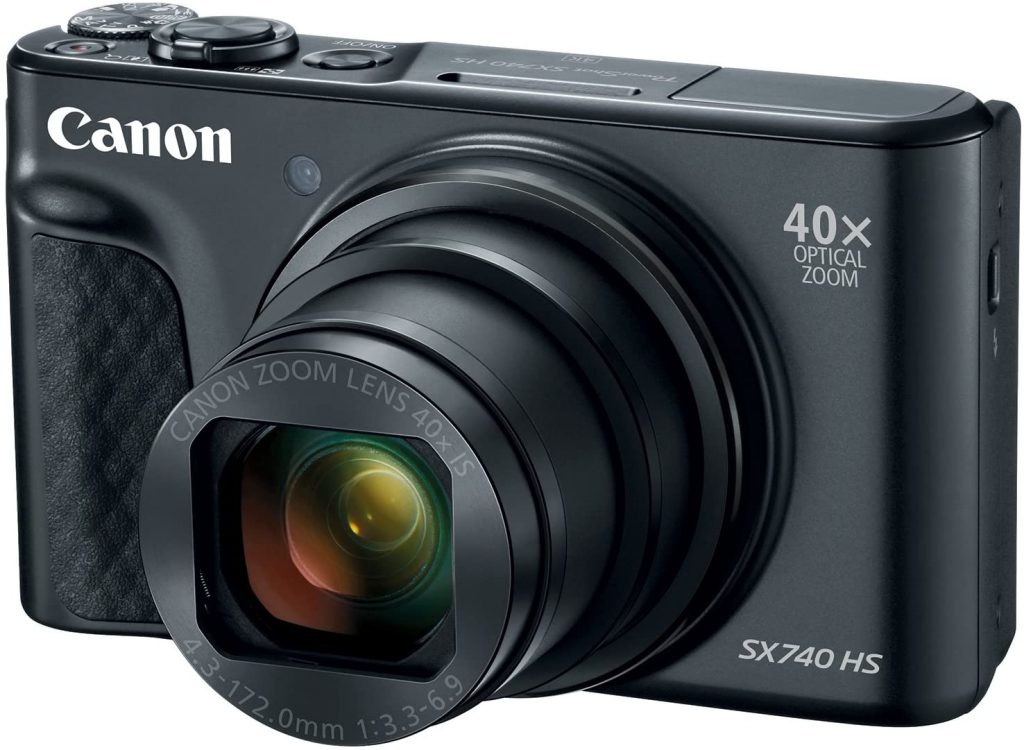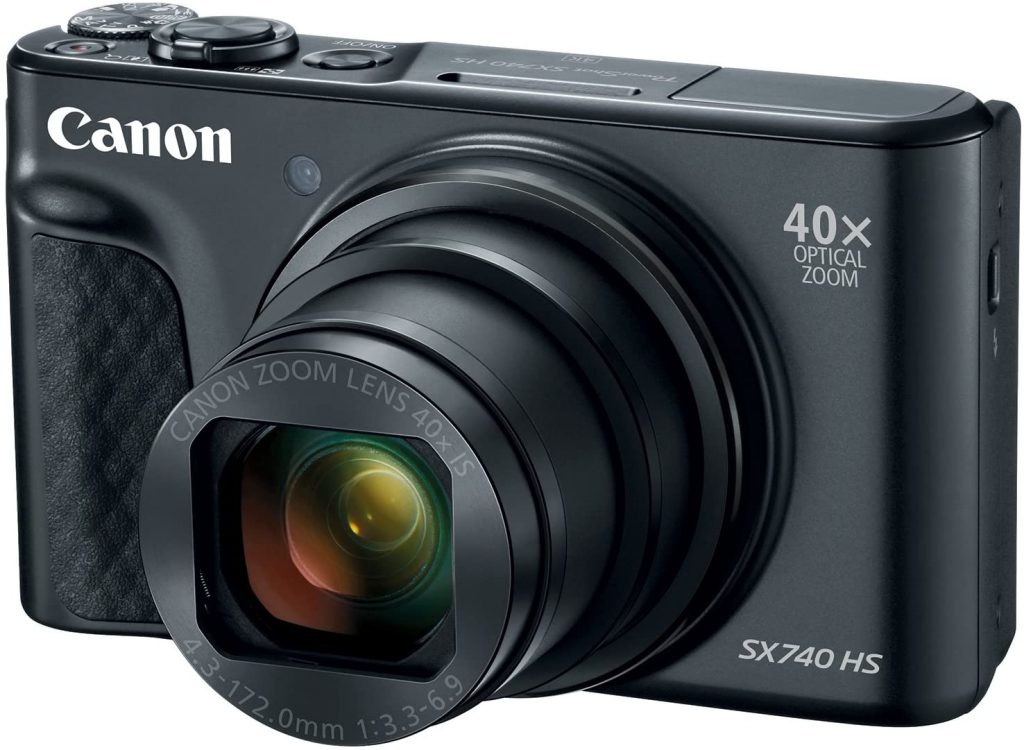 Canon Powershot SX740. This is the ultimate budget camera because it offers a lot more than you would expect from a shooter with such an affordable price. It has a powerful 40X optical zoom with intelligent image stabilizers. Its 20 megapixels have got you covered in all conditions, even in poor lighting scenarios. It is capable of recording 4K ultra high definition video, and it is relatively light-weighted, meaning it is handy and can bring it with you everywhere, ready to make magic.
What is the best digital SLR camera under $600?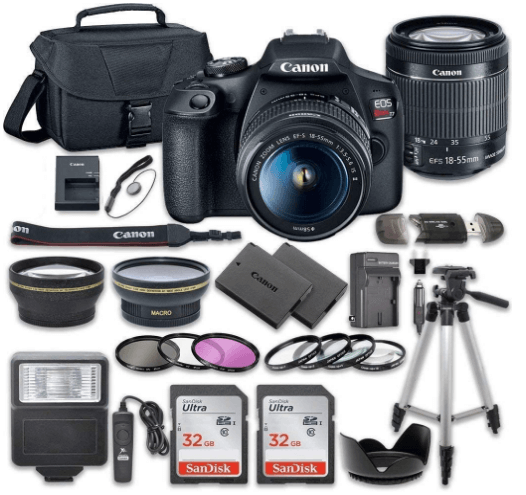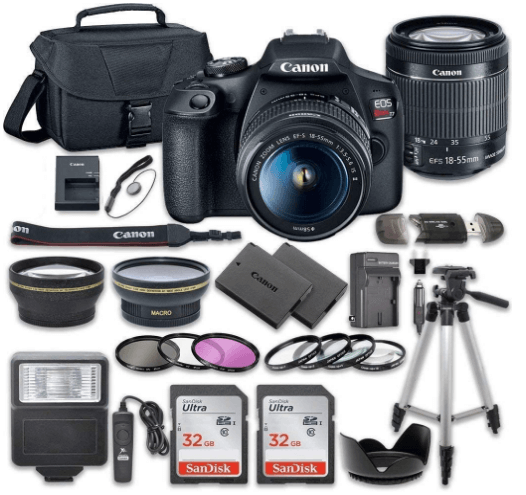 Canon EOS Rebel T7. This affordable DSLR camera comes packaged beautifully in a bundle kit. It features a powerful 24-megapixel sensor. So it's suitable for capturing the best images in poor light conditions. The bundle comes with a home charger,  an high-speed card reader, a tripod and many other goodies. All together for a bargain price under 600 dollars…
Last update on 2023-10-05 / Affiliate links / Images from Amazon Product Advertising API