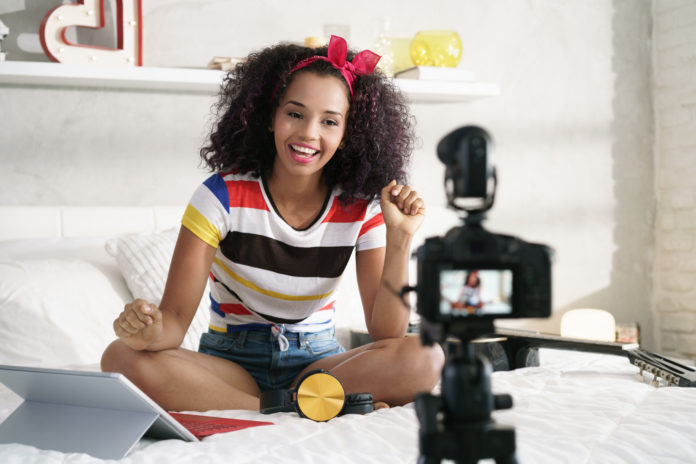 If you are thinking about starting a vlog, or wish to improve the quality of an existing one, you're probably interested to find out which are the top vlogging cameras of 2020. In truth, any camera can be used to make videos for a vlog, but some are better suited to the pursuit than others. In this guide, we'll take a look at some of the features a camera should have to make it well-suited to vloggers. Of course, we've also picked out 10 of the best cameras for vlogging for you to browse through, so you're sure to find something to suit your needs here.
What Is a Vlog?
First things first, you might be wondering what exactly is a vlog. Vlog is short for video blog, or video log, and is a website on which short videos are posted regularly about a particular subject. You can find many YouTube channels that function as vlogs, focusing on different topics such as travel, beauty, food, and more. Some vloggers use their vlog as a hobby, whilst for others, it can be a good source of income, perhaps by reviewing and promoting particular products.
What Is a Vlogging Camera?
Any camera can be a vlogging one as long as it can record short videos. However, some are better suited to this purpose than others. Here, we have picked out cameras which take outstanding-quality videos, and have features that make them easy to use for recording video. We'll look more at the important features of a camera used for vlogging below.
What to Look for in the best Vlogging Cameras?
When choosing any camera, it's important to think about the features in relation to the functions you will be using it for. So, there are a few essential features of a good vlog camera.
First, and most importantly, of course, is the video quality. You really need a camera that can take full HD or even 4K videos at a high fps rate to ensure smooth and crystal clear videos. The maximum video length can also be important, with many models limited to 30 minutes.
Vlog cameras should also be quite portable unless you solely vlog from home, then this isn't too much of an issue. Consider the weight and dimensions when buying. Also, think about what accessories are available. Can it take a high-capacity SD card to store longer videos?
Another feature that is important to many vloggers is the flip screen. If you are going to be sitting in front of the camera, this is crucial to ensure you can see yourself clearly. Check how many degrees the screen can rotate through, and it might also help to have a touchscreen to make controlling the camera easier. Some also come with a remote which can be helpful when starting and stopping videos.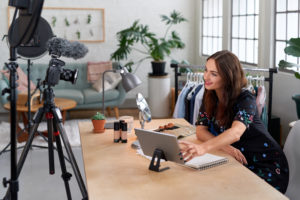 10 Best Beginner Vlogging Camera Reviews

Now we've looked at some FAQs, it's time to present our picks of the best cameras for vloggers. There are ten to choose from, so there's something to suit all budgets and requirements here.
1. Panasonic GH5 Mirrorless Lumix
In order to be taken seriously as a vlogger, you need a camera that takes the best quality videos for your viewers to enjoy. So, that probably means you need a 4K vlogging camera, such as this Panasonic GH5 Lumix. It comes with WiFi and Bluetooth connectivity to make it easy to transfer and upload the finished videos. The Lumix offers a rate of up to 60 fps when shooting in 4K quality, and it is equipped with an image stabilization feature to ensure videos are always smooth and free from blurring.
Another excellent feature of this camera is the lack of time limit when recording videos. With many cameras, the maximum video length is 30 minutes, but with the Lumix, they can be longer, so long as the SD card has enough space. The GH5 is equipped with a flip-out LCD touchscreen so you can easily see what the camera sees no matter which angle you are shooting at.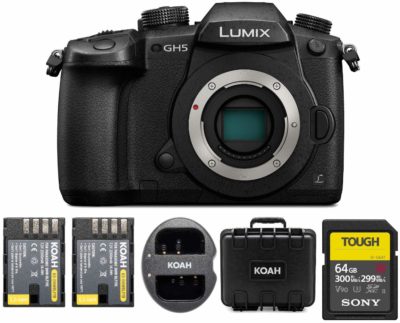 2. Sony RX100
Our next best vlog camera is the RX100 from Sony, a mid-range camera that takes full HD videos. It is well-equipped to handle low light shots, and the lens is capable of 3.6x zoom to get closer to the action. The frame rate when shooting at 1080p is 60 fps, which is sufficient to ensure smooth and high-quality videos. It even works well when shooting a subject that is moving fast. You can also take stills when recording a movie without interrupting the videoing process.
The maximum video length for a single video is 29 minutes, which may be a drawback to vloggers who tend to make longer movies. This camera doesn't come with all the bells and whistles of other models, but it's simple to use and takes great-quality videos and stills, making it a great choice for those new to vlogging and looking for an upgrade over a smartphone.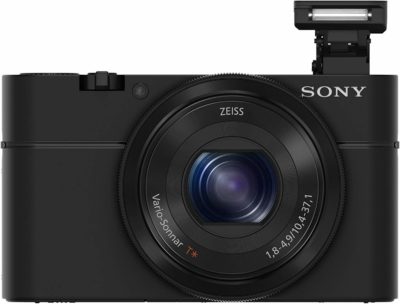 3. Sony Alpha a6400 Mirrorless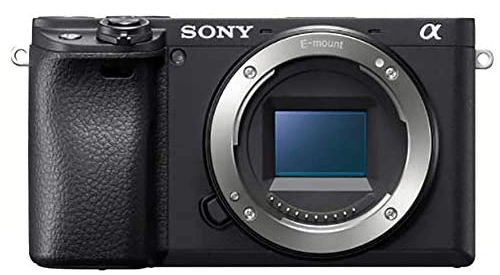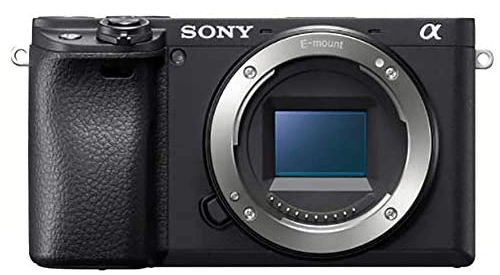 Next up we have another Sony vlogging camera, this time it's the Alpha a6400. It might not be the cheapest camera on our list, but it is packed with awesome features that make it an excellent buy. In terms of shooting video, this can be done at a rate of 30 fps in 4K quality, and there's the option to connect an external mic for superior sound quality.
The Alpha has a tilting screen, so you can easily shoot at different angles. It can tilt up 180 degrees, and down 90 degrees. The camera has a high ISO range, which makes shooting in low light possible. Unlike many other cameras, you can record more than 30 minutes at a time, so it's excellent if you like making longer videos for your fans and followers. It doesn't, however, offer image stabilization, so a tripod might be necessary to get the best quality footage. The autofocus system is excellent, and there are various connectivity options such as WiFi, NFC and Bluetooth to quickly and easily get the videos off the camera for editing and sharing.
4. Canon Powershot G7X Mark II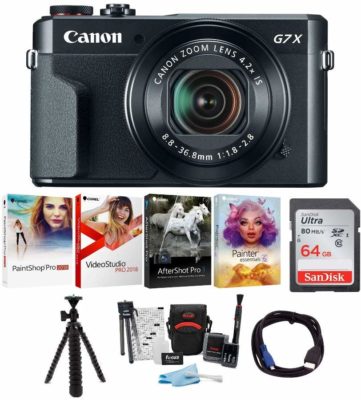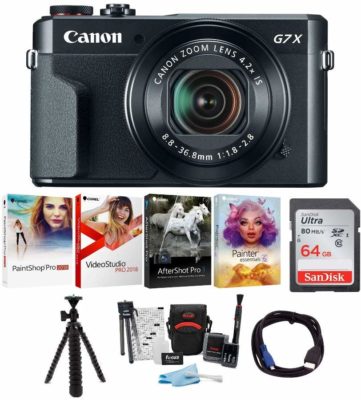 The next best camera for YouTube vlogging is the Canon Powershot G7X. Again, it has a tilting LCD touchscreen which can be raised 180 degrees, perfect for shooting videos of yourself. The camera comes with an f/1.8-2.8 lens, which is ideal for letting in lots of light as well as achieving a blurred background. The Powershot from Canon is equipped with an intelligent image stabilization system to ensure your shots are always crystal clear and sharp.
The Canon vlog camera has built-in WiFi to instantly share photos and videos with friends, family, and followers. It has a large and powerful sensor as well as a great dynamic range, to ensure it captures highlights and shadows perfectly. The video resolution on this model is 1080p, and you can find a zoom of 4.2x to help get up close to the action.
5. GoPro HERO 8
If you tend to take videos for your vlog when out and about, rather than sitting at home, it might be worth considering a GoPro for vlogging. That's why we have chosen the GoPro HERO 8 as our next good camera for vlogging. The latest GoPro model has some top-of-the-range features which make it the perfect pick for traveling or outdoor vloggers. Swapping mounts on this GoPro is quick and easy, and charging the batteries is quick and easy too, thanks to the new side door design.
The new GoPro is tougher than ever before too, with the lens being 2x more resistant to impacts. The camera itself is neat and compact, perfect for traveling or keeping in your pocket. You can choose to make the videos even smoother with extra stabilization, and the camera can also be used to make unique and interesting time-lapse videos. There are a range of ways to use this camera – it comes with a head strap for POV videos as well as a selfie stick with a built-in tripod.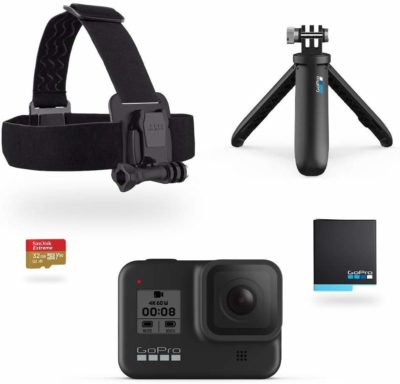 6. Actinow Camcorder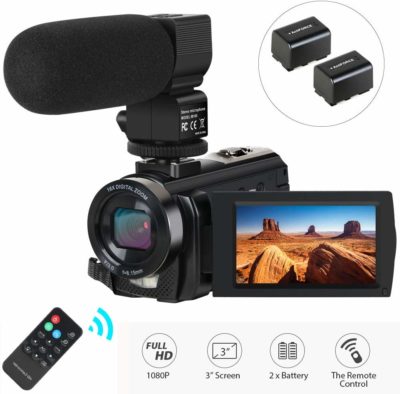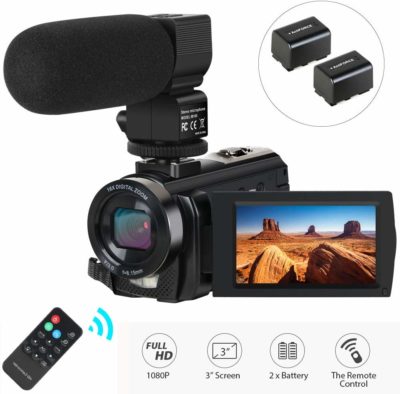 If you're looking for an affordable vlogging pick, this HD camcorder is definitely worthy of consideration. It has loads of great features perfect for those getting serious about their vlog. For example, there's a 16x digital zoom, remote control to operate the camera from a distance, and two batteries so there's always one charged and ready to use on longer shoots. The camera is also equipped with a 3-inch LCD screen which can be rotated through 270 degrees.
There are other features that make shooting easier, such as anti-shake, face detection, self-timer and the beauty function which ensures you'll always look your best on camera! This could be considered the best vlogging camera under 100, and it certainly offers excellent value for money and is a great starting point for new vloggers.
7. Sauleoo 4K Camcorder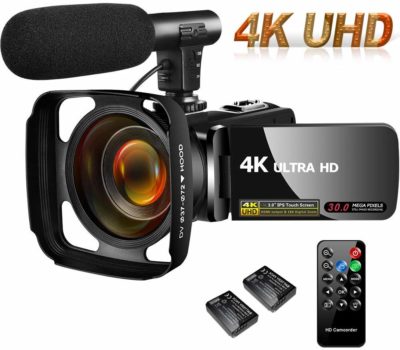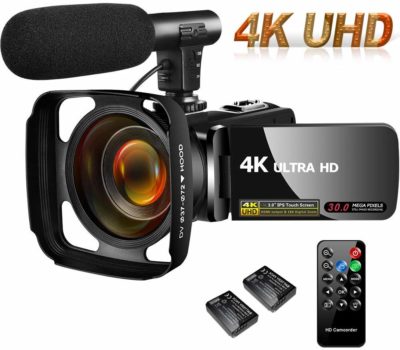 If you want the best camera under 200, but still need outstanding 4K quality videos, this budget-friendly camcorder is a great choice. It can also be used to take stills at a resolution of 30MP. There's a touchscreen that can be rotated through 270 degrees, and the zoom is 18x, so you can really focus on distant subjects. You can find a hot-shoe to install an external microphone to get superior audio quality on your videos. A lens hood is also included to block out excessive light when shooting in harsh lighting conditions. The camcorder can take an SD card up to 128GB and you can also use it with a 1/4 inch tripod.
8. Dragon Touch Action Camera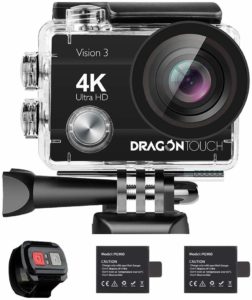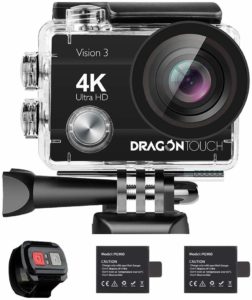 Next up we have a small vlogging camera that comes at a very reasonable price and is perfect for those new to the field of vlogging. The action camera from Dragon Touch comes with a case that is waterproof to a depth of 100 feet. Despite its very moderate price tag, the Dragon Touch action cam can take 4K-quality videos at a rate of 30 fps. It also has 4x zoom and comes with two batteries so you won't run out during a shooting session.
The camera comes with a remote for easier operation, and it also has a driving mode. The remote can be worn on a wrist strap, leaving your hands free. The screen is 2 inches diagonally across, so it's nice and compact for taking out and about. You can even use this camera to make slow-motion videos for added impact.
9. Nikon D5600 DSLR
Table could not be displayed.
If you' re looking for a top-quality vlogging camera with flip screen, the Nikon D5600 is next on our list of recommendations. The DSLR camera can record full HD videos at a rate of 60 fps, for maximum sharpness and smoothness. It also has various options for connectivity, such as NFC and Bluetooth. The 3.2-inch touchscreen has a high resolution and can be adjusted to various angles for easier shooting, so you can see yourself even when standing in front of the camera.
The videos recorded on this camera will have excellent sharpness and beautiful colors. What's more, the sound will be clear every time, even without using an external microphone. The D5600 also gives the ability to film time-lapse videos if this is something you are interested in creating. If you're new to using a DSLR, there's an auto mode which means you can get started right away, without having to master any complicated features.
10. Olympus PEN E-PL10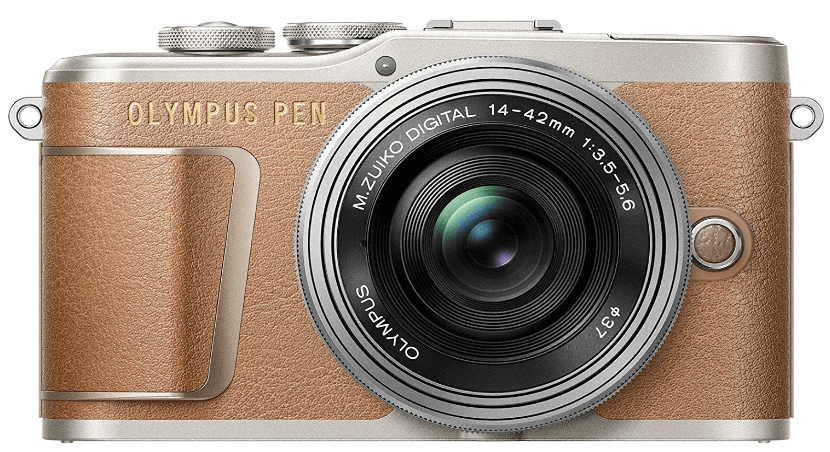 Type: Mirrorless Sensor: 16MP MOS Monitor: 3" flip-down Maximum Burst: 8.6 fps Video: 4K Connectivity: Bluetooth, Wi-Fi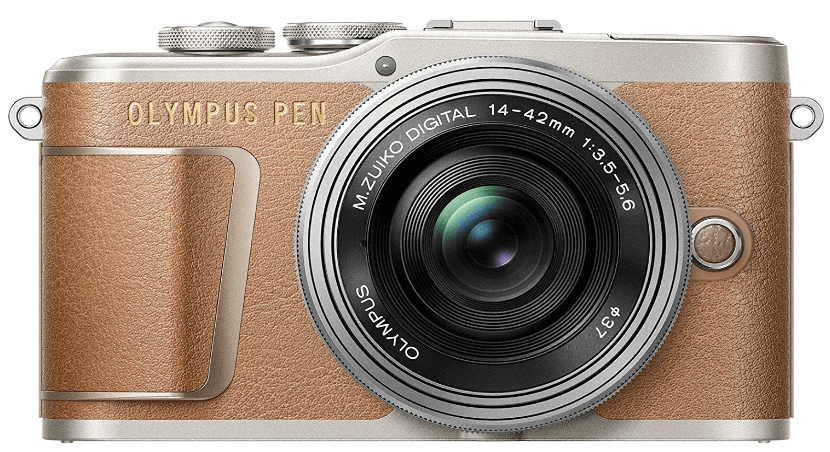 Type: Mirrorless Sensor: 16MP MOS Monitor: 3" flip-down Maximum Burst: 8.6 fps Video: 4K Connectivity: Bluetooth, Wi-Fi
Our final pick of the best camera for Youtube vlogging is the PEN E-PL10 from Olympus. It comes bundled with a few accessories for getting started – a 16GB UHS-1 SD card and a case and strap for carrying the camera safely. Like many of our other picks, this one can take 4K videos, but you can also take 4K stills from the videos too. It has a 3-inch touchscreen that can be flipped down 180 degrees, so you can take selfie videos with ease.
There are four different colors to choose from, and the camera has a stylish, retro look. It comes with a 14-42mm lens, so you can zoom in or out on the subject. The camera has Bluetooth which can be set to automatically transfer media to your smartphone when it's ready. This is great for those new to using cameras, as it has on-screen tutorials and automatic settings to get everything working straight away. The camera is also fitted with image stabilization to ensure you get smooth and blur-free videos and stills every time.
What Is the Best Camera for Vlogging?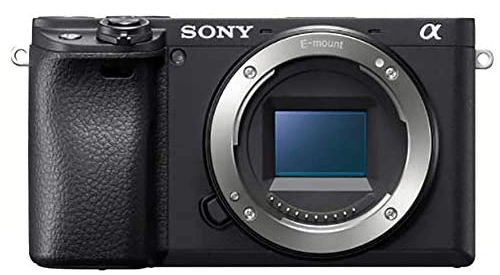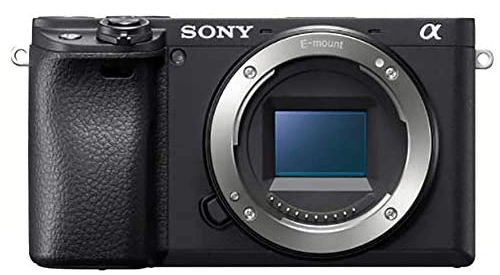 After looking at ten different options, it's time to choose which is the best video camera for vlogging. After much consideration, the top spot has been awarded to the Sony Alpha a6400. This camera was pretty much made for vlogging, so it's no surprise it ticks all the boxes. The unlimited video length is a definite plus, and the flip-out screen is really efficient and practical. It also has an excellent frame rate which is ideal for creating slow-mo video effects. If you're looking to get serious about vlogging, this is the camera to choose.
Best Budget Vlogging Camera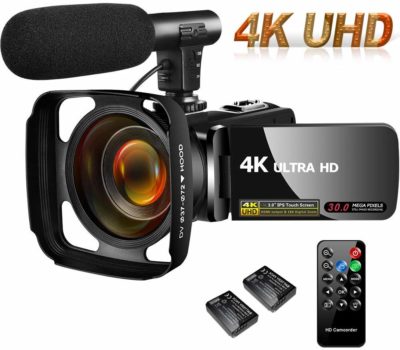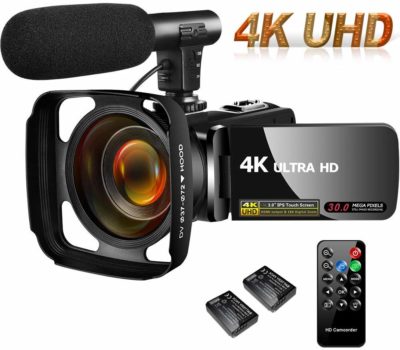 If you're just starting out and are looking for the best cheap camera for vlogging, the Sauleoo camcorder is certainly worthy of your consideration. It can take stunning 4K resolution videos and has a 270-degree rotating touchscreen for easy shooting at all angles. It has an external microphone fitted for superior sound quality. The video camera is lightweight and portable, so it's perfect for vlogging outdoors as well as setting up at home. There are loads of features to make your videos look even better, such as a beauty function and facial recognition, as well as a self-timer to start videos off smoothly. A high-capacity SD card of up to 128GB can be used with this camera, so it can store plenty of longer videos.
Essential Vlogging Accessories
So now you've found the perfect vlog camera, you're going to need some accessories to go with it. Some cameras come bundled with accessories, but they are often low-quality. So, it's usually better to buy the camera alone, rather than as part of a bundle, and choose your own quality accessories separately.
SD Card
One of the first things you'll need is an SD card, preferably one with a larger capacity if you are going to be making videos frequently, or the videos will be long.
Camera Case & Strap
A case is essential to protect your camera when taking it out and about. You can choose one with space to store other accessories or one which is waterproof if you'll be shooting in or near water. A strap is also a good idea so you can easily keep the camera around your neck or wrist – this can help prevent it from being dropped.
Tripod
You might wish to purchase a tripod to ensure the camera is held steady during shoots. This is a great idea if you're going to set it up and home and talk in front of it. You can find tripods of all different sizes, even compact ones that are easy to carry around outside.
External Microphone
The sound quality on the built-in microphone of many cameras is not as good as you can get from an external mic. Therefore, if your camera can accept one, it's worth choosing a good external microphone that can be mounted on top of the camera.
Backdrop
If you're going to be filming at home, think about where you will be setting up your studio. If you have a messy room behind, it can be distracting for viewers. So, it's worth purchasing a plain backdrop that you can sit in front of when talking to the camera.
Lighting
Finally, consider the lighting in the room where you'll be shooting. If it's dim or otherwise unflattering, it might be worth buying some additional lighting. Your followers need to be able to see you and any products you are showing clearly!
What Camera Do Youtubers Use for Vlogging?
There are so many famous Youtubers these days, so it's only natural they will use different cameras. However, some of the best-known YouTubers such as Zoella and PewDiePie use the Canon Powershot G7X, as featured at #4 on our list. The Sony Alpha a6400, found at #3, is also used by some Youtubers, which comes as no surprise given it was more or less designed for vloggers.
How Much Is a Vlogging Camera?
There is a wide variation in price between the different models on offer. The cheapest action cams start at around $50, whereas a higher-end mirrorless camera won't leave much change from $1500. But, it depends on where you are in your vlogging journey and how often you will use the camera. Some of these cameras are also excellent for photography, so it can be a worthwhile investment to combine for two hobbies. Similarly, if you use the vlog as a source of income, it's probably worth choosing a higher-end model with a bigger price tag to ensure videos are outstanding. You can find the best camera under 300 in our best budget buy section.
Tips on Reducing Camera Shake When Vlogging
The easiest and most successful way to reduce camera shake is to use a tripod when filming. There are many different styles of tripod available, even small desktop ones that are ideal for home vloggers. You can even adjust the angle and height to ensure a perfect, steady shot every time.
Some cameras come with built-in image stabilization which can also help a lot when compared to cameras without this feature. A high frame rate also helps ensure a smooth video.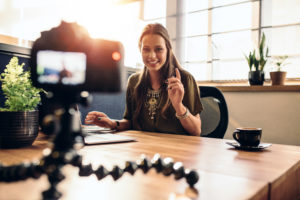 When Vlogging, Should I Use the Camera Mic?
Some cameras have an internal mic that gives high-quality audio. But, in most cases, the sound quality you will get from an external mic is much better. Check reviews of your camera model, or test it out first and see how it sounds. If you are a professional vlogger and make money from your vlog, it's certainly worth investing in a quality external mic.
Last update on 2023-10-05 / Affiliate links / Images from Amazon Product Advertising API