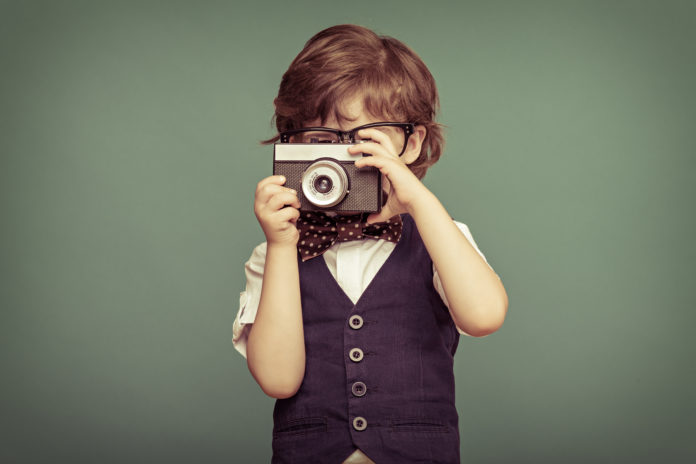 Choosing kids cameras is no easy feat and finding a good starter digital camera can be tricky. With so many options out there, it can be really difficult to determine which makes the best buy. A camera is a very worthwhile gift for kids of all ages. Even young children can have a lot of fun playing around with an inexpensive and kid-proof camera. For slightly older kids, they will love taking photos with their friends and of special places they visit and perhaps decorating their room with photographs they have taken. So, a camera is a worthwhile investment so long as you choose the correct one.
Child digital cameras are excellent for introducing young photographers to the hobby and tend to be less expensive and easier to use. That said, many toy cameras take low-quality images, so you might prefer to choose a 'real' camera for your child instead. Below, you'll find helpful tips and advice on choosing the best one, as well as reviews of ten of the best. So, whether you are looking for an action cam for your kid to capture their adventures, or a DSLR to get them interested in photography, we've got all bases covered here.
What to Look for in a Kids Camera
A kids digital camera must have certain features to ensure it is suitable and fun to use. These factors must be considered when it comes to choosing the best first camera for kids:
Age
First and foremost, the child's age is an important factor when it comes to picking out the best camera for their needs. Some of these cameras are specifically designed for children, and so you should find an age recommendation from the manufacturer. Others are not aimed at children, so carefully consider their needs and abilities before buying.
Budget
Cameras come at a range of price points depending largely on the brand and the features they have. Think about how much you can afford to spend on the camera before purchase. Many kids ones are inexpensive, but if you want something which takes higher-quality images and will last them for many years, it could be worth investing a little more. For more great options on teenager friendly cameras you can check out this article.
Type
There are loads of different types of cameras out there. Point-and-shoot cameras are more basic with limited features that can be controlled, so they are ideal for beginners and the youngest children. Bridge cameras offer more control over the settings, and so are perfect for those looking to advance to the next level. You can also choose Polaroid-type cameras that print out the photos instantly after taking them – these can be a lot of fun for children and they can proudly display their photographs rather than keeping them stored digitally where they are often forgotten about.
Features
Different models of camera will have different features, so think about what is important to your child before buying. It could be the image quality, ability to print instantly or perhaps the video recording capabilities. Be sure your chosen camera has all the features you require.
Accessories
Finally, check which accessories are available to go with your chosen camera. Check the size of the SD card which can be accepted by the camera, and if there's a strap or a protective case if buying for younger children particularly.
10 Best Cameras for Kids Reviewed
Now we know a little more about choosing the best beginner camera for a child, let's take a look at ten of the best on the market today.
1. Canon EOS Rebel T7

Invalid table id.
First up on our list of cameras for kids is the EOS Rebel from Canon. This DSLR is perfect for older kids with a real interest in photography who are looking to progress from a point-and-shoot. It comes bundled with some accessories which are ideal for getting started – an 18-55mm lens, two 32GB SD cards, a tripod, a strap, a carrying case, and much more.
The EOS Rebel can record full-HD videos as well as taking excellent quality stills thanks to the 24.1MP sensor. The 3-inch monitor is useful for checking shots on the camera, but when it's time to transfer to another device, the Wi-Fi connectivity works a treat. It makes an excellent first DSLR camera and is perfect for all ability levels, whether your child is new to photography or looking to upgrade from a point-and-shoot to a camera which offers more control over the settings.
2. Nikon D3500 Starter Kit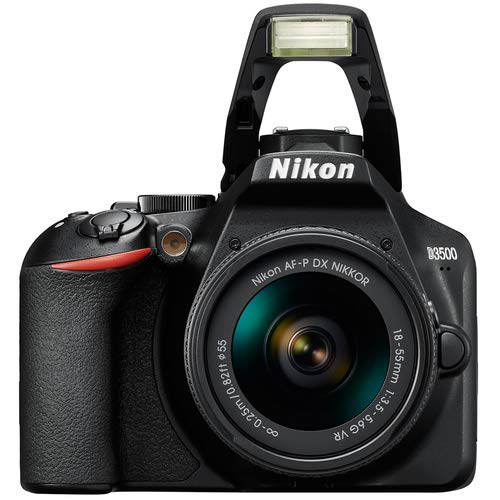 Sensor: APS-C CMOS | Megapixels: 24.2MP | Autofocus: 11 points | LCD: 3.0-inch, 921,000 dots | Maximum continuous shooting speed: 5fps | Video: 1080p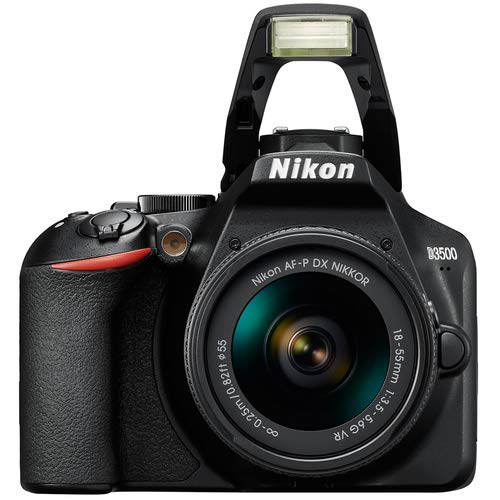 Sensor: APS-C CMOS | Megapixels: 24.2MP | Autofocus: 11 points | LCD: 3.0-inch, 921,000 dots | Maximum continuous shooting speed: 5fps | Video: 1080p
Perhaps the best Nikon camera for children is the D3500. It offers similar features to the Canon above, and also comes with a similar selection of accessories. However, this set also comes with a 70-300mm zoom lens, which is perfect for more distant subjects. The camera is lightweight so it's ideal for younger users, and it is also equipped with a guide mode which is perfect for beginners. This is a great way for kids to start shooting straight away, as they don't have to get to grips with all the different features. As they learn how things work, they can progress to using the camera without instruction for more creative freedom.
The Nikon D3500 has built-in WiFi, so if you download the SnapBridge app, you can easily transfer shots from the camera to a smartphone or computer. It's also possible to remotely trigger the shutter using the app, which is perfect for group shots and selfies!
3. Panasonic Lumix FZ80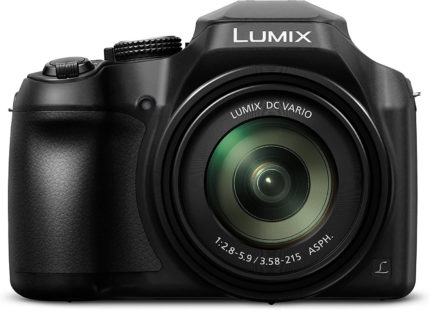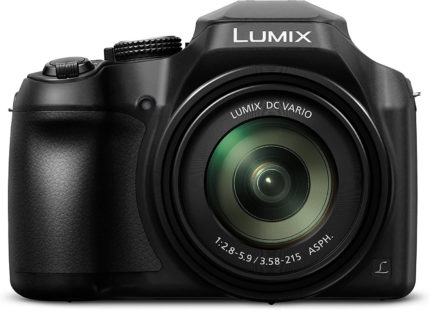 Our next pick of the best starter camera is this Panasonic Lumix. It's a bridge camera, but it's easy to use even with no prior experience of photography. It has an awesome 60x zoom so it can easily get close-up shots of faraway subjects. The camera can also take stunning 4K videos, so it's perfect for kids who want to capture videos of fun moments and times. The Lumix performs well in low-light conditions, and the touchscreen is designed to be easily visible in bright sunlight. The images produced by this camera are excellent quality, yet it is still easy to use, and it also comes with a very reasonable price tag. All of these factors combine to make an all-round excellent pick.
4. Nikon Coolpix B500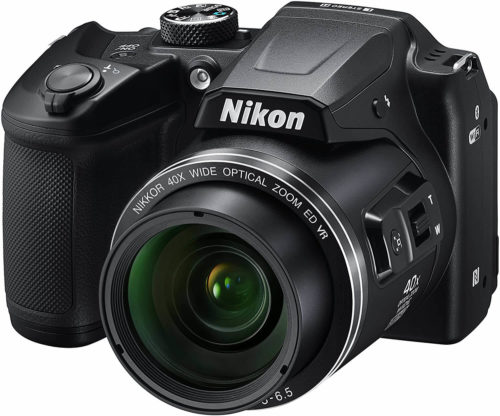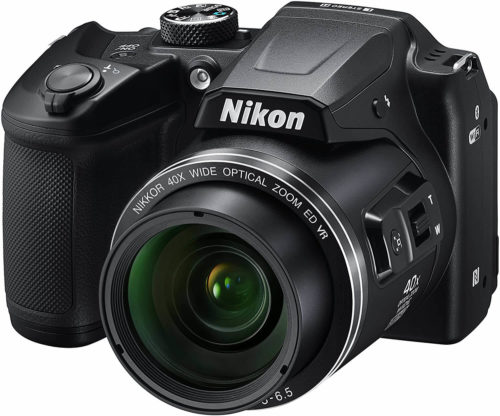 Our next kid camera is the Coolpix B500 from Nikon. It has a 16MP sensor and a 40x optical zoom lens. The B500 also has a tilting LCD screen which makes it perfect for shooting at awkward angles, or for taking selfies with friends! It takes HD videos and has various options for connectivity – Bluetooth, WiFi, and NFC. The camera comes in a choice of two colors – either black or red, so you can choose your child's favorite. There's also the option to purchase the camera as part of a starter bundle, which comes with a case and a 64GB memory card to get started with.
5. Canon PowerShot SX420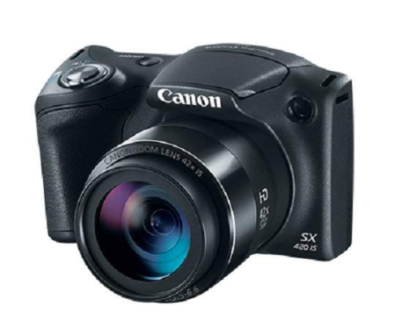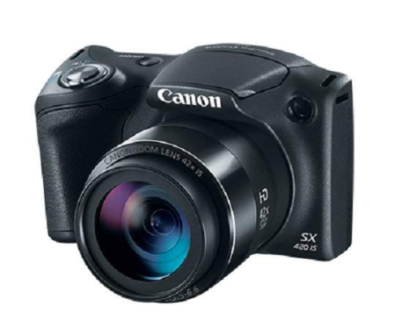 Our next best digital camera for kids is this PowerShot from Canon. It has a very reasonable price tag, but it's packed full of great features for beginner photographers. For example, the 20MP sensor gives top-quality images, and it can also take 720p HD videos. It has a 42x optical zoom for getting up close to distant subjects, and it also has a 3-inch LCD screen. The Canon Powershot has a smart auto mode, which automatically selects the best settings to use to get a perfect shot. So, it's great for those new to photography as they don't have to get to grips with controlling the different settings to get good results.
6. Nikon W300

Table could not be displayed.
The next best starter camera for younger kids is the W300 from Nikon. It's perfect for capturing outdoor adventures as it is waterproof and can even be used underwater. It's also shockproof and dustproof, so it's sure to survive whatever your child can throw at it! There are three different color options – black, orange and yellow. The camera takes really high-resolution images and 4K ultra-HD videos and it can also be used to create time-lapse videos. There's a 5x optical zoom, as well as image stabilization to help reduce the likelihood of blurry shots.
This Coolpix is packed with awesome features such as GPS, depth gauge and an eCompass, so it's ideal for using in the great outdoors. The camera can be used underwater to a depth of 100 feet and can be dropped from over 7 feet without suffering any damage. There's also an LED light that is useful for both a photography flash and a flashlight when it's dark.
7. VTech Kidizoom Duo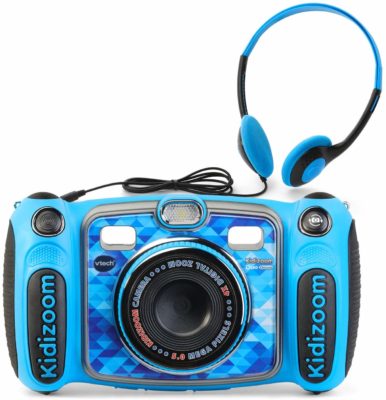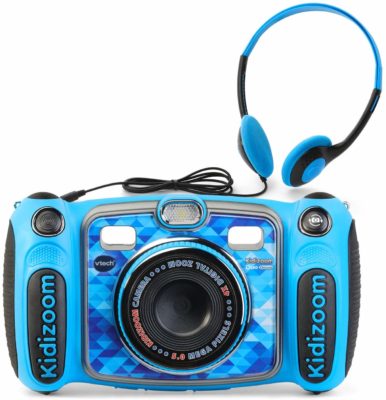 The VTech kids camera makes the perfect first camera for any young photographer! It is ideal for kids in the age range of 3 – 9 years old, and it comes with a bump-proof case to protect it from those inevitable drops. The camera also comes with a wrist strap and headphones, as well as a USB cable for transferring data. Unfortunately, the Kidizoom isn't equipped with a rechargeable battery and instead takes 4 AA batteries.
The VTech camera can take an SD card of up to 32GB which can store thousands of photos for your kid. If it's left on but not being used, the camera will automatically shut off after 3 minutes of inactivity to help preserve battery life. There's both a front and a rear-facing camera, so it's perfect for selfies! There are fun extras too like photo effects and mini-games. The camera also comes in a bright pink color which might take the fancy of little girls better. If you like, you can set up parental controls to limit the amount of time which can be spent playing the games, or completely remove the ability to play the games.
8. Fujifilm Instax Mini 9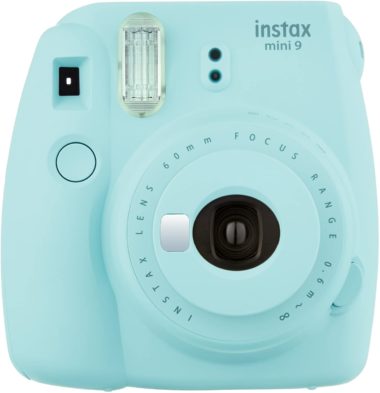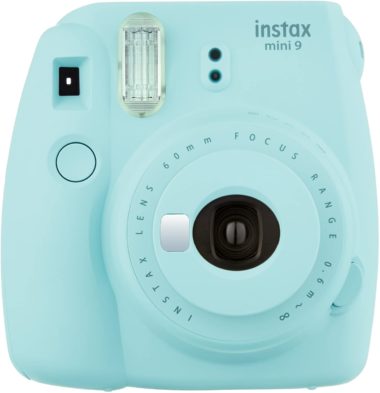 This kids instant camera comes in a choice of seven different colors including yellow, purple, green, and more. It has a selfie mirror and a flash, as well as a macro lens for taking close up shots. It also has features to help ensure photographs come out perfectly every time, as well as a portrait mode to get pretty portraits every time. The Instax Mini requires two AA batteries for operation, and you'll also need to buy the correct paper to have the photographs printed instantly as they are taken. The main drawback to this camera is the high cost of the special film which is required for printing the photographs.
9. Polaroid Snap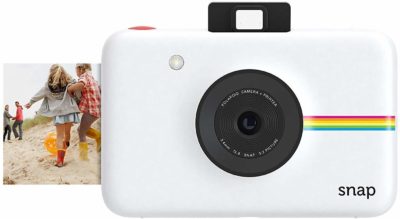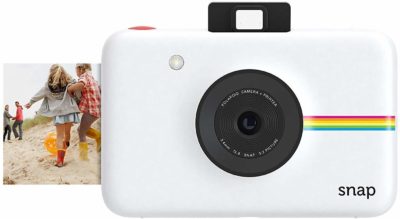 This kids Polaroid camera, like the Instax above, instantly prints out pictures without no ink or toner required. There are loads of cool colors to choose from, so you are sure to find one your child will love to use. The printed images measure 2″ x 3″, and have a self-adhesive backing to make them easy to stick to just about any surface. It's possibly the best Polaroid camera for smaller kids as it's easy to use and has a selfie mirror as well as a timer, so taking the perfect selfies is easy!
The photos are stored as well as being printed instantly, so they can later be uploaded to a computer. There are six different picture modes to add different artistic effects to your photographs. You can also choose from different borders to add more style to the photographs.
10. Akaso EK7000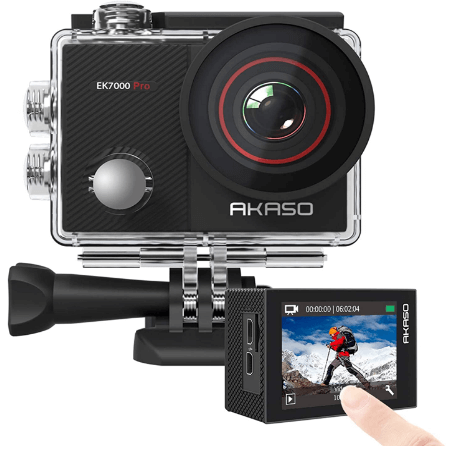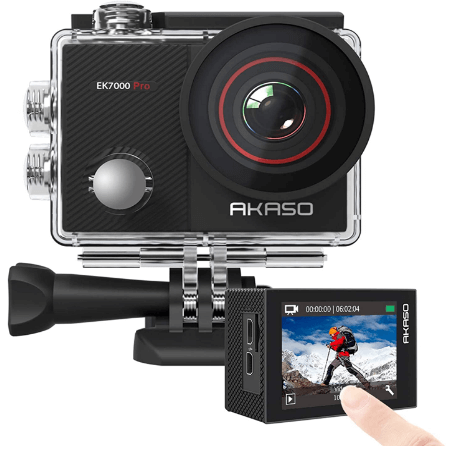 Last on our list we have perhaps the best underwater camera for youngsters, which also comes with a very reasonable price tag. It can take videos as well as stills, with great resolution for both. It's the best action camera for girls and boys as it comes with a wireless wrist remote that can set the shutter remotely. There are two rechargeable batteries included, so you can always have a spare one charged and ready to use. However, the battery life is great and each can record for up to 90 minutes.
The camera is waterproof to a depth of 100 feet and is designed to be tough and durable. There is built-in WiFi to upload the photos and videos to another device, with a range of around 30 feet. This action camera has a 170-degree wide-angle lens to capture more than many other similar cameras.
What Is the Best Camera for Kids?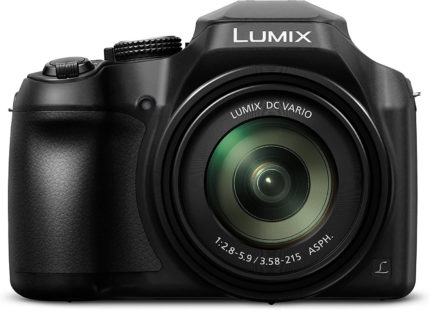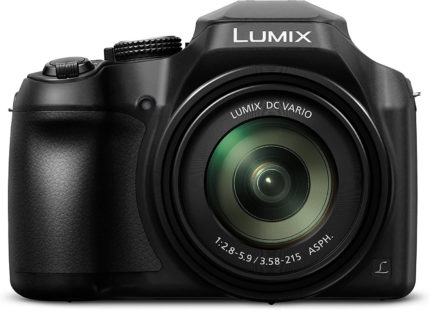 After checking out ten of the best on the market, it's time to showcase our overall best buy digital camera for kids. In this case, the Panasonic Lumix FZ80 stands out for its range of excellent features, such as the long zoom and the stunning 4K-resolution videos. It is a bridge camera, so it offers more control over the functions compared to a point-and-shoot, making it ideal for kids who want to advance to the next level.
Best Budget Pick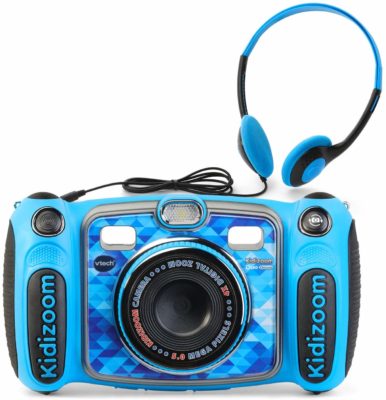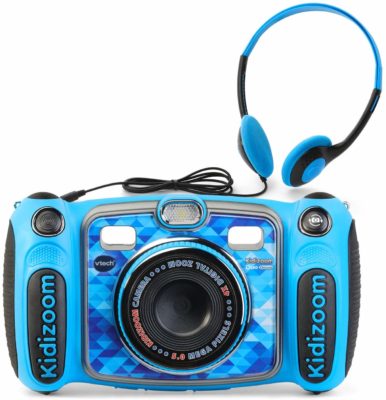 If you still want to choose one of the best cameras for your kid but are on a limited budget, don't worry because we have another excellent pick. The KidiZoom Duo is a great starting point, and the reasonable price means you don't have to worry if it turns out your kid isn't too into photography after all. It has loads of fun features for your child to enjoy, not just taking photos! They can add fun effects to their photos as well as playing mini-games, so it's sure to keep them entertained for ages.
Which Smartphone Has the Best Camera for Children?
Perhaps your kid is at the age where they are ready for a smartphone, so it can make sense to choose a phone with a great camera, instead of two separate devices. Nowadays, the cameras built into smartphones are getting better and better, so it's easy to take good-quality photos from your phone. Some of the smartphones with excellent cameras can be quite pricey, so may not be suitable for younger children. But, if you do want to go down this route, some which stand out are the iPhone 11 Pro, which has three excellent lenses to use, the Google Pixel 4, which gives lovely detailed images, and finally the Huawei P30 Pro, which is perfect for shooting at night.
Which is the Best Video Camera for Kids?
We've looked at a couple of video cameras above, but there are other options available if these don't take your fancy. If they are only interested in videography, a camcorder might be a good choice. Remember, most digital cameras are also capable of recording videos, often in full HD or even 4K resolution, but some perform this function better than others. Of the choices above, the Lumix gives the best-quality videos.
Cameras Best for Kids Who Love Nature?
If your child loves the great outdoors, you might wish to choose a camera that is best suited to use in all conditions. For example, one which is waterproof is a good choice, as it doesn't matter if you and your child get caught out in the rain. We like the Akaso EK7000, at #10 on our list for this purpose. The Nikon W300 is also an excellent choice for nature and outdoor use, as it is really durable, waterproof, dustproof and even drop-proof.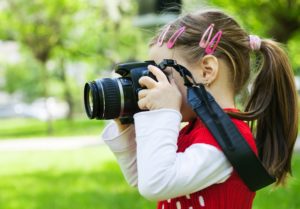 Last update on 2023-06-09 / Affiliate links / Images from Amazon Product Advertising API