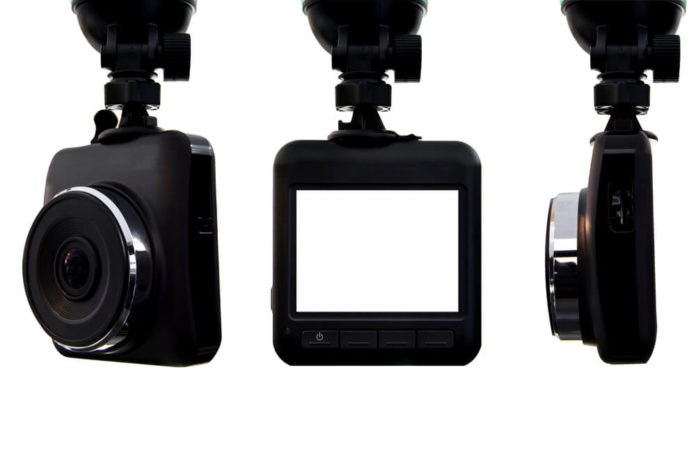 We all know that a dash cam could save you a lot of trouble if you were in an accident and need to claim. This is why picking the best dashcam is essential, otherwise the quality with lack and might make claiming impossible.
Dash cams are handy little devices that can be fixed to the interior of your car for greater safety and more interesting driving experience. For many, the unpredictability of other drivers prompts the investment into a dash camera, and if you've never used one before, there are lots of benefits to come with doing so. With this type of camera not only will you have more peace of mind when it comes to accidents, but you'll also be able to record footage of other drivers too. This can be particularly handy if a crash does occur! Here are just some of the reasons that you should consider buying a dash camera:
These cameras can help prove your innocence! – in the unfortunate event of a car accident or damage occurring in some other way, dashcams can help to prove that you didn't do anything wrong. This is because they are capable of recording footage and playing it back.
Could help to settle a claim – if you need to settle an insurance claim, this camera can help a lot. You'll be able to present the issue at hand and speed up the process.
Insurance discount – some insurance providers offer a discount if you have a dashcam installed. This is because you are far more likely to be driving in a safe manner thanks to the gadget.
Best Dash Car Cameras Review
Below we have 10 of the best dash cam reviews for those looking to find the latest products at the best prices.
1. Rove R2-4K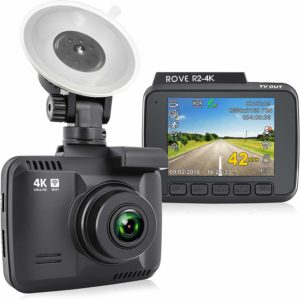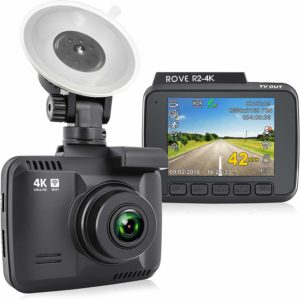 At the top of our list of great car cameras, is the awesome Rove R2-4K that comes with built-in WiFi to connect to your phone. Boasting 4K ultra HD recording, the camera is capable of recording great quality videos up to a max resolution of 2160p, which is pretty impressive for such a small gadget. Users will benefit from clarity across images when compared to other similar products and the super night vision technology integrated into the dash cam footage ensures clear video quality in low light conditions. Drivers can use the Rove app to manage their recordings and view on the go using an iOS or Android device. When using the app, it's also easy to download videos and share via social media too, which is a great little feature for interesting roads through the scenery. Using state of the art technology, the camera has f1.8 apertures, motion detection, a parking mode, G-sensor, slow mode option, time-lapse options and much more.
2. Garmin dash cam mini 2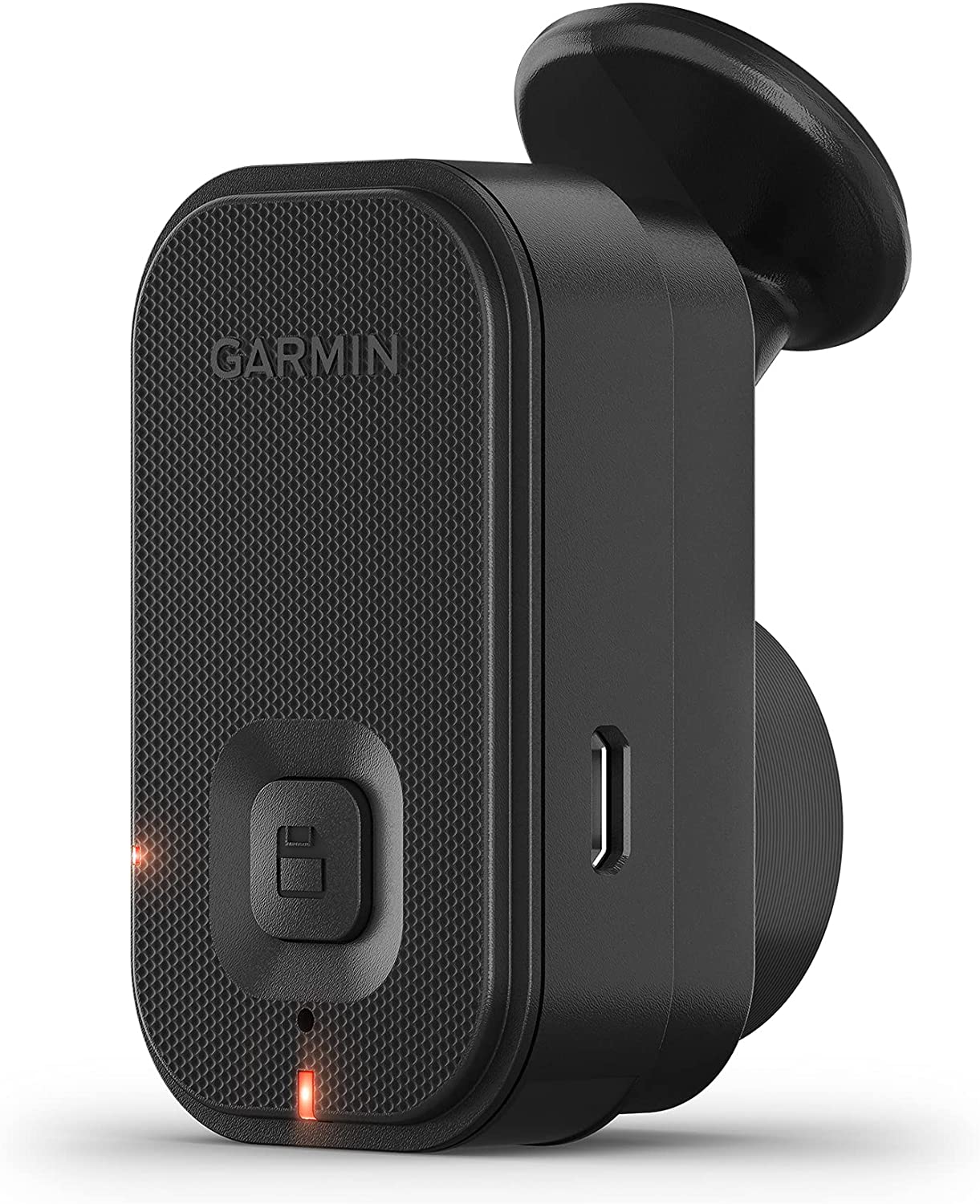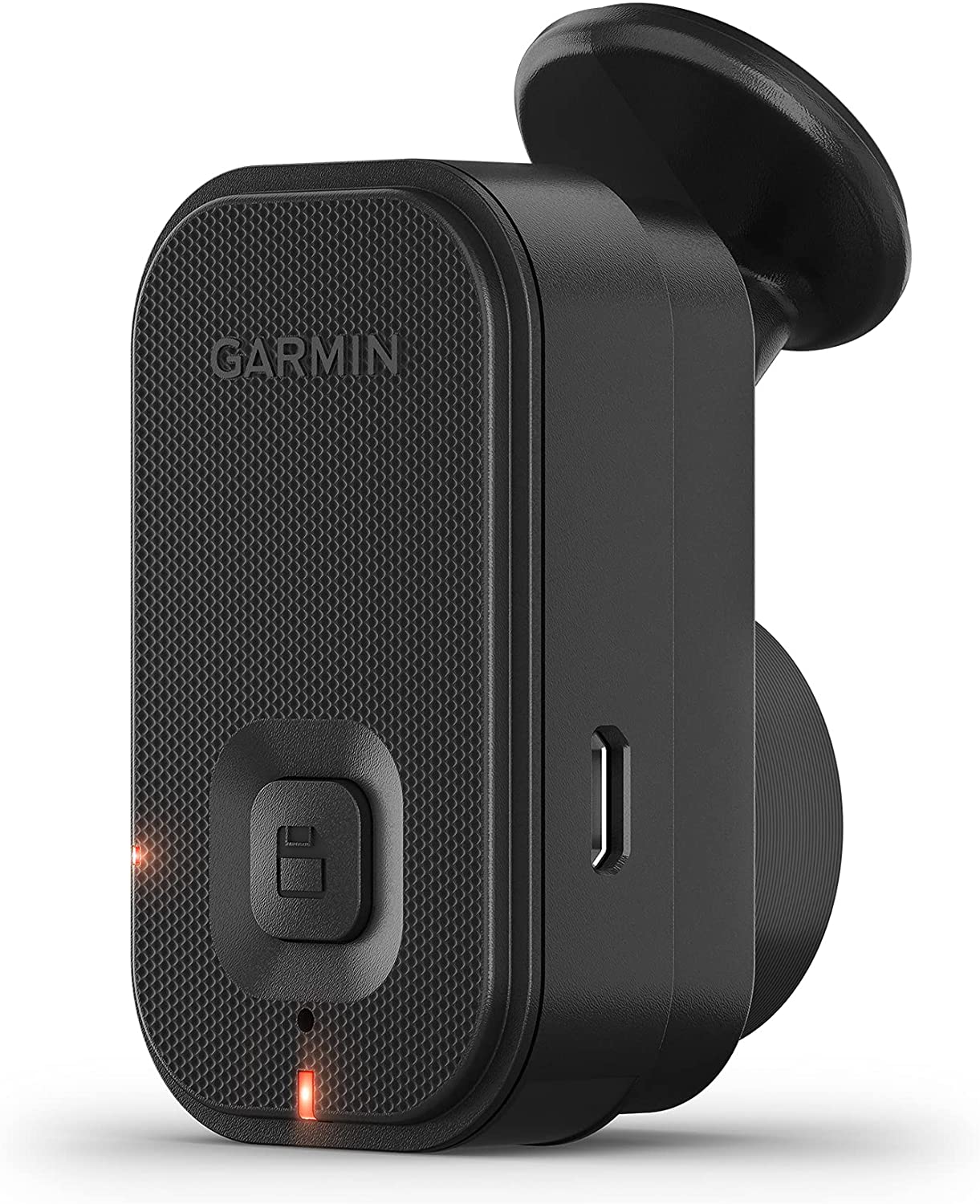 Our final pick for the best dash cam of 2021 is the Garmin dash cam mini 2, which is one of the most reputable options out there. Offering a powerful front lens that's able to capture 108P FHD and an inside lens as well as a rear one, you'll know what's happening inside and outside of the car at all times. This product is a great option for Uber drivers or drivers who want to record scenery too. Users will be able to choose between 4 different types of real-time displays for full convenience and it comes with built-in GPS too for extra ease. Its GPS module is great for recording speed and tracking where the vehicle has been. All of this data can then be viewed in the designated player. For extra safety, the cam has a parking monitor DVR which turns on automatically and will record for 30 seconds once detecting external force. For those that are seeking a powerful night time camera, this gadget also ticks the box. It adopts a complex image sensor using infrared to give accurate footage at all times.
3. Vantrue N2 Pro – Uber dash cam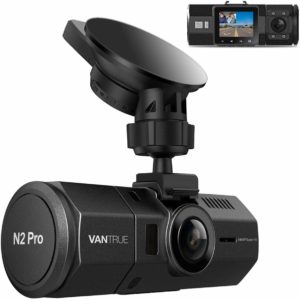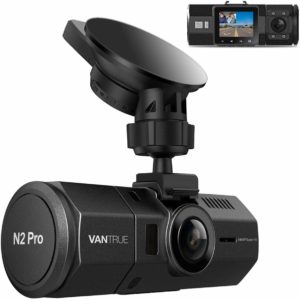 The Vantrue N2 Pro offer 4k video in 1080p and it's packed full of handy features for safe driving. The 2-way dash cam can be used to record any sort of collisions or accidents. Using an advanced Sony Exmor IMX323 sensor inside the car and an OV4689 sensor, working together a full image is captured. Vantrue's interior facing camera uses infrared technology to ensure nighttime footage is clear and crisp and the front-facing cam utilizes a unique HDR video capture system. This means that the camera automatically balances light and dark areas for maximum quality across videos. You'll also benefit from a 24-hour parking mode, which gives total peace of mind even when the car is stationary. 24-hour parking mode is paired with excellent voice control technology, loop recording, and a G-sensor. Users can also choose to integrate GPS in order to track their driving routes, locations, and speed.
4. APEMAN Dash Cam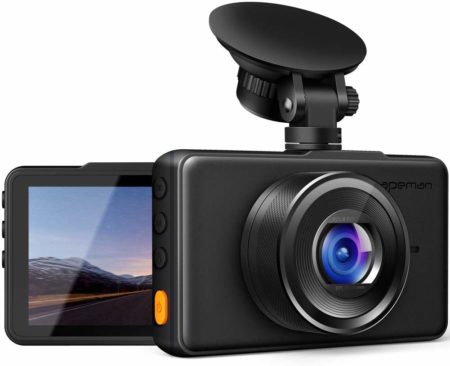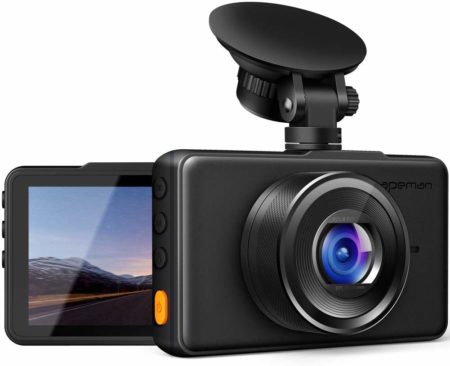 Despite the Apeman is a budget dash cam, its video quality records are among the best available. Providing excellent quality images in full HD, it offers recording with super high resolution at 1080p. The FHD lens fitted into the camera supports 4032×3024 photos and it comes with a 3-inch large screen that delivers footage and allows the driver to replay moments. It features a 170° wide-angle lens is capable of capturing an ultra-wide field of view to help reduce blind spots for ultimate safety. We love the Apeman dash cam's built-in G sensor which allows the use to automatically detect sudden collisions and it will automatically lock the footage. With night vision thanks to a combination of F1.8 large aperture, WDR, and HDR, you're guaranteed clear images throughout nighttime conditions. This model is super easy to set up and offers everything you need for daily driving. 
5. Rexing V1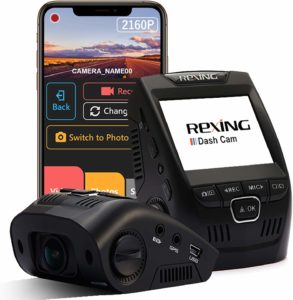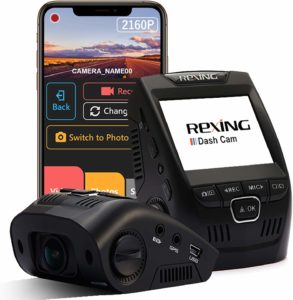 Next on our list of dash cam reviews is the Rexing V1 which boasts a lovely discreet design. Featuring HD recording capabilities due to a top-range image sensor, this gadget is capable of capturing 2160p videos even when driving at higher speeds. The V1 can be easily hidden while still allowing you to see the road ahead and it supports micro SD memory cards to store footage. The 170° wide-angle lens gives a dynamic range, and the 7 layers open to capture accurate views of surroundings. Using a supercapacitor, the camera can operate even under extreme conditions from  -20 to 176°F which is impressive. Using the parking monitor, the camera automatically turns on to assist and it will capture footage of up to 20 seconds when it detects vibration. Users can connect to the camera wirelessly using mobile devices and can choose to record for up to 3-minute intervals. 
6. APEMAN Mini Dash Cam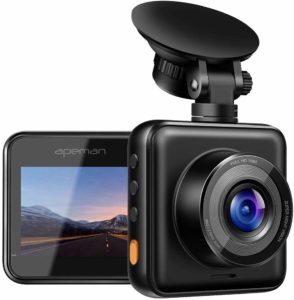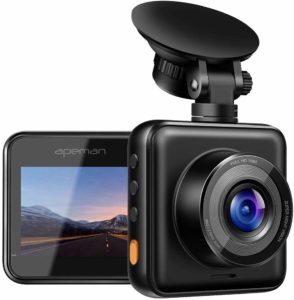 A compact size but highly powerful, the Apeman mini dash cam offers full 1080p HD footage. Smaller than the original Apeman, this camera still packs many of the same features including an FHD lens supporting 4032×3024 photos and the 3-inch large LCD screen for convenient viewing. Through the use of a 170° super wide-angle lens, users can benefit from the reduction of blind spots for improved safety. A built-in G sensor allows the camera to automatically detect any shaking or collisions and will record the footage if suspected. The camera works brilliantly in low-light conditions too, offering excellent safety at all times for the drivers and passengers in the vehicle. 
7. CHORTAU Dual Dash Cam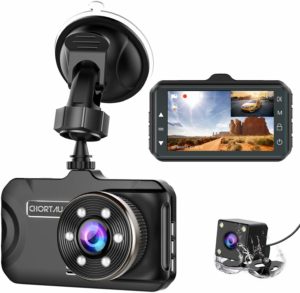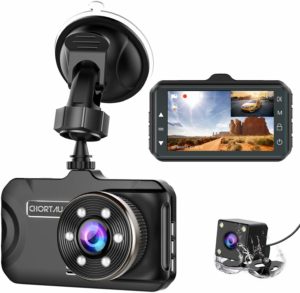 The Chortau owl dash cam has a dual feature and is equipped with 1080p resolution for both its front and rear cam. The cameras themselves are fully waterproof and can record footage in all types of weather conditions and throughout the night time too. Using a seamless loop recording program, the camera automatically overwrites old footage with new content, ensuring that you have the latest recordings available. It automatically powers on when driving is detected and will start to record, this gives ultimate video protection even if your car is damaged during parking. Both easy to install and operate, the camera is great value for money and comes from a brand that has an excellent reputation for driving innovation.
8. APEMAN Dual Dash Cam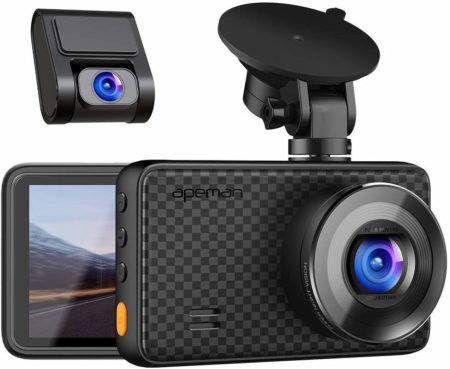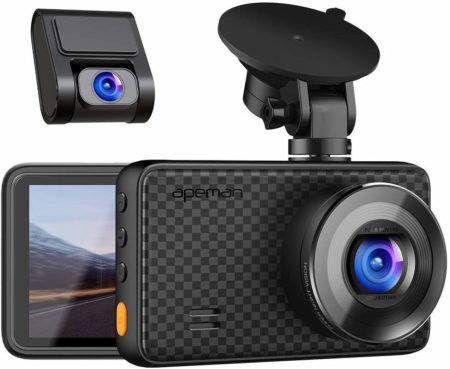 Another dashboard camera from the Apeman brand, this dual dash cam looks great and does its job. Users can record long video clip thanks to the device which offers 128GB of memory and a 420mAh battery for long life. Again, like some of the other cameras, this device offers automatic recording when the memory card is full. This is great for those that are concerned about not being able to record newer footage. It comes with an emergency accident lock and a G-sensor that allows the camera to lock the current video when it detects any sort of shaking. The user-friendly design features a 3-inch IPS widescreen and allows you to recover clear footage at all times. We love how easy this camera is to install and the minimal fuss required to get started with it.
9. Dual Lens Dash Cam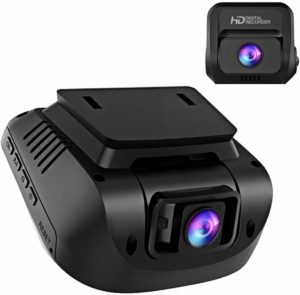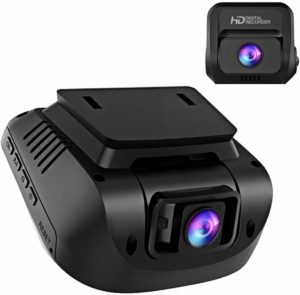 This dual lens camera is an excellent gadget for any car and any driver that wants to improve their own safety and that of passengers. With a dual 1080p and 170° wide-angle dual camera, you'll be more likely to avoid collisions with other drivers. This affordable camera is placed well in the dash cam market and feature an optional GPS interface, which allows you to effectively track your speed, longitude and latitude data through an antenna which can be bought separately. Utilizing a Novatek chip and F1.8 aperture, the advanced sensor provides superb image technology even at higher speeds. The front and rear cameras both capture clear footage in all types of lighting environments, ensuring maximum protection at all times. As with other cams, this dual-lens gadget overwrites old footage by the newest when its memory is full and the G-sensor locks current video clips automatically once detected. 
10.TOGUARD Mirror Car Dash Cam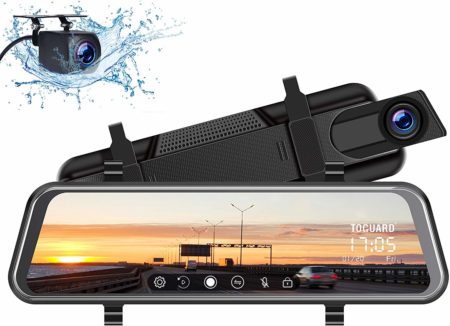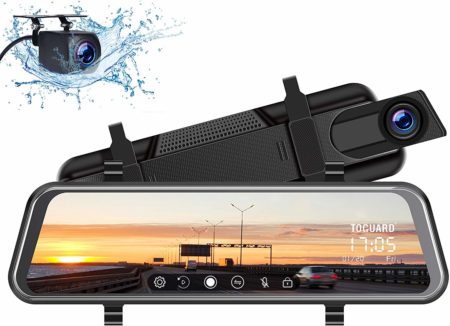 The Toguard mirror car dash cam comes with plenty of features to ensure maximum safety when driving and the prevention of collisions. The 1080p streaming media camera uses full HD and sharp colors to ensure that the best footage is captured. Its IPS touchscreen will display the rear view when the car starts and synchronizes with the front view for the clearest image quality both day and night. This gadget's wide-angle lens helps to reduce blind spots and brings about peace of mind when recording any damage caused to your vehicle. A handy mirror dash cam that perfectly integrates with existing mirrors, users won't have to worry about a fussy installation, no need of replacement, non need to mount additional part. Super safe night vision mode and safe parking mean that you'll be covered at all times and this is further enhanced with an HD rear camera. Loop recording automatically overwrites early video footage so that you're always up to date when the memory is at its full capacity.
Who Makes The Best Dash Cams?
As you can see from our selection of car cameras, many different brands offer this type of device. And, it can be especially difficult to recommend just one as each comes with its own set of features and capabilities. With this said, Rove is one of the most reputable dash camera manufacturers with plenty of different options. Their cameras are amongst the best for precision and they utilize a range of different advanced technologies for ultimate safe driving.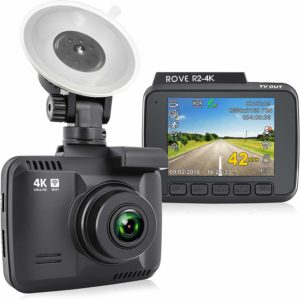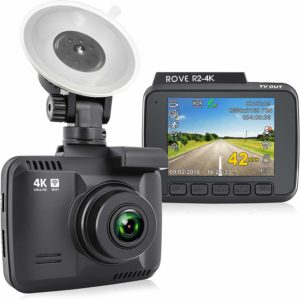 When searching for a dash cam it's always a great idea to read many reviews and to make a checklist of the features that you're looking for. Depending on the budget that you've set aside, you could end up finding that a brand you've never heard of has created the perfect car dash cams for you. We'd always suggest having an open mind and to carry out thorough research before buying!
Which Dash Cam Has The Best Night Vision?
To ensure that an owlcam has good night vision, you're going to need to look specifically for this feature. Again, while there is no top performer in terms of footage capturing ability in night conditions, some cameras are better. It's also a good idea to extend your budget if you're seeking a camera with great night vision.
From the picks in our list of dash cam reviews, the best options for night vision are the Apeman dash cam and the Toguard mirror camera. Both of these cameras integrate infrared technology for better quality functions throughout the night.
Which Dash Cam Has The Best Sound?
Sound can be an important feature to consider when buying a front and rear dash cam. Many voice recordings can really compliment the scenery that you're capturing and this can be especially true for those that simply want to record their adventures and nothing more. However, in terms of safety, recording noise can be vital in helping you to present a case for a crime or to support an incident between you and another driver.
From our list above, there are a few cameras that support audio with the best from our list being the Vantrue N2 Pro. The camera has an excellent built-in audio facility that works effortlessly. You'll have the option to choose to use it or not when starting up the camera. The audio produced is crisp and clear which really makes the camera one of the top for value for money too.
Many people prefer not to go for a camera that is supported by audio recording, though we certainly advise it as an extra safety precaution. The bit of extra cash you'll pay could save you in the long run!
How Long Can A Dash Camera Record For?
If you're wondering just how long a dual dash cam can record for, each device will vary slightly however, most can record for up to 20 minutes at one time using a small memory card (8GB). With this said, it is possible to invest in buying a larger memory card to record even more footage. You can also enhance recording abilities if you choose to reduce the resolution via the camera's settings, though we wouldn't advise doing this as images should be clear at all times. Apps allow users to decide on the amount of time some cameras record for too, this is particularly true for newer devices.
What Do Dash Cameras Record To?
These cameras record footage in real-time using a variety of cameras placed inside the car. Some have a small amount of internal storage but most will require the use of a memory card that is stored in this way. Most modern dash cameras will use a Micro SD card and you can choose different sizes depending on your needs. Almost all of the cameras listed above in our dash cam reviews feature a loop function that automatically deletes old footage and replaces with newer footage. Files can also be stored using apps that are paired with some cameras too, which allow the user to view and manage their own videos as they wish. You can be flexible in the way that you decide to store footage and remember that it's always wise to invest in a larger memory card for that extra bit of storage space!
Last update on 2023-12-06 / Affiliate links / Images from Amazon Product Advertising API