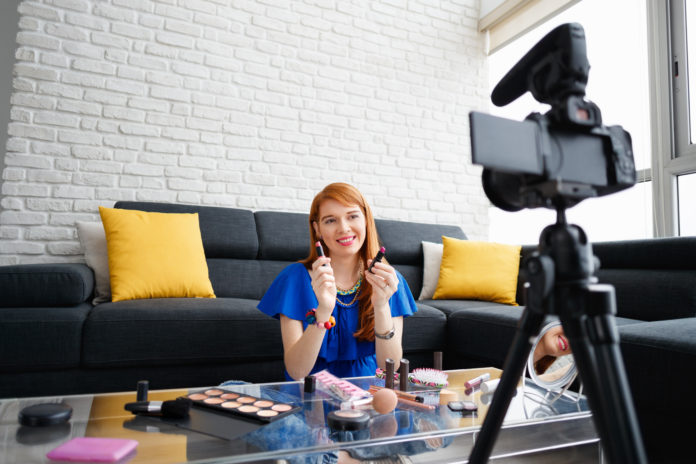 If you are just starting out in the world of blogging, after choosing a vlogging camera, you will need to think about the other equipment and accessories you might use to make life a little easier and to improve the quality of your videos. There is a lot to think about when it comes to vlogging gear, and choosing the right equipment for your needs can be difficult if you don't know where to start. You'll have to consider which device you'll shoot videos from, what lighting and microphone you'll need, whether you need a backdrop to shoot against, and of course which vlog editing software you'll use to get the videos polished off for sharing with your followers.
In this guide, we take a look at the different types of vlog equipment on offer, to help you determine what you might need to purchase to take your vlogs to the next level. We have some helpful tips and guides, as well as reviews of the latest and greatest gear on the market today.
What Equipment Do I Need for Vlogging?
First things first, let's discuss the kind of equipment you should consider buying as a vlogger. You should choose an external microphone, as the built-in one on most cameras doesn't result in the best quality audio. Lighting is also important, as you'll want to make sure your followers can clearly see you and any products you might be showcasing. A tripod to hold your camera or phone is also essential.
You might also like accessories such as a backdrop to shoot against – this can be particularly useful if the scene behind you is cluttered, as this can be distracting for your viewers. A bag to keep all your accessories and camera together is also useful, and finally, you'll need to consider video editing software for processing the final videos for your vlog.
What to Look for in YouTube Gear?

Now we know what pieces of equipment you are likely to need as a vlogger, let's take a look at ways to choose between the different offerings, to ensure you find the best quality items and those which are well-suited to your needs. You will find a guide to each type of accessory below, as well as some picks of, what we believe, are the best on the market.
Lighting
As a vlogger, it's also important to carefully consider your YouTube lighting setup. You want to choose lighting which clearly lights your face as well as any items you might be showing and talking about. Choosing the right lighting is especially important for makeup tutorials. In most cases, natural lighting won't be enough, so it's necessary to purchase additional lighting for shooting videos. Softbox lighting is ideal, in that it looks just like natural light but will help reduce shadows. Ring lights are another popular option, as they have the same point-of-view as the camera lens, so they are great for beauty tutorials.
Best Vlogging Gear and Essential Equipment 
1. Viltrox LED Light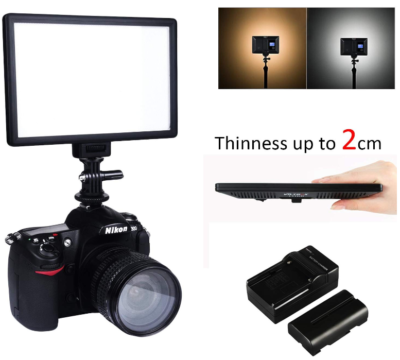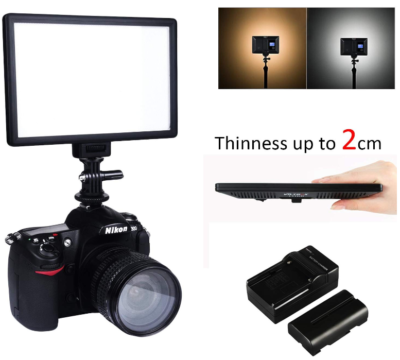 Our first pick is this slim LED panel light, which attaches to the top of the camera. You can change the temperature/brightness so it works well for all natural lighting conditions. The light is very lightweight and portable, weighing just over half a pound. The light also features an LCD screen which shows the brightness, battery life, and color temperature. the battery life gives over 2 hours of continuous lighting, which should be more than enough time to shot a vlog video.
2. Viewow Ring Light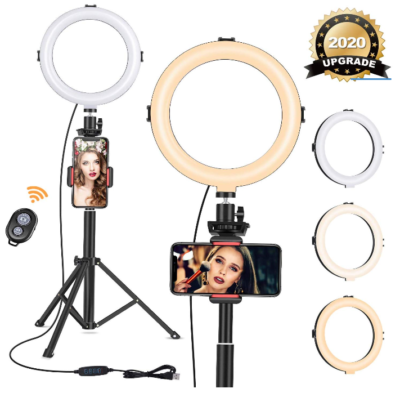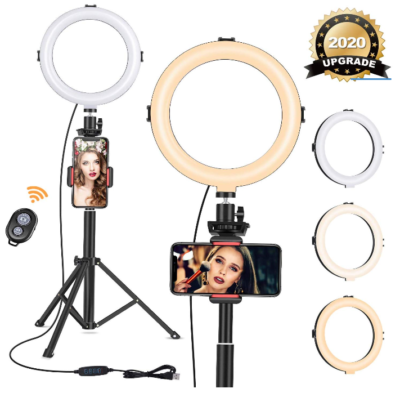 We've already seen how a ring light could be the ideal choice when it comes to lighting for vlogging, so let's take a look at how it works. This one is 8 inches in diameter and has different tones – warm, cool and natural light. There are controls to easily switch between the different lighting modes as well as adjusting the brightness. The ring light can be fitted to the top of a tripod or a smartphone, and there is a strong rubber grip to ensure the phone won't get damaged. This light offers different angle adjustments so you can always ensure yourself or your subject is perfectly illuminated.
3. Mountdog Large Ring Light
Table could not be displayed.
Our final pick in this section is the larger ring light from Mountdog. This one has a diameter of 18 inches and can be operated using Bluetooth for maximum convenience. It comes with its own stand which has an adjustable angle. The light comes with attachments that can be used to change the tone of the light from white to warm yellow. Each color can also be brightened or dimmed to various levels, to give a more or less intense light. This one is a good choice for those using any type of camera, whether it's a DSLR, a mirrorless camera, or a smartphone. The light and stand are foldable and a carry bag is included for easy transporting.
Tripod
Aside from a camera, the most important thing you'll need is a vlogging tripod, to hold your device steady as you shoot videos. It's one piece of kit you'll want to add to your vlogging kit straight away, as you won't be able to shoot very well without one. There are a few different types available, from mini desktop tripods to larger models which are ideal for outdoor use. You can also find ones that can be adjusted and bent into various positions or even wrapped around virtually any surface. The type of tripod you should choose depends mainly on where you will be shooting your vlog videos, so let's take a look at some of the different options below.
1. Fotopro Lightweight Tripod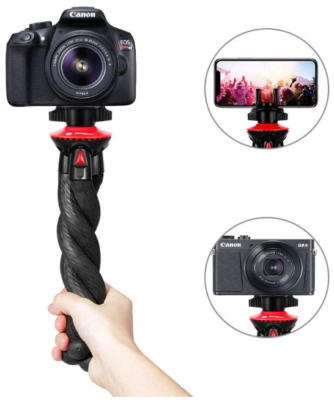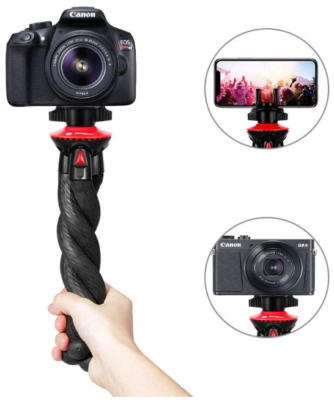 Our first vlog tripod is this flexible offering from Fotopro. It's suitable for use with most types of cameras and smartphones – it can hold devices up to 2.6lbs. The tripod is really lightweight and portable so it can easily be taken anywhere, but it's also really durable. The Fotopro is waterproof and rust-resistant, so it's ideal for using outdoors in harsh conditions. It can hold the device in portrait or landscape orientation, depending on how you wish to shoot.
2. Vanguard Alta Pro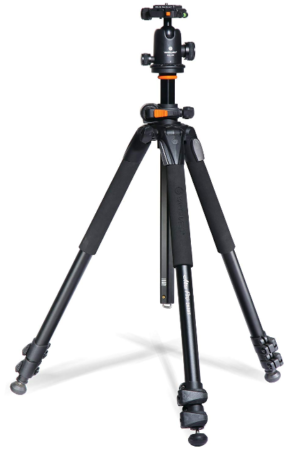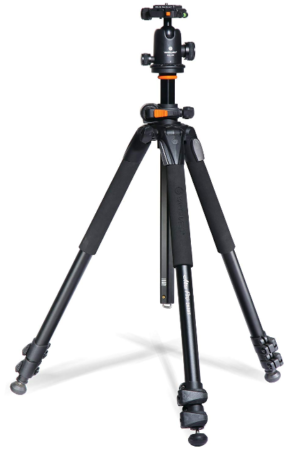 The next tripod we've chosen is the Alta Pro from Vanguard. It comes in three sections and can be adjusted to different angles, from 0 to 180 degrees. It's perfect for larger devices, as it can hold up to 15 pounds, and the tripod itself weighs almost 5.5 pounds, so it's not as light as the previous pick. The legs can be locked into three different positions, so really low angle shots are made possible with this tripod. It's perfect for outdoor use.
3. UBeesize Phone Tripod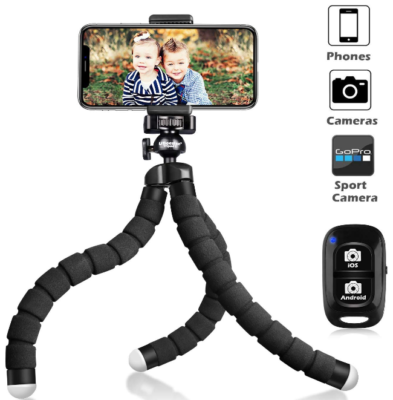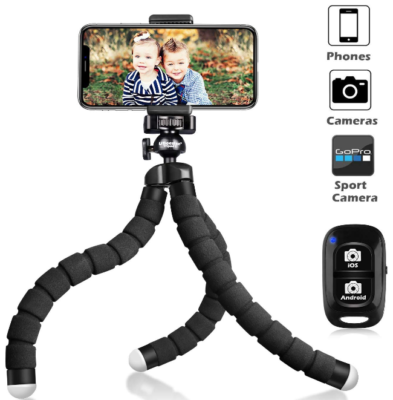 This cellphone tripod is perfect for vloggers who film on their phones and are looking for a cheaper option. It has a wireless remote shutter, and it also works with a GoPro device. The remote can work at a distance of up to 30 feet. The tripod is bendy so it can be put in just about any position you might require. It stands at over 10.5 inches tall, making it bigger than most other smartphone tripods. The feet are non-slip, so your device will stay still during filming.
4. JOBY GorillaPod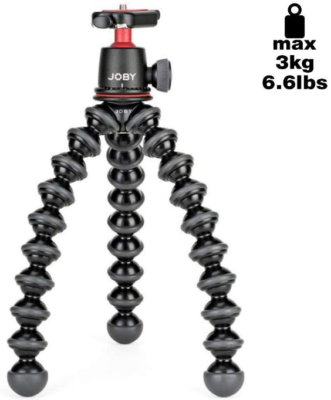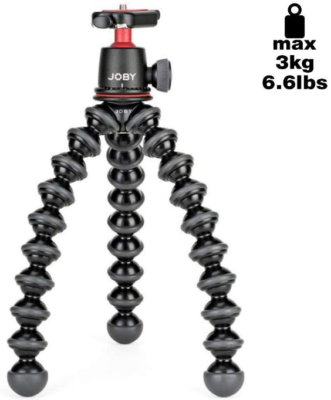 Finally, we've chosen the awesome GorillaPod. This is a great choice for just about anyone, and it can be used with various cameras and devices up to the weight of 6.6 pounds. The fully-flexible legs mean this tripod can be set up just about anywhere and at any angle. You can even wrap it around the branches of a tree when shooting outdoors! The tripod can also stand up, or be held, and it has rubber grips on the feet to ensure maximum stability in any location.
Microphone
When it comes to YouTube recording equipment, it's not only a camera that you'll need. A good-quality external microphone is also a must-have for any pro vlogger, as the built-in camera mic won't provide the best quality audio. There are many different makes and models to choose from, so for convenience, we've picked out a few of the best on offer.
1. VideoMicro by Rode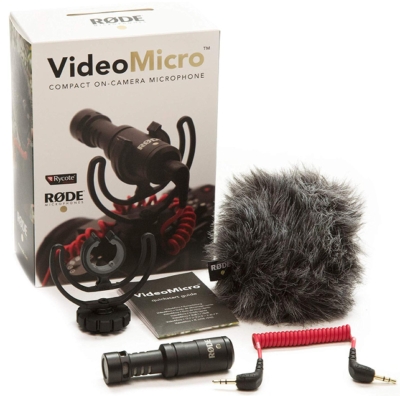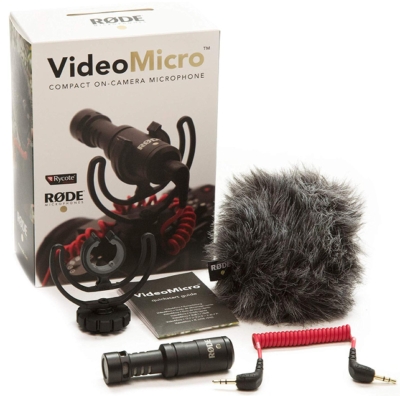 First up, we have the best-selling VideoMicro from Rode. It's very compact, at just three inches long and weighing 1.5 ounces, but it offers excellent audio quality which will really enhance your blog videos. The mic runs off the power from the camera, so it doesn't require any batteries. Included with the mic you can find a mount to attach it to the camera as well as a furry windshield to prevent interference.
2. Moukey Camera Microphone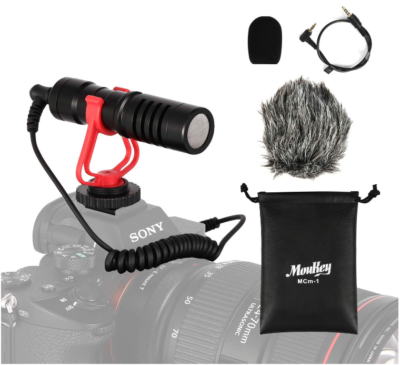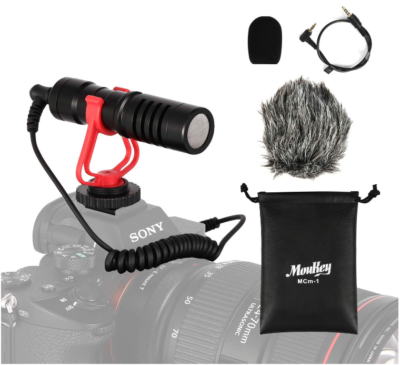 Next, we have the Moukey microphone, which is compatible with just about any device, making it a great all-round pick. It's suitable for DSLRs, laptops, smartphones, and more. It's made from aluminum which helps prevent interference and there's a shock-absorbing mount which further helps keep sound quality smooth and clean. This mic comes with two different covers, again to help avoid interference either indoors or outdoors.
3. Takstar Interview Microphone
Table could not be displayed.
The last microphone we've chosen to feature is Takstar's excellent interview microphone. It can easily be connected and mounted to any camera or camcorder. It gives excellent sound quality and is highly sensitive to pick up all the little details. It's shaped to reduce the amount of background noise that is picked up, enabling your viewers to better focus on what you're saying. The Takstar mic is shock-resistant too, which helps reduce noise from the camera operating.
Backdrop
If you're going to get started with daily vlogging from home, you'll probably want to buy a nice backdrop for filming against. You can choose from many different sizes and colors, so think about how you will want your videos to look and decide from there which to choose. Here are a few which stand out above others.
1. Neewer Greenscreen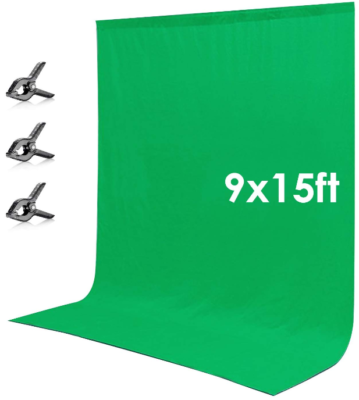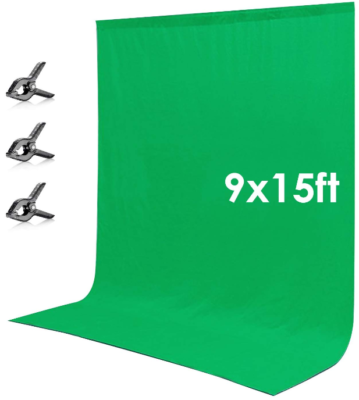 The classic greenscreen is great for videographers. In fact you can edit in post-production in order to give any effect you wish! This one comes in a choice of different sizes, and also includes clamps to hold it on to a stand, although the stand itself is not included. The color is consistent over the whole cloth, and it's made from quality muslin material which is reflective but not glossy. The edges of the cloth are sewn securely to prevent tearing or fraying.
2. LB Vintage Brick Wall Backdrop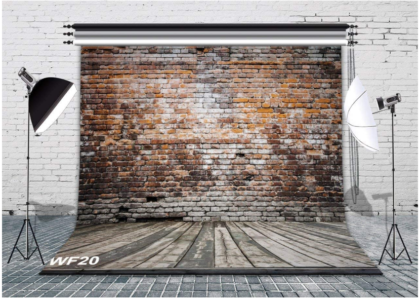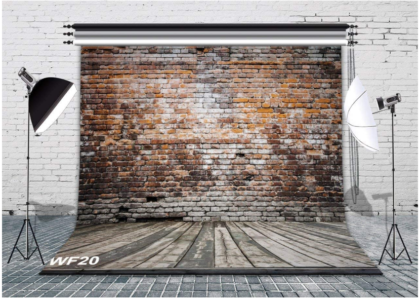 This brick wall design photography backdrop is something you might wish to add to your YouTube starter pack. It measures either 8 x 8 feet or 10 x 10 feet, so you can choose which you need depending on the area which needs to be covered. The design is printed onto the cloth in high-resolution, to ensure your videos will have a professional feel when shot against this backdrop. It's great for all purposes and can also be used for shooting stills image. To make sure the cloth looks really great, it's best to iron the rear side to get out any creases.
3. Neewer Muslin Photo Backdrop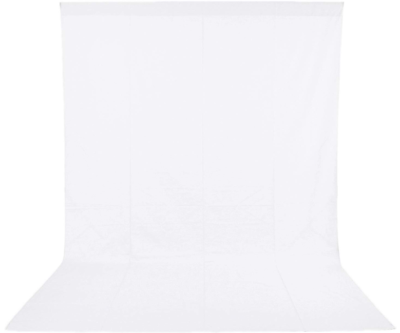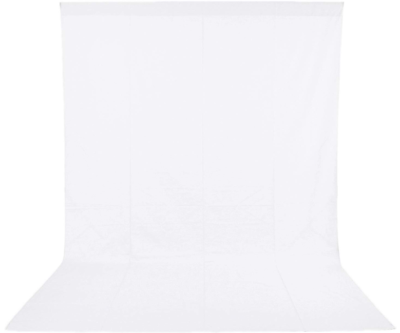 Finally, we have this classic white photography background from Newer. It's perhaps the best vlog equipment you can buy, as it will ensure your videos are free from background distractions and make them look very professional. It comes in a choice of two sizes – 6 x 9 feet or 10 x 20 feet for larger rooms. The cloth can be hung from a rod, as there is a slot to insert one along the top. It's made from 100% cotton for a premium look and feel, and this also makes it nice and durable. Again, the rear of the cloth it's iron resistant so that you can remove any creases.
Editing Software
Once you've captured an awesome video, you'll need to process it using some video editing software before sharing it with your followers. Which software to choose will depend partly on which operating system your computer uses, as not all programs are available for all systems. You should also think about your budget when choosing a program, as some can be quite pricey, but these do tend to come with more features than their cheaper counterparts. Let's take a look at some of the best on offer.
1. Adobe Premiere Elements 2022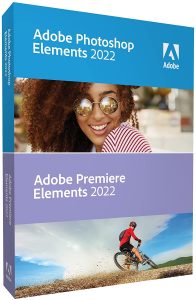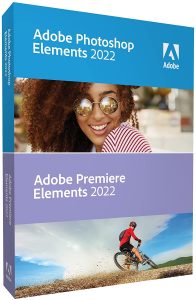 Our first pick is Premiere Elements from Adobe. It has loads of useful features for both videographers and photographers to improve the quality of their media. You can use it to get rid of graininess in videos, or even to create time-lapses. There are loads of fun and useful video tricks to be learned with this software. The package also comes with Photoshop for editing stills, such as by removing unwanted objects from them.
2. Blackmagic Design DaVinci Resolve 15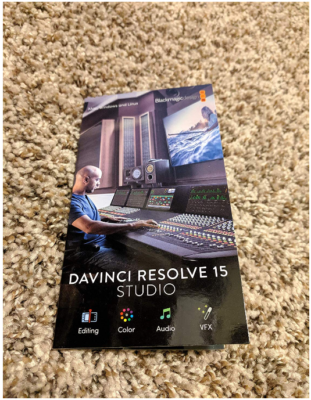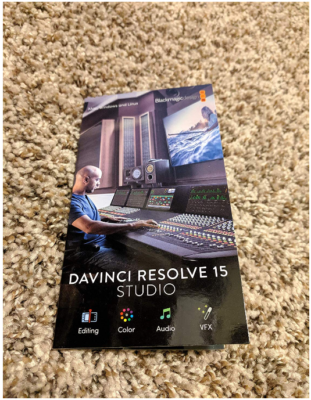 Next up we've chosen the DaVinci software from Blackmagic Design. It's a great choice for those who shoot in higher resolutions, as it can handle up to 8K. It allows you to add video effects as well as making corrections to the audio, and it's compatible with all major operating systems – Mac, Windows, and Linux. This is a great pick for pros as it has some top-of-the-range features such as the ability to add transitions, automatically match colors and more. There are loads of helpful layout and design features that make this a user-friendly program.
3. Final Cut Pro X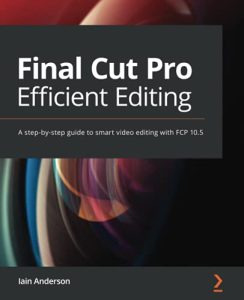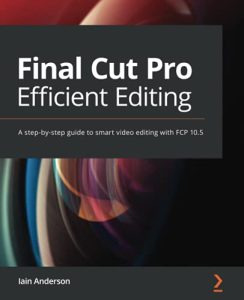 For Mac users, Final Cut Pro X is one of the best choices. It is fast and powerful, even when dealing with large files with a high frame rate. Final Cut Pro X works with 8K videos and can be used to edit multiple camera angle shots at the same time, so it's a must-have for professional vloggers. It can also be used to reduce noise in videos shot in low-lighting conditions.
We also recommend this comprehensive manual to how the software works – it will make your life a lot easier and will allow you to use the more advanced features to really get the most out of it.
4. CyberLink PowerDirector 20 & Photodirector 13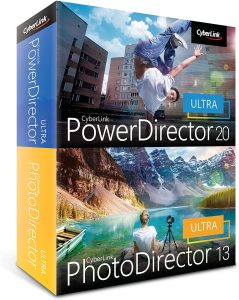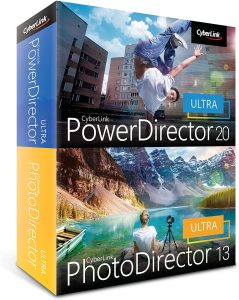 Finally, in this category, we have CyberLink's PowerDirector 20 . There are different versions of this software available, so you can choose the one which best suits your needs, and you can also choose between a CD and a digital download. There are different video effects to choose from, as well as backing tracks and sound clips which can be added to add an extra element to your videos. You also get 50GB of cloud storage with this software, which is useful for keeping your videos safe.
Video Recording Device
It goes without saying, you need something which can record video before starting a vlog of course. DSLR or mirrorless cameras are popular choices but don't forget there are other options available. Nowadays, many smartphones can record excellent-quality video footage. So, this could be a good option if you're just starting out and not sure if you're going to take it further.
Another option worth considering is a drone, depending on the subject matter of your vlog. Of course, this won't work for everyone, but it can be a lot of fun and is sure to make your vlog stand out from others! Be sure to choose one with easy controls and a high-quality camera if you decide to go down this route.
What is the Best Bag for Vlogging?
If you're planning to film videos out and about, or simply want to keep everything neat and tidy when not in use at home, it's worth getting a bag for all your gear. It should offer protection for your camera and plenty of space to store accessories, as well as being comfortable to carry. Let's take a look at what's on offer.
1. Basics DSLR Bag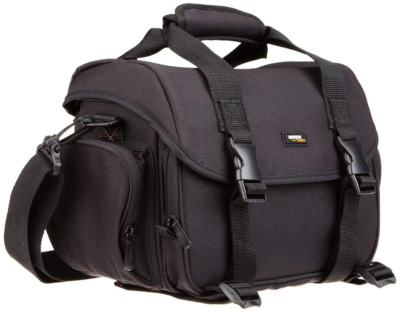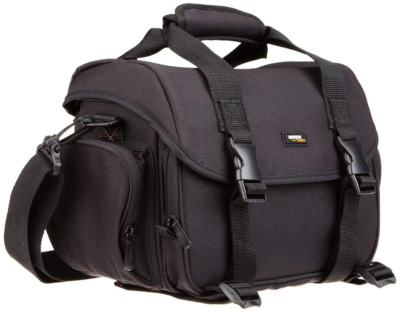 This DSLR and accessories bag Basics is great for vloggers. It comes in a choice of two sizes and you can also choose between a gray or an orange interior. It offers plenty of padding to keep the camera free from damage during transit, and there's also a slot for a small tablet. There are plenty of compartments both internally and externally for small accessories such as a flash, cables, a smartphone, and pens. There are buckles and zippers for secure fastening as well as a large strap to carry the bag cross-body style.
2. eCost Connection Camera Bag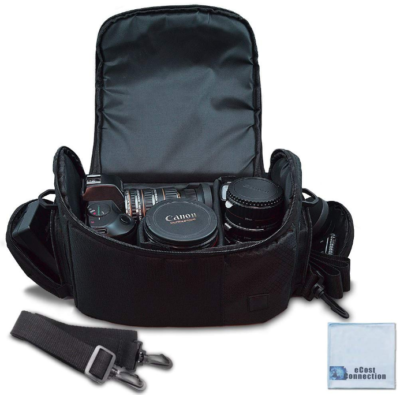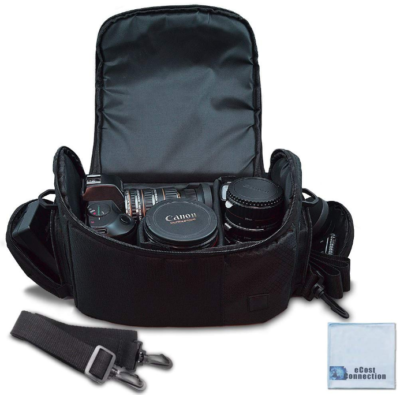 If you're on a budget and looking for something cost-effective yet practical, this padded bag from eCost Connection is a great choice. It comes in a medium or large size, so you can choose depending on the size of the camera you shoot with. The bag is sturdy yet padded and has dividers inside for easy storage of different accessories. There are also pockets on either side of the bag for additional storage. It has a handle for carrying as well as a longer strap to go over a shoulder, although you can remove it.
How to Mount a Camera in a Car for Vlogging?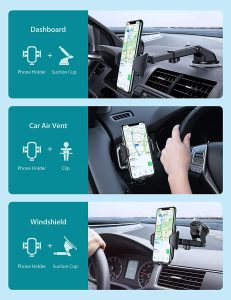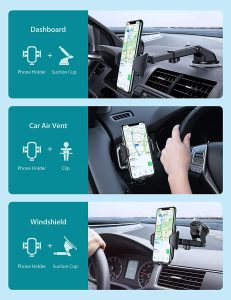 You've probably seen a lot of vlog videos shot inside a car and wondered how it was possible. Whilst it can be dangerous to operate a cellphone when driving, if you have an appropriate holder you can use it hands-free. It's also helpful if you have someone else on hand to start and stop the filming. There are loads of different styles available, below we discuss the one that stands out above others in detail
Car Phone Mount
If you're vlogging with iPhone or Samsung devices, this is the best car phone holder you can buy. It has three different modes in one great product, making it suitable for a variety of uses. It can be stuck to the windscreen, attached to the air vent or mounted directly onto the dashboard. There are no tools required for installation, and it can easily be removed again with the press of a button.
The holder can rotate through 360 degrees, so you can always ensure the perfect shooting angle. Just about any smartphone you can use with this holder and it has padding to keep the device held securely without causing damage to it. This is really a must-have for vlogging in the car, and it won't break the bank either
Last update on 2023-12-06 / Affiliate links / Images from Amazon Product Advertising API