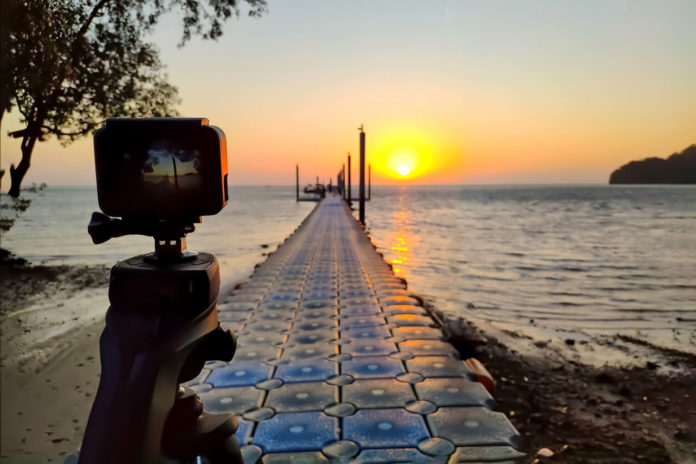 When it comes to action cameras, the first brand to spring to mind will probably be GoPro. However, if you are willing to shop around rather than paying for the brand name, the truth is there are a lot of cameras like the GoPro out there. They have very similar features and cost a fraction of the price.
GoPro's latest offering comes in at around $330, which isn't cheap, but it does have some pretty impressive features. However, for many users, the features of cheaper GoPro alternatives would be quite sufficient. Especially if you"ll use rarely the camera, for example just for one or two trips, it makes sense to save money by choosing a cheaper model.
So, if you are considering similar cameras to GoPro, read on to check out our top ten picks, as well as everything you need to know about choosing the best one for your needs.
Considerations Choosing Cameras like GoPro
When looking for devices similar to the GoPro, there are a few things worth keeping in mind in order to choose the one best suited to your needs. Here are some of the main factors to look into.
Features
Perhaps the most important consideration is the features the camera has. Just like GoPros, other brands of action camera come with a range of features, partially linked to their price point. Ensure the camera has all the features you need, such as sufficient video quality, a long enough battery life, waterproofing, or anything else you wish to have in your action camera.
Video Quality
Some cameras like GoPro but cheaper don't offer the same high-quality video as you would expect from an official GoPro. However, many action cameras are now capable of recording 4K video at 30 fps. In fact, all except two of the models we have chosen to feature below can record video footage in 4K resolution. If you intend to take stills with the camera, it's also worth considering the image quality. Many action cameras can take 16 – 20MP photos, which should be sufficient for most users.
Audio Quality
Some action cameras don't offer the best audio quality in the video footage, so if audio is important, this is something to look into. Some models can take an external microphone to give better sound quality in the recorded videos.
Accessories
Action cameras tend to come with a range of accessories for mounting them in different ways depending on the activity they are being used for. Some also include a remote control that can be used to release the shutter or start recording a video from a distance. You might also find the action camera comes with a waterproof casing or an external microphone, so think about which accessories you are likely to need and check that they are either included or can be bought separately to go with the camera.
Lens
Action cameras come with different types of lenses, some are fixed whilst others can zoom. Many have a wide-angle allowing you to capture more of the action in the scene. However, sometimes having the flexibility to zoom in can be useful, so think about whether or not this is a feature you would like to have.
Watertightness
If you wish to use your action camera underwater, it will have to be waterproof. Some come with a waterproof casing, whilst others are water-tight even without such a casing. Check that the camera can be used underwater to a sufficient depth – many are ideal for swimming or snorkeling, but some can even be used for Scuba diving.
Battery Life
The final thing to consider when buying a GoPro alternative action camera is its battery life. As these cameras tend to be used outdoors on days out, it's vital they have a good battery life. There often won't be a chance to recharge during the day when out having an adventure, so a long battery life or a spare battery is essential.
Display
The LCD on the action camera is important as it will be used to shoot the videos – these cameras don't have a viewfinder for shooting. So, it is important that the LCD is a good size and is easy to view in all lighting conditions. It should also have a high number of dots to ensure you can see a lot of detail when shooting the video.
Connectivity
Most action cams are designed to make sharing footage easy, so they tend to have Wi-Fi for this purpose. Look for a camera that has either Wi-Fi or Bluetooth to ensure you can easily share videos from your adventures with friends and family. Some cameras can even live stream as the footage is being recorded, although this tends to be a feature found on higher-end action cameras like official GoPros.
Best GoPro Alternatives in 2021
Now we know a bit more about buying action cameras like GoPro, we have picked out ten of the best on the market today. There is sure to be something here to meet your needs and accompany you on your next great adventure!
1. DJI Osmo Action Camera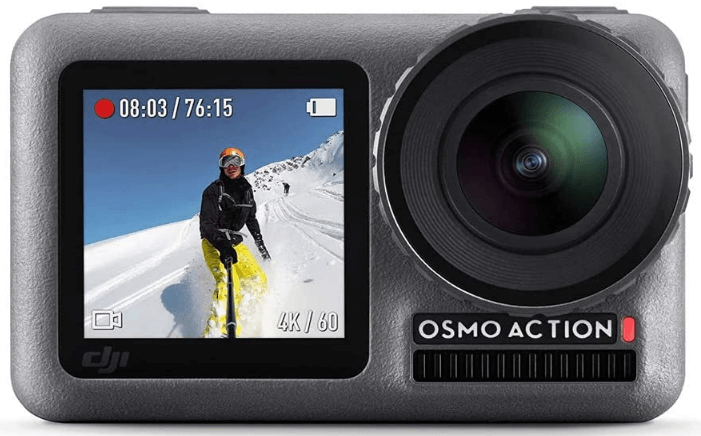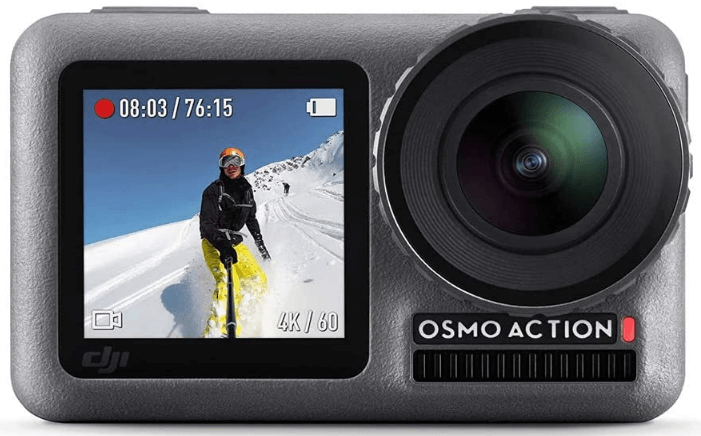 Our next GoPro alternative comes from DJI – the Osmo 4K action cam. It is priced a bit higher than some of the other models on our list but it is comparable in features to the GoPro Hero7 black. The 4K action camera features two displays which is ideal for ensuring you are in the frame when shooting a video for a vlog. The lens offers a viewing angle of 145 degrees, and the camera also has a 1/2.3″ CMOS sensor with a resolution of 12 megapixels.
DJI's action camera features RockSteady technology, which ensures the video footage is free from shake even at high speeds with lots of action. It is one of the best action cameras because it can create stunning 8x slow motion footage, captured in Full HD 1080p video resolution with a 240 frame rate. If you're looking for an underwater camcorder, this is a great choice. It can be used up to 11 meters underwater without a case, and it can also handle temperatures as low as -10 Celcius. A waterproof case is included for going deeper underwater – this will protect the camera to a staggering 60 metres below the surface.
Like all the best GoPro alternatives, this camera comes with a wide range of mounts and accessories. These include a flat and a curved adhesive mount, a floating grip handle, a high-capacity battery, and more.
Maximum Resolution: 4K 60 frames per second
Weight: 4.4 ounces
Size: 2.6 x 1.7 x 1.4 inches
Waterproof: Yes, 11m
Battery Life: 90 minutes
Pros
Very similar to GoPro 7 black, even featuing voice control and dual LCD screen
Range of useful mounts and accessories
Cons
Lower resolution for stills of 12MP
2. Akaso EK7000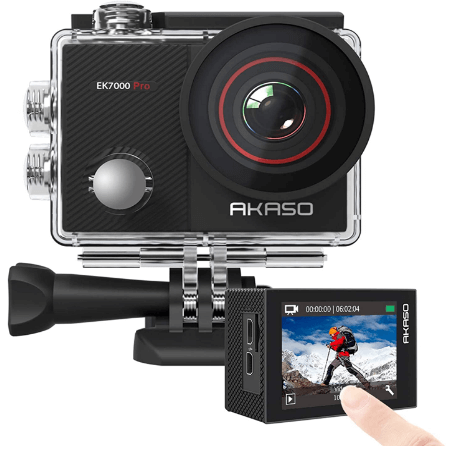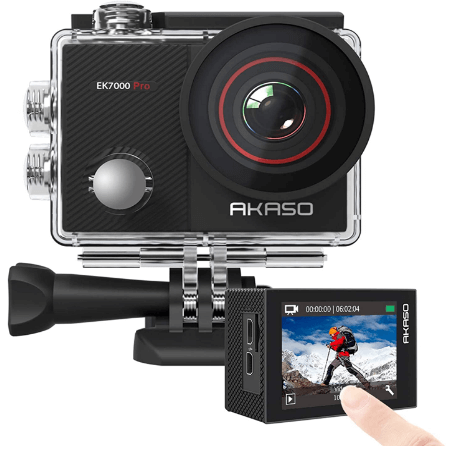 This Akaso EK7000 action camera is another excellent GoPro alternative, and it is certainly a lot cheaper, too. The 170 degree wide angle lens is perfect for accompanying you on all kinds of adventures and will help you capture all of the action. The waterproof camera can be used up to just under 100 feet under water when placed in the included housing. Unfortunately, there is no image stabilization on this model, however the quality is still good in most cases.
The Akaso EK7000 can be used to create time lapses or for loop recording and even to capture burst photos for freezing the action perfectly. It is one of the best cameras for those on a tight budget and it comes with a range of similar GoPro accessories such as a helmet mount and a bicycle stand. It also includes a remote control which is great for capturing footage from a distance or when the camera isn't easy to reach, for example, mounted on a harness or helmet. There are two batteries included and each can capture 90 minutes of 1080p footage, or 60 minutes of 4K video.
Maximum Resolution: 4K 25 frame rates
Weight: 12 ounces
Size: 0.9 x 2 x 1.5 inches
Waterproof: Yes, 100 feet
Battery Life: 90 minutes (180 minutes total between two batteries included)
Pros
Excellent price point
Great battery life
Cons
Lacks image stabilization
3. Akaso Brave 7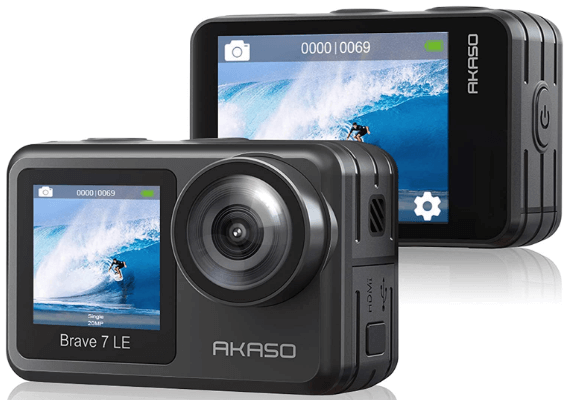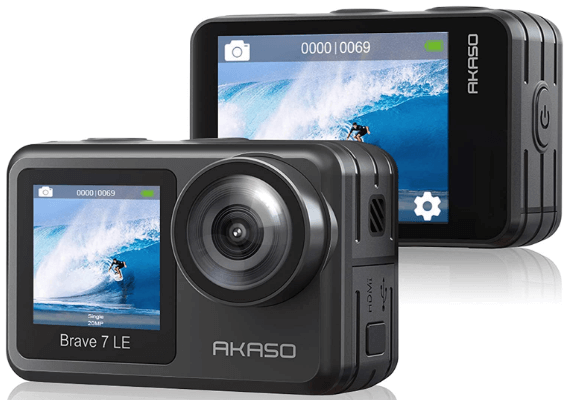 Whilst this might not be the best budget option, the Akaso Brave 7 still offers great value for money when compared to a similar model such as the GoPro Hero8 Black. Like the Hero8, Akaso's offering features an LCD display on both the front and the rear of the camera, making shooting easier. The intuitive touch screen means the camera is easy to control, giving you more time to concentrate on your adventure! This sports camera can be used to an impressive depth of 131 feet underwater in its case, or 3 feet without the need for waterproof housing, so it is perfect for watersports fans.
The video stabilization is excellent on this action camera, with 6-axis EIS functioning much like a gimbal. This ensures you get smooth, quality footage even at high speeds. The Akaso is the ideal GoPro alternative because, like a GoPro, it comes with a wide range of accessories allowing the camera to be used in a variety of situations. It also has some useful shooting modes such as burst photos, fast motion, and more. You also get two batteries with this camera to double the recording time. It has both Wi-Fi connectivity and HDMI so the footage can be shown straight on the television.
Maximum Resolution: 4K 30fps
Weight: 0.28 lbs
Size: 2.44 x 1.61 x 1.26 inches
Waterproof: Yes, 40m
Battery Life: 4 – 6 hours
Pros
Excellent battery life
Can use in water without the waterproof housing
Cons
Doesn't take an external microphone
4. Dragon Touch Vision 3 Action Cam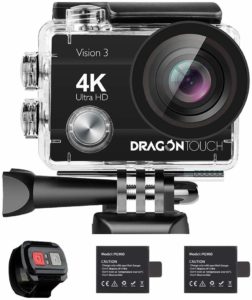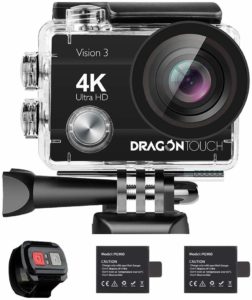 Our next action camera comes at a very reasonable price, at under$50, but has some excellent features which make it one of the best GoPro alternatives. The Dragon Touch camera can record 4K footage as well as capture 16MP stills, so it's ideal for creating high quality images as well as videos. The 170-degree wide-angle lens ensures you can capture plenty of action no matter what kind of activity you are doing. It also has a zoom lens that can get up to 4x closer, giving the flexibility to zoom in and out when necessary.
There are two batteries included so the camera can last long time without having to worry about recharging the battery. The camera also comes with a wide range of mounting accessories so it's ideal for just about any outdoor activity. It can even be used as a webcam giving even better value for money. The 2″ screen is a great size for shooting video, and the Wi-Fi has a range of 33 feet for transferring files. A waterproof casing is included making this one of the best underwater photography cameras – it can be taken to a maximum depth of 100 feet. The 4K action camera can also capture time-lapse footage, slow-motion videos, and has a driving mode, and more. It is therefore extremely versatile and well worth its budget-friendly price tag.
Maximum Resolution: 4K 30 fps
Weight: 5.28 ounces
Size: 2.36 x 1.18 x 1.97 inches
Waterproof: Yes, 30m
Battery Life: 90 minutes (180 minutes total as two batteries are included)
Pros
Very well priced
Versatile, lots of different mounts and modes
Cons
5.  Kidizoom Action Cam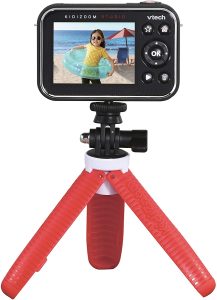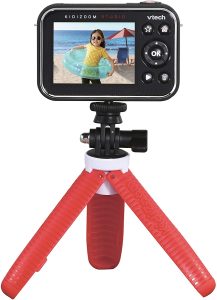 Whilst there are many video cameras like GoPro out there, the VTech Kidizoom Action Cam is the only one designed especially for children. It is perhaps the best GoPro alternative if you are looking for something budget-friendly and easy to use for children. The camera has just a few buttons, so it is simple for children to learn how to operate it. It also comes with a waterproof casing, a wrist strap, and some different mounting accessories so kids can take it with them whatever activity they are doing. In the casing, the camera can be used as an underwater camcorder up to 6 feet underwater.
The Kidizoom camera has a 1.4″ color LCD screen and can be used for video, photos, time-lapse, and even stop-motion videos. These can be a lot of fun for kids to create – they are sure to want to use their camera all the time. There are additional features on the action camera to keep kids entertained – it comes with games and a range of effects, filters, and frames to customize their photos with.
The camera can record continuously for 2.5 hours on a single charge. It can take a 32GB microSD card which is capable of storing 240 minutes of footage, or over 200,000 photos! It is ideal for children in the age range of 4 – 9 years old, and would make an excellent birthday or Christmas gift.
Maximum Resolution: 320 x 240
Weight: 1.19 lbs
Size: 1 x 2.3 x 2.2 inches
Waterproof: Yes, 6 feet
Battery Life: 2.5 hours
Pros
Excellent for children
Games and photo effects for added fun
Cons
Video and image quality is not very high
6.  Gnolkee 4k wifi Action Camera
Table could not be displayed.
Next of our sports cameras like GoPro is the gnolkee action camera. Like the previous picks, it features 4K video recording and also captures stills in 20-megapixel resolution. This one can go down to an impressive depth of 100 feets, so it's ideal for all kinds of watersports and even Scuba diving. The LCD screen measures two inches and is high-quality for previewing your footage.
The lens has a wide field of view of 170 degree, so the camera also features lens distortion control to help reduce the fisheye effect typically produced by lenses of this type. It has Wi-Fi connectivity for instantly sharing photos and videos to social media, and the camera can also be used as a webcam. It comes with a remote, but doesn't support an external microphone for enhanced audio quality. The camera includes two rechargeable batteries and a bike mount as part of the accessory kit.
Maximum Resolution: 4K 30 fps
Weight: 1.3 pounds
Size:2.33 x 1.62 x 1.15 inches
Waterproof: Yes, 100 ft
Battery Life: over 150 minutes
Pros
Includes 2 batteries
wifi connectivity
Cons
problems to connect with Mac/Apple systems
7. Piwoka HD Camera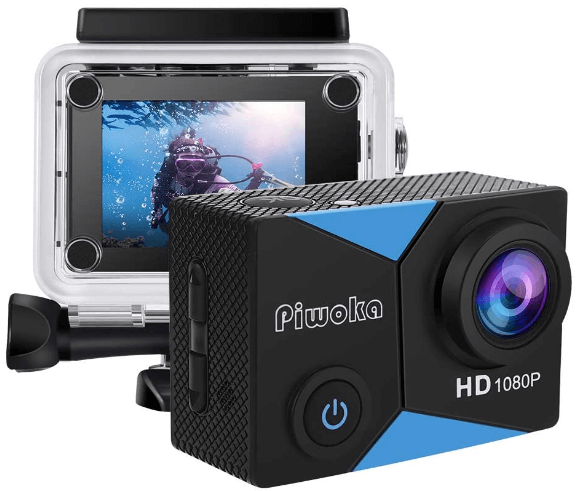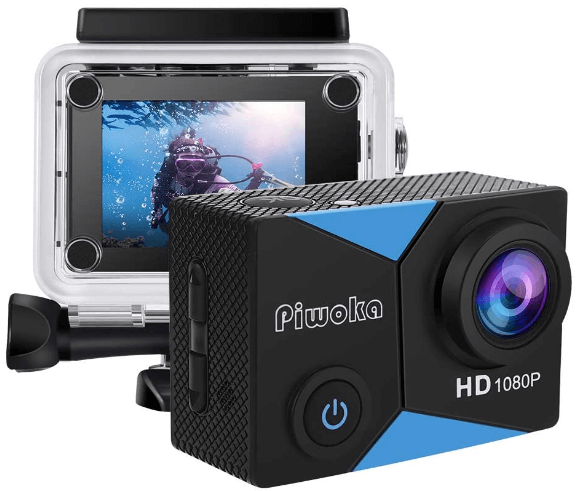 Nearing our end to the best small video cameras like GoPro we have another of the best action cameras, this time from Piwoka. It might be one of the very cheapest GoPro alternatives, but don't let the budget price tag put you off. It captures sharp, 1080p video and can also shoot stills with a 12MP resolution. The camera has a 2″ LCD on the rear, and just a few buttons to ensure it is very easy to use.
The angle of view is 140 degrees on this camera, and it also features 2x zoom to get a little close to the action. It is waterproof to a depth of 30 meters, so it can even accompany you for watersports activities. The camera features image stabilization for photos and videos free from the effects of camera shake. It takes a memory card of up to 32GB, which can store hours of the Full HD video. So, as you can see, this camera has a wide range of excellent features and is well worth its bargain price of under $30.
Maximum Resolution: 1080p 30 fps
Weight: 10.4 ounces
Size: 2.36 x 1.57 x 1.18 inches
Waterproof: Yes, 30m
Battery Life: 90 minutes
Pros
Cheapest action camera on the market
Many excellent features for the price
Cons
8. Campark X30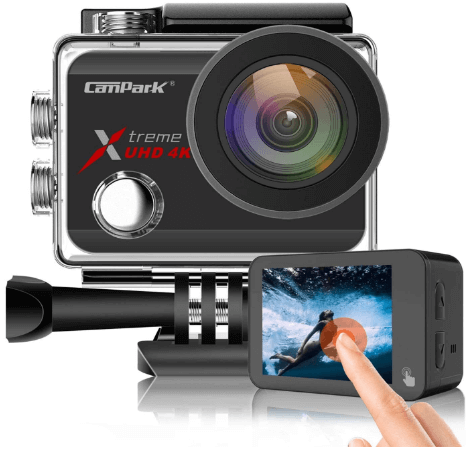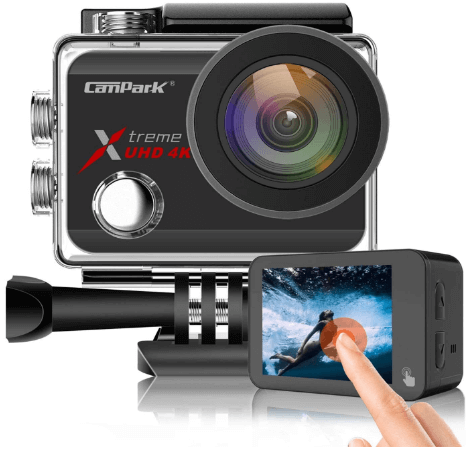 Closing our guide to the best cameras like GoPro Hero 5 we have Campark's X30. This GoPro alternative sports camera can capture 4K video at a higher frame rate of 60fps, whereas most are capable only of 30fps. The electronic image stabilization ensures the footage looks sharp no matter how intense the action gets! The 2″ display is a touchscreen, which makes the camera easy to control.
Of course, it comes with a range of mounts and accessories, including a bicycle mounting kit and a helmet mounting kit. So, this could be the best camera no matter which kind of sport of activity you wish to take it on. The camera also comes with a waterproof case enabling it to be used to a depth of 40 meters underwater.
This is a great choice of camera for photography as well as videos as it can capture stills at a high resolution of 20 megapixels. A Wi-Fi remote control is included with the camera meaning it can be controlled at a distance of 10 meters. The camera also has HDMI output so the photos and videos can be displayed straight on the TV – perfect for family and friends to watch memories of your trip. Unlike many other cameras, the viewing angle on this one can be adjusted. The widest is 170 degrees, but there are also two other options offering a narrower field of view, allowing you to focus more closely on a smaller subject and remove background distractions.
There are two batteries included to double the length of time you can record on this camera for. Finally, it can be used to create lovely time-lapse videos – excellent for showing a dramatic sunrise, sunset, or the tide changing, for example.
Maximum Resolution: 4K 60 fps
Weight: 0.99 lbs
Size: 1.97 x 0.79 x 1.57 inches
Waterproof: Yes, 30m 100ft
Battery Life: 90 minutes each (two batteries included)
Pros
Adjustable viewing angle
HDMI output for sharing videos to a bigger screen
Cons
Audio quality isn't very good
FAQs
If you still have more questions about buying a GoPro alternative, we have everything you need to know answered below.
What cameras are similar to GoPro?
All of the cameras we have featured above are similar to GoPro in terms of features and functions. Like a GoPro, these cameras are mostly able to record 4K video, some also in slow motion, and many are also waterproof camera. They have a wide field of view to capture all of the action, and often feature a remote control for easy operation when enjoying outdoor activities. So, there are many similarities between GoPro and these GoPro alternatives we have featured above, yet many of the alternatives are much cheaper.
Which is the best GoPro camera to buy?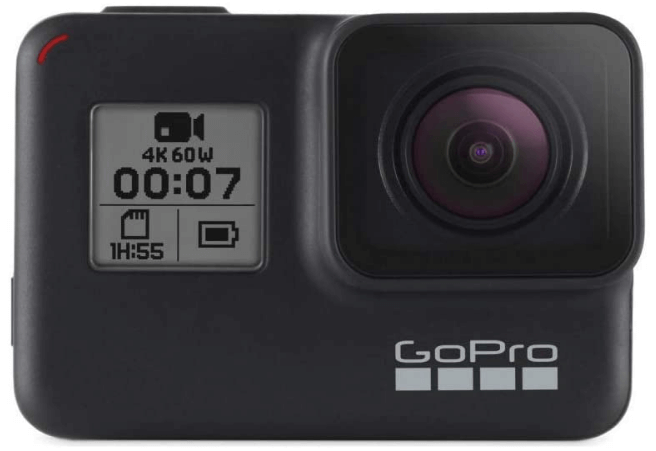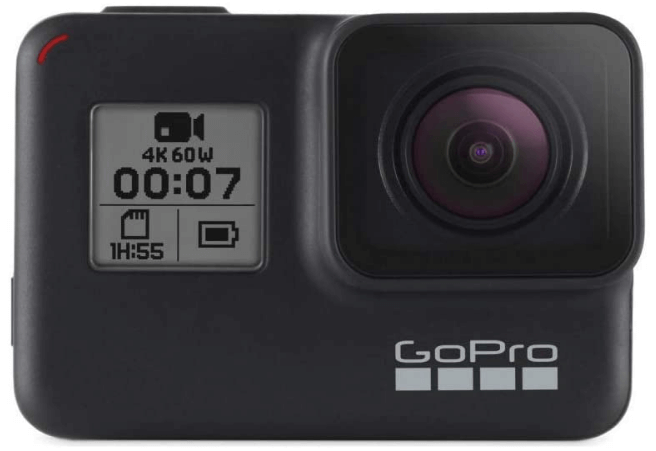 If, after reading these reviews, you'd rather buy a GoPro branded action camera, the GoPro Hero 10 Black is undoubtedly the best one out there. The latest, flagship model has a range of excellent features that make it the best action camera GoPro has ever produced.
This action cam offers incredible 5K Ultra HD video recording, and can also live stream in 1080p resolution at 60Fps. It can zoom in and can capture 23 megapixel resolution still photographs. There are LCD screens on both the front and the rear of the camera, so you can easily frame up the video or photograph whether the subject is yourself or your surroundings.
Who are GoPro competitors?
There are many brands of action cam on the market these days, so GoPro has some competition. All of the cameras we on the list above can be competitors to GoPro. Some of the main brands offering high-quality products at competitive prices include Dragon Touch, Akaso, DJI, and Apeman. Each of our chosen cameras has a range of features closely matching many of GoPro's models, with some even comparable to GoPro's latest models.
Which action camera is the best?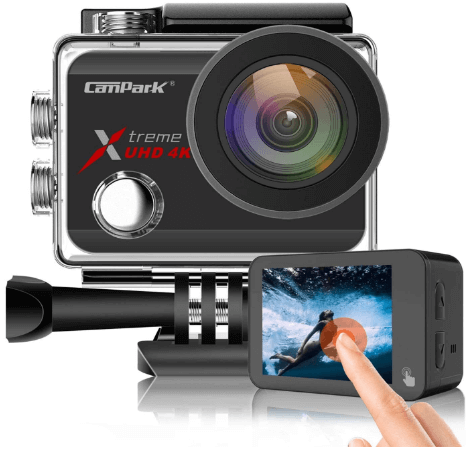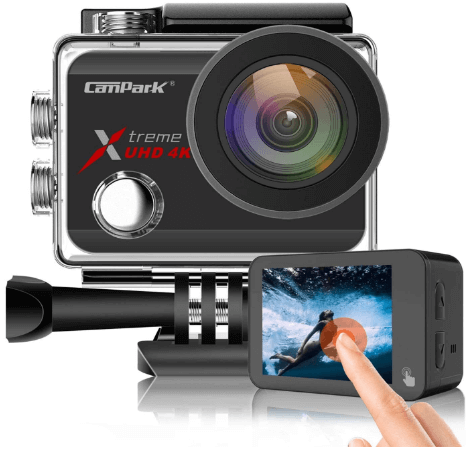 We have looked at ten great picks above, but there is one that stands out as the best overall. In this case, our favorite GoPro alternative is the Campark X30, the final pick on our guide above. The 4K action cam is our best camera thanks to the wide range of impressive features it has, and all at a very reasonable price tag.
The camera features electronic image stabilization and, unlike most cameras on our guide, can record at 60 frames per second in 4K resolution. The touchscreen ensures the camera is easy to operate, and there are plenty of accessories to ensure the camera can be used for any type of outdoor activity. The adjustable viewing angle is another nice feature of this camera which isn't found on any of the others we have chosen to feature above. Overall, if you don't have a huge budget to buy the latest model from GoPro, the X30 from Campark is an excellent GoPro alternative.
Best Budget Pick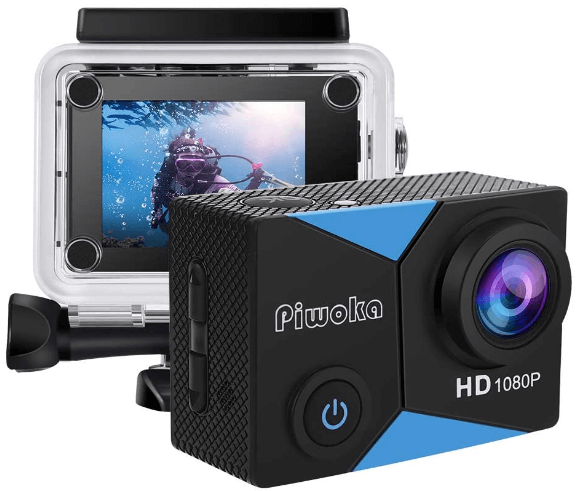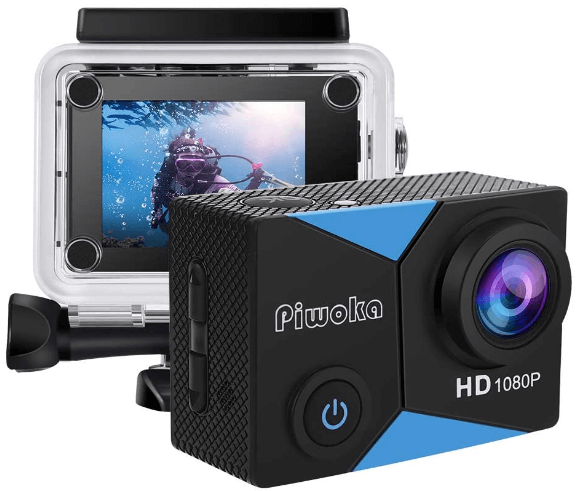 If you aren't looking to spend too much on your camera, there are some very budget-friendly options out there. If you're looking for the very best value for money, it's hard to look past the Piwoka camera, which was #9 on our list.
The price of this camera is unbelievable and whilst it can't take 4K video footage, the 1080p video quality is still very good. Unlike some more expensive cameras, this one can get closer to the action thanks to the 2x digital zoom. It is also waterproof to a depth of 30 meters – specialized diving cameras cost a lot more than this little action camera. The field of view isn't quite as big as on some other models, but it is still very reasonable at 140 degrees.
Last update on 2023-10-05 / Affiliate links / Images from Amazon Product Advertising API