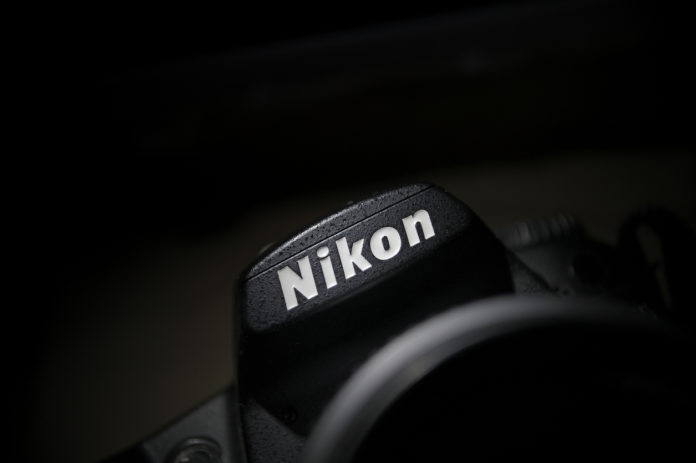 The Nikon D3500 remains one of Nikon's most popular beginner DSLR camera models despite the fact it was originally released back in 2018. The D3500 offers excellent value for money, yet produces high-quality images and is easy to use even for those completely new to photography. For beginners, we recommend purchasing a D3500 bundle to really make the most of this camera. Such a bundle will contain everything you need to get started shooting with the camera straight away, such as a lens kit and some accessories. Below, we will take a look at the features and specifications of this camera, before comparing some of the different Nikon D3500 bundle deals you can find on the market today.
Best Nikon D3500 Bundle Deals
Now we know what a good bundle should contain, let's take a look at five different options. There is sure to be something here that has everything you need to start taking great photos straight away.
1. D3500 DSLR Camera with 18-55mm and 70-300mm Lenses with Accessories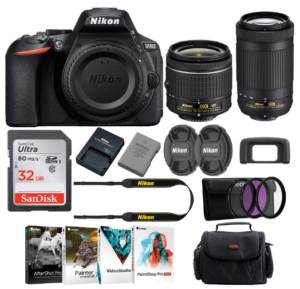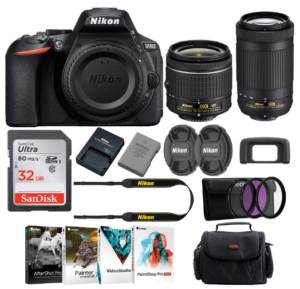 Our first Nikon D3500 bundle comes with two lenses and a great range of accessories so you can start taking great images right from the box. It comes with the two lenses mentioned above – the 18-55mm VR lens and the 70-300mm. You can also find a 32GB SanDisk memory card in this bundle, as well as editing software, a case, lens filters, a screen protector, and a camera cleaning kit.
The 18-55mm f/3.5-5.6 is perfect for everyday use. It is lightweight and compact and can be used for many different purposes. The zoom covers a wide-angle to normal range, so it is the ideal choice for shooting landscapes, family events, city scenes, and more.
On the other hand, the 70-300mm that comes with this D3500 bundle offers a 4.3x zoom, allowing you to get really close to subjects that are very far away. This lens also has vibration reduction and can easily be used in auto or manual focus modes, which are adjusted from the camera menu. Whilst it might not be as convenient as switches on the lens barrel, it means you won't accidentally switch between the two modes when shooting. This lens is quite heavy compared to the camera body, at 415g.
2. DSLR Camera with 18-55mm DX Nikkor VR Lens Plus Accessories
Table could not be displayed.
If you only want one lens to start with, the 18-55mm f/3.5-5.6 is the perfect all-rounder. This package contains not only this versatile lens, but also includes a range of other accessories such as a tripod, a carry case, a 32GB Transcend memory card, and more. The bundle also comes with a 55mm UV filter to fit the included lens. Of course, the D3500 bundle also comes with the essentials such as a battery and charger, an eye cup, and lens and body caps.
The camera with 18-55mm VR lens has an aperture range of f/3.5-f/38. It contains two aspherical elements and offers image stabilization to keep your shots blur-free. This lens also has a pulse stepping motor autofocus system and features a seven-bladed diaphragm.
3. Nikon D3500 w Two DX Nikkor Lenses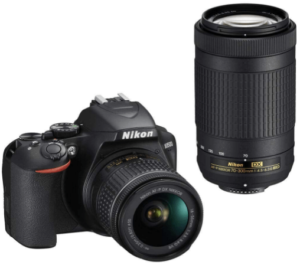 For those who don't want any other accessories, this bundle with two lenses is a great choice. It comes with the ever-popular DX Nikkor 18-55mm f/3.5-5.6 and the 70-300mm f/4. 5 – 6 .3 telephoto lens, both from the DX Nikkor range. So, this lens kit allows you to capture everything from wide angle scenes to tiny details at a great distance. This bundle offers great value for money, and you don't have to think about how to choose the best camera lens – these two can cover a wide variety of subjects. This is a great buy for those who prefer to choose their own accessories, but want the best value on their lenses.
4. Nikon D3500 Complete Starter Kit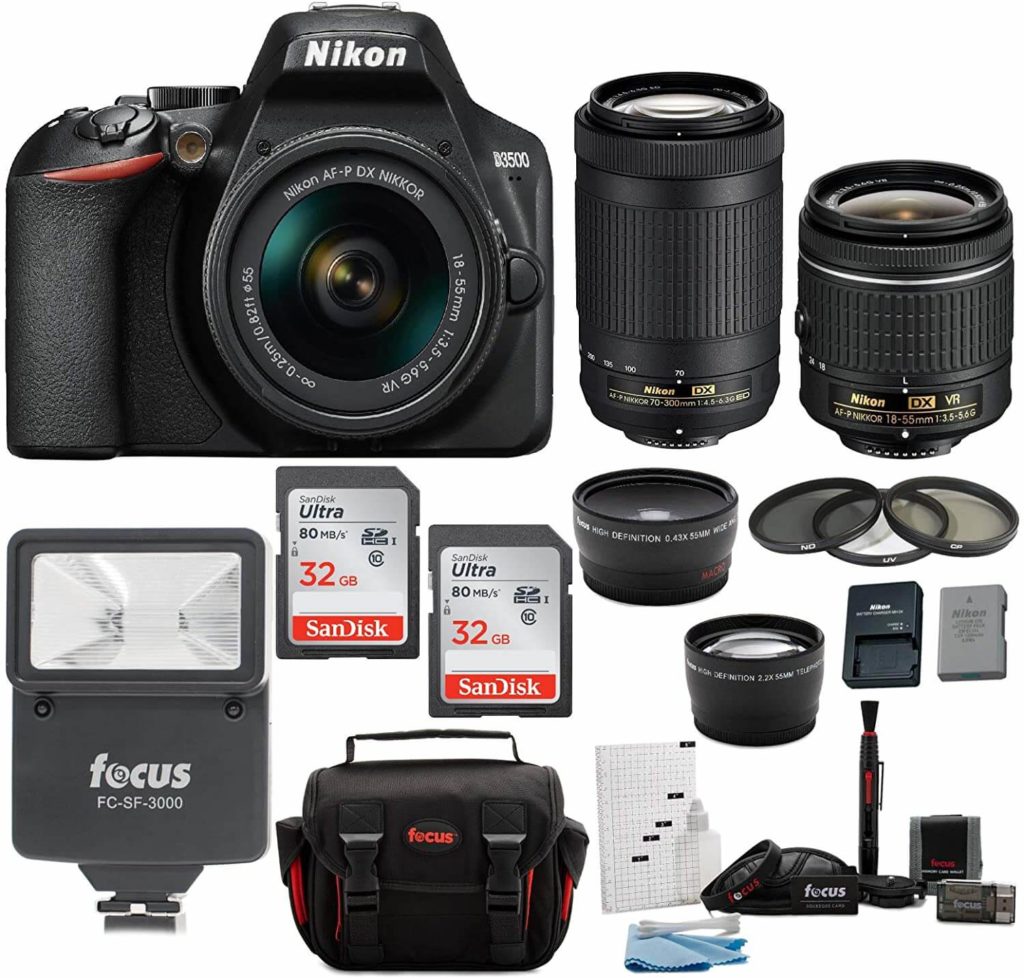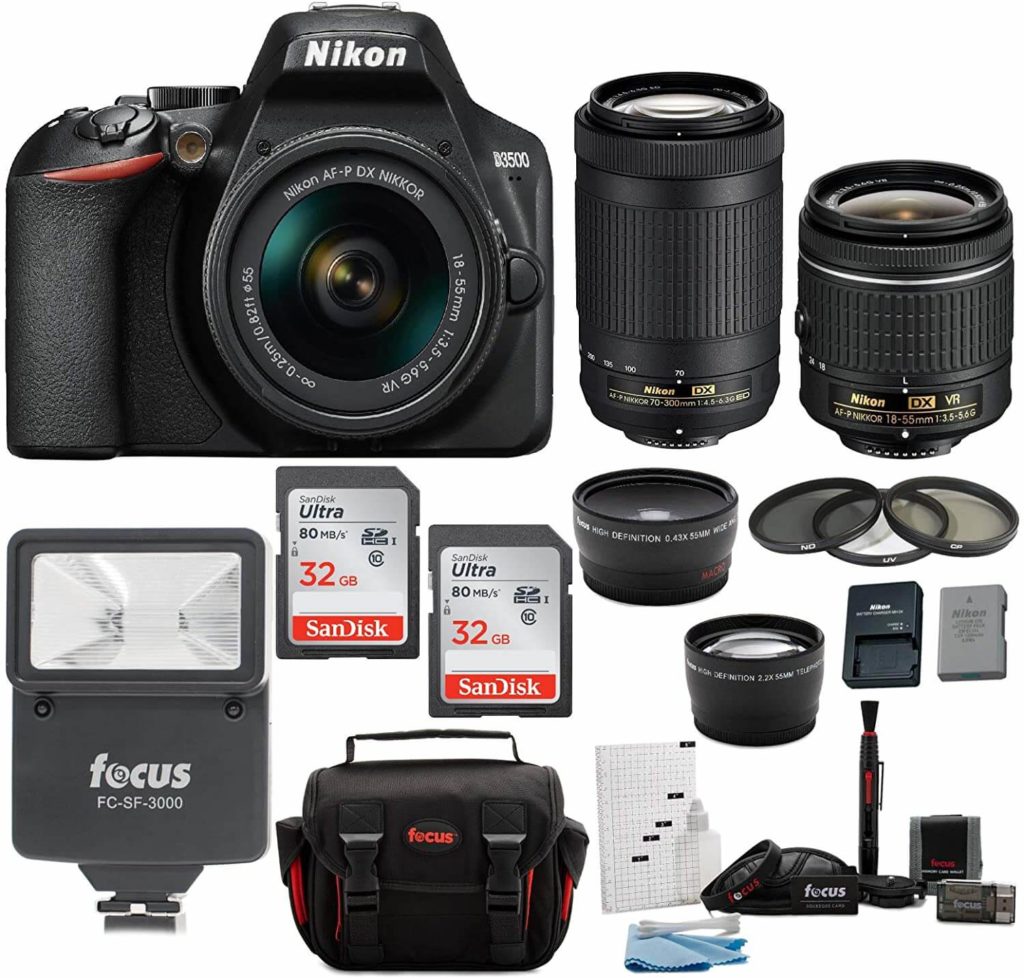 New photographers checking out our bundle buying guide are sure to love this deal – it comes with the camera body, the kit lens, and an accessory bundle. The accessory bundle contains items such as a tripod, a 64GB SanDisk SD card, a camera case, a remote shutter release, a slave flash, a set of lens filters, and some cleaning accessories. This accessory bundle also comes with a 2x telephoto lens and a wide angle lens to be used in conjunction with the Nikkor DX 18-55mm f/3.5-5.6 ED lens.
A beginner photographer is sure to enjoy using the D3500 camera body en conjunction with the accessories to learn more about DSLR photography. The tripod is perfect for making the most of the slow shutter speeds and can be used along with the shutter release remote to take self portraits with friends and family.
5. Nikon D3500 with Two AF-P DX Nikkor Lenses and Starter Accessories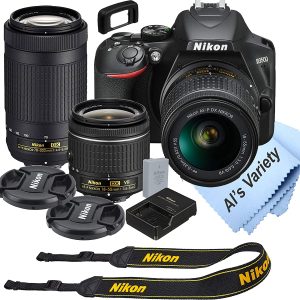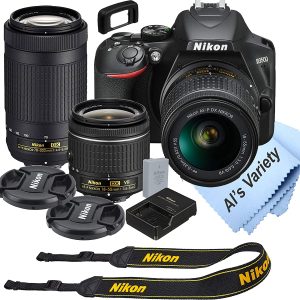 Our final Nikon D3500 DSLR camera bundle includes the two lenses discussed above as well as a huge selection of accessories. The camera bundle comes with a range of editing software, a 16GB SanDisk SD card, a camera case, a neck strap, a battery and charger, body cap and lens cap, and a small tripod.
The UHS Class 10 16GB SD card offers a read speed of up to 80MB/s so it is fast enough to handle the maximum burst rate of the Nikon D3500 24. 2MP DSLR. The carrying case which comes with this camera bundle is just the right size to store all of the lenses and accessories, and it has compartments to easily organize everything, as well as zippers for easy access.
Nikon D3500 Key Features
Nikon's D3500 is the perfect entry-level DSLR camera, offering great specifications at a very reasonable price tag. In fact, it is one of the cheapest beginner DSLRs out there. The Nikon D3500 features a cropped-frame, 24.2-megapixel APS-C CMOS sensor and is also equipped with the EXPEED 4 image processor. The auto focus system has 11 AF points, with one cross-type. The ISO range is from 100-25600, and the maximum image size is 6000 x 4000 pixels.
The Nikon D3500 DSLR camera can record video at 1080p Full HD resolution at either 60, 50, 30, 25, or 24 frames per second. So, it is a great pick for video recording as well as taking photographs. Continuous shooting is reasonably fast on this camera, at 5 frames per second. It offers connectivity via Bluetooth and features a fixed 3-inch LCD screen with 921k dots.
The camera can accept different types of memory cards – SD, SDHC, or SDXC UHS I. It is very small and light compared to similar models, at 124 x 97 x 69.5mm, and coming in at 415g (with the battery and memory card and no lens).
Is Nikon D3500 Worth Buying?
Despite being released in 2018, the D3500 has stood the test of time and remains a very popular choice of camera for beginners and photography students. It gives excellent image quality at a very reasonable price, and is easy to use even for those with no prior experience. Therefore, the Nikon D3500 24. 2MP is definitely worth buying if you are looking to upgrade from a cellphone camera or a point and shoot and dip your toe into the world of DSLR photography.
Which is Better – Nikon D3500 or D5600?
The D3500 and the D5600 come from different ranges, with the D5600 aimed more towards upper entry-level users. The D5600 also comes with a higher price tag than that of the D3500. In spite of this, the two models are very similar in terms of specifications, both having the same image sensor, processor, continuous shooting speed, and video resolution. The autofocus system on the D5600 has more focus points and this model also features a tilting LCD touchscreen rather than a fixed non-touch screen as you can find on the D3500. Both models are almost identical in size, yet the D3500 is slightly lighter.
The battery life on the D3500 is almost double that of the D5600, but the D5600 has Wi-Fi whilst the D3500 does not. Overall, if you are on a limited budget, the D3500 should have everything you need. Finances aside, the specifications of the D5600 are slightly better.
What Should a Nikon D3500 Bundle Contain?
There are many different items to be found in a Nikon D3500 DSLR camera bundle deal. Let's take a look at what you might expect to find in the different packages.
Lenses
New photographers will need at least one lens to accompany their D3500 camera body. Those who have shot with Nikon before might find their existing lenses are compatible with the D3500's F-mount fitting. As image stabilization is not built in to the body of the D3500, it is necessary to choose lenses with this feature. Some of the most popular types of lens to be sold with this camera are the following:
18-55mm DX Nikkor lens
Perhaps one of the most common lenses sold with an entry-level DSLR is the 18-55mm VR lens. This is a versatile lens Nikon users can utilize at the wide angle lens for landscapes, or zoomed in for portraits or to capture details.
70-300mm telephoto lens
Another lens commonly sold with the Nikon D3500 DSLR camera is the DX Nikkor 70-300mm telephoto zoom lens. This one is ideal for shooting subjects which are further away, such as wildlife, sports, and events. This is quite a bulky lens when used with the compact D3500, so using a tripod can help make the camera feel more balanced.
Accessories
A good Nikon D3500 bundle will contain some accessories for new photographers to start using their camera right away. Here are some of the accessories you might expect to find in the bundle.
Camera case
A good camera case will have compartments to keep all the lenses and accessories neatly organized and should be padded to offer protection to your gear when you are out shooting. The Deco Gear camera bag is a great choice.
Memory cards
The images produced by the D3500 are quite large, so a good memory card will have a high capacity of 16GB or more. It's a good idea to choose from some of the biggest brands to ensure the memory card is good quality.
Slave Flash
A slave flash is often found in a Nikon D3500 bundle, but sometimes the quality is not the best. A good flash can help illuminate your subject better when natural lighting is not sufficient, so it is certainly a useful accessory to have.
Lens filters
Filters can help both protect the lens from damage as well as change the look of the finished image. Some add a tint to highlight certain tones, giving you more creative control.
Cleaning kit
It is important to keep your camera clean to ensure everything is working properly and your images are the best they can be. For this reason, some bundles come with a cleaning kit with products that are safe to use on delicate parts of the camera as well as small brushes to reach into every nook and cranny.
Tripod
A tripod allows slower shutter speeds to be used than is possible when holding the camera. So, if you plan to take some long exposure shots, a tripod is sure to come in handy. A tripod is also useful when it comes to shooting group shots and self-portraits.
Editing software
If you want to have a go at editing your photos and making them look better, editing software will be necessary. Some bundles contain packages with different editing programs so you can learn some new skills and really make your images stand out.
Last update on 2023-10-05 / Affiliate links / Images from Amazon Product Advertising API