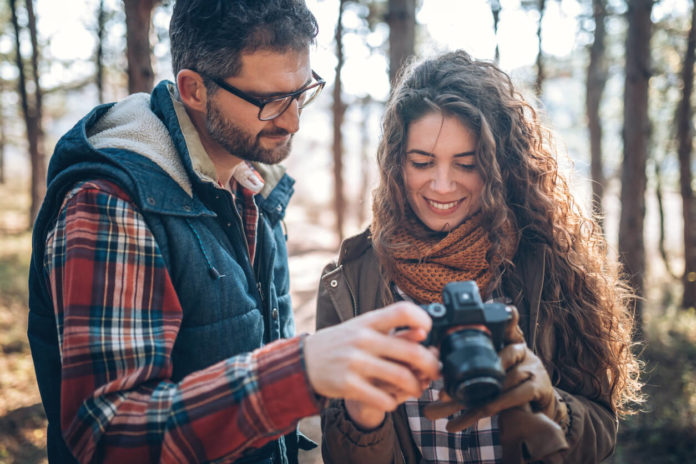 As a new photographer looking to upgrade from a phone camera or a point and shoot, the choice of beginners cameras out there can be daunting. There is so much to think about when choosing the best entry level camera, with so many different features to compare. There is also the big decision as to which brand to choose, as any lenses you wish to buy will have to be compatible with this brand.
Of course, there is no one answer as to which is the best starter camera, as it depends on your aims as a photographer and what you are looking for in your camera. So, we have picked out ten great cameras which are ideal for photographers at a entry level, whilst still allowing for room to grow and develop as a photographer.
How do I Choose a Beginner Camera?
With so many different options out there, let's take a look at some of the specs and features you might like to compare when choosing the best beginner camera.
Type
Most of the cameras in our review are DSLRs, but you might also wish to consider a mirrorless camera. Bridge cameras are also ideal for beginners – these offer manual control like a DSLR, but don't require interchangeable lenses.
Budget
A good camera isn't going to come cheap, but we have included a range of options covering a broad price scale so you are sure to find something to fit your budget.
Image Quality
Many beginners looking for their first camera will be hoping to produce images with better quality than is possible on a mobile phone. A large sensor with a high number of megapixels will produce high-quality images – all of the models in our guide offer excellent image quality.
Video Quality
A lot of beginners will also be looking to shoot video footage with their new camera, so it might be important to check if high-quality video recording is also possible. Many cameras these days, even budget-friendly options, are capable of recording 4K video footage. Some also offer 1080p video recording, which is more than sufficient for most users, so don't be put off if a camera you like doesn't offer 4K recording.
Ease of Use
A good beginner camera should be easy to use, with controls that are not too complicated. However, it is ideal if there is also a manual mode for when your skills have developed more and you are looking to take more control when shooting.
Interchangeable Lenses
Choosing different lenses allows your camera to fulfill a variety of purposes – you will need to choose lenses according to the subject you wish to shoot. Also, you'll need to ensure the lens is compatible with the camera body you have chosen.
Connectivity Options
When it comes to sharing photos, there are a few different options. Many modern cameras are fitted with either Wi-Fi, Bluetooth, or both, so it's easy to send photos to friends and family or post them to social media.
Build Quality
The final factor worth considering is the overall build of the camera. Different users will have different needs – perhaps you need something lightweight and comfortable to hold for long periods, or maybe you need weather-sealing if the camera will be used in harsh conditions. Some photographers enjoy the convenience of a touchscreen, whereas others prefer to access the controls manually using buttons, so think about what is important and choose accordingly.
10 Best Cameras for Beginners
We will now take a look at our top 10 when it comes to the best digital camera for beginners. There is sure to be something here to suit your needs and your budget.
1. Pentax K-70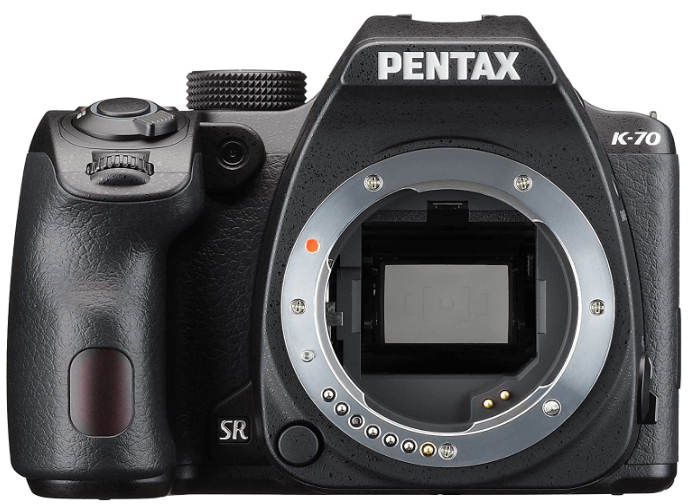 Our first pick of the best DSLR for beginners is the K-70 from Pentax. It comes at a very reasonable price point, and there is the choice to add one of three lenses to get started with. It has a high-resolution sensor, with 24.2 megapixels, so the image quality is excellent. This camera performs well in low light, as it has an ISO range of 100 – 204800 as well as a night-vision mode on the LCD. The LCD can also be adjusted to different angles so it can easily be seen when shooting up high or down low or even fully rotated for taking a selfie.
Sharing photos is easy with this camera, as it has built-in Wi-Fi, and there is an app that can be downloaded to a smartphone for easy transfer. Shooting fast-moving subjects is easy with this camera, as it offers a continuous shooting rate of 6 frames per second. The camera body features image stabilization for blur-free shots, even without the use of a tripod.
Type: DSLR
Sensor: 24.2MP CMOS
Monitor: 3″ vari-angle
Maximum Burst: 6 fps
Video: 1080p
Connectivity: Wi-Fi
2. Canon Powershot SX70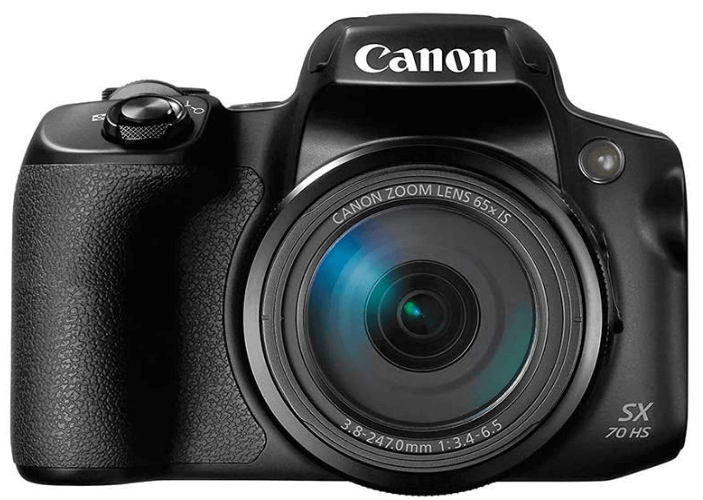 If you're looking for the best cameras for teens without spending too much money, this Canon Powershot is an excellent choice. It is a bridge camera, so you don't have to worry about choosing any lenses to go with it, but you still get to manually control all the settings for more creative control. The lens offers a powerful zoom of 65x, so it is ideal for capturing wide-angle landscape scenes, as well as zooming in to more distant subjects.
The SX70 can take 4K videos and 4K time-lapse footage, as well as 20.3MP stills. There is also a 236-million dot OLED electronic viewfinder for framing the shot prior to pressing the shutter. The camera is capable of taking impressive close-up micro shots, without the need for a specialized lens. So, it is perhaps the best camera for beginners who are not yet sure which type of photography they are most interested in – it's very versatile.
Type: Bridge
Sensor: 20.3MP CMOS
Monitor: 3″ tilting
Maximum Burst: 10 fps
Video: 4K
Connectivity: Wi-Fi, Bluetooth
3. Nikon Coolpix P1000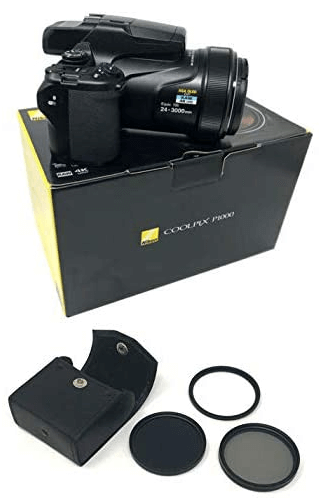 Our next best camera for photography beginners is the P1000 from Nikon's Coolpix range. This camera features an exceptionally long zoom lens, with a focal length equivalent to 3000mm. Therefore, it is one of the best for getting up close to very far-off subjects, without the need for extremely expensive telephoto lenses. In fact, the P1000 has the most powerful lens ever on a Nikon Coolpix. Because of this long zoom, the camera also has vibration reduction to reduce the effects of camera shake when shooting without a tripod.
The P1000 is ideal for fast-moving subjects thanks to its continuous shooting rate of 7 frames per second. It can focus at a distance of under 1/2″ in macro mode, and can also be used for wide-angle shots, so it is a very versatile camera. It is capable of shooting 4K video with HDMI output and stereo sound, and there is also a hot shoe for adding additional accessories if you are serious about getting excellent-quality video. Newbies can enjoy shooting in the fully automatic mode, but after learning and developing some skills, it's possible to take full manual control, too.
Type: Bridge
Sensor: 16.7MP
Monitor: 3.2″ vari-angle
Maximum Burst: 7 fps
Video: 4K
Connectivity: Bluetooth, Wi-Fi
4. Nikon D3500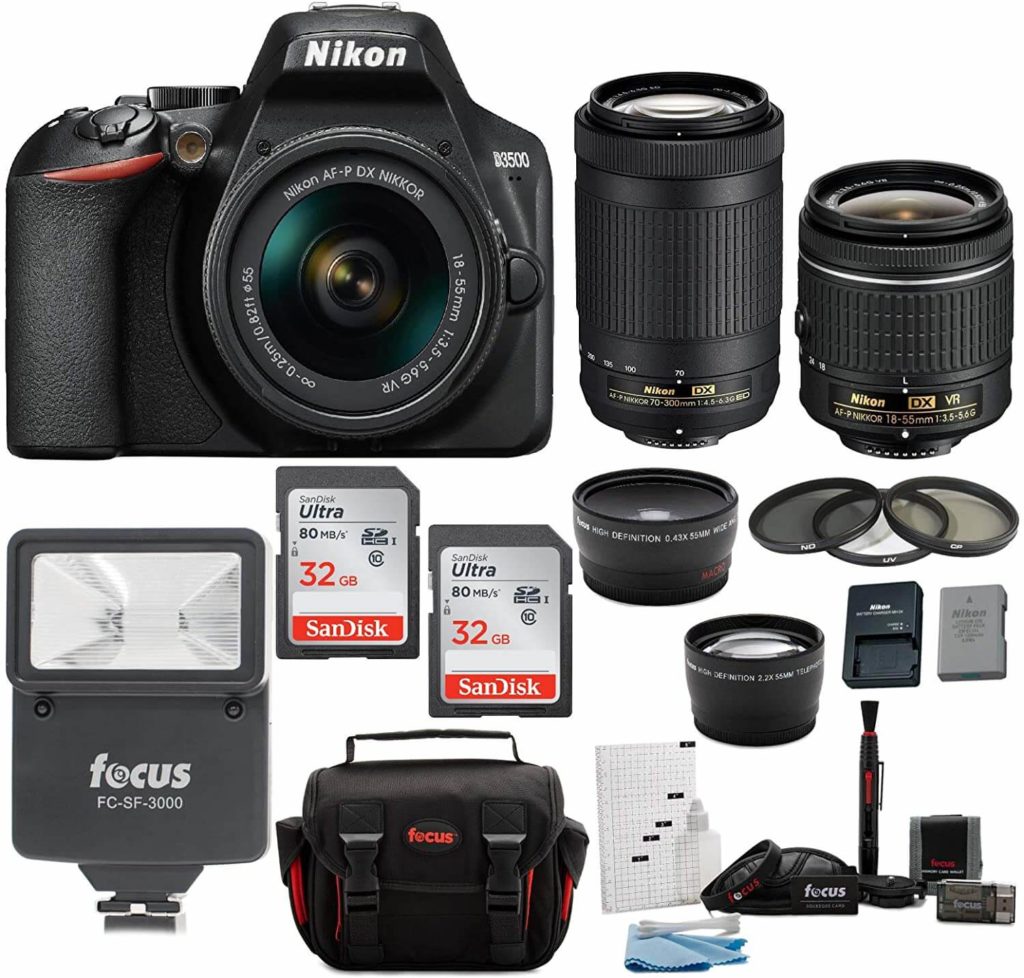 Widely regarded as one of the best Nikon cameras for beginners, the D3500 takes excellent photos and comes at a very reasonable price point. It could be the best beginner DSLR as it is just as easy to use as a point-and-shoot, yet also offers manual mode after the basics have been mastered. The camera is relatively lightweight and compact, making it excellent for travel or for use for longer periods.
The entry level DSLR can take 1080p Full HD videos and features Bluetooth for connecting to Nikon's SnapBridge app for easy file transfer. It features a sensor which is around 15x larger than that of a typical smartphone, for excellent, sharp image quality. The digital camera comes with a battery charger and an 18-55mm kit lens which is ideal for shooting a variety of types of scenes. It is perhaps the best DSLR camera for beginners, especially in terms of the features available compared to the price.
Type: DSLR
Sensor: 24MP APS-C
Monitor: 3″ fixed
Maximum Burst: 5 fps
Video: 1080p Full HD
Connectivity: Bluetooth
5. Sony Alpha a6000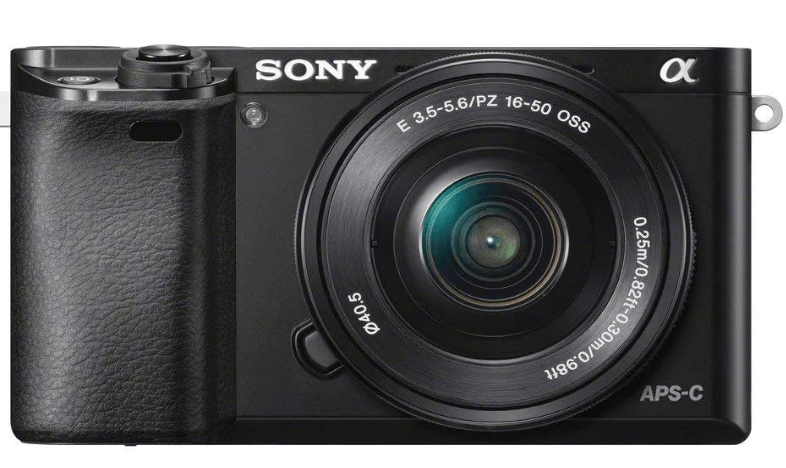 Mirrorless cameras are also popular among beginner photographers, and the Sony a6000 comes with a very reasonable price tag as well as some impressive features! It has an impressive 24.3MP back-illuminated sensor, which gives an excellent low-light performance. This is also a full-frame camera, so keep in mind any lenses you choose will appear less 'zoomed-in' compared to if they are used on a crop-frame camera.
The Sony a6000 offers a very fast continuous shooting rate of 11 fps, and the battery life can last for around 360 shots. The autofocus system is excellent on this camera, with 179 focus points. The ISO range is 100 – 25600 on this camera, so it performs very well in low-light situations. It features a 3″ tilting LCD, so it can be adjusted for easy viewing in all kinds of lighting conditions.
Type: Mirrorless
Sensor: 24.3MP back-illuminated
Monitor: 3″ tilting
Maximum Burst: 11 fps
Video: 1080p Full HD
Connectivity: Wi-Fi, NFC
6. Canon EOS M50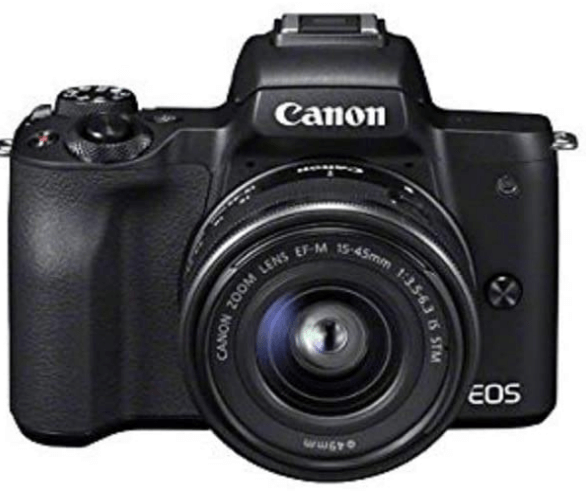 Canon's EOS M50 features a 24.1 CMOS sensor and the DIGIC 8 image processor for a high level of detail as well as stunning colors in the images. The electronic viewfinder features 2,360k dots so a similarly high level of detail can be seen when framing the shot. If you prefer to shoot using the LCD screen, it measures 3 inches and can be adjusted to different angles for optimum viewing. It's also touch-enabled if you like to control the camera via a touchscreen. Fast continuous shooting is possible with this camera – up to 10 frames per second.
The autofocus system on the M50 is excellent – a huge amount of the frame is covered by the focus points, and moving subjects can be tracked. For perfectly sharp portraits, there is also an eye-detection AF mode. The dynamic range of this camera is excellent – new photographers are sure to be impressed with the quality of their images. Sharing these beautiful images is easy thanks to the Wi-Fi, Bluetooth, and NFC which are built-in to the Canon EOS M50.
Type: Mirrorless
Sensor: 24.1MP CMOS
Monitor: 3″ vari-angle touchscreen
Maximum Burst: 10 fps
Video: 4K
Connectivity: Bluetooth, Wi-Fi, NFC
7. Fujifilm X-T200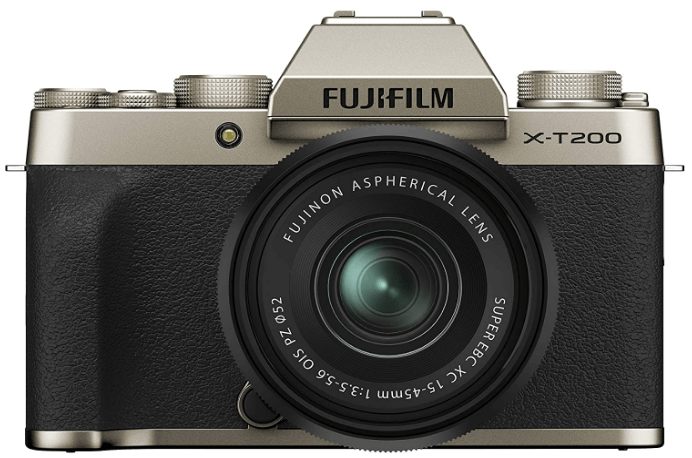 This Fujifilm camera might have a retro look, but don't be fooled – it is packed with the latest technology! The mirrorless camera features a 3.5″ widescreen LCD screen which can rotate from -90 to +180 degrees, as well as opening and closing from 0 – 180 degrees. The screen can be used to control many of the camera's features including aspect ratio, background blur, and even film simulation effects. Autofocusing is easy with the X-T200, and the face and eye detection modes ensure it is easy to get perfect portraits of individuals or groups.
Many photographers rank Fujifilm's color science as the best, with the colors producing being vibrant yet realistic, too. The camera comes in a choice of three different colors and with the option to add a versatile 15-45mm kit lens. Electronic stabilization is included to ensure the shots are free from the effects of camera shake, and it is also ideal for ensuring smooth 4K video shooting. The video clips can be edited and trimmed on the camera before sharing using the camera's built-in Wi-Fi or Bluetooth. It is also possible to shoot super slow-mo videos or to take still frames from a 4K video.
Type: Mirrorless
Sensor: 24MP APS-C
Monitor: 3.5″ vari-angle touchscreen
Maximum Burst: 8 fps
Video: 4K
Connectivity: Bluetooth, Wi-Fi
8. Olympus PEN E-PL9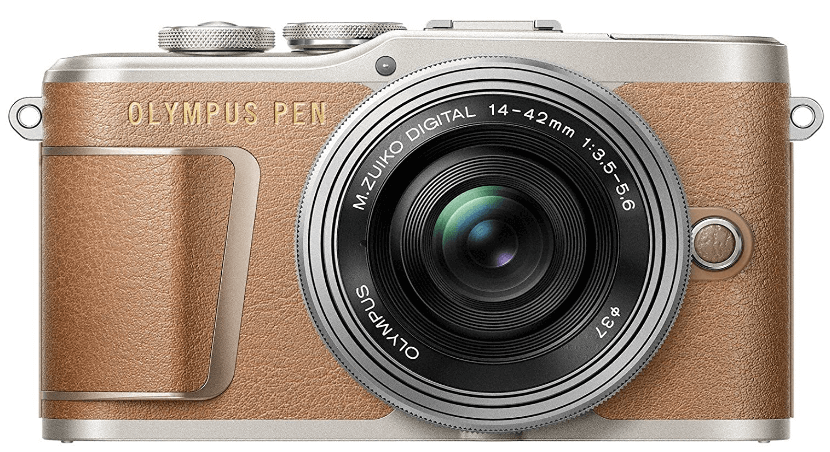 Our next best camera for beginners is the PEN E-PL9 from Olympus. This mirrorless camera features a 16MP micro four thirds sensor and takes the same type of lenses. It has a 3″ flip-down touchscreen, ideal for capturing selfies! Three-axis in-body image stabilization helps ensure sharp photos and smooth videos can be captured with this camera. The E-PL9 is capable of 4K video recording and can also capture stills from these videos if there is a particular scene you wish to remember.
Sharing photos is very easy with this mirrorless camera, as it features both Bluetooth and Wi-Fi. The Bluetooth is used to notify your cellphone that there are images waiting for transfer, then they are quickly added to the phone's camera roll via Wi-Fi. There are many lenses to choose from to accompany this camera – the entire Olympus M.Zuiko range. So, no matter what type of subject you are shooting, you are sure to find something suitable. This is a great mirrorless camera for beginners and it is lightweight and compact, meaning it is highly portable for use when traveling. The retro style is sure to appeal to many users, too.
Type: Mirrorless
Sensor: 16MP MOS
Monitor: 3″ flip-down
Maximum Burst: 8.6 fps
Video: 4K
Connectivity: Bluetooth, Wi-Fi
9. Panasonic Lumix G100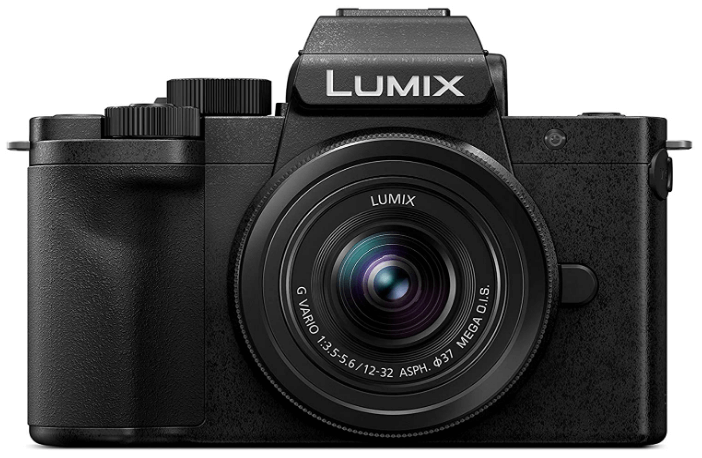 The best camera for beginners from Panasonic could be the G100. This digital camera offers excellent image quality as well as stunning 4K video recording. This video quality combined with the flip-out screen makes this one of the most popular mirrorless cameras for vloggers. The camera is lightweight and comfortable to hold, and it comes with a small tripod that can be handheld or used to keep the camera steady on a surface.
The battery life offers around 270 shots on a single charge, which isn't the best of all the cameras featured here but should last a full day shooting. The electronic viewfinder offers 3,680k dots, so you can see a great level of detail in your scene before capturing your shot. This camera performs well in low-light and is able to autofocus down to -4 EV. It also features focus stacking and the opportunity to set focus after shooting if the wrong focus point was set initially. The wide, 12-stop dynamic range ensures a lot of detail is captured in your images no matter what the lighting conditions are.
Type: Mirrorless
Sensor: 20.3MP MOS
Monitor: 3″ vari-angle
Maximum Burst: 6 fps
Video: 4K
Connectivity: Bluetooth, Wi-Fi
10. Nikon Z50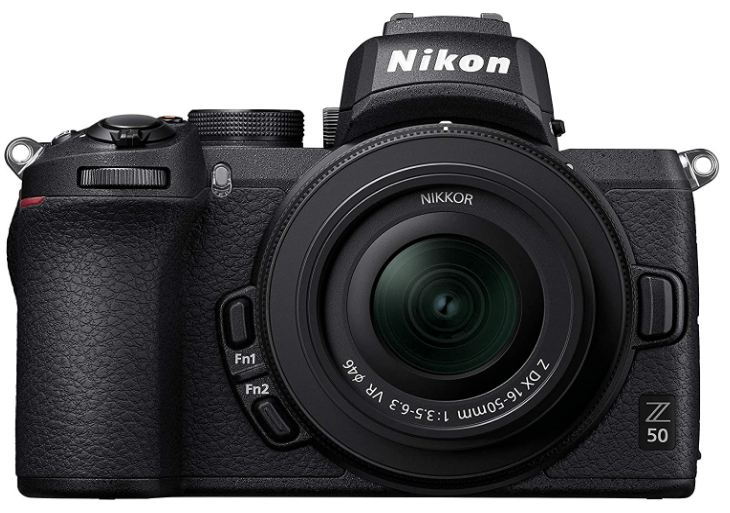 We have seen some excellent mirrorless cameras above, and our final pick of the best cameras for beginners is another mirrorless model, this time from Nikon. The 20.9MP sensor promises excellent image quality, and this is also helped by the larger, 55mm lens mount which boosts low-light performance. The camera comes with Wi-Fi and Bluetooth so it can easily be paired with a smartphone.
The continuous shooting rate is very impressive on the Z50, with speeds of 11 frames per second possible. It is sold with a versatile 16-50mm kit lens which is excellent for getting started with. The Z50 features a flip-down touchscreen which is ideal for vloggers or those shooting self-portraits. There is a great selection of lenses available to go with this camera – F-mount Nikon lenses can be used in conjunction with the FTZ mount adapter, which is sold separately.
Type: Mirrorless
Sensor: 20.9MP CMOS
Monitor: 3.2″ flip-down touchscreen
Maximum Burst: 11 fps
Video: 4K
Connectivity: Wi-Fi, Bluetooth
What is the Best Camera to Buy for a Beginner Photographer?
After reviewing 10 great options, we have picked our overall best camera for beginners. The winner is the Sony Alpha a6000, which is one of Sony's most popular mirrorless cameras. It comes with a 16-50mm kit lens to get started with, and offers a range of excellent features. It has a fast burst shooting rate and a very efficient autofocus system, so it's perfect for shooting a fast subject. The tilting touchscreen is useful for shooting or controlling the settings, or you can shoot with the electronic viewfinder.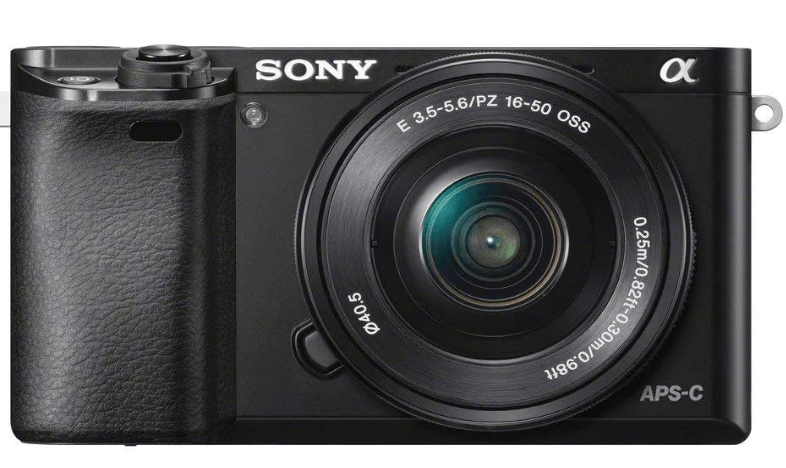 Best Budget Pick
If you're looking for the best camera for beginners but with a smaller budget, the Nikon D3500 is another model that is well worth considering. Despite the reasonable price tag, you get excellent image quality with this camera and it is continually highly rated amongst all levels of users. It can be used in a variety of modes depending on your skill level – it is suitable even for those who have never shot with a DSLR. The D3500 is fast to shoot with and comfortable to hold and use for long periods of time. Images shot on this camera have a high level of detail and vibrant colors.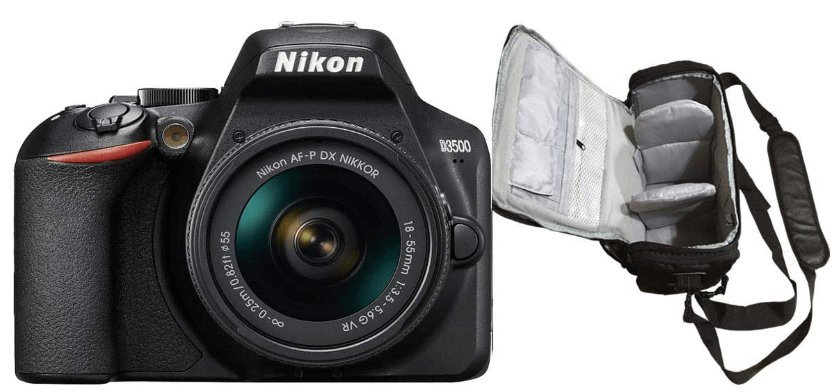 Is Canon or Nikon better for beginners?
Which brand to choose is really down to individual preference, as both have some excellent models for new photographers. Be sure to think about which system of lenses you wish to use for the next couple of years with the camera. But, also keep in mind there are other brands also offering some great entry-level DSLR cameras. Sony and Panasonic are also popular among beginners – you'll find a couple of models from these brands in our guide above.
What is the easiest camera to use?
All of the models we have featured above are easy to use cameras for photographers who are new to the hobby. Look for a model with a fully automatic shooting mode, and intuitive menu designs. In auto mode, simply frame your shot and press the shutter button – what could be easier?! Some new users enjoy having a touchscreen as this offers easy access to all of the menu functions. Certain cameras also offer guidance mode which can help teach new photographers how to get the most from the camera, learning as they use it.