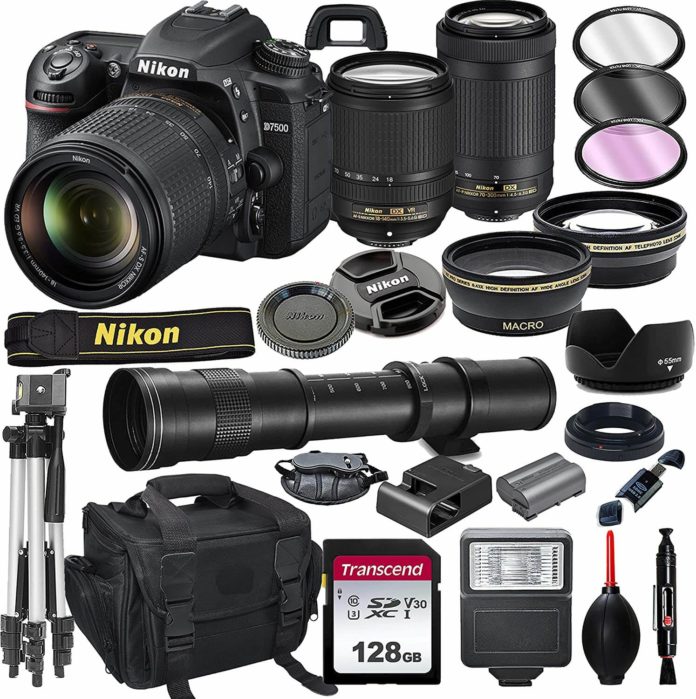 The Nikon D7500 is a very popular mid-range DSLR, replacing the D7200, which is ideal for enthusiasts looking for a high-spec camera without the price tag of a professional-grade model. To really make the most from this camera, we recommend a Nikon D7500 bundle, which comes with some lenses and accessories that are compatible with the camera so you can start using it right away.
In this guide, we will take a look at some of the main specifications and features of this DSLR camera before looking at some great value bundle deals. It should be noted that the D7500 utilizes the Nikon F-mount so previous Nikon DSLR owners will be able to continue using the same lenses with this model.
Nikon D7500 Key Features
Let's first take a look at the specifications of the Nikon D7500 camera review. This digital SLR camera features a cropped-frame APS-C CMOS sensor with a resolution of 20.9 megapixels as well as an EXPEED 5 image processing engine. Therefore, you get a focal length conversion, or crop factor, of 1.5x. There is one memory card slot on the D7500 and it can accept SD, SDHC, and SDXC UHS-I type cards. The optical pentaprism viewfinder offers 100% coverage and there is a 51-point AF system on this model.
The native ISO range of the Nikon D7500 is 100-51,200 and can be expanded to 50-1,640,000. This is a very fast camera, capable of continuous shooting at a rate of 8 frames per second. The Nikon D7500 isn't only great for photography – it is also a very good video camera offering video recording in 4K UHD resolution. There is a great range of shutter speeds on this camera – from 30 seconds to 1/8000 – so it is ideal for those who enjoy long exposure photography. The LCD on this model is another great feature – it has a 3. 2″ 922k dot tilting touchscreen.
Is Nikon D7500 Worth Buying?
Nikon's D7500 is undoubtedly a very good camera for enthusiasts looking for a camera with high specifications. The price of this model continues to fall as newer DSLRs are released, yet it continues to offer great bang for your buck coming in at under $1000 with a kit lens. It offers excellent image quality and Ultra HD video recording, therefore we believe the D7500 is still well worth buying for those who are unwilling to spend thousands on a professional-grade camera.
Is Nikon D7500 Better than D5600?
There are a few differences between the Nikon D5600 and the D7500. The D5600 offers a higher resolution sensor, with 24.2MP compared to the 20.9MP of the D7500. the D5600's LCD screen also offers 1036k dots with only 922k on the D7500. Another advantage of the D5600 is the smaller and lighter body, which could be important for those who travel often.
However, the D7500 outperforms the D5600 in most other ways. For example, the D7500 offers a faster burst shooting speed, an in-body AF motor, and a greater ISO and shutter speed range. The AF system on the D7500 has more focus points than that of the D5600 and can operate down to -3 EV (this value is only -1 EV on the D5600). Therefore, if you have the budget available, we recommend the D7500 over the D5600.
What Should a Nikon D7500 Bundle Contain?
If you are considering buying the Nikon D7500 DSLR camera as part of a bundle deal, you are probably wondering what to look for in the bundle? Let's take a look at what you might expect to find in such a package.
Lenses
If you are new to shooting with a Nikon camera, you will need some lenses to accompany the D7500 body. There are a few types of lenses you might expect to find in a lens bundle deal.
Prime Lens
A prime lens offers a fixed focal length – it cannot be zoomed in. These lenses offer the advantage of a wider aperture, so they can be used in lower-light situations without increasing the ISO too much to give noisy images. They also tend to give better image quality compared to a zoom lens used at the same focal length, so it is recommended for every photographer to have at least one prime lens in their kit bag.
Zoom Lens
On the other hand, a zoom lens can be adjusted in focal length allowing you to get a close-up shot of more distant subjects. These lenses are, of course, very versatile and can be used to shoot many different types of subjects. A zoom telephoto lens is excellent for subjects that are very far away, whilst a lens with a smaller zoom range is ideal for shooting landscapes at the wide-angle end or focusing more on details upon zooming in.
Accessories
There might also be other accessories included in the bundle, some of which are essential, like a memory card, whilst others can make shooting certain subjects easier or more enjoyable to shoot, like a tripod. Here are some of the items you might expect to find in the best D7500 bundle deals.
Memory Cards
This single card camera works well with a high-capacity memory card from a good-quality brand such as SanDisk. Each image file is quite large, so a card with a capacity of 16GB or higher is best, so it doesn't fill up too quickly when shooting.
Tripod
Some bundles contain a tripod, which is ideal for holding the camera still when shooting at very slow shutter speeds. Since the D7500 has a minimum shutter speed of 30 seconds, a tripod is sure to prove very useful indeed.
Flash
An external flash can be useful in providing extra light on certain subjects, even in daylight hours. Unfortunately, the quality of the flash provided in many bundles isn't the best, so it is often worth checking out different models.
Carry Case
A camera bag is very useful for keeping all the lenses and accessories protected when not in use. Look for one with compartments to keep everything neatly organized so you can easily find what you need when you are out shooting.
Remote Shutter Release
This is a very useful accessory when it comes to shooting self-portraits or group shots. It will allow you to release the shutter from several meters away from the camera, using Wi-Fi.
Lens Filters
There are different tones of lens filters available, and many bundles contain a few different types. Clear filters are ideal for protecting the glass from scratches and damage, whereas colored filters are ideal for changing the look of your images by enhancing certain tones.
Best Nikon D7500 Bundle Deals
Now we know a little more about what to look out for in a D7500 bundle, let's take a look at some of the different options out there. There is sure to be something here to suit your needs and help you get started with your D7500 straight away.
1. 18-55mm and 70-300mm AF-S DX Nikkor Lenses with Accessories
Table could not be displayed.
The first of our best Nikon D7500 bundle deals is this set with two lenses and many other useful accessories. The two lenses in this kit are very versatile – the 18-55mm is great for daily use, and the 70-300mm is ideal for distant subjects such as sports and wildlife. Between these two lenses, you can capture just about any subject.
Some of the other items here include a 32GB SDHC memory card from SanDisk, a set of lens filters, a camera cleaning kit, and even some photo editing software. The camera comes with a li ion battery and a battery charger as well as a strap to carry the camera. You also get a Nikon branded bag to keep everything together, and it all comes with a 1-year USA warranty.
2. Nikon D7500 Body Only with Accessories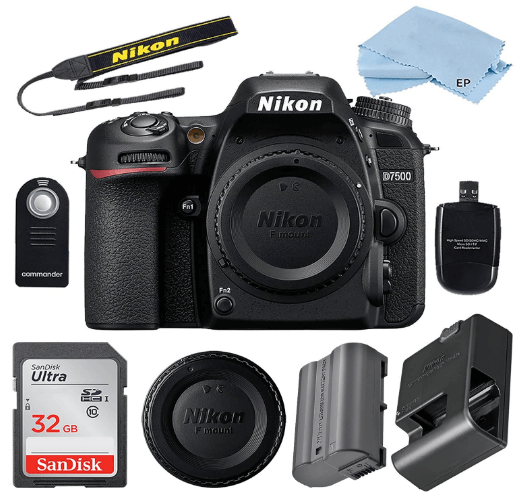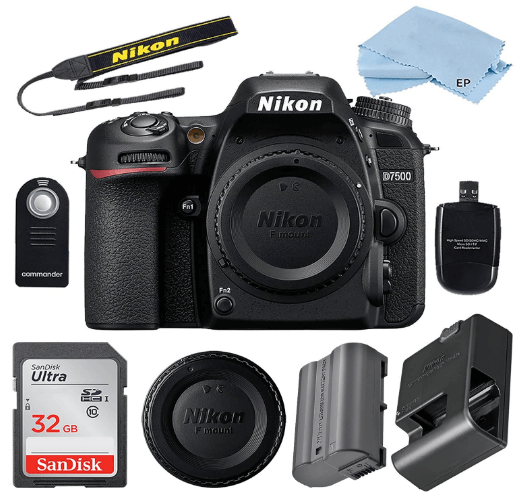 Our next bundle doesn't come with any lenses, only the 20. 9 MP Nikon D7500 DSLR camera body, however, it has some other useful items you will need. The lack of lenses makes it great for those who are upgrading from a previous Nikon model – you won't end up with duplicate lenses. The bundle includes essentials such as a neck strap, a 32GB SanDisk memory card, and a remote shutter release. You also get the camera's lithium ion battery and a charger, as well as a cleaning cloth to keep the camera in like-new condition. A card reader is also included so you can download photos from a card to a computer that doesn't have a slot for memory cards, instead, it plugs into the computer's USB port.
3. D7500 with 16-80mm Lens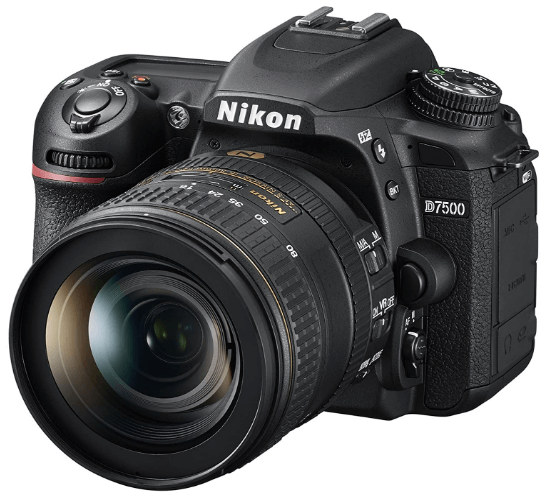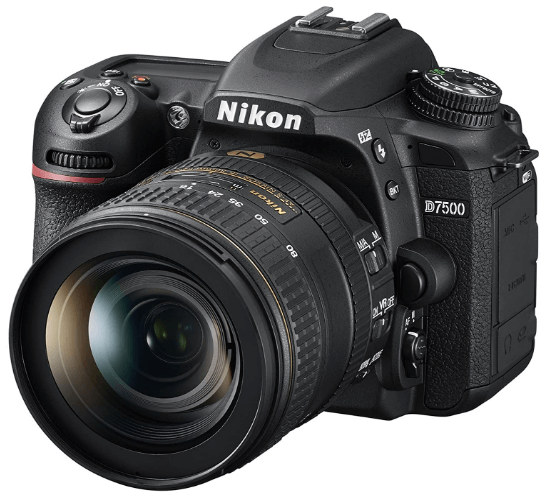 Our next bundle includes the 20. 9MP DX format Nikon D7500 camera body as well as a 16-80mm ED VR lens and lens cap. This is a high-performance lens that offers a 5x zoom range, allowing you to shoot wide-angle landscape scenes, and also offers the ability to zoom in on smaller details. The lens offers both vibration reduction and Nikon's silent wave motor. The former reduces camera shake allowing slower shutter speeds to be used even when shooting without a tripod. The latter, Nikon's SWM, ensures autofocus is very quiet yet still accurate – perfect for scenes where you don't want to cause a disturbance to the subject.
4. Nikon D7500 DSLR Body with AF-S DX Nikkor 18-140mm Lens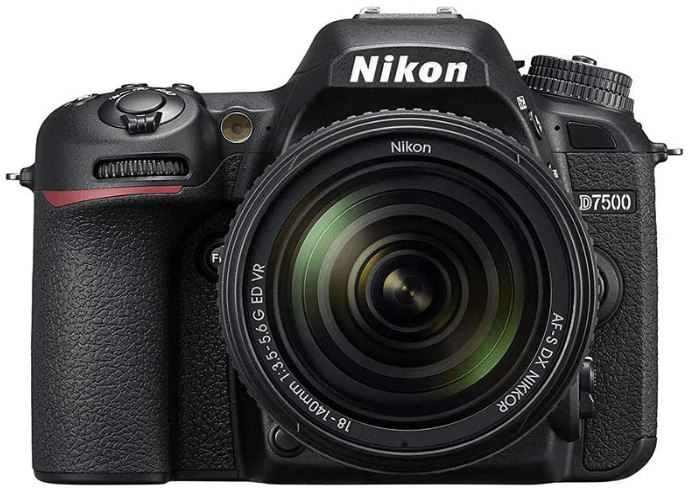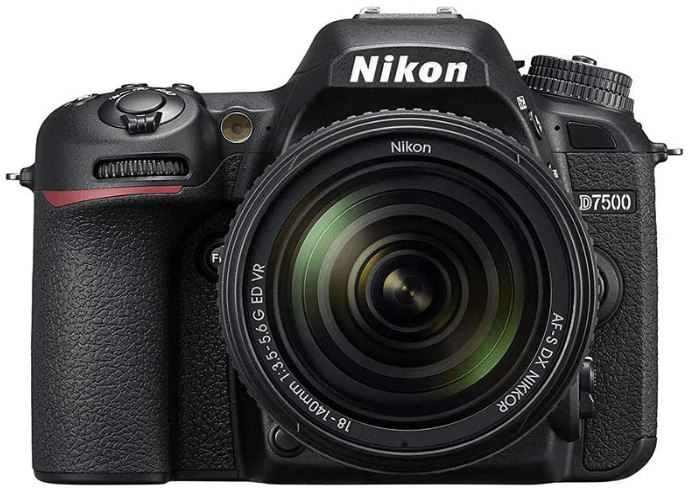 The next of our bundles is a lens bundle consisting of the camera itself and the DX Nikkor 18-140mm f/3 .5-5. 6G ED VR lens. This DX Nikkor lens offers excellent image quality and is very versatile thanks to its large range in focal lengths, offering a total zoom of 7.8x. In spite of this, the lens is lightweight and compact, so it is no problem to pop it in your camera bag. It contains the vibration reduction system for blur-free images every time, and can be used in both auto and manual focus modes. The image quality on this lens is outstanding thanks to the extra-low dispersion glass element and aspherical lens element it contains. The 18-140mm f/3. 5-5.6 features the SWM and a weather-sealed mount to ensure it can safely be used in poorer weather conditions. It is a great choice for video recording as well as still photography.
5. Nikon D7500 w/ 35mm Prime Lens


Our final best Nikon D7500 bundle consists of the DSLR camera and an AF-S DX Nikkor 35mm f/1.8 prime lens. This lens performs very well in low light, thanks to the aperture of f/1.8, making it a great choice for those who will be shooting in poorer lighting conditions. The wide aperture also helps produce a beautifully blurred background to bring the subject into sharper focus. The 35mm lens weighs only 200g meaning it is compact and perfect for traveling. It is a versatile lens that is equally suited to both street photography and portraiture.
Last update on 2023-12-06 / Affiliate links / Images from Amazon Product Advertising API