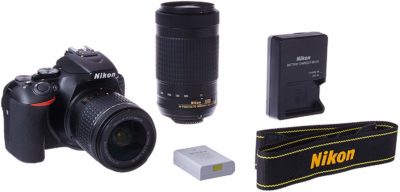 The Nikon D5600 is the latest release in the ever-popular range of mid-range DSLRs for enthusiasts. This model offers a range of impressive features yet comes with a budget-friendly price tag – it is one of the best Nikon DSLR camera options for beginners. To get even better value for money, a Nikon D5600 bundle is a great idea – with one of these bundle deals, you get some lenses and accessories rather than just the camera body. This means you can start shooting straight away, and it takes some pressure off of beginner photographers to try and decide which Nikon D5600 lenses to buy.
Here, we will take a quick look at some of the key features of this high-quality digital camera, before comparing some of the different Nikon D5600 bundle deals on the market today.
Nikon D5600 Key Features
As noted above, the Nikon D5600 camera is one of Nikon's mid-range models. The features of this camera are ideal for both beginners and intermediate-level users, although this isn't a professional camera. The digital SLR camera is equipped with a 24.2 MP CMOS sensor as well as the EXPEED 4 image processor. Unlike many other Nikon DSLR cameras in this class, the D5600 features a vari-angle touchscreen. This means it is intuitive to control, and tilting the screen will ensure it can easily be viewed in any lighting condition. The ISO range is 100-25600 meaning night photography is no problem for this camera. It comes with a rechargeable li ion battery and has Wi-Fi for wireless shutter release and easy transfer of images and videos. There is one memory card slot on the Nikon D5600.
For videographers, the Full HD 60 fps video recording is sure to be a welcome feature. You can also create time-lapse videos with the D5600. It is also possible to edit your photos on the camera – there are different creative modes and controls to adjust saturation and contrast. The body of this camera weighs just over one pound, so it is not too heavy to use for an extended period. It also has a deep, comfortable grip to ensure you remain comfortable when shooting many photographs.
Best Bundle Nikon D5600 Deals
Now we know what items should be in a D5600 bundle, let's take a look at some of the best options out there. We have picked out some containing different lenses and accessories, so there is sure to be something to suit, no matter what your photography experience level is. Each deal has different prices so be sure to find one to suit your budget.
1. Bundle with 18-55mm and 70-300mm Lenses and Accessories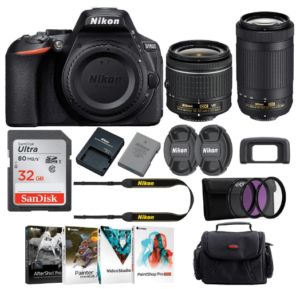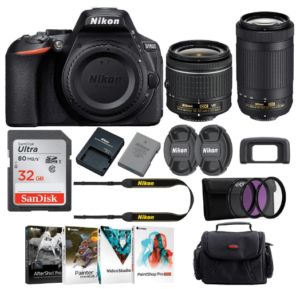 Our first bundle contains two of the most popular and versatile lenses – the 18-55mm f/3 . 5 and the 70-300mm f/4 . 5. The 18-55mm kit lens is great for first-time DSLR users, whilst the telephoto zoom lens is excellent for capturing far-off subjects. This bundle also comes with a 32GB SanDisk memory card – one of the best memory card brands. There is a battery, a charger, lens caps, a camera case, and more included in this set.
This bundle also comes with some photo and video editing software – ideal for learning how to touch up your photos and make them look even better. There is a three-piece filter kit also included in this bundle. This includes UV, CPL, and FLD lens filters, as well as a pouch to store them in.
2. 18-140mm Lens and Case Bundle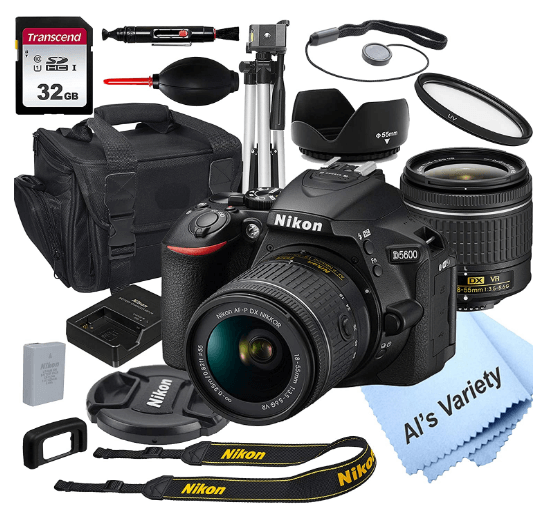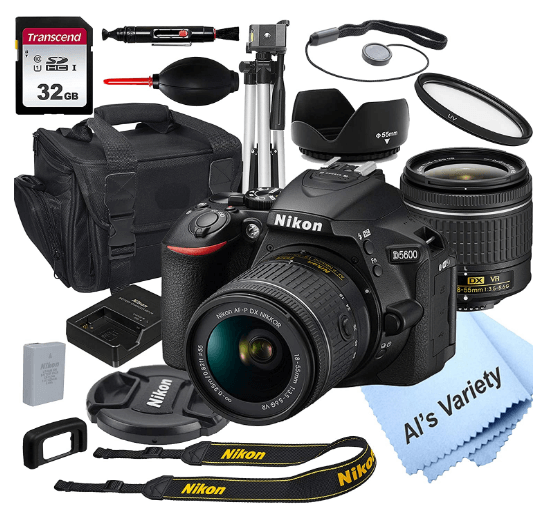 The next Nikon D5600 bundle comes with just one lens, an 18-140mm f/3.5-5.6 Nikkor. With this bundle, you will also find a Lexar 16GB memory card, a camera cleaning kit, a UV lens filter, and an editing software package. The cleaning kit that comes with this Nikon bundle contains many different items to keep your camera in excellent condition and help prolong its lifespan. There is also a camera case to carry your D5600 and accessories and keep them well-protected on the go.
The lens in this bundle is very versatile and reduces the need for carrying multiple lenses. At 18mm, you can capture a wide angle lens view of a landscape scene, or you can zoom in using the telephoto lens to capture more detail of a particular part of a scene. The lens features vibration reduction so the effects of camera shake are minimized. You'll also find Nikon's silent wave motor so autofocussing with this lens is very quiet – ideal for when you don't want to cause a disturbance.
3. Two DX Nikkor Lens Nikon Bundle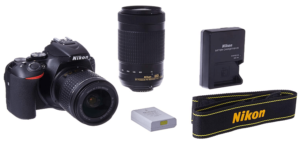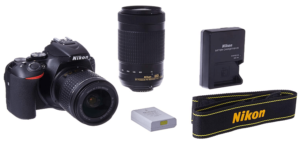 If you just want the camera and some lenses without any other accessories, this bundle is a great buy. It comes with the two lenses discussed above – the 18-55mm kit lens and the 70-300mm telephoto lens. These are a great accompaniment to a new DSLR camera and can be used to capture just about any subject. There are a couple of other extras with this bundle including a rechargeable li ion battery, the charger for the battery, and a Nikon neck strap. Those new to photography will love the DX Nikkor 70-300mm and 18-55mm lenses and how easy they are to use with the D5600.
4. D5600 with Kit Lens, Tripod & Accessories
Table could not be displayed.
The next best Nikon D5600 bundle comes with just one kit lens, but also contains a lot of other useful accessories which are ideal for new photographers. There is a very high-capacity memory card, with 64GB storage space – ideal for the large file sizes produced by a digital SLR camera such as this. You'll also find a camera case in this bundle which is ideal for keeping the camera protected and also has pockets for keeping the accessories close to hand. Other items you can find in this bundle for Nikon D5600 include a cleaning kit, a memory card wallet, an SD card reader, a tripod, and a slave flash.
The Nikkor 18-55mm f/3.5-5.6 VR lens features a rounded seven-blade diaphragm and two aspherical elements. The included tripod is full-sized, at 50 inches tall, just like professionals use. This is great for using with heavy telephoto lenses and will ensure the camera remains stable when shooting at high zoom.
5. 18-140mm VR Lens and Accessories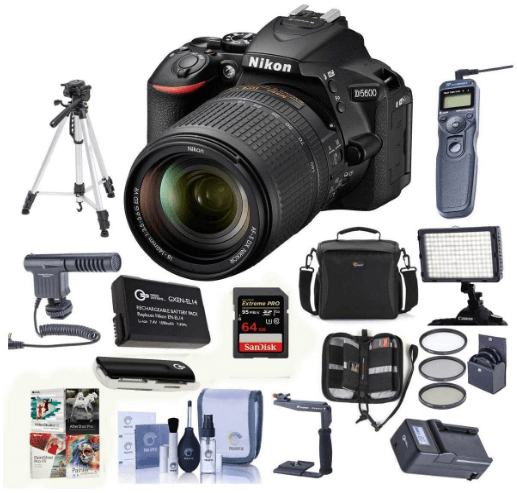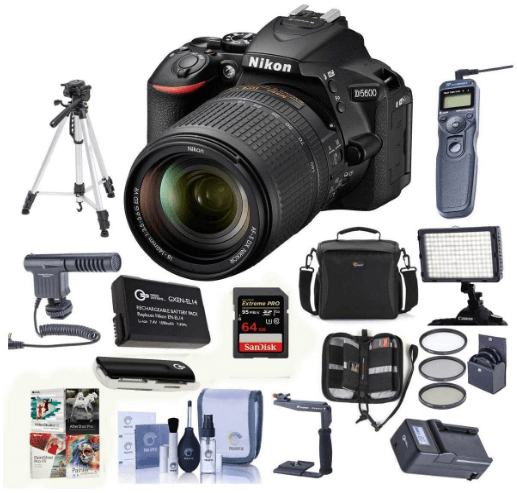 Our last bundle Nikon D5600 fans should consider contains the popular 18-140mm lens as well as a wide selection of useful accessories. As well as the lens and the DSLR camera body, this bundle contains items such as a 64GB SDHC card, a camera case, a tripod, a remote shutter release, a memory card wallet for safely storing multiple memory cards, a flip flash, a shotgun mic, and many more.
The 18-140mm lens is versatile and can be used as a wide angle lens at 18mm, or zoomed in for photographers looking to close-in on smaller details. This is therefore a great deal for beginners who are new to photography – for a very reasonable price you get the camera, a useful lens, and many other items, not to mention a carrying case to keep everything in.
Is Nikon D5600 Worth Buying?
Not all cameras are suitable for all users, but the Nikon D5600 has a broad appeal, ranging from those who are new to photography to those who are more experienced photographers looking for something more advanced than a point and shoot. The Nikon D5600 is also ideal for travel as it is relatively inexpensive yet takes high-quality photographs and has some impressive features to rival much more expensive models. So, in a word, yes, the Nikon D5600 is very much worth buying and is still one of the most popular of Nikon's mid-range DSLRs.
What Should a Nikon D5600 Bundle Contain?
There are a few lenses and accessories to look for in the best Nikon D5600 bundle. These will help you get started with your camera straight away, and ensure you can capture a range of subjects successfully.
Lenses
Two of the most commonly used lenses are often sold as a bundle with the camera body – the 18-55mm and the 70-300mm lenses.
18-55mm lens
This type of lens is commonly sold bundled with the camera body, even if no other lenses or accessories are included. This is a versatile lens that allows you to capture landscapes at the wider end of the zoom, or you can zoom in to focus more on details or for taking portrait shots.
70-300mm lens
This is another versatile lens, which is ideal for capturing more distant subjects. It is perfect for getting close-up shots of sports and wildlife, and also makes for nice-looking portraits. It's a decent travel lens, as it can be used for many different types of shots.
Whilst the two lenses above can be used for most subjects, don't be afraid to branch out to other types of lens after getting more comfortable with how the camera works. A prime lens is a very good investment – whilst you can't zoom in on your subject with this type of lens, they are ideal for creating a blurred background effect in portraits and have a wider aperture so can be used in lower lighting conditions.
Accessories
Different bundle deals contain different types of accessories, so let's take a look at what you might expect to find.
Memory cards
A memory card is essential for storing all the photos and videos taken on the camera. Most bundles come with one or two memory cards, and they should be around 16GB or larger in order to store plenty of the large file sizes produced by the D5600.
Tripod
Whilst it isn't essential, a tripod can help you take blur-free shots even when shooting at slower shutter speeds. It's also ideal for holding the camera when taking a group shot – you can then use a remote control to operate the wireless shutter release.
Filters
Lens filters come in different tones – clear ones can be useful to protect the glass from scratches, whilst colored filters can change the tone by enhancing certain colors or adjusting the color temperature. This can reduce the need for editing photos with editing software.
Flash
In many cases, getting a flash in a bundle deal isn't as good as it sounds at first. The included external flashes tend to be of low quality, so if this is a piece of equipment you need, it's best to source a higher quality model elsewhere.
Wireless remote
A remote control is ideal for controlling the shutter without touching the camera – ideal for taking selfies or when vlogging. A wireless shutter release is also found on Nikon's app, so this isn't a completely essential accessory if you plan on connecting your camera to your smartphone.
Camera bag
A bag or backpack will be useful for keeping all of your lenses and accessories together as well as protecting the camera from bumps and scratches when out and about. Look for something with different compartments to keep everything well-organized.
Spare battery
Whilst this camera has a great battery life, it never hurts to have a backup battery on hand to help see you through a longer shooting session.
Charger
Similarly, it is ideal to have a charger included in the bundle to keep the lithium ion battery recharged.
Cleaning kit
A cleaning kit will help ensure your camera is kept in like-new condition all the time, as it is quite difficult to clean a camera properly without a specialized cleaning kit.
Memory card reader
A card reader is a useful piece of kit if your computer doesn't accept a memory card. The memory card reader plugs in to the USB slot of your computer allowing you to download the photos from the SD card onto your PC.
Last update on 2023-10-05 / Affiliate links / Images from Amazon Product Advertising API