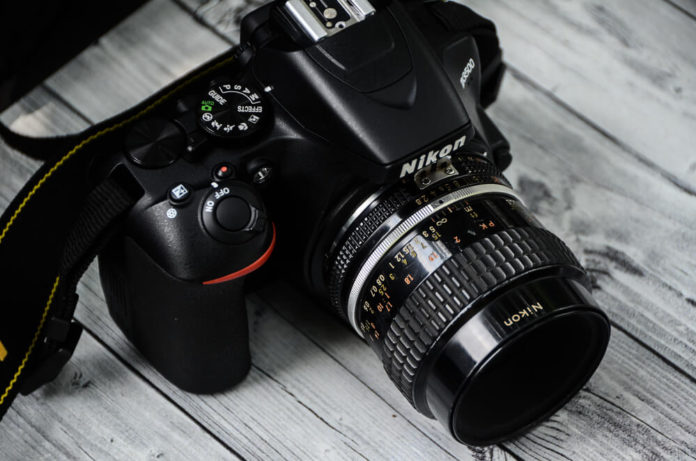 Which camera should i buy? The D3500 probably is the best camera for beginners, improving the previous D3400 and giving no surprises to its quality performance and handling. In fact the image quality can rival more expensive competitors , in addiction it's a great tool to start into the world of photography.
In short this new entry-level DSLR is lighter, and less expensive and has a better battery life. Finally it features a guide mode that will help you to shoot in numerous situations.
Considerations When Choosing The Nikon D3500
Image Quality – Creating good quality images should be an essential feature from any camera, and this entry-level camera from Nikon will do that with ease. The sensor and image processing speeds help this camera rival some of the top models out on the market today. It is a shame that video capture does not have 4K quality, but 1080p high-definition makes this camera still a great contender in this category.
Beginner Friendly – User accessibility when buying a camera for the first time is a big thing to think about, as some cameras are too complex for first time users, with all different automatic and manual settings. The D3500 from Nikon is specifically aimed at first-time camera users who want to take the plunge into DSLR styled photography, with a clean sharp finish and simple but effective layout, even the more experienced Nikon users will want to get there hands on this amazing camera.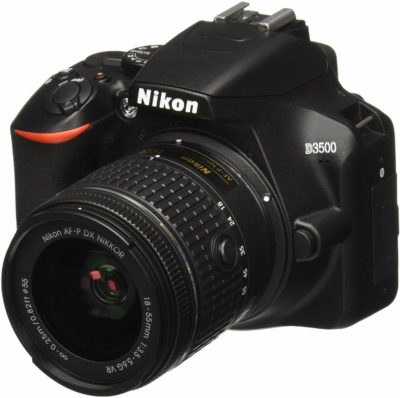 Bluetooth Connectivity – In the modern age connectivity is a big aspect for any device, speed, and multi-device accessibility is a big consideration in many things, so your camera shouldn't be any different. The Bluetooth connectivity that is featured in Nikon's D3500 lets the user transfer images from their camera straight to their smart device, and even remotely control the rolling shutter that is used this, the best camera for photography beginners.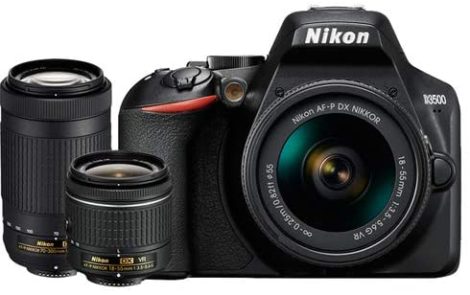 Nikon D3500 Review
Specifications

The Nikon D3500 contains a 24.2MP APS-C CMOS 4, 23.5 x 15.6mm sensor and EXPEED 4 image processor, providing super-fast speeds and performance. The 11-point autofocus with 1 cross-type and an ISO going from 100 to 25,600 will help provide sharp dynamic images in amazing image sizes with a max photo being 6,000 x 4,000px. The metering zones in the D3500 use a 420-pixel RGB sensor and the High definition video capture setting allows for videos at 60p, 50p, 30p, 25p, and 24p. The viewfinder that is used on this beginner's camera from Nikon is an optical pentamirror, which has 95% coverage. It fits an SD/SDHC/SDXC UHS I memory card and when it is fitted along with the battery, the camera will weight 415g. This is the camera without a lens fitted. There is a max burst of 5frames per second and you can see these shots on the amazing 912K dot, 3.0-inch fixed LCD screen. Bluetooth connectivity is a great feature, making transferring images into your smart devices easier than ever before. With all these specifications, this cheap DSLR camera will go on to impress you with every photo.
Lenses

When buying the Nikon D3500 you do have the option of buying it as a standalone camera with no lens. This is for most photographers who already have lens options that will fit onto this camera. Although, most of the people who are looking at this camera for beginners will choose the option to get the 18-55mm lens that comes in a bundle option only for a little bit more than the alone camera body
This lens, otherwise known as a kit lens, is a great way to get you started offering good zoom ranges covering everything from wide-angle landscapes to more portrait styled photography using the moderate telephoto modes
When buying the D3500 there are two different lens versions available. The AF-P DX 18-55mm f/3.5-5.6G VR is the lense that offers Nikon's image stabilization technology known as Vibration reduction. This lens, camera package is a little more expensive but will allow you to capture images at slower shutter speeds, still being able to achieve those sharp, detailed shots desired.
When you have used this camera for a while, there are still more great lenses that Nikon has to offer to make your photography and camera experience become more and more detailed as you develop your skills using this amazing camera for beginners.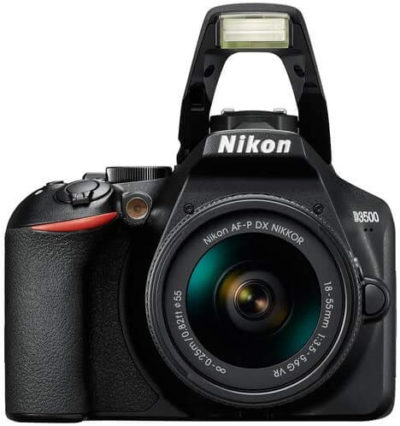 Key Features

Within, the D3500's body contains a 24.2-megapixel APS-C sensor. This may be one of the best entry-level cameras, but it still competes with a lot of high ranged models having one of the highest APS-C modes cameras go to. This beginner camera also has uncharacteristically good 5fps continuous shooting speed that comes with cameras of this level as most other products in this price range can only manage 3fps.
Unfortunately in the Nikon D3500, there is no 4K video quality but it can capture full HD 1920 x 1080 video at up to 60/50fps. Wi-Fi is also not a feature in this DSLR camera for beginners either, but built-in Bluetooth does work really well letting you transfer images straight to your smart device, and in this most recent design you can use your smartphone to fire the shutter remotely. In Nikon's DSLR cameras in-body stabilization isn't featured, but many Nikon lenses, such as the AF-P 18-55mm lens that is bundled with this camera kit use Nikon's VR (Vibration Reduction) system. Cheaper lens kits are available with a non-VR lens, but we think it's worth paying the extra.
Nikon has upgraded its sensor and EXPEED image processing system on the D3500 kit giving greater speeds, detail, and colors produced by the camera. Battery life has also been improved, promising an amazing 1,550 shots capacity from a single charge, Four times longer than that of mirrorless camera competitors. The D3500 shoots raw files, but only at a 12-bit quality range, rather than the 14-bit raw files caught by Nikons higher ranged cameras.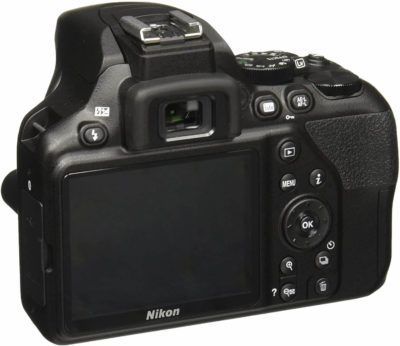 Build and Handling

In comparison to mirrorless camera alternatives, the D3500 body is going to feel big and chunky to hold. Due to this, you get a good grip of the camera, and a tactical redesigned of button layout on the back of the camera makes the D3500 easy to handle without pressing buttons you didn't mean to press.
With modern cameras leaning more towards touchscreen ability working with the autofocus system it is sad to see that the rear screen is not touch-sensitive being reliant on the physical buttons and dials. The screen also doesn't have a tilt mechanism featured making some shots difficult with harder to reach angles, but because of the price, this is not a big compromise to make. The screen quality is amazing with razor-sharp detail and bright, clear colors achieved. The information display is particularly great, displaying graphical depictions of the shutter speed, lens aperture, and ISO settings. This goes in a positive direction towards demystifying exposure settings and how they communicate.
DSLR Cameras naturally need thicker bodies to provide support to the mirror mechanism, and the 18-55mm AF-P kit lens has been added to this camera for beginners, the D3500 is as long as it is broad. The retracting mechanism on the lens does make a difference though, the only nuisance is the continuous reminder that you need to extend the lens first before you can begin shooting.
Overall the handling from the D3500 is really good. The power switch has been placed around the shutter release button making it easy to flick with your index finger when you want to turn the camera on and off, and both of the main mode and control dials are situated in an easy to reach place for your right thumb.
The main mode dial on the top of the camera is labeled clearly and has a real solid feel. Next to this is the camera's single control dial, which again has a really great feel. It's unmarked, and its function switches dependant to the mode you're in.
The viewfinder uses the cheaper pentamirror design rather than more expensive DSLR cameras which use pentaprism, but it is very bright and clear so you won't have to change your eyes gaze when finding the full composition of your capture. The information layout is restricted to basic exposure and status data on the bottom, but this is large, clear, and easy to see.
Sadly the D3500's viewfinder does not give all the information and color/exposure information that you would get from the use of an electronic viewfinder found on a mirrorless camera, but its natural, lag-free 'naked-eye' look is truly fresh after a digital display.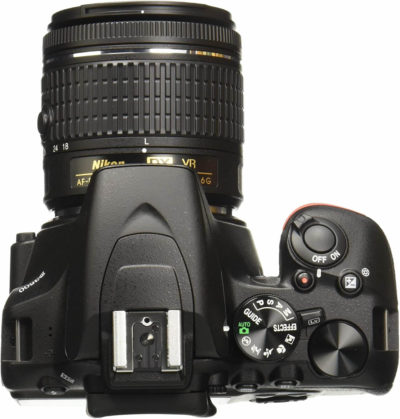 Performance

The D3500 handles very responsively although the autofocus beep is a little loud, the AF-P lens's autofocus is so quiet that you need an audio feedback to know the camera has focused.
When using the viewfinder shooting mode, the 11 AF points are centered towards the middle of the frame, but it is easy to refocus and reframe before you start to take photos if your subject is near the edge A great feature on this camera is that you can choose the focus point automatically or select it yourself, both are very fast and very positive.
In live view mode, a focus point is able to be chosen anywhere on the screen. In the lack of touch control, a four-way button on the back of the camera is used to move the AF point, which is a little slower than that of cameras with touchscreen abilities, although live view autofocus is surprisingly a fast feature on the Nikon d3500 DSLR camera. Nikon doesn't incorporate sensor phase-detection autofocus in its DSLR cameras, relying on a more moderately quick contrast-based autofocus. On paper, this design should be slow but Nikon has found a way to make the D3500's live view AF feel nearly as responsive as a mirrorless camera. This is down the AF-P autofocus technology used in the kit lens and is proven when changing to one of Nikon's AF-S lenses.
Nikon's D3500 DSLR camera may be a digital camera for beginners, but putting the images captured alongside those of the best ASP-C cameras that are available it is pretty difficult to tell which camera provides the best shots.
Through different tests completed it show that the D3500's photo quality is very much on the same level as its rivals on the market. Some slight differences regards resolution, noise, and dynamic range, but these kinds of areas will show up more in lab tests than they would do in real-world shooting. In everyday practice, the D3500 gives sharp, well-exposed images that are extremely vibrant, and the 18-55mm AF-P lens performs really well for a kit lens of its price, consistently providing sharpness across the focal range and right to the edges of the frame. Raw files comes with some color fringing and distortion, but enabling in-camera lens corrections you won't see this in its JPEG images.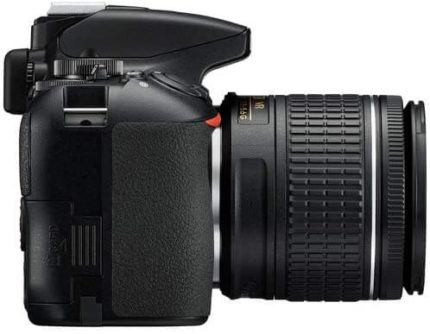 Verdict

Nikon has done a very good job here in refreshing an already existing and successful design very effectively, giving beginners a lightweight, responsive, and straightforward to use camera providing anyone a great start into DSLR photography.
When looking for a DSLR camera, Nikon's D3500 has some strong competition in the Canon range. The EOS 4000D is a cheaper version, but you can feel this cheapness in the build and handling so it doesn't feel worth the money that you are spending, and the performances are nowhere near as good as that of the Nikon. The EOS Rebel T7/2000D is closer to the Nikon D3500 in specifications, but while lab tests show some great performances the camera is more expensive and the battery life isn't as good. The burst mode of the T7/2000D is also slower, and there's no retracting lens option.
Due to the D3500 price and it also being an entry-level digital camera it does have its limitations, but we think it is easily the best DSLR for beginners that is on the market right now and with mirrorless cameras that have viewfinders tend to cost more, we'd say that this camera from Nikon is the best camera for beginners all round.
Buy the camera here: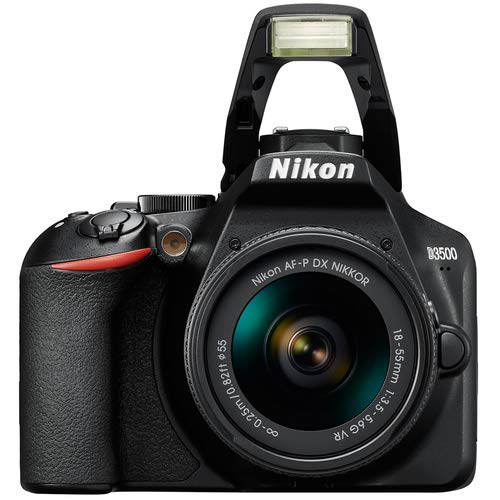 Sensor: APS-C CMOS | Megapixels: 24.2MP | Autofocus: 11 points | LCD: 3.0-inch, 921,000 dots | Maximum continuous shooting speed: 5fps | Video: 1080p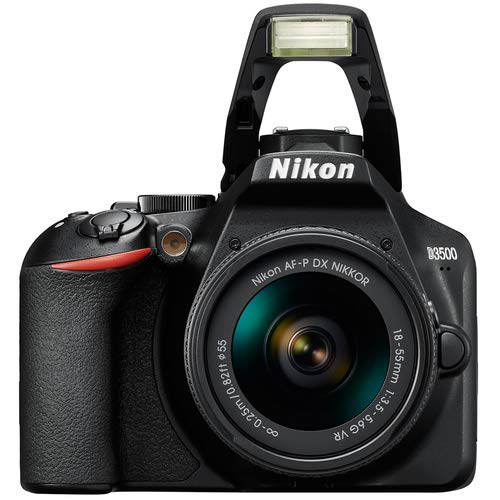 Sensor: APS-C CMOS | Megapixels: 24.2MP | Autofocus: 11 points | LCD: 3.0-inch, 921,000 dots | Maximum continuous shooting speed: 5fps | Video: 1080p
Last update on 2023-12-06 / Affiliate links / Images from Amazon Product Advertising API