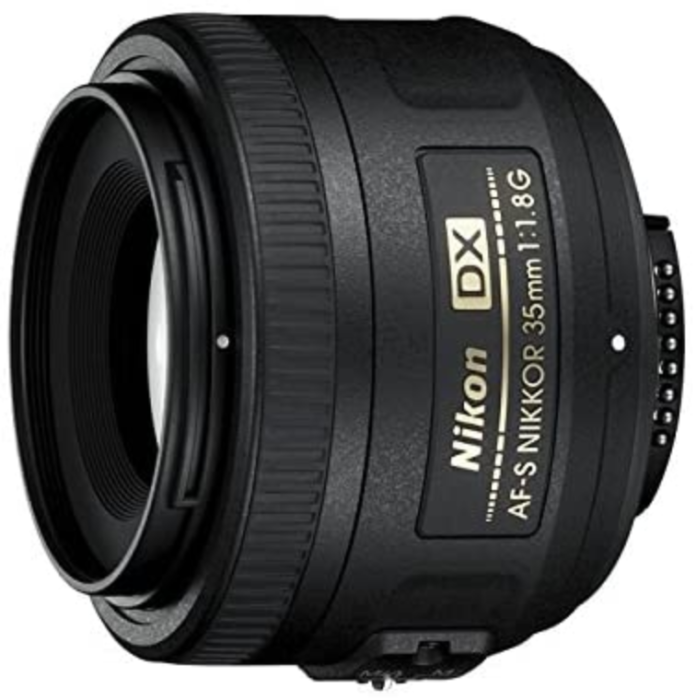 Firstly a prime lens is a key piece of equipment for any photographer, favored over zoom lenses for a variety of reasons. The 35mm is one of the most popular prime lenses, as it  represents what we see with our own eyes more closely on a Full Frame camera. Secondly it is versatile. Also it's suitable for many types of photography, something we will look at in more detail below.
But, there are many different models out there, each with slightly different features and functions, and greatly varying price tags. So, how do you ensure you choose the right lens? Choosing the lens that best suits your needs is important – the best one to buy won't be the same for every photographer. Here we attempt to answer some commonly-asked questions about choosing Nikon 35mm lenses, and what these are good for. You will find all you need to know before purchasing a 35mm lens, as well as our reviews of five of the best for every type of photography.
What Does 35mm Lens Mean?
What exactly means 35mm when talking about these types of lenses. So it refers to the focal length of the lens, which in this case, is fixed. A 35mm is known as a prime lens, which means it has a fixed focal length, as opposed to a zoom lens that can zoom in and out on the subject.
How to Choose a 35mm Lens
Choosing the perfect best Nikon 35mm requires some careful thought, as there are many different options out there to choose from. It's important to first check the brand and ensure it is compatible with your camera body. Also, check the focusing system of the lens, and make sure it is one you are comfortable with using. Also, check the aperture of the lens before purchasing. The right one to choose will depend on the types of lighting conditions while shooting. Weather sealing might also be important if you are going to be shooting outdoors under varying weather conditions.
Review of the Best 35mm Lenses for Nikon Cameras
We have five of the best Nikon 35 mm lens options on our list. Also we reviewed all of them , so you can pick which will best for your needs. You will find all the top brands, including official Nikon lenses as well as some from other manufacturers that are compatible.
Nikon DX 35mm f/1.8G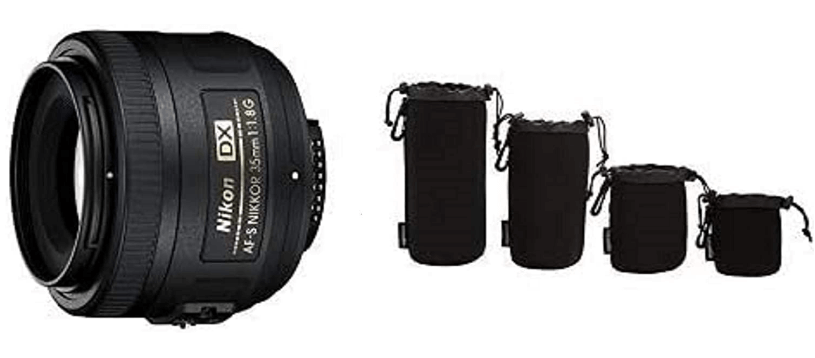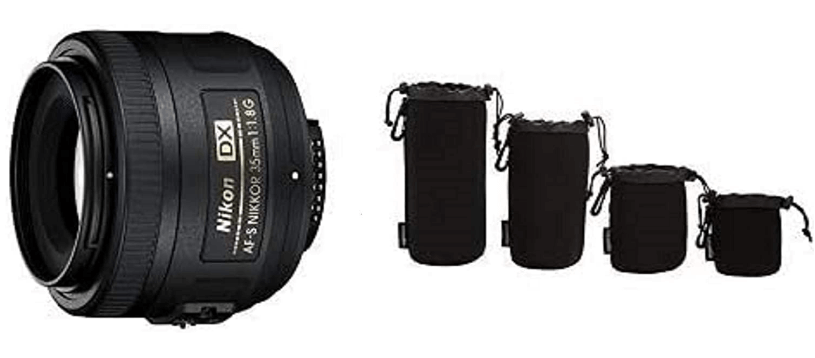 This Nikon prime lens 35mm is the cheaper of the two Nikon-branded lenses, but it's high rate amongst users. It has a maximum aperture of f/1.8, which is ideal for shooting under low lighting conditions. This also gives great depth of field, perfect for shooting portraits with a stylish and aesthetically-pleasing blurred background. You can use this lens for crop-frame cameras, so when used with one, it gives an equivalent focal length of 50mm.
The  lens is lightweight and compact, only 7 oz, so it is ideal for traveling or for day-to-day use. It comes with autofocus as well as manual focus, so no matter which you prefer to use, the options are there. The minimum aperture is f/22, so it is also ideal for when you want to capture every detail of the scene in sharp focus. But, when some of the frame is shot to be out of focus, it looks nice and natural thanks to the rounded diaphragm blades.
Sigma 35mm f/1.4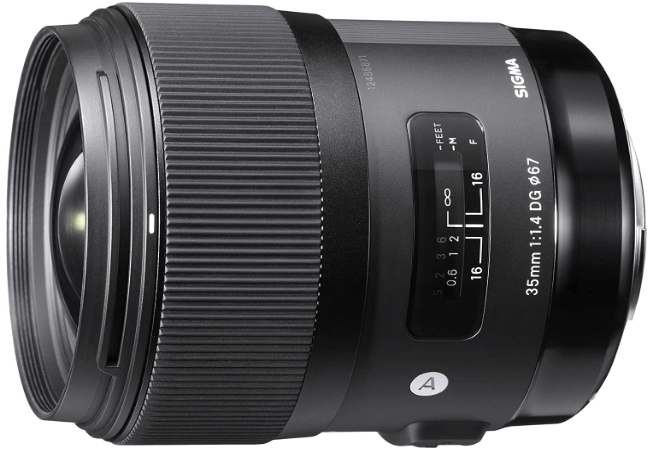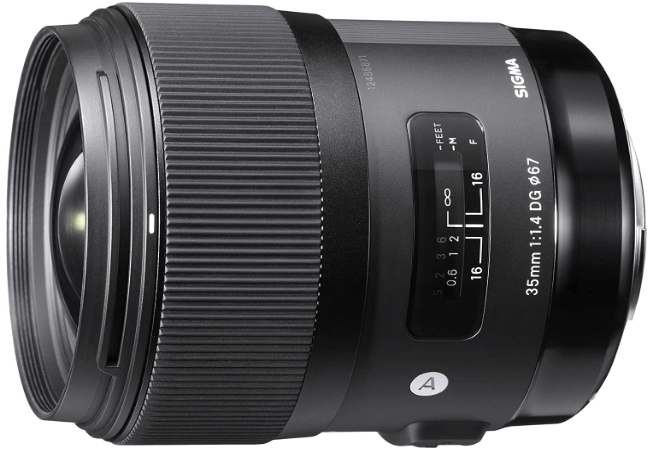 Our next best 35mm lens for Nikon owners is the Sigma 35mm f/1.4. It is fully compatible with all FX and DX Nikon camera bodies. The maximum aperture is bigger than the Nikon lens above, at f/1.4, which means it works well in even lower lighting conditions and also produces stunning bokeh, which is desirable by many photographers. The minimum aperture on this lens is f/16, and the minimum focus distance is 30cm.
This lens is a little heavier than our previous pick, at 23.5oz. It is fast and quiet and has accurate autofocusing, so it's nice to use. The glass specifically prevent chromatic aberration, ensuring the colors look crisp and clear instead. The lens is designed for use on full-frame cameras, but it does work with crop-frame sensors too.
Yongnuo 35mm f/2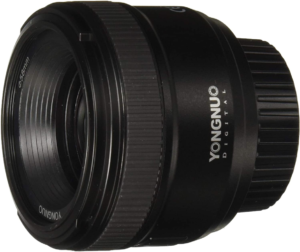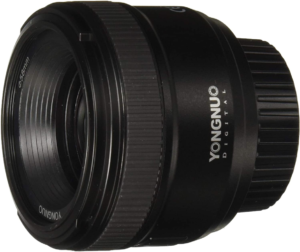 If you are looking for the best 35mm Nikon lens on a lower budget, this one from Yongnuo is an excellent choice. It can be used in both manual focus and autofocus modes, so whichever is your preferred method of shooting, it doesn't matter. This lens is ideal for either full-frame or crop-frame sensor cameras, so regardless of the type you own, it should be compatible. It is designed to work well even when shooting with backlight, and flare or ghosting should not occur in these conditions. The lens itself is made from high-quality materials and fits securely to the camera body, with durable fixtures.
The aperture on this lens is quite fast at a maximum of f/2, so it is ideal for use in poorly-lit situations. The minimum focusing distance is 25cm, so it works very well for close-up shots, giving a nice wide-angle look even when the subject is very close. The focusing ring on the Yongnuo lens is smooth and easy to turn, which makes this lens a pleasure to use. The images are sharp even at the maximum aperture, however, as with any lens, the sharpness does get better with a slightly smaller aperture. Photographers on a tight budget won't be disappointed with this lens, which costs under $100.
Nikon Lens 35mm 1.4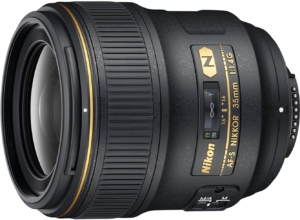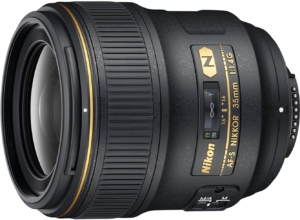 The next Nikon 35mm digital camera lens is another official Nikon-branded lens. It has a wider maximum aperture than our other Nikon lens, at f/1.4, meaning it performs exceptionally well under low light. It has the option to use either autofocus or manual focus modes, so depending which you prefer, or the subject you are photographing, the options are there. The lens also has a very useful rear focus function, which can help get perfectly focused shots every time. Also, on the subject of focusing, there is a switch on the side of the lens to easily change between the two modes.
The minimum distance required for focusing is 1 foot, so it's great for close subjects photos without being able to zoom in on them. The aspherical lens ensures that, even when shooting wide open, images are free from aberration. It's compatible either DX or FX camera bodies, and the images will be always sharp. The diaphragm on this lens has nine rounded blades which ensure that the out-of-focus points of the images look natural.
Tamron 35mm f/1.4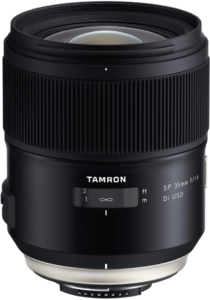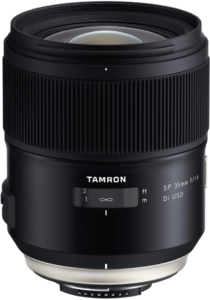 Our final 35mm lens Nikon compatible is the slightly pricier option from Tamron. Like the above Nikon lens, it has a wide maximum aperture of f/1.4, so it is perfect for creating the blurred background effect and stunning bokeh. It has a very effective autofocus system that is reliable, accurate and fast, so you'll never miss the perfect shot. The lens is moisture-resistant so it's good in poorer weather conditions without suffering any damage, and it also comes with a locking lens hood.
The Tamron 35mm gives outstanding image quality across the whole image from edge-to-edge. There's no image stabilization, but you can a tripod to maintain proper sharpness in poor light or with slower shutter speeds,. The minimum aperture on this lens is f/16, and it is a little heavier than other options, weighing in at 1.77 pounds. This is the best lens by Tamron, so don't hesitate to try it out!
Advantages of Investing in a Quality 35mm Lens
A prime lens, such as a 35mm, is almost always a good investment, and it's one piece of kit you won't regret purchasing. In fact, you might find you hardly ever take it off your camera! The first main advantage of buying this type of lens is the big aperture they tend to possess. There are many benefits to this feature. Foremost, this gives a shallow depth of field, allowing the subject to be sharply in focus whilst the background is soft and blurred. Also, the big aperture allows the lens to function well in lower lighting conditions, therefore you can use in situations where zoom lenses are useless because of  the low light that preclude a well-exposed shot.
Another reason to buy a 35mm is its portability. They among the smallest and lightest , so they are ideal for limited-space, such as when traveling. Additionally the versatility of this lens type – allows photography of a wide range of shots. So, these factors combined make the 35mm ideal for daily use.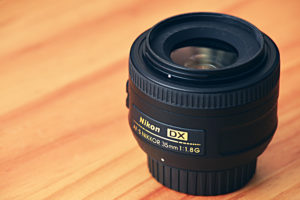 Why Are 35mm Lenses so Expensive?
Prime lenses are often more expensive than zoom lenses, for a few reasons. First, the glass is quite specialized and you need a lot of it to make the necessary parts of the lens. Second the fine mechanisms for the focusing system of a 35mm also add to the cost of buying one. There is also a difference in cost between professional and consumer-level lenses. In fact the consumer lenses sell more, and the standards required for professional lenses are higher. As a result professional-grade lenses are more expensive. These lenses also have special coatings on the glass to help reduce reflections and glare from internal and external sources. This also helps ensure the sharpness of the  images.
Is a 35mm DX Lens Actually 35mm?
Nikon makes lenses in both the DX and FX format. FX, or full-frame, lenses have a larger sensor and so give a true focal length of 35mm. On the other hand, DX, or crop-frame, lenses give the appearance of using a longer focal length. In the case of a 35mm DX lens, this will give the same results as using a 50mm full-frame, FX lens.
Is a 35mm Lens Good for Group Shots?
Yes, 35mm is a great lens to use for taking photos of groups of people. This is because it offers a reasonably large field of view, allowing everyone to be in the shot. Depending on the number of people and the distance the photographer is able to get from the subjects, it might even be possible to capture great group photos without having to line everyone up in multiple rows.
Is 35mm a Good Portrait Lens?
Yes, this is one of the best types of lenses for taking portrait shots. They can shoot using a low aperture, typically f/1.8 or below, producing a nice bokeh effect behind your subject. These lenses can also differentiate easily between the foreground and the background, which gives the classic portrait look with the background blurred and the subject sharply in focus. So, you can expect to take stunning portraits with a 35mm!
What is a 35mm Lens Good For?
There are many uses and ways in which you will use this lens. For example it can change depending on the type of photography you use it for. Just some of the many uses of a lens like this are portraits, landscapes, product photography, travel photography, macro shots, and much more. They are also one of the preferable lenses amongst wedding photographers too. These lenses are also ideal for shooting video because they offer the closest focal length as that of the human eye. So, your viewers will feel like they are right there experiencing it for themselves.
Last update on 2023-10-05 / Affiliate links / Images from Amazon Product Advertising API