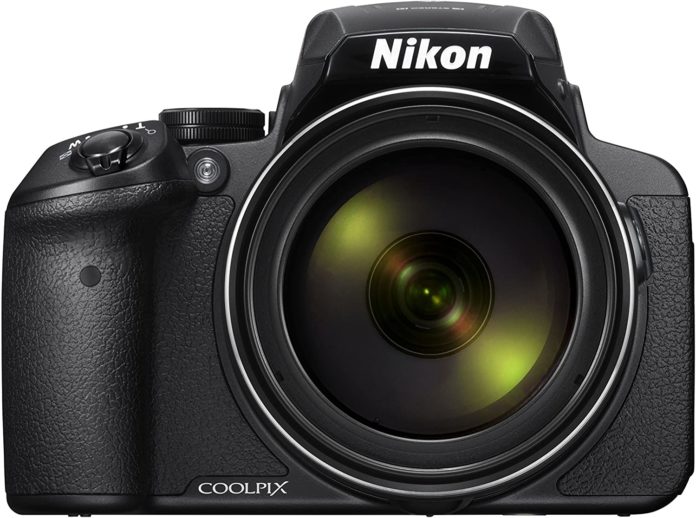 The Nikon Coolpix P900 is renowned for its very high level of zoom, making it a great choice for any photographer who wishes to get up close and personal with their subjects. The P900 camera offers a zoom range of 24-2000mm, making it one of the best bridge cameras in terms of zoom. And, it's a lot cheaper than buying a comparable set of lenses for a DSLR.
So, with that in mind, let's take a closer look at the functions and features of the P900 Nikon so you can decide whether or not this is the camera for you.
Considerations When Buying the Nikon P900
There are a few factors to consider in order to determine if this camera is suitable for your needs. Let's take a look at them below.
Budget
The P900 is a mid-range camera in terms of price point, coming in at under $700.
Specs
We will discuss the specifications of the camera in more detail below. Be sure to check that they meet your needs to ensure this camera is suitable for the type of photography you intend to use it for.
Size and Weight
The size and weight of this camera is comparable to an entry-level DSLR for example the Nikon D3500. Keep in mind that you won't need to carry any other lenses with this camera, so it can take up less space when traveling in this way. However, it is larger than a compact point and shoot, and heavier too.
Image and Video Quality
The quality of both stills and videos shot on this Nikon super zoom is decent, but not spectacular. At lower zoom levels, the camera performs better, with quality fading away the more you zoom in on the subject. If you are looking for a camera to use as a hobby, the quality is probably sufficient. For professionals, look for something with higher resolution such as the Nikon D850.
Accessories Available
The Nikon P900 zoom camera can be sold bundled with accessories, which will give you everything you need to get started. Otherwise, it's worth investing in a tripod to help with stability at higher levels of zoom. You'll also need a memory card and perhaps a spare battery to ensure it doesn't run out during a shoot.
Nikon P900 Coolpix Review
Let's now take a closer look at each aspect of this Nikon bridge camera.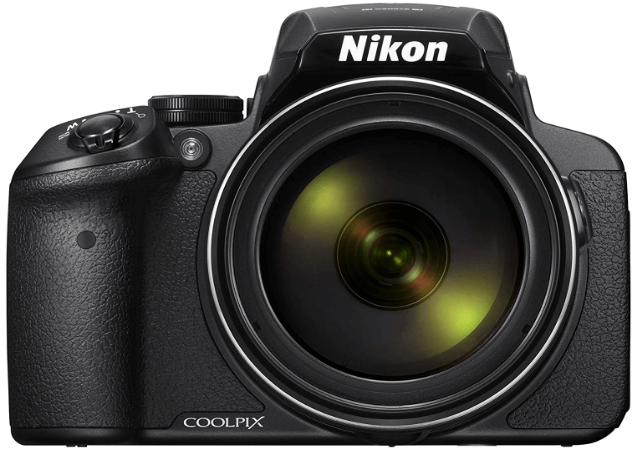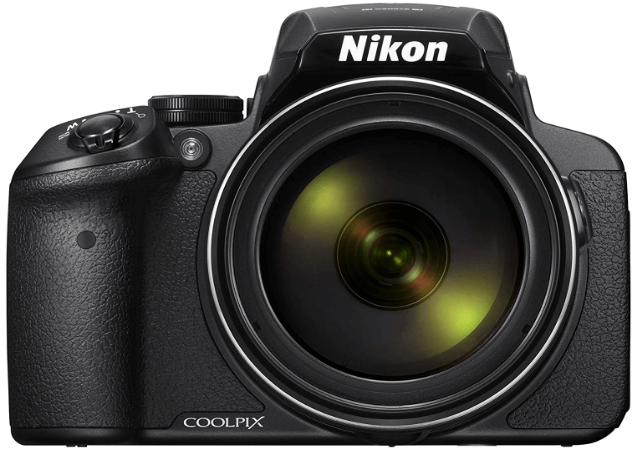 Specifications
When looking at any Nikon Coolpix reviews, it's a good idea to check out the main specs of the camera first. Here are the specifications of the P900.
83x optical zoom range
16 MP sensor
Vibration reduction
Focus peaking
Macro focusing (1cm)
Full resolution burst shooting at 7 fps
Lower resolution burst shooting at up to 120 fps
1080p Full HD video
3 inch LCD screen with tilt and flip
Electronic viewfinder
Wi-Fi and NFC
GPS
18 pre-set scenes for shooting different subjects
Images stored as JPEG files only
360-shot battery life
Key Features
The Nikon Cool Pix P900 has a range of excellent features to appeal to new photographers as well as more enthusiastic shooters looking for a travel camera. The most noteworthy feature of the Coolpix P900 is the phenomenal zoom range – the 83x optical zoom offers the equivalent of 24-2000mm in 35mm terms. You can even use the digital zoom to further enhance this range to a massive 4000mm. At such high levels of zoom, the corners of the images are not as sharp as when shooting with less zoom.
The camera has image stabilization which helps reduce camera shake at the long end of the zoom lens. Using a tripod will give even better results, particularly when combining a high zoom with darker shooting conditions. The aperture can be adjusted to give a relatively shallow depth of field, and the images produced are very sharp. In fact, the camera can focus at a distance of just 1cm from the subject, so it is ideal for getting close-up macro shots. There is also Wi-Fi and NFC on this camera for instantly transferring photos to your phone, and an electronic viewfinder for shooting with.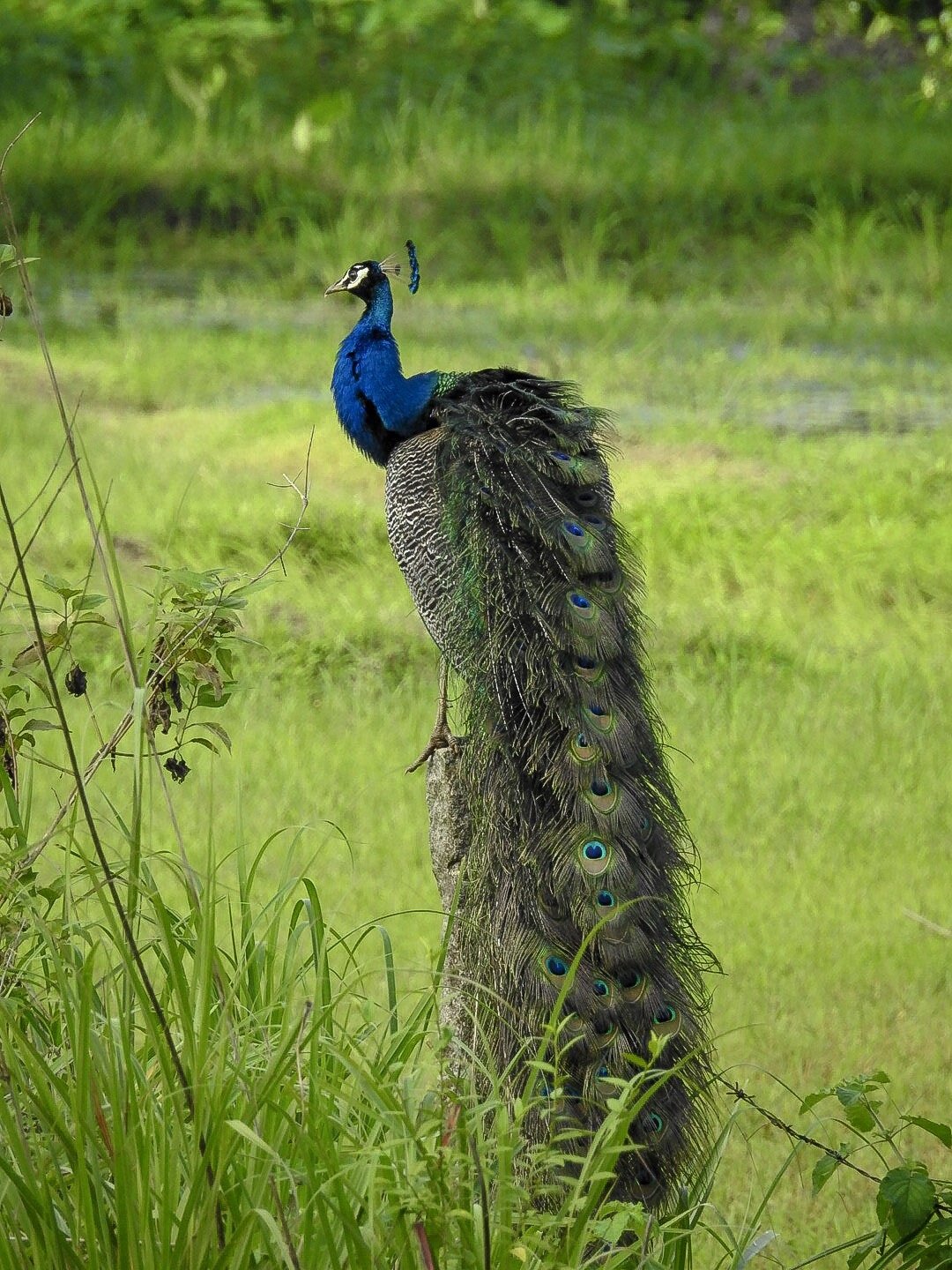 photo taken with a Nikon P900
Ease of Use
The features of the P900 are not too advanced, meaning it is fairly easy to use, even for those new to photography. There is a fully automatic mode if you are not comfortable adjusting the settings, but it's also possible to take full manual control of the exposure, such as shutter speed and aperture.
If you do want to change, for example, ISO, there are quite a few buttons to press before you can do so. This setting has to be accessed through the menu, taking seven clicks in total.
There are a few different scene modes that can be used to get the best shots of certain subjects. Landscape mode puts the focus in the distance and gives a warmer white balance whilst museum mode makes it easier to shoot indoors without using a flash. So, complete beginners can get the best shots without manually having to adjust any of the settings. It can be used like a compact camera in auto mode, although it is a lot bigger than most compact cameras.
Image Quality
The P900 Nikon Coolpix camera has a 16 MP, 1:2.3″ sensor which produces decent enough, but not spectacular results. Whilst the resolution is fairly high, the size of the sensor is very small. In good lighting conditions when the lowest value of ISO 100 can be used, the camera performs very well. However, as you have to up the ISO, the image quality rapidly falls away after ISO 800. Also at higher ISO, the color in the shadows can be washed out. There is the option to use the noise reduction feature, although this doesn't help much. to conclude we should talk about the sharpness, in fact the trick to get a not bad output is reached thank to an edge enhancement that creates the illusion of sharpness by enhancing colors and tones right at the edge of a rapid transition in color or tone.
White balance can also be an issue, regardless of the ISO, partly due to the fact that the camera only shoots in JPEG and not RAW. Images tend to have the wrong tint regardless of which white balance setting is used – auto, warm auto, or even custom. However, this can be adjusted by adding a tint using editing software after shooting.
Video Quality
The video quality of the Nikon Coolpix P900 is very good, provided there is sufficient light. If there is little contrast in the scene, it can be difficult to focus especially at higher levels of zoom. It's not possible to connect an external mic to this camera, however, there are stereo mics on the top of the camera and they give good quality audio. The lens can be zoomed in and out when recording, however, you'll hear the movement of the lens, especially if the sound in the scene is quiet.
Battery Life
The Nikon P900 battery is included with the camera, and it is rechargeable. This is often preferable as other models can run though single-use batteries quickly. The battery life on a single charge is around 360 shots, which isn't the longest battery life on the market but at the same time, should be sufficient for a day out.
Using the electronic viewfinder rather than the LCD to shoot can help prolong the battery life. In fact, you can expect around double the number of shots if you use the camera in this way. Charging the battery takes the best part of four hours, so it is recommended to carry a spare battery, especially when traveling.
Connectivity
The Nikon Coolpix P900 is equipped with built-in Wi-Fi, as well as NFC. Downloading the free iOS or Android app to your phone will allow you to use your device as a remote shutter release for the camera. And, you can download the images from the camera straight to your phone to share them with friends and family or post them to social media.
Geotagging images is also possible with this camera, as it has an in-built GPS. This is a useful feature to have when traveling to different locations, as you can use it to easily remember where each shot was taken.
Build & Handling
Like many other Nikon Coolpix cameras, the P900 is made mainly from plastic. However, it is not flimsy, with the exception of the hinges on the 3 inch LCD screen which could be prone to coming loose if handled roughly.
The camera is comfortable to hold, with a secure and deep grip. Some of the buttons are a bit close together, which means they might accidentally be pressed without meaning to at times. This is especially a problem for those with bigger hands, or who are used to shooting on cameras with the buttons arranged differently.
The advantage of a bridge camera such as this is you don't have to carry around a bunch of lenses in order to get the perfect shot. That being said, the P900 weighs around the same as a DSLR with a kit lens fitted – it's not something you can easily slip into your pocket.
Performance
After conducting a thorough P900 Nikon review, let's discuss the overall performance of this camera. The photographs from this camera have vibrant and rich colors, and there is a vivid mode to further enhance the color saturation, although this should be used with caution.
The long zoom range on this megazoom camera is incredible, and it performs relatively well even at the further end of the zoom scale. Finer details can be lacking at very high levels of zoom, but overall, and for the price point, the photos are good quality.
The 24-2000mm zoom range means the camera can be used for a wide variety of subjects, and it performs well in most cases. Whether it is used for shooting landscapes, portraits, wildlife, or sports, the P900 can capture good-quality photos.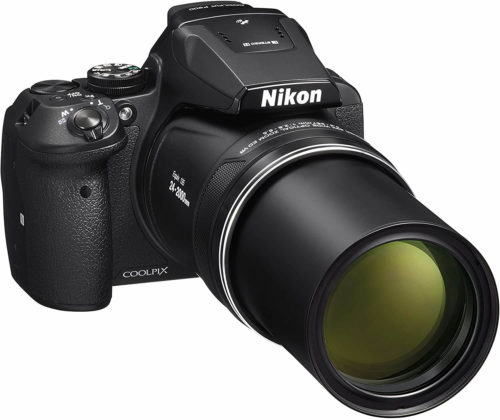 Verdict
After reading through these Nikon P900 reviews, you are probably wondering what Nikon Coolpix camera is best – this one, or a different model?
Overall, the 16 megapixel P900 performs very well and the outstanding zoom range gives this camera a unique selling point. When comparing this model to a similar range of lenses for a DSLR, you will save thousands of dollars, so the P900 certainly offers excellent value for money.
The autofocus system occasionally works well, but can struggle to find the correct subject at times. This is most noticeable in low-light shooting conditions. The different pre-set shooting modes make this a good choice for those who are relatively new to the world of photography.
Coolpix P900 FAQs
Here, we answer any questions you might still have about this camera after reading the Nikon P900 review.
Is the Nikon P900 a Good Camera?
Essentially, this is a good camera for beginner photographers or for those looking for an all-in-one camera for traveling. The zoom range ensures this camera can be used to shoot most subjects well, without the need for carrying additional lenses. The bridge camera works as a wide angle lens and also has a long zoom, so it's sure to be able to handle anything you throw at it.
However, some users may not be happy with the image quality, and the lack of control over certain settings may also prove disappointing to more advanced shooters.
Which is Better Nikon P900 or P1000?
The P1000 is the more recent model of the Coolpix P900, so it has some improved features compared to its predecessor. For starters, the P1000 can zoom even further. with a maximum focal length of an impressive 3000mm. The video quality is better on the P1000 – this model can shoot in 4K compared to the 1080p of the P900. Otherwise, both cameras offer very similar features.
How Many Miles Can the Coolpix P900 Zoom?
With a maximum focal length of 2000mm, the Coolpix P900 can cover a great distance – this is an 83x zoom. It is ideal for shooting photographs of the moon – you will be able to see details on the surface in your moon shot even from a distance of over 238,000 miles away! There is also the dynamic fine zoom which can be used to get even closer to your subject, although results may not be as sharp.
Last update on 2023-10-05 / Affiliate links / Images from Amazon Product Advertising API