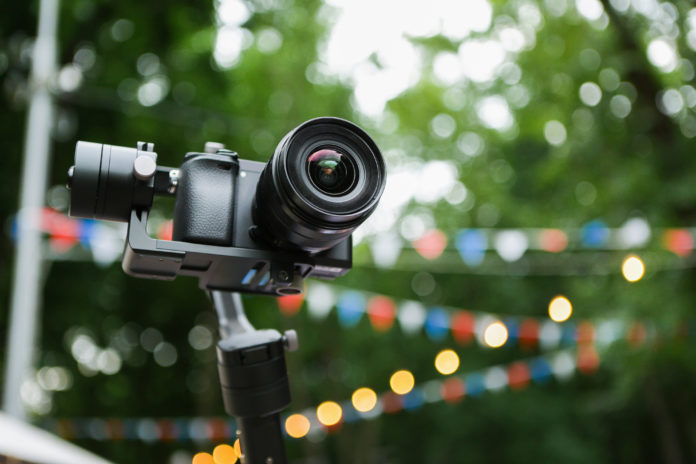 For both professionals and newbie photographers, choosing the right camera for your needs can take quite some time. And, there's no wonder with all the different types of cams out there. In this review, we're going to take a look at a specific type of camera: the best mirrorless camera. Our guide below has been put together for enthusiasts and casual photographers alike, to help choose the best model for their own needs.
There are plenty of factors to take into consideration when buying this type of camera. But, before we delve into which ones should be prioritized here's a bit of further information that you may find useful. Today, the best cameras in this category are up there with DSLRs in terms of the picture quality they can capture. With so many new cams being released in this category from the likes of well-known brands such as Nikon, Canon and Sony, they have grown to be extremely popular.
While they tick all the boxes when it comes to features and power, they aren't as bulky as DSLRs. Renowned for their compact designs, there are tons of benefits to opting for one of these cameras rather than a bulkier device. For starters, they're easier to travel with making them ideal for travel photographers and they are generally more responsive for video footage too.
We've searched around high and low to compile this list of the best mirrorless cams in 2021. As always, you'll find further reviews online for each type of camera, but we hope that the information you find here is useful and helps guide you to the perfect camera for your needs.
Considerations Choosing Mirrorless Cameras
Before we present our top picks in this camera category, here are some of the basic considerations that you should be making when buying:
Lens systems 
These cameras differentiate from other cameras due to their interchangeable lenses. This makes the world of difference when trying to capture quality images. Check compatibility before buying if you're switching from as DSLR and always check out specs when it comes to lens systems so you know how much freedom you'll have over your art in action.
Sensor size 
Different mirrorless cams come with different sensor sizes. This can cause a bit of a headache for those that have never worked with such models before. Most of these cams fall somewhere in the middle, packing an APS-C sensor. This falls in between the sizes found on a DSLR and point-and-shoot. The sensor size is much of what makes these cameras so small and lightweight, so if you'd rather work with a bulkier camera bare this factor in mind.
Viewfinder 
You should definitely take viewfinders into consideration when buying your new camera. Many cameras that are mirrorless utilize an electronic viewfinder or EVF. There are plenty of benefits to this type of viewfinder but some may find the transition prevalent if they're switching from a DSLR. Do your research to make sure you'll be comfortable with your new camera and its features!
Video 
In line with that of DSLRs when it comes to capturing video footage, lots of mirrorless cams can offer 4k video shooting. One advantage of these types of cameras is that they focus on continuous contrast-detection. This means that you're to easily focus, and maintain focus, on moving subjects in your frame.
Wi-Fi functionality 
Many of the cameras in this camera come with incredible wireless functionality. If this is a feature that you require, then be sure to check this information across the specs of all your top choices.
10 Best Mirrorless Cameras in 2021

Now that we've covered some of the considerations that you should make before finalizing your new camera choice, it's time to present our top picks in 2021. As always we've been sure to cover different types of budgets and requirements, allowing you to make the best-informed choice. You'll also find further useful information at the end of our guide and common FAQs!
1. Fujifilm X-T30
Table could not be displayed.
Number one on our list, this Fujifilm mirrorless certainly deserves its spot. This isn't the first of its kind that the manufacturer has brought out. However, the X-T30 certainly steps up the game. Fujifilm has once graced us with the highest resolution APS-C sensor currently on the market and without a doubt one of the most sophisticated autofocus systems you'll find with the X-T3. And, the smaller and cheaper version, the X-T30 certainly delivers too. Portable and great for travel photographers, the easy-to-use cam boasts a myriad of attractive features outside of its convenient design and practicability.
With 4K video and impressive external shutter speed and aperture controls, this camera is all-round an excellent buy. Standing out for both video fans and still photographers, you really are getting great value for money with this Fuiji model. The perfect blend of size and performance make it a consistent winner and one of the best cameras you'll find on the market in 2021. It comes with a 26.1 MP X-Trans sensor, a powerful AF and video and is packed into a handy size.
2. Nikon Z 6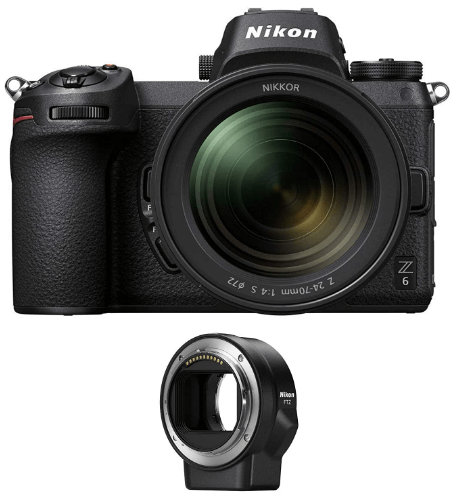 Type: Mirrorless | Megapixels:  24.5MP | Lens mount: Nikon Z-mount | Screen: 3.2-inch tilting, 2100k dots | Viewfinder: Electronic | Max burst speed: 12 fps | Max video resolution: 4K video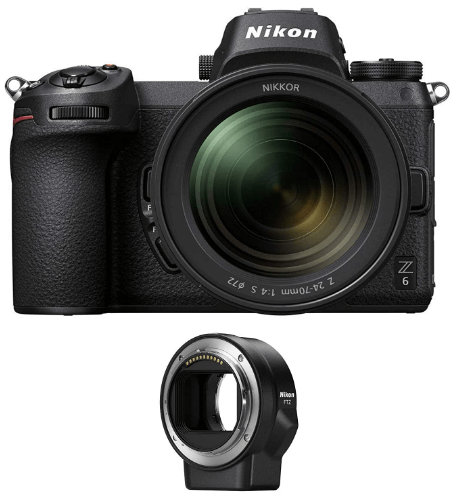 Type: Mirrorless | Megapixels:  24.5MP | Lens mount: Nikon Z-mount | Screen: 3.2-inch tilting, 2100k dots | Viewfinder: Electronic | Max burst speed: 12 fps | Max video resolution: 4K video
As one of the best mirrorless cams available for enthusiasts, there is a lot to love about this model. If you're ready to take a step up from the full-frame model, the Z 6 boasts an amazing build quality, in-body stabilization and great controls overall. Super versatile and with a wide ISO range, it's even capable of shooting full-frame (no crop) 4K video and comes with a speedy 12fps continuous shooting frame rate.
The in-body image stabilization comes at 5 stops of shake compensation and this model has an overall sturdy body composed of magnesium alloy alongside extensive weather sealing. Nikon has produced a cam with a 200,000-shot shutter life and at an affordable price tag too. As one of the best options out there, you'll also benefit from being able to use any current Nikon DSLR lens thanks to Nikon's FTZ lens adaptor.
3. Olympus OM-D E-M10 Mark VI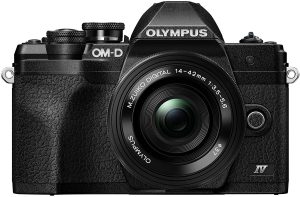 Type: Mirrorless | Sensor: 20.3MP MOS | Monitor: 3" flip down | Maximum Burst: 4.5 fps | Connectivity: Bluetooth, Wi-Fi  | Video: 4K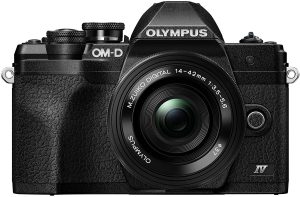 Type: Mirrorless | Sensor: 20.3MP MOS | Monitor: 3" flip down | Maximum Burst: 4.5 fps | Connectivity: Bluetooth, Wi-Fi  | Video: 4K
The O-MD E-M10 Mark VI definitely deserves its spot as one of the best mirrorless cams in 2021. The camera has an extremely similar shape to the Mark II and III but comes with a far superior processor. Allowing users to capture 4K video/2160p with ease thanks to a flawless autofocus system on the inside, this camera may look externally small but its features are big. Packed with Olympus's renowned five-axis image stabilization system, an electronic viewfinder, and tilting rear LCD, users will have complete freedom over the photos and videos they shoot and can do it without the frustration of complex features.
This camera can be paired with Micro Four Thirds lenses from both Olympus and Panasonic for a further immersive photography experience and comes with plenty of other options too. A solid contender in the world of travel cameras, the O-MD E-M10 Mark IV is sure to impress its user.
4. Olympus OM-D E-M5 Mark III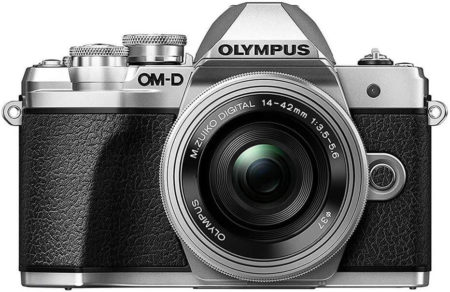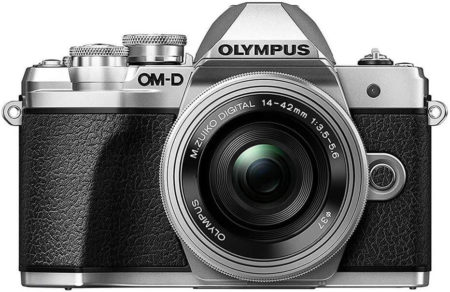 When it comes to exceptional design the Olympus mirrorless OM-D E-M5 really does impress as original camera. This fairly new model uses the latest 20.4 megapixels Micro Four Thirds sensor which comes at a considerably smaller size than APS-C. The image quality, however, is very close to what you'd expect and the lenses available are both small and portable making it extremely practical.
This device's capabilities are nothing short of amazing, as it includes excellent 5.5EV and in-body stabilization, 30fps Pro Capture mode with 14-shot pre-buffering, C4K and 4K UHD video, Live Composite and Live Bulb modes and much more for every type of photography enthusiast. The stunning Pro Capture mode really does make this model stand out from the other competitors and the impressive 152 raw file buffer allows a truly immersive experience with every use.
5. Fujifilm Mirrorless X-T4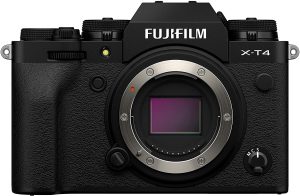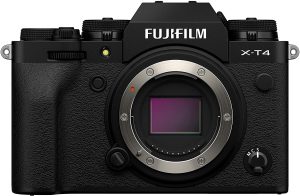 For those that are searching for quality and don't mind extending their budget to get their hands on a remarkable bit of photography kit, the X-T4 could be the best option. Fujifilm has brought a solid camera once again to the market. Offering excellent functionality, this device is great for enthusiasts and pros alike.
The device offers an incredible 26.1MP sensor for fast focusing, improved subject tracking and increased autofocus sensitivity (down to -6EV). It's also capable of capturing 10-bit 4K video footage at up to 60p with 4:2:0 color sampling or FULL HD/240p. This is unique to this camera which crosses over stills and video. Overall one of the winning factors that makes this cam a top contender as the best, comes down to user experience. You'll still feel like you're handling a comfortable and trusty DSLR while using all the latest camera technology.
6. Canon EOS RP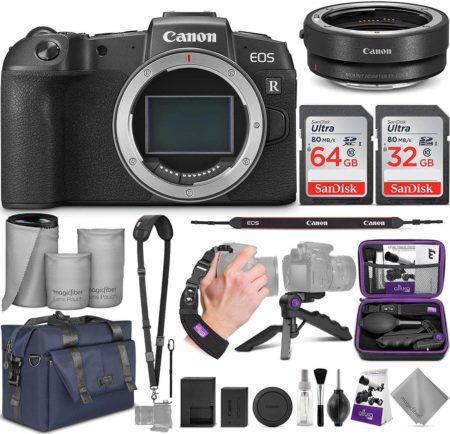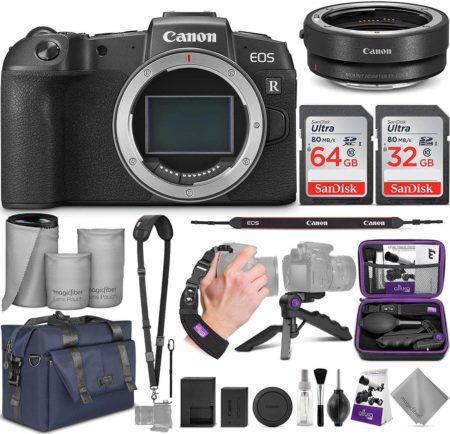 Canon certainly steps up to the challenge of delivering an almost flawless mirrorless digital camera. We love the mirrorless EOS R system which is the smaller and more affordable version of the EOS R which was announced not too long ago. Both cameras have a lot in common which is expected, however, the RP won't require you to splash as much cash.
With the EOS RP, you'll benefit from a 26.2-megapixel full-frame sensor, 4,779-point Dual Pixel CMOS autofocus, 4K video (cropped) and a fully-articulating rear screen. As one of the cheapest options on the market, you'll find that this nifty little device certainly delivers and more. We're huge fans of its super-sophisticated AF and video footage capabilities, all packed into a lower-end price.
7. Panasonic Lumix GX80/GX85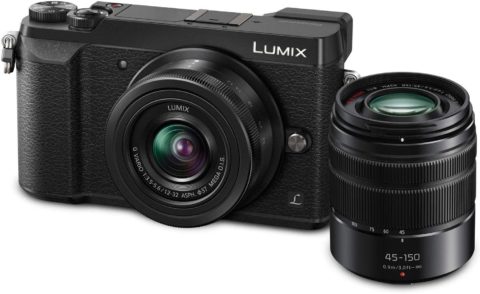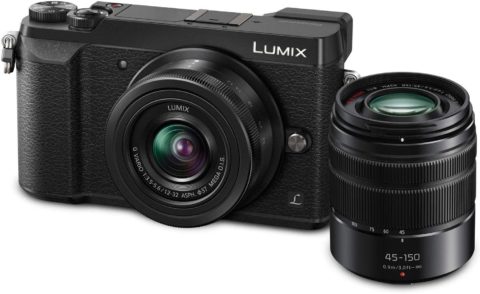 This versatile camera can be adapted to suit the needs of all types of photographers. For beginners, its handy Intelligent Auto option is more than convenient, while professionals can take complete control into their hands with a wide range of exposure settings like shutter speed and aperture. Buyers of this camera will benefit from the impressive feature that is 4K video recording capability and Panasonic's speed DFD (Depth From Defocus) autofocus system.
The electronic viewfinder as part of this device's design is a fantastic option for using in both dark and extreme light conditions, which makes it an east to shoot from ground level. Pair this camera with the available Micro Four Thirds lenses and you have a perfect camera for traveling. We love the retracting 12-32mm 'pancake' lens which positions this cam as not a lot bigger than a compact point and shoot. Great for the budget-conscious, there are plenty of perks to reap with this choice and all its mods.
8. Nikon Z50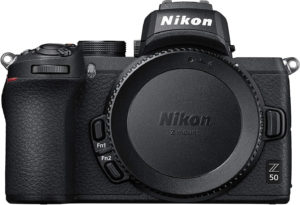 Type: Mirrorless | Sensor: APS-C (DX-format) sensor | Megapixels: 20.9MP | Lens mount: Z Mount  | Screen: Tilting touchscreen| Viewfinder: Electronic Viewfinder | Max burst speed: 11fps | Max video resolution: 4K UHD | Battery Life: 300-shot battery life | User level: Intermediate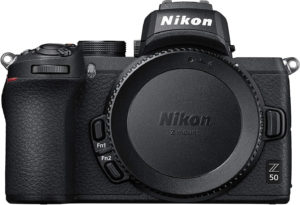 Type: Mirrorless | Sensor: APS-C (DX-format) sensor | Megapixels: 20.9MP | Lens mount: Z Mount  | Screen: Tilting touchscreen| Viewfinder: Electronic Viewfinder | Max burst speed: 11fps | Max video resolution: 4K UHD | Battery Life: 300-shot battery life | User level: Intermediate
This Nikon mirrorless camera is one of the most exciting mirror cameras to have hit the market. The Z50 has a handy chunky grip making it extremely user-friendly but this doesn't necessarily mean you'll be dealing with a bulky device. In fact, Nikon has intuitively packed all the features and everything you'd expect from a heftier cam into a small package. It boasts superior handling experience and has all the functionality you'd expect from such a renowned brand. Featuring 11fps burst shooting and high-quality 4K video, it's great for both professionals and beginners.
We love the 16-50mm pancake kit lens available as part of the kit,  which comes at an affordable price giving plenty of leverage for all types of photography requirements. All in all, the Nikon Z50 is a firm favorite amongst different mirrorless users and it's not exactly surprising. For an extra perk, this device also comes with a superior 300-shot battery if you're not entirely sold yet!
9. Sony A7R Mark IV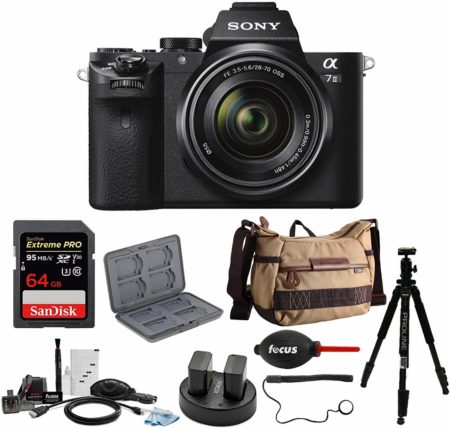 The A7R Mark IV certainly delivers on everything you'd expect in this camera category. While the A7R Mark III set high standards, the A7R has exceeded. This sony mirrorless camera comes with a record-breaking 61-megapixel which stands as the highest resolution of any full-frame camera on the market. If you're looking for detail and high-quality, look no further. Detail render on this gadget is truly amazing which makes it particularly popular amongst professionals.
Other features that you'll benefit from with this model include fantastic Eye AF, 10fps continuous shooting and 4K video. As one of the top high-resolution professional cameras out there, there is much to enjoy with this reliable device in your hands.
10. Nikon Z 7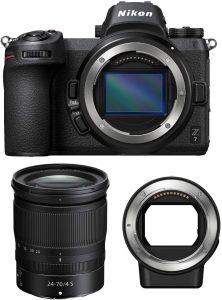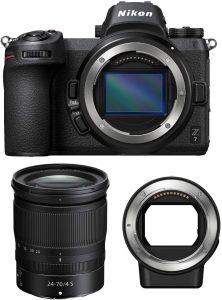 A classic in its own right, the Nikon Z 7 is a superbly made camera that really does take the top of the ranks when it comes to features. The device boasts a huge 45.7MP full-frame CMOS, 493-point hybrid phase/contrast autofocus, 4K UHD at 30p and an in-camera image stabilization system (IBIS). While the camera looks similar to other contenders out there, this camera is excellent for both handling and value which may just sway your decision.
There is a wide range of native Z-mount lenses in development, however, the Z 7 comes with an FTZ adaptor that allows the user to apply any of the current Nikon DSLR lenses. This makes changing from Nikon DSLR to a Nikon Z a breeze.
What Is The Difference Between A Mirrorless Camera And A DSLR?
If you're new to the world of photography you may be wondering exactly what a mirrorless cam is. The good news is that we're here to explain what one is and how they differ from other types of cameras too. Just as the name suggests this camera does not require a mirror in its design. All DSLR (Digital Single Lens Reflex) cameras do, and it is the mirror in this type of camera that bounces images up to the optical viewfinder. The key difference between the two comparable cameras is that in a mirrorless cam there is no optical viewfinder. Rather the device's imaging sensor is exposed to light at all times. This allows to user to benefit from a digital preview of their images on a rear LCD screen or EVF (Electronic View Finder).
The term mirrorless wasn't coined until digital cameras with interchangeable lenses emerged. However, many styles of camera don't use a mirror including the popular point-and-shoot devices. Mirrorless is generally used to describe digital interchangeable lens cameras (ILCs) that feature electronic viewfinders or no viewfinder at all. When it comes to design, because these types of cameras don't have a mirror box inside the body itself, they are much smaller and lighter in weight than their DSLR counterparts.
First popular with beginner and casual photographers, these cameras now have a huge professional following too as they offer plenty of advantages that aren't present in DSLRs.
Which Is The Best Camera For Professional Photos? 
For professionals, DSLRs are always relied upon. Having gained a reputation for their manual controls and excellent image quality, they stood in a realm of their own until the introduction of advanced mirrorless counterparts. From our list of best-reviewed cameras in the mirrorless category, you'll find plenty of options available for professionals too. There are benefits to both DSLRs and mirrorless devices, however, with the latter, you'll have almost all of the features to use in a smaller, more compact body.
The Best Camera For Action Shots
Mirrorless cameras are great for capturing action shots and video footage. As you can see from our reviews, plenty of these cameras come with excellent videoing abilities up to 4k. What's more, is that you can still experiment with lenses and benefit from a more portable camera all-round. Due to the lack of an optical viewfinder, these cameras are considerably lighter in weight and this makes them appealing for the travel photographer.
An electronic viewfinder allows users to preview via a digital image before taking their shot. Both DSLRs and mirrorless cams make excellent options for those that want to capture action in their photography.
Electronic Viewfinder VS Optical ViewFinders
One of the key differentiators between DSLRs and Mirrorless cameras is their viewfinder type. As explained mirrorless cams lack an optical viewfinder, while early electronic viewfinders were considered inferior to optical counterparts, this attitude has changed over recent years. This is largely due to technological advancements that see resolutions now up to 5.7 million pixels.
Some of the best mirrorless cams boast refresh rates as high as 120 frames per second on and EVFs are sharper and more responsive than ever. This has closed the gap considerably between the two different types of viewfinders. EVFs also offers plenty of customization which you can't benefit from with an optical version. While features will vary from camera to camera, there are plenty of advantages to be had.
What Is The Advantage Of A Mirrorless Camera?
To conclude our guide, if you're still unsure about the types of advantages mirrorless cameras can bring, we're here to show you! Here are just some of the ways that you can benefit from this cam as a professional or beginner starting out their photography journey:
Easier manual focus – Mirrorless cameras offer a manual focus function for a dar more accurate image than with DSLRs. This is so that the photographer can use focus peaking and focus point magnification see exactly what is and is not in focus.
Weight – While DSLRs and mirrorless cameras only differ in weight usually by a few hundred grams this can still make a difference when it comes to portability.
Preview of images for night photography – You will get the advantage of ISO of the camera which boosts the light output of the scene right in the viewfinder. For night photography this is very useful as you can easily see and set up the required composition in seconds rather than the method of trial and error shots with a DSLR cam.
Low light focusing –  These cameras are often able to focus for night photography far easier than the DSLR options. This makes them extremely versatile for all types of photography. They are particularly popular for landscape photography because of this.
Size – Again as with size, mirrorless devices are smaller. While they won't fit into your pocket as a point and shoot would, it is considerably easier to carry around for travel photography.
Video and video autofocus – Video focus for this type of camera is far superior to that of a DSLR. With a DSLR the mirror needs to be flipped up to shoot footage, which means that the primary autofocus method is blocked. This makes a mirrorless option better for those who want to capture videos too.
Price – There are a wide range of prices ranging from budget mirrorless camera options to $1000 dollar options.
Last update on 2023-10-05 / Affiliate links / Images from Amazon Product Advertising API