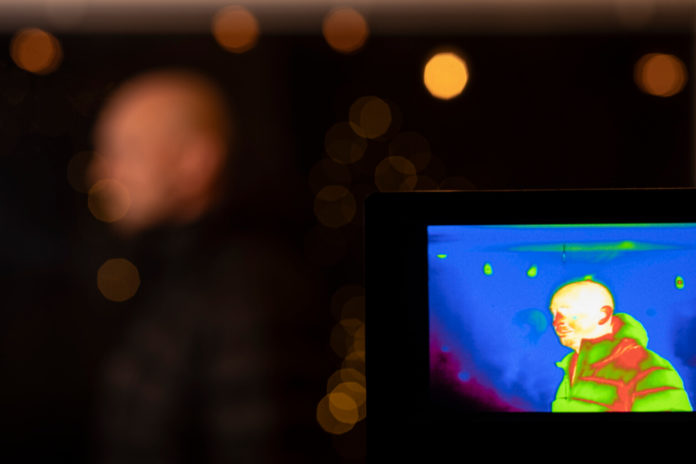 Thermal imaging cameras can be very useful for a variety of purposes and are no longer just for professional or military use. Most often, they are used in the home to identify sources of heat in order to save money on heating and electric bills, as well as finding problems. Thermal cameras allow an individual to work from a safe distance from any heat sources and give an accurate reading that could not be obtained otherwise.
The best thermal imaging cameras are effective in any lighting conditions, even darkness, and can also work in smokey conditions. The only time they can become less useful is when a surface is highly reflective, so do keep this in mind when using the camera. They tend to be easy to use, although professional users should read up to make sure they fully understand the information shown in the thermal images.
Considerations Choosing Thermal Imaging Cameras
If you are new to working with a thermal imager, there are a few things to think about to ensure you pick the best one for your needs.
Sensitivity
Look at the sensitivity of the sensor as this will tell you how accurate the infrared camera is. In this case, a lower number is better. For example, a sensitivity of -150mK relates to a camera with each pixel reading the temperature to the nearest 0.15˚C.
Pixels
The resolution of the image sensor in thermal imaging cameras is lower than you would expect on other types of cameras. The lowest resolution you might expect to find on a camera of this type is 80 x 60 pixels, which is sufficient to detect hotspots where necessary, but a higher resolution will give a more detailed picture.
Temperature Range
Check the temperature range in which the camera can operate and ensure it is sufficient for your needs. Most can operate from several degrees below freezing to over 300-400 in some cases.
Battery Life
Some thermal imaging cameras don't offer a very long battery life, which can prove problematic when it comes to using it over a long period of time. Other models offer several hours of use before recharging is necessary.
10 Best Thermal Imaging Cameras
Let's now take a look at some product reviews of the best of these cameras on the market today.
1. FLIR E4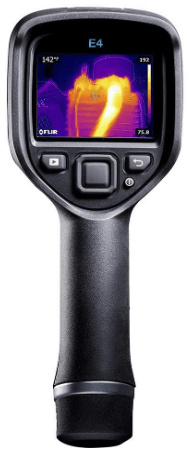 Resolution: 80 x 60 pixels | Sensitivity range: –15°C to 50°C | Sensitivity: 0.15°C | Dimensions: 3.70 x 5.50 x 9.60 inches
Our first pick is the E4 from FLIR, one of the best thermal imaging cameras if you are looking for one with many different modes. It offers center spot, auto hot, auto cold, and area box modes, so it can be used for a variety of purposes. The E4 is rugged and durable, having been drop-tested from a height of 2 meters. The camera is equipped with a 3-inch LCD screen and has a trigger to pull to capture an image. It comes with a rechargeable lithium ion battery and is Wi-Fi enabled.
2. FLIR C3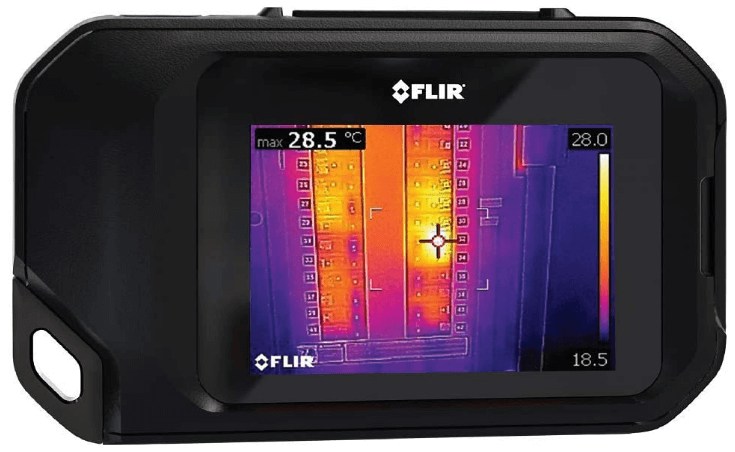 Resolution: 640 x 480 pixels | Sensitivity range: –10°C to 50°C  | Sensitivity: < 0.10°C | Dimensions: 3.1 x 1 x 4.9 inches
Our next pick is another from the FLIR range of thermal imagers, this time it is the C3. This pocket-sized, portable camera can be connected to a smartphone to display live imagery straight to your phone, using a Wi-Fi connection. It offers a high resolution, allowing you to see plenty of detail when troubleshooting problems with wiring or similar. The 3-inch touch screen auto rotates making this camera easy to use and easy to read at any angle. One particularly useful feature of the FLIR C3 is the picture in picture technology mode. This overlays a thermal image onto a digital image so you can clearly visualize where the problem lies.
3. Hti HT-18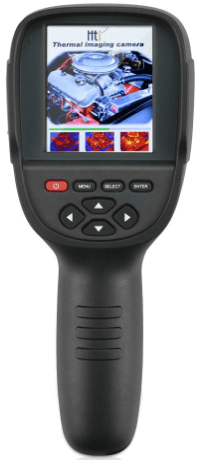 Resolution: 220 x 160 pixels | Sensitivity range: -20°C to 300°C | Sensitivity: 0.07°C | Dimensions: 14.57 x 8.82 x 4.57 inches
Our next best thermal imaging camera is Hti's HT-18, which offers a sharp resolution of 220 x 160 pixels. The LCD screen is quite large, at 2.4 inches, and can show the results in five different color schemes depending on how you prefer to view the data. Results are shown in real-time, yet images can also be stored for referring back to at a later date. The icons and controls are intuitive, meaning anyone can pick this camera up and start using it straight away without any training. This camera can be used at a distance of 0 – 40 meters from the subject.
4. FLIR TG165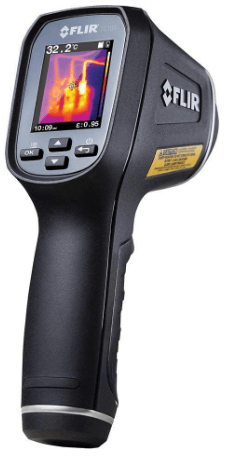 Resolution: 174 x 220 pixels | Sensitivity range: –25°C to +380°C | Sensitivity: 150mK | Dimensions: 8.3 x 2.5 x 3.2 inches
Our next high quality thermal imaging camera is another from the excellent brand FLIR. The TG165 is designed to be very easy to use – simply fire it up and you can start taking thermal images within seconds. It can be used to find hot spots up to a massive 380 degrees Celcius from a safe distance of at least 10 inches with the 24:1 spot ratio feature. There is an 8GB Micro SD card included to save images for later reference. The camera can also be mounted on a tripod using the attachment point on the bottom of the handle. It is a durable camera so can be kept in a toolbag amongst other equipment without getting damaged, and it is even drop-tested to a height of 2 meters.
5. FLIR ONE Gen 3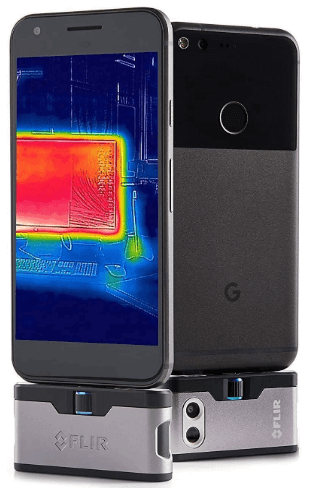 Resolution: 80 x 60 pixels | Sensitivity range: 20°C to 120°C | Sensitivity: 150mK | Dimensions: 2.64 x 0.55 x 1.34 inches
Our next compact thermal imaging camera is another from FLIR, yet this one is slightly different from our previous picks. It connects to an iOS device, instantly transforming your smartphone into a thermal imaging camera. It can capture temperatures up to 120 degrees Celcius, and the battery only takes 40 minutes to charge. Using a smartphone makes it easy to share your thermal imaging, so others can help diagnose a fault, or you can use it just for fun! The camera comes with a USB cable and a carrying case to keep it safe when it is disconnected from the phone. If you are looking for a simple, budget-friendly option, with a lower 80 x 60 resolution, you can't go wrong with the FLIR ONE.
6. Seek Thermal CompactPRO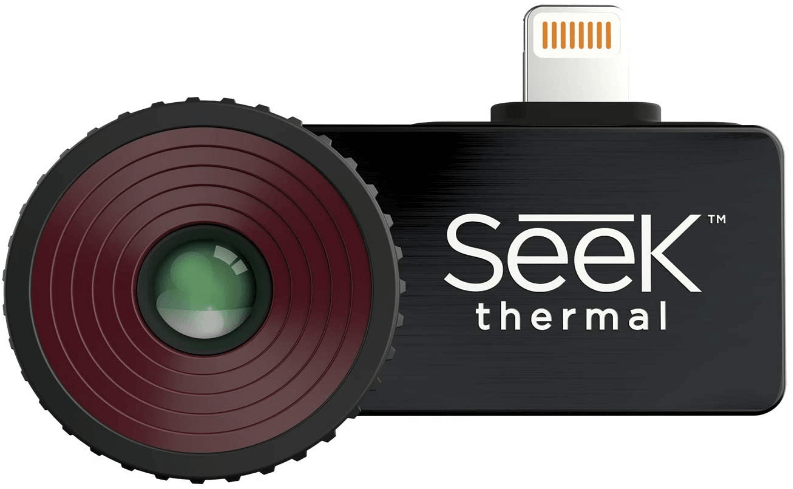 Resolution: 320 x 240 pixels | Sensitivity range: -40°C to 330°C | Sensitivity: 70mK | Dimensions: 0.80 x 0.60 x 1.60 inches
Here we have another of the best thermal imaging cameras to connect to a smartphone. The CompactPRO for Seek Thermal comes in three different options – iOS, Android USB-C, and Android MicroUSB, so there is sure to be something that is compatible with your device. It doesn't require any batteries – just plug it in and it's ready to use every time. It can detect temperatures at a distance of up to 1800 feet and has many different modes. These include spot, high-low, and threshold modes, and both photos and videos can be captured from this camera. It also has nine different color palettes and four emissivity presets so you can tailor it to suit your needs for the type of project you are working on.
7. Seek Thermal Revealpro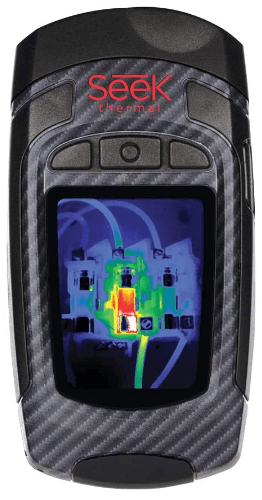 Resolution: 320 x 240 pixels | Sensitivity range: -40°C to 333°C | Sensitivity: <70mK | Dimensions: 1.50 x 2.00 x 2.00 inches
The Revealpro from Seek Thermal is a high-resolution camera suitable for professional or home use. It is ideal for problems such as heat energy loss, water leaks and damage, air leaks, hot and cold spots, electrical failures, and many more building problems related to temperature differences. The camera is equipped with a 300 lumen flashlight as well as a durable, rubberized casing to ensure it can handle some tough jobs. It offers a 32-degree field of view and a fixed-focus lens. There are nine different color palettes to show the temperature changes in the best possible way, and still images can be captured for later reference. A Micro SD card is included to help with this. The Revealpro works at a disance of up to 500 feet, so you don't have to make contact with the heat.
8. FLIR TG267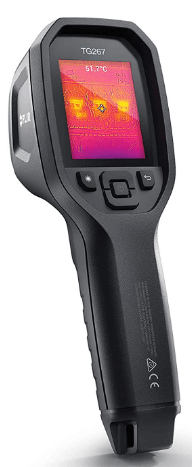 Resolution: 160 x 120 pixels | Sensitivity range: -25°C to 380°C | Sensitivity: <70mK | Dimensions: 8.27 x 2.52 x 3.19 inches
Our next thermal imaging camera is another FLIR, which has a good image resolution of 160 x 120. Like our other infrared cameras, it is simple to use, yet has some impressive features. It can be used to measure body temperature up to 42 degrees without contact, ideal for detecting fevers. Of course, it can also be used around the home or in the workplace thanks to the thermocouple probe connector which further increases the versatility of this model. The multipoint laser produces a circle to clearly show where the temperature is being measured.
9. CAT Phones S61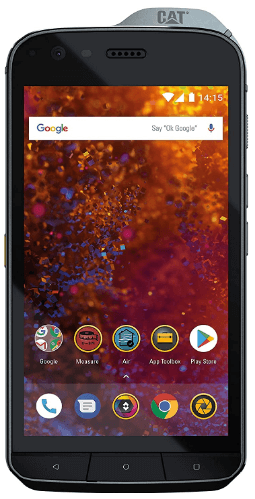 Sensitivity range: -20°C to 400°C | Sensitivity: mK | Dimensions: 6.18 x 0.51 x 2.99 inches
If you're looking for a phone that can detect temperature differences without an external device, look no further than the S61 CAT phone. The high resolution thermal sensor is built-in to this phone, so you get all the features of a Google smartphone as well as an excellent thermal imaging camera. It is very tough and durable, making it ideal for use in the workplace or during home inspections – it is waterproof at 3 meters for 60 minutes and resistant to sand, salt, pressure, and more. The CAT phone can even be used to measure air quality and humidity – it is so much more than just an infrared camera. It can detect a very high temperature range of up to 400 degrees Celcius, one of the highest temperatures on our list.
10. Parrot Anafi Thermal Drone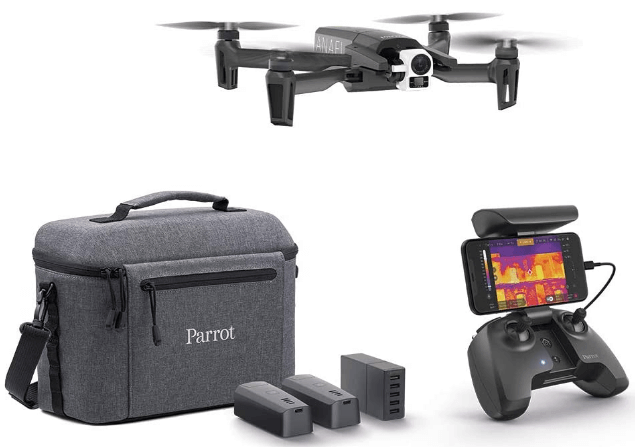 Resolution: 160 x 120 pixels | Sensitivity range: -26°C to 400°C  | Sensitivity: <50mK| Dimensions: 12.24 x 9.09 x 5.94 inches
The last of our products is slightly different – the Anafi thermal drone from Parrot. Not only is this a 4K drone with all the usual features you would expect to find, but it also contains a high quality thermal imaging camera. It comes with three batteries, each offering 25 minutes of use, and a 16GB Micro SD card to store images and videos. Picture in picture technology can be used to overlay the thermal image onto the RGB image to clearly show where any problems lie. The drone offers a wide field of view and has a 3x zoom to get closer to the subject if necessary. It might be the best thermal imaging camera in terms of temperature range, detecting up to 400 degrees Celcius.
Our Top Pick
After looking at ten great options, we have picked out the best thermal imaging camera overall. In this case, our favorite thermal camera is the FLIR C3. It offers an excellent resolution and great thermal sensitivity of 0.1°C. The compact thermal senor offers real time results either on the device or on a smartphone connected over Wi-Fi. The picture in picture technology is a very useful feature for showing both thermal and regular images at once.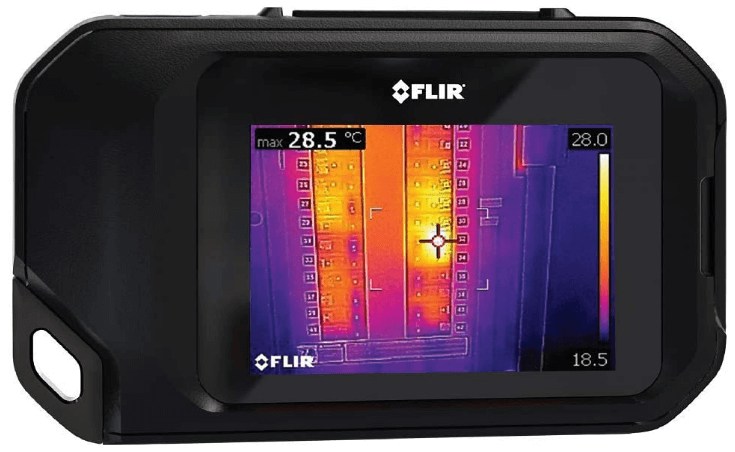 FAQs
If you still have some questions about buying these cameras, keep reading below for some more useful information.
How Accurate is a Thermal Camera?
Each model varies in accuracy. You can tell how accurate it is by looking at the sensitivity listed for each product – a smaller number means the camera is more sensitive and therefore more accurate.
How Much Does a Thermal Imaging Camera Cost?
Again, each camera varies in cost depending on the brand, features, sensitivity, and resolution. In many cases, you get what you pay for, with the more expensive models being more accurate and giving clearer images. However, for many non-professional users, it isn't always necessary to go for the most expensive model.