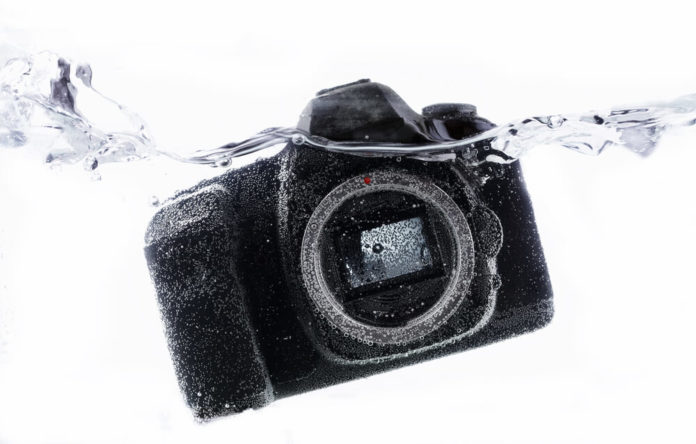 Wondering where to buy underwater cameras? How much are they and which one is the best? From Fuji, Nikon all the way to Olympus we have all the best brands with the latest features in this review.
Whether you're spending a day on the beach or you're taking part in regular snorkeling, it's great to know that you can still snap photos on a waterproof model. While many people are aware that there are tons of weatherproof cameras out there, it can be tricky knowing exactly which one to buy. If you've landed on this site while researching the best water camera available, the great news is that our list of options below has been compiled from a wide range of underwater camera reviews and of course, we've done some reviewing ourselves too.
The cameras that we've put into this list are capable of withstanding rain but beyond this, they can also be actively used to photograph underwater. Each comes with its own features and, while some can shoot at extreme depths others boast long zooming lenses making them great for professionals. Each camera will come with its own price tag so we've tried to include cheaper options for those on a budget as well as more expensive models.
Before we reveal our top 10 waterproof digital cameras, here is a handy list of considerations to help make the buying process easier.
Sensor and lens combination – This greatly impacts the quality of the image produced with a waterproof camera. Make sure that you check this out for each model that you consider.
Waterproof capability – Unless you intend to just splash around in shallow waters, you'll want to check out just how deep beneath the surface you can use your new cam. Some cameras come with more sophisticated abilities in terms of diving depths so it's wise to always check out this feature.
Zoom – As a general rule of thumb, underwater cameras come with fixed lenses and restricted zoom. If you want a camera that has a good zoom feature, you'll likely need to pay a bit of extra cash.
Built-in Wi-Fi – Perhaps you're looking for more features than just waterproofing. Lots of digital cameras come with built-in Wi-Fi which makes for easier editing and uploading. Think about whether this is important to you.
External housing – Underwater housing will essentially protect your camera while still giving full control over manual buttons. There are plenty of different types of housing available for cameras that need this, while others don't. Be sure to check.
Best Underwater Cameras
Let's dive in and present to you the top underwater cameras in 2021, here you'll find the perfect model to suit your budget and feature requirements.
1. Olympus Tough TG-6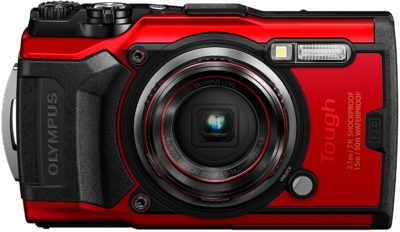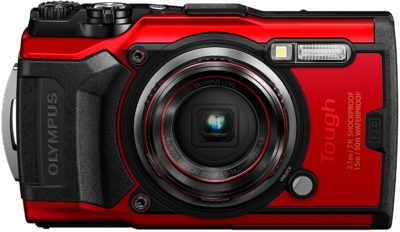 It's all in the name when it comes to this under water camera. The Olympus Tough TG-6 really is just that. Robust and reliable, the camera has evolved physically with a few changes present from previous models. Available in both black and red, it measures 2.6 by 4.4 by 1.3 inches (HWD) and weighs 8.8 ounces. The cam's lens sits in the center of its body meaning there is significant room for a mounting ring, accessory lenses and flashes. This feature alone makes it particularly appealing to professional photographers. You can get hold of fish-eye lenses from the Olympus store if you want to apply such effects to photos. Overall, this camera is a solid choice when it comes to a model that can be used in water. It produces excellent image quality thanks to its 4x optical zoom and is suitable for a depth of up to 15 meters. Additional features include built-in Wi-Fi, Pro Capture Mode and GPS for a well-rounded waterproof digital camera.
2. Fujifilm Finepix XP140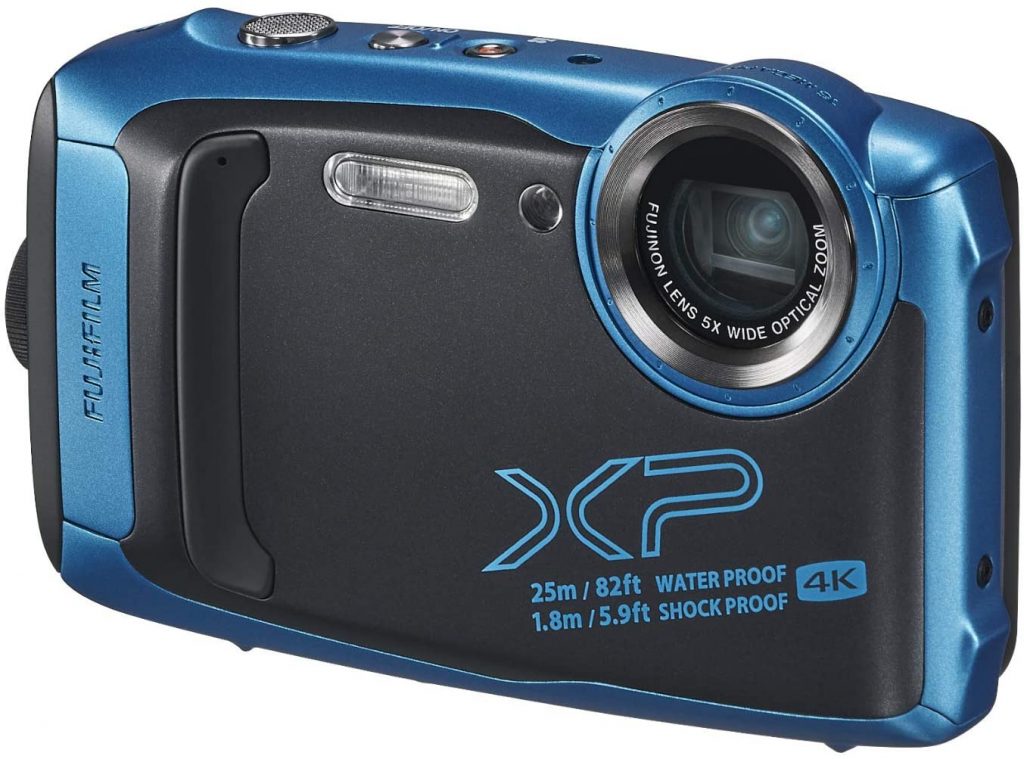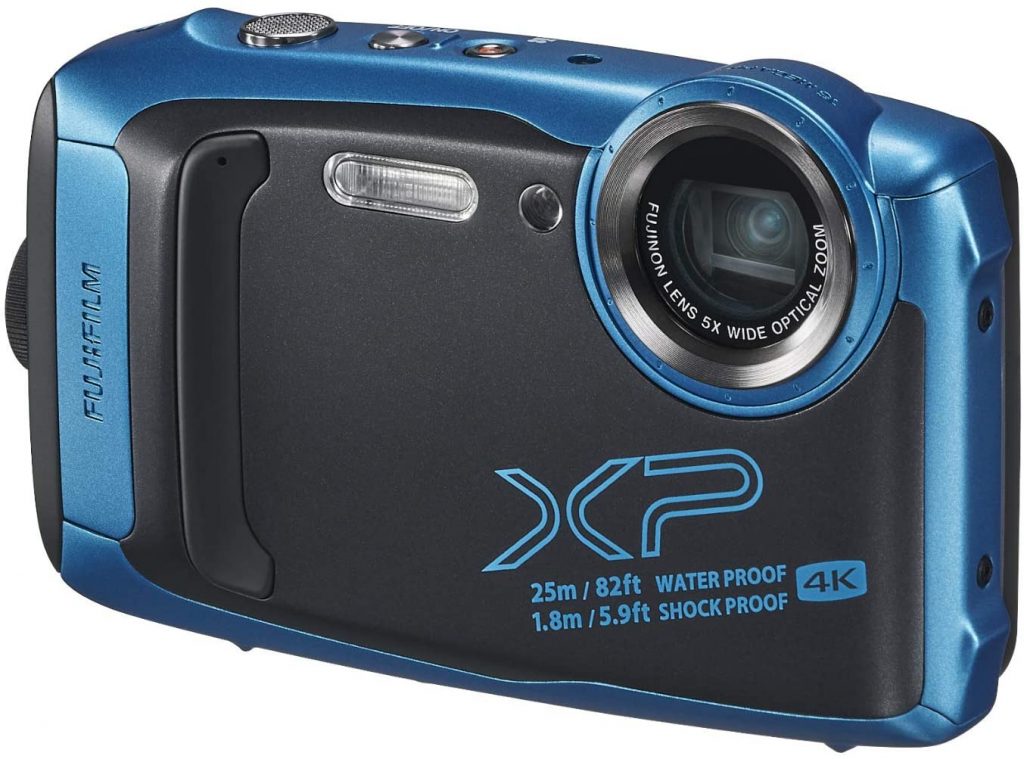 The new family-friendly compact camera really can withstand all the elements. The FinePix XP140 features a 16.4 million pixel 1/2.3-inch image sensor with a 5x optical zoom lens (28-140mm equivalent). This camera has been updated and boasts Bluetooth connectivity, eye-detect auto-focusing and an electronic level gauge. Waterproof up to 20 meters and shockproof from a height of 1.75 metres, the Fujifilm FinePix XP140 really offers excellent value for money. Users can also take advantage of the 4K UHD video recording option too. Easy to use and with great battery life, this is an ideal camera for those looking to spend less on this category. Consistently rated as one of the best water resistant cameras, you won't need to spend a fortune to get your hands on this nifty gadget.
3. SeaLife DC2000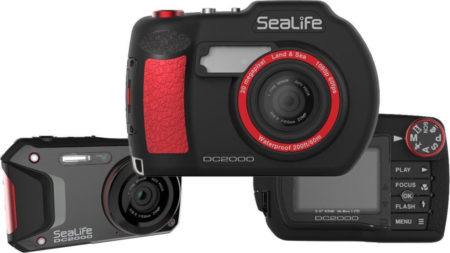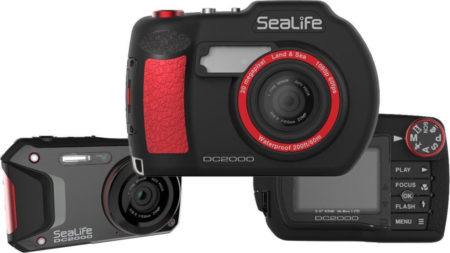 While SeaLife doesn't have a huge following when it comes to camera products, if you're seeking a professional good waterproof camera, look no further. This cam features an f/1.8 prime lens that is backed by a large 1-inch, 20MP image sensor. For a bargain price, the camera also includes underwater housing allowing it to go up to depths of 200 feet. The model is great for professional photographers seeking a water camera that is built with care and ticks all the boxes when it comes to capturing images. However, for those that are looking for a large zoom capacity, the SeaLife DC2000 is pretty limited in this aspect. With that said, the camera is still nonetheless one of the best value-for-money options out there and is designed especially for deep diving.
4. Canon PowerShot D30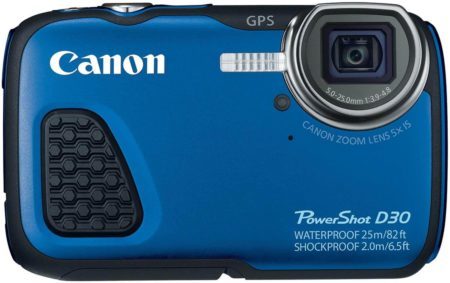 The Canon PowerShot D30 consistently ranks high as an inexpensive waterproof camera. It features a powerful (hence the model's name) lens with a 12-megapixel image sensor and image processor. It can survive water pressures of 82 feet deep, making it an excellent choice for diver photographers who want a reliable, robust camera to take with them. The sharp 5x zoom lens creates excellent quality images and the camera can also capture video too. Its slow-motion video mode is an excellent feature for anybody looking to get experimental with their creativity. This canon waterproof camera also comes with built-in GPS and Wi-Fi making it easier than ever to directly upload photographs and video content. All in all, if you're looking for great value for money and want peace of mind when it comes to brand – The Canon Powershot D30 is definitely worth considering from this list.
5. SeaLife Micro 3.0 WiFi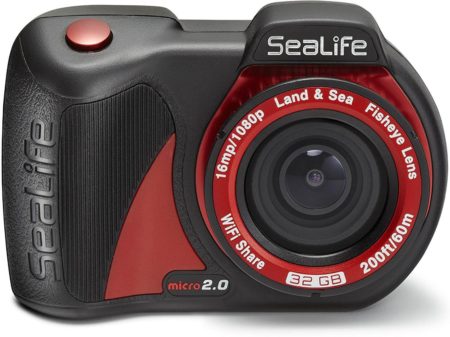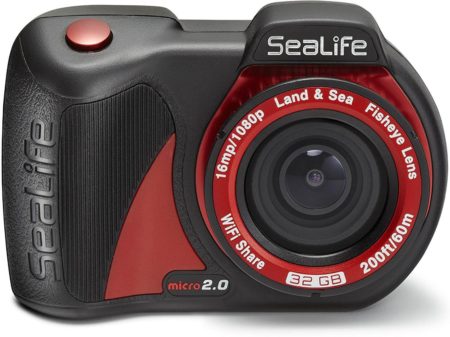 The SeaLife Micro 3.0 is waterproof up to 200 feet, has built-in Wi-Fi and easy press controls for ease. The ultra-wide lens shoots 1080p60 videos allowing the user to get close to their subject. Appealing for professional scuba divers who want to take photos without limiting their technical diving, this model's lens makes it easy to do so. While you'll need to invest in buying an external light for deep dives, this camera has plenty of perks when it comes to design. Completely sealed with no external ports or doors, the cam can be taken down to extreme depths and is small and lightweight at 2.1 by 4.2 by 2.9 inches (HWD) and just 9.4 ounces. You won't have to buy an expensive external housing to photograph at extreme depths and its capability to survive the harshest conditions makes it one of the best water proof cameras out there
6. Nikon 1 AW1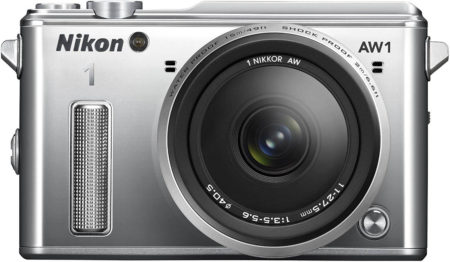 The Nikon 1 AW1 may be on the higher end of the price range, however, it is the first of its kind. The interchangeable lens digital camera really stands out amongst other similar products. This waterproof professional camera can survive depths up to 49 feet and is durable enough to survive drops of 6.6. feet! Quite impressive for such a compact gadget. Like the other cameras in the Nikon 1 mirrorless system, the AW1 has a speedy performance making it convenient to use despite the manual controls being very detailed. With this camera, you'll benefit from amazing quality photos thanks to a 1-inch, 14-megapixel image sensor. For those that want an unlimited diving photography experience, this cam has plenty of appeal. Its rugged design, integrated GPS and high ISO performance make it a sure winner in this category of camera.
7. Nikon Coolpix W100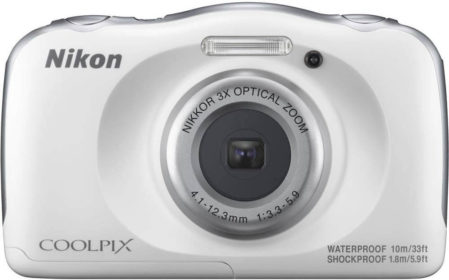 The Nikon Coolpix W100 comes in as one of the best waterproof point and shoot cameras. Easy to use, great value for money and featuring waterproof capabilities up to 33 feet, the camera may just impress you as much too. We're huge fans of the various filters and the Scene modes which make this camera a great beginners choice. Rugged and built well, the camera can withstand virtually anything that is thrown at it. The camera's Wi-Fi and NFC are included to give a seamless image transfer option. While the W100 is equipped with a generous zoom lens, the price you pay is indicative of image quality to expect. For a standard point-and-shoot that can be used under water, the camera may serve as the perfect option. This camera is certainly one of the best inexpensive underwater camera options out there and is a great addition for family holidays and hobbyists who want to experiment with photographing in aquatic environments.
8.  GoPro Hero6 Black
Just about everyone has heard of the infamous GoPro. Renowned for their portability and ability to capture photos and videos on the go, if you're yet to buy one, this could be the perfect opportunity. Action cams are a great choice when it comes to searching for the best waterproof cameras and the Hero6 does not disappoint. At the top of its class, the small gadget is versatile in a number of ways. Offering 4k video recording at up to 60fps, image stabilization on this cam is super impressive too. Waterproof up to 10 meters without the need to purchase external housing, all types of users can have fun with this awesome camera. Making it to the top of beach camera reviews, the GoPro Hero6 is popular amongst surfers, who are able to buy specially designed surfboard mounts and floaties to capture footage. The built-in Wi-Fi and Quickstories app allow you to create highlight reels of adventures on the go. This portable camera is certainly worth considering if you're seeking a raw format cam with zooming capabilities to get closer to the action.
9. Leica X-U (Typ 113)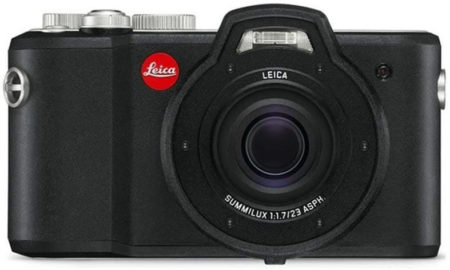 The Leica X-U Typ 113 is one of the best quality cameras you'll find out there for aquatic environments. Waterproof up to 49 feet and shockproof up to 4-foot drops, this cam really ticks all the boxes and more. With a grippy rubber exterior, it's easy to handle and comes with a cold shoe accessory mount. The bright f/1.7 lens and sharp rear display mean that excellent image quality is guaranteed while the APS-C image sensor provides a strong manual focus experience. Having taken the X (Typ 113) and revamped it with an improved waterproof body, the X-U Typ 113 really deserves its high ratings.  Most underwater cameras feature small sensors that limit image quality, putting this model high in the ranks. While this camera is more on the expensive side and certainly will require a bit of financial investment, you'll reap the rewards with the selection of features it boasts. This is all around a good camera for pictures and video under the surface of the water and will leave you thankful you paid that little extra.
10. Panasonic Lumix FT7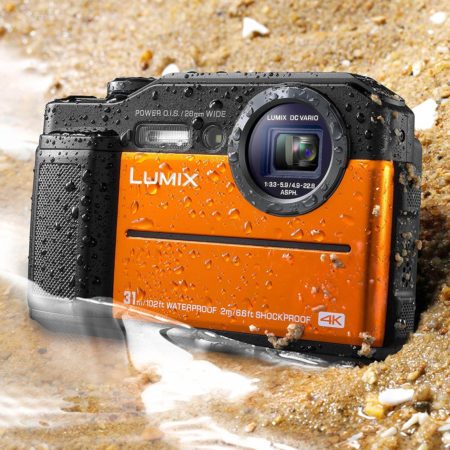 If you're on the hunt for Panasonic's latest compact camera that also boasts underwater capabilities, the Lumix FT7 could be the model for you. With a rugged body designed for withstanding harsh aquatic environments, the cam can be used to shoot in a wide variety of different conditions too making it ideal in all ways. Able to be used at depths of 31 meters, and shockproof from a height of 2 metres, this camera has been designed to last! The 20.4 megapixels Live MOS sensor and 4.6x optical zoom lens, with an equivalent focal length range of 28-128mm results in excellent image quality. This camera has stepped up from its predecessor, the FT5 with an electronic viewfinder. Additional features include Wi-Fi connectivity built-into the device, 4k video shooting and 4k photo modes, filters, geo-tagging and other adventure-based bits too including a compass, altimeter and torchlight. Available in 3 different appealing colors, this camera is great value for money and stands out in lots of ways.
What Is The Best Waterproof Professional Camera?
As with all products, there really isn't a right or wrong answer when it comes down to the best option there. Cameras are used by professional photographers and hobbyists alike, which can make it very hard to draw a top digital water proof camera from the list above.
Most professionals will be seeking a certain calibre of features and, respectively they'll pay the price tag too. Some of the more expensive options in our list such as the Nikon 1 AW1  are excellent choices for those seeking zoom capabilities and HD video capturing options. Well-known brands typically cost more than their lesser-known counterparts and this is also very true when it comes to photography equipment.
There are lots of awesome cameras that won't burn such a huge hole in your pocket but are still excellent options. To make sure that you're snagging yourself a good deal, look at battery life, depth capability and lens/zoom too. The GoPro Hero6 is a fantastic underwater camera and takes raw photos and footage. While you may be seeking a long list of fancy features packed into a typical camera body, don't dismiss the likes of such action cameras as they can do the job very well.
In this waterproof digital cameras review, we've brought together all of the cams in the category that consistently rank high. You can have total peace of mind knowing that any of the above options are excellent cameras.
How Much Should I Spend On A Camera That Is Waterproof?
If you're wondering just how much you should set aside to spend on your new underwater cam, there are a few things worth considering before planning a budget. First of all, there will be a stark difference in budgets between beginners and pros. Deciding how much to set aside for your new gadget will really depend on a few things:
Usage – How often do you intend to use your new camera? If you're a hobbyist, you may only get out and about with your gadget from time to time. Whereas some professional photographers such as scuba divers may be using their camera every day.
Features – What features are you looking out for? You'll likely already have a clear idea of the features that you need to prioritize, however, the more you want the larger the price tag you'll have to pay usually.
Purpose – Again, if you're a student or someone who is trying water photography for the first time, you may not wish to spend heaps on a new cam. Rather it's always wise to start out with a cheaper model before upgrading to a more fancy option.
Compact Waterproof Cameras VS Interchangeable Lens
For those that are new to photography or aquatic photography, you may be seeking further guidance when it comes to the types of cams available. Each type of camera comes with its own set of pros and cons. And, while a lot of reviews are submitted subjectively for products they can still help to give a better idea of what is suitable for you.
Compact digital cameras come with one lens fixed to their body, whereas mirrorless and DSLRs use interchangeable lenses. When photographers initially start out with underwater images, they generally choose a compact option. Far easier to use, these cameras can be both robust and reliable while capturing excellent image quality. However, after a while, a jump to a DSLR or mirrorless option is generally made. This is because photographers have more flexibility with this type of advanced cameras and switch up lenses to better focus on their subject.
With that said, a compact camera can rival a DSLR when in the right hands. There are plenty of advantages to saving and choosing a compact. While you won't benefit from interchangeable lenses, lots of the cameras above boast excellent zoom capability and image quality that may just take you by surprise.
Do I Need Full Manual Mode On A Compact Camera? 
For those that are considering buying an external strobe, it is best to choose a camera with full manual controls. The majority of the time, when using an external strobe, it's super helpful and convenient to have complete control over how much ambient light can be let into a camera. While exposure compensation can be applied to accomplish this effect to a degree, manually setting the shutter speed and aperture is the best way to control the light to create optimum image quality.
Should I Buy A Used Water Proof Camera? 
It is perfectly fine to buy a used camera, however, you will likely be compromising on quality and of course, the older the camera the more obvious this will be. For those that are buying a waterproof camera on a budget, a used cam could be the way to go. There are tons of trusted online sites where you can purchase second-hand goods. Amazon also stocks used cameras for those that are interested. For mechanical cameras, it's a good idea to check the number of actuations (shutter clicks) by getting a jpeg file from the camera and using an exif viewer.
Do I Need Underwater Housing For My New Camera?
Once you've bought your new camera for under water, you may decide that you want to invest in extra protection. Underwater housing units allow you to dive into depths comfortably knowing that your cam won't be damaged by pressure without affecting the quality of images you take. These enclosures are compact and lightweight and intend to replicate the feel of the camera in your hand. This means that you can still use manual controls as normal even when deep under. You'll find that the buttons are placed in the same area as the cameras would be and, housings are designed for intuitive use for easy operation.
If you're wondering whether you need to invest in an underwater housing for a new camera – we would always suggest doing so. There are tons of affordable options for the range of cameras available in this category and you'll be able to use your new camera with confidence in any environment you wish! Some housings offer additional features such as dual fiber-optic ports for connecting optional external strobes. And, others boast accessory ports too for extra flexibility when it comes to photographing in water.
Last update on 2023-12-06 / Affiliate links / Images from Amazon Product Advertising API