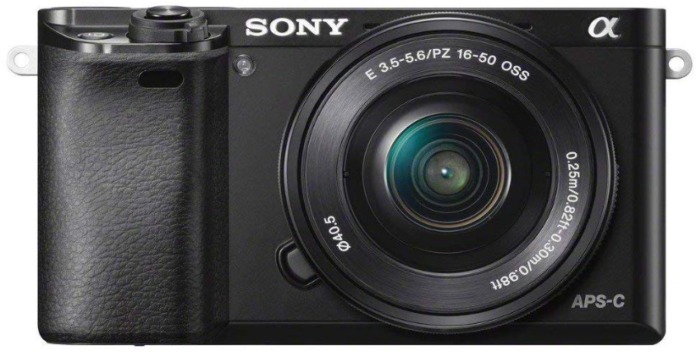 Sony has introduced the new Sony A6000 into their range,  with the older NEX line getting 2 of its models discontinued, the NEX-7 and NEX-6. For the owners and users of these models, Sony expects to have the perfect replacement with the NEX-7 upgrading to the A7 range and the NEX-6 having the A6000 meeting all the needs of that camera sitting as the top camera in Sony's APS-C line.
With a sleek and small design, there are a lot of familiarities to the A7 in terms of the look and feel of the camera. This DSLR camera has a 24.3 million pixel APS-C CMOS sensor competing with the likes of Fujifilm, Olympus, and Panasonic cameras in the ranges. Recently it has dropped in price putting it against more entry-level DSLRs and beginner mirrorless cameras and although we do see it as one of the best cameras for beginners due to its price there is actually a lot more power than the competitors on the market.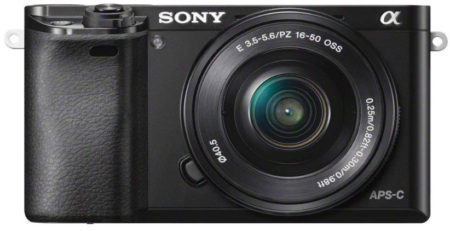 To this day the Sony A6000 is still one of the best mirrorless cameras due to the performance it delivers, the longevity of the camera, and ultimately the value for money the camera gives is way above different cameras with a similar price tag. One of the best Sony cameras out on the market and even with newer models being developed we believe this camera is going to stay as one of the must-have products from Sony.
Considerations When Choosing The Sony A6000
Video – The video capability when it comes to quality produces amazing captures in the A6000. It is a shame there is only a max of 1080p capture rather than ultra HD of 4K quality. The 1080p is still HD but with other cameras offering the extra quality this could be something to think about.
Touchscreen – Touchscreen availability is not included in this camera, it is not much of an issue as there are lots of control buttons that are fully customizable but things such as autofocus would be a little easier and quicker with this functionality.
Budget – In today's market there are a lot of different options when it comes to buying mirrorless cameras. the A6000 is a powerful camera for the price tag it has been given and is mainly lower because of the lack of 4K video capture quality. So for the money, this camera is a great option, but maybe not if videography is what you are mostly focusing on using this camera for.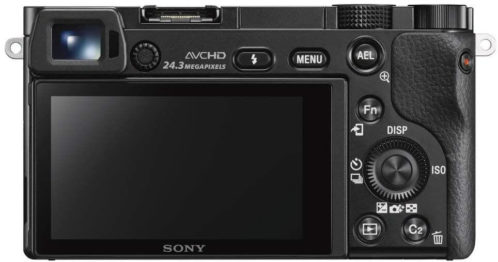 Sony A6000 Camera Review
Specifications
There are a lot of high specifications that feature in the A6000 making it a powerful camera for its size and price tag. The sensor is a 24.3 million APS-C CMOS sensor providing high-quality photos with a focal length conversion of 1.5x. The memory card available is an SD card which is great as they can hold lots of storage and are easy to come by. There is an electronic viewfinder that is 0.39 inches in size and features 1,440,000 dots within it. The video shoot HD capture with a max of 1080p quality, there is an ISO range between 100 and 25,600. Autofocus points vary with 179 phase-detection points and 25 contrast-detect points. For burst shooting, there is a max burst rate of 11frames per second which is amazing for a camera in this range. The LCD screen is a good size measuring 3 inches and having 921k-dot tilting ability enabling it hard to reach angles of shooting easier.  The shutter speed is great at 1/4000-30 seconds. The overall weight of the camera when it has the battery and memory card included is only 344g and isn't too bulky of a camera with dimensions of 120 x 66.9 x 45.1mm The camera is powered by a rechargeable lithium-ion battery which performs to a very high standard.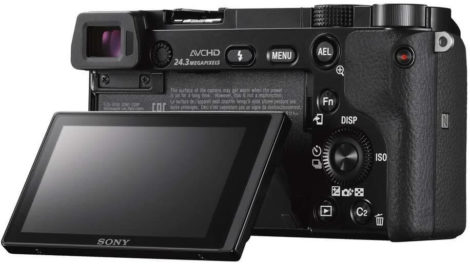 Key Features
When the Sony A6000 was released back in 2014 the 24-megapixel APS-C sensor was state of the art with only a few cameras seen with it, and only a couple APS-C cameras have improved on this even now. There are 179 phase-detection autofocus points in the image sensor, and also 25 contrast-detection AF points that work with the auto-focussing system on the camera. Even in today's market, the DSLR camera feels very responsive with few cameras improving on the APS-C sized sensor that is used n the A6000.
The tilted screen that is on the back of the A6000 is an LCD screen that is joined with an electric viewfinder. The 0.39-inch, 1.4 million dot device is the same. technology that is found on the first edition of the RX10 premium bridge camera, but this camera has the addition of built-in Wi-Fi and NFC.
There is a standard kit that the A6000 comes bundled with that is the same package that was found on the A5000. The lens is a 16-50mm f/3.5-5.6 power zoom. You can also purchase this amazing DSLR camera for beginners as a body-only camera going you more freedom in choosing your own lens, out of the massive range of E-mounted lenses that are available. The ideal lens for this camera is probably the Zeiss 16-70mm f/4 optic, but this is an expensive option actually a fairly bit more than the camera is on its own.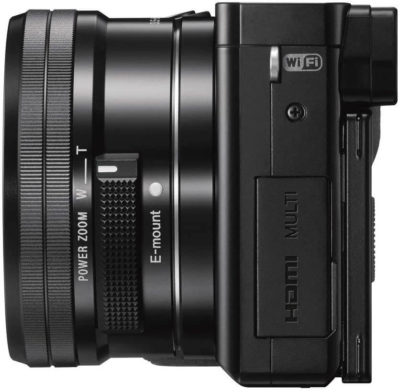 Build And Handling
There are loads of controls available on this camera so if you are someone that appreciates a lot of dials and buttons then the A6000 could be the camera for you. Just like most Sony camera's these controls are fully customizable making them easy to adjust to suit your style of photography.
When it comes to the grip of the camera the A6000 is easy to hold, having just a slightly raised area, although when a larger lens is fitted such as Sony's 18-135mm f/3.5-5.6 the camera begins to feel a little front heavy. This is accompanied by a nice texture that is on the entire camera giving an overall good feel to the device. There are 2 different dials on the top of the camera, one that alters the shutter speed or aperture, depending on the mode you are shooting in, and also one for controlling these shooting modes going from automatic, semi-automatic, and manual.
There isn't a touchscreen featured on this camera so the autofocus setting point is sometimes a little difficult. This is where the customizable buttons come into play with it being easy to assign this task to one of them.  If you want to make things easier for yourself you can set the focus area to flexible spot. Doing this enables you to press the button in the center of the scrolling dial which will bring up the focus point selection option. From this, you can use these directional keys to move around the screen, but it is worth mentioning that this button is the default option when the A6000's flexible spot is selected so if you have anything see set to it through your own customization then it will not work in the same way.
For awkward angles, the screen, although not a touchscreen tilts which is a great feature for shooting in those hard to reach places or to even get away from possible screen glare. A downside to the camera is the viewfinder. Usually bright and clear apart from when being used in broad daylight where it is easily lost in the glare. Another down point to this is that it is a 'wide' screen, so when shooting in regular 3:2 aspect ratio for stills it doesn't use the entire screen width making the actual screen feel cramped and tight.
By today's usual standard the 1.44m-dot EVF has a low resolution but still does the job pretty well, and it is also great to find an APS-C mirrorless camera at this low price with a viewfinder featured on it.
Unlike a lot of modern cameras, the A6000 doesn't have a front-facing screen or 4K video capture as it is restricted to full HD at 1080p but when this camera was launched that was the norm of other cameras from this time. Although if you are a stills photographer this mirrorless beginner camera has everything you could need, even in today's market. The 11fps continuous shooting speed is particularly impressive.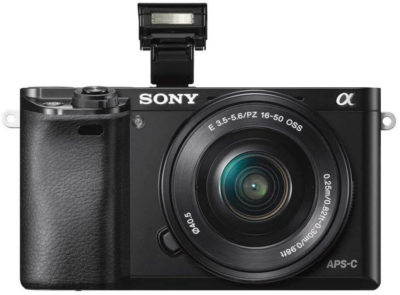 Performance
The compact systems that Sony has produced are some of the most interesting found on the market, especially the ones found in the A6000 series, which was all started by the Sony A6000. Even b the standards of modern cameras the A6000 mirrorless camera performs to a really high standard with its sharp images that have beautifully saturated colors. You can adjust the look of JPEGs straight from the camera with the adjustable creative styles. These styles are available as pre-stored settings making them easy to find.
Image smoothing on the new Sony A6000 only becomes a problem for normal printing sizes with shots taken at around an ISO level of 3,200 or above as the detail is rendered very well by this amazing DSLR camera. When examining images at 100% from ISO 1,600 and upwards some areas of the image will be found to have a painterly effect on them but overall the effect is great. Due to the 6 years, it has been around, the high ISO quality of the A6000 is an area where the camera begins to fall behind.
Exposure is tackled really well with the camera's metering system although sometimes it struggles in situations with high-contrast. This is where you will need to dial in some exposure compensation. Likewise the. automatic white balance is a superb performer but when under some artificial light sources it can be confused a little. Autofocusing speeds are really fast in good light, but drop as the light levels drop. This is a shame but the camera only struggles to lock on at all in the darkness of conditions.
The lens that comes in the started kit is a 16-50mm f/3.5-5.6 lens and is a great all-rounder to get to grips with the camera. The lens is compact, but what you gain in this you lose in image quality. If you really want to see the A6000s full potential then replacing the camera with a different lens could be very beneficial. The Sony 18-135mm f/3.5-5.6 long-zoom lens is a great choice, although losing the compact size makes the camera feel a little front heavy.
For a mirrorless camera, the battery life on this camera isn't that bad, but it is recommended to bring a spare with you if you are traveling or going on longer outings.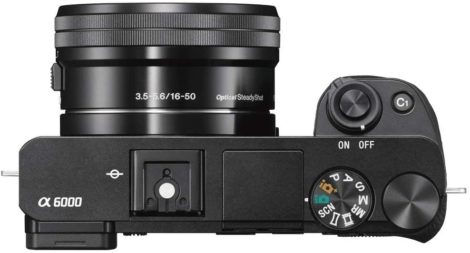 Verdict
A camera that was launched in 2014 is most likely not going to be able to compete with some of the monsters that are available on the market today, and it is true that the spec on the A6000 looks clearly older compared to what is available now, but only in a few distinct areas. Cameras of today mostly include 4K video capture, which will only bother you on the A6000 if you want to shoot video with it, although 1080p HD video is still very good quality. There are also more advanced AF systems on newer cameras, but for most people out there the AF is more than good enough for your day to day usage. This was an advanced system in its day and still holds up in today's climate.
The main key to the Sony Alpha A6000 mirrorless camera and what has kept it relevant is the price tag. Each year the price has steadily dropped and Sony has kept it on sale. So if you are in the market for a low-cost mirrorless camera that is going to perform way better than what is suggested of the price tag then the A6000 should be the camera for you, a strong versatile little machine that will hopefully keep getting produced year after year.