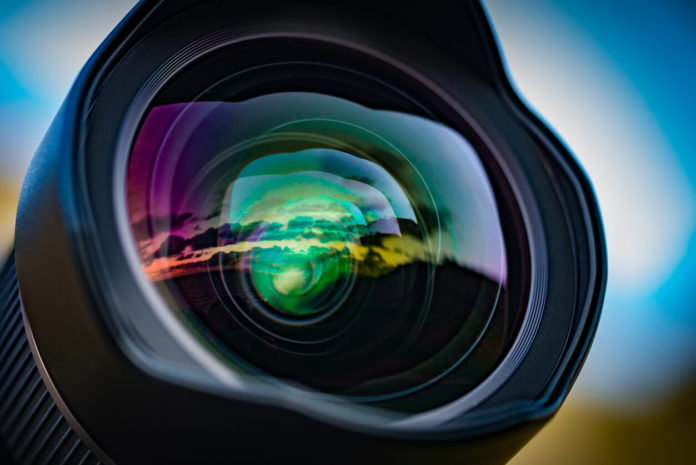 If, after reading the Sony a6500 camera review, you have decided this is the camera for you, you'll probably be wondering which lenses you should buy to go along with it. There are a lot of great Sony lenses out there, and the one you should buy really depends on what you are going to be shooting, as well as your budget. Now, the a6500 is quite a small and compact camera, so you'll probably want to choose one of the smaller a6500 lens options in order to keep the compactness of this mirrorless camera.
In this guide, you will find a range of lenses suitable for different types of photography, ranging from versatile zoom lenses to wide-angle primes, and everything in between. Keep reading to find our top 10 best lenses for a6500 to go with the camera.
Considerations Choosing Lenses for Sony A6500 Camera
With so many different lens options all competing to be one of the Sony a6500 best lenses, there are a few things to consider to help choose the one which is best suited to your needs.
Purpose
The first thing to consider when buying camera lenses is what type of photography the lens will be used for, as this will strongly influence which Sony a6500 lens you should choose. Look at the focal lengths, which will show how close up to the subject you can get with the lens. All check out the maximum aperture, the small this number, the better the lens will perform in low light conditions. This is ideal if you will be shooting at indoor events with limited natural lighting.
Fit
It goes without saying, but double-check your chosen lens is compatible with the a6500 camera body. This camera uses the Sony E-mount system, and every lens we have chosen in our guide below will fit the a6500. However, as mentioned in the introduction, this is a small camera, meaning larger lenses can throw it off-balance somewhat, especially when shooting handheld. In order to avoid these problems, it might be preferable to choose a more compact and lightweight lens, or consider using a tripod when shooting with a larger lens.
Budget
Lenses come at a variety of price points, and some third-party lenses may be cheaper, or more expensive, than the Sony equivalents. It is worth factoring in the cost of any lenses you wish to buy when purchasing the camera body, as the lenses can cost as much as, if not more than, the camera itself.
Image Quality
Every photographer wants to create sharp images, and a good lens goes a long way in helping with that. Look for one with image stabilization, and also keep in mind that prime lenses tend to be sharper than zoom lenses.
Best Lenses for the Sony A6500 Camera 
Without further hesitation, let's now take a look at some of the best Sony a6500 lenses on offer.
Macro Lenses
1. MEKE Macro 85mm f/2.8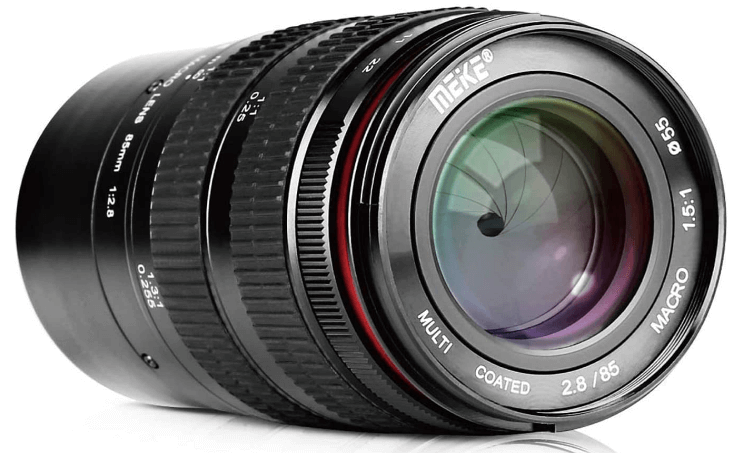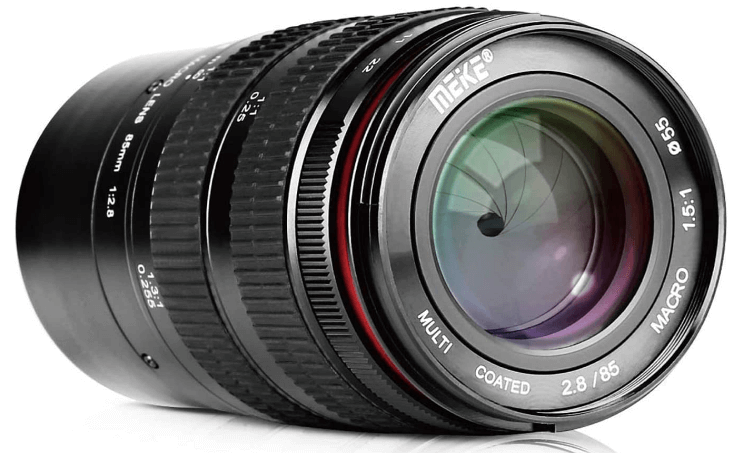 Our first pick is an 85mm prime lens which is ideal for portraits, yet specializes in shooting macro images. You might be surprised to find one of the best Sony a6500 lenses is not manufactured by Sony, but this lens has some excellent features and deserves a spot on our list as the best macro lens for Sony.
It offers a maximum aperture of f/2.8 to give a nice bokeh effect in the background, which looks great both in portraits and in close up macro shots of insects and tiny objects. The lens features a macro ring giving a maximum magnification of 1.5:1. It is made entirely from metal, so it has a premium look and feel, weighing in at around 500g.
The lens has 12 diaphragm blades and 11 elements in 8 groups. It should be noted that this is a manual lens, so it can only be used in the Sony a6500's manual mode. This means it might not be the best choice for beginner photographers who will probably prefer using autofocus until they have gained a bit more experience. However, if you are a more experienced shooter looking for macro and portrait lenses, this is an excellent buy.
Travel Lenses
2. Sony 35mm f/1.8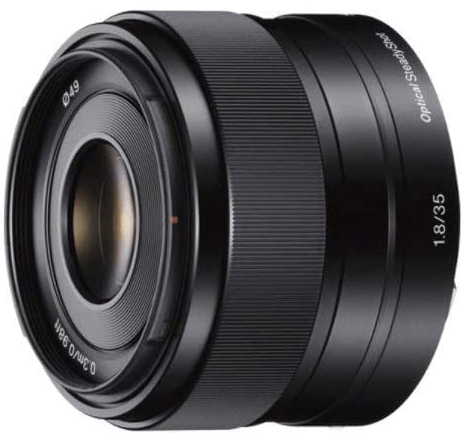 There are a few contenders when it comes to finding the best prime lens for Sony a6500, and this Sony 35mm is amongst them. The 35mm focal length means this is a versatile lens that can be used for shooting a variety of scenes. It also has a fast maximum aperture of f/1.8 and therefore performs well in low light situations. So, it is an ideal travel lens if you are looking for something lightweight and versatile.
The minimum focus distance on the Sony 35mm is 0.99 feet and it offers a magnification ratio of 0.15x. There is built-in image stabilization in the lens and it offers corner to corner sharpness. The autofocus is fast, accurate, and silent, so it is ideal for when you don't want to disturb your subject. It also offers manual focus if you prefer to take more control or can't find the subject using autofocus.
The angle of view with this lens is 44 degrees and it is popular amongst those shooting movies. The bokeh produced by this lens has a soft and natural look thanks to the circular aperture. This is a high quality and versatile lens which is sure to see plenty of use.
3. Sony 18-200mm f/3.5-6.3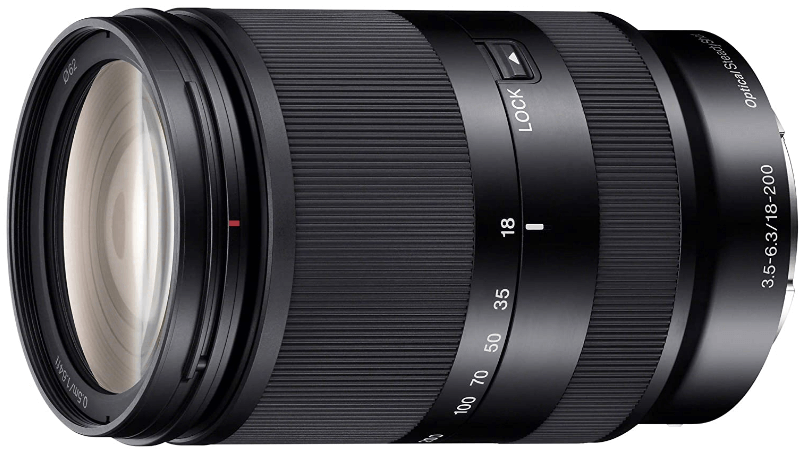 A zoom lens is a great choice for travel as it allows you to adjust the focal length. Although it is often bulkier on the camera and heavier to carry, a zoom lens offers more versatility when composing different types of shots. It can be used as a wide-angle lens at 18mm for capturing more of landscape shots or zoomed in to the telephoto end for close-ups of more distant subjects.
There is an image stabilization system to help reduce the effects of camera shake when shooting handheld at higher zoom levels. The minimum focus distance ranges from 0.99 – 1.54 feet depending on whether the lens is being used as a wide-angle or telephoto. This zoom lens weighs 16.3 ounces, making it one of the heavier picks on our list. It features a circular aperture and extra-low dispersion glass in order to minimize the effects of chromatic aberration at longer focal lengths.
Prime Lenses
4. Sigma 30mm f/1.4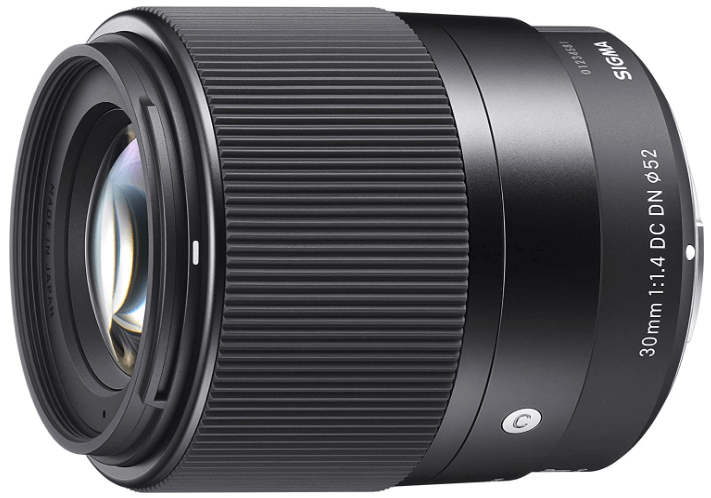 When looking for the best Sony a6500 lenses, you'll probably want to consider a prime lens. This 30mm f/1.4 from Sigma is a great choice. Whilst this is a budget lens, coming in at under $300, don't let the price tag fool you – this lens has excellent ratings. It is designed for use with mirrorless APS-C cameras, so it will be no surprise that it performs very well on the Sony a6500.
With nine rounded aperture blades and a very fast aperture of f/1.4, this lens is great for creating a beautiful, natural bokeh effect on your images. You can also achieve a very shallow depth of field at this aperture. The 30mm focal length is quite versatile – it is perfect for street photography, portraits of people and pets, and even for astrophotography. The photos taken by this lens are sharp and it is very quick to autofocus.
5. Sony 50mm f/1.8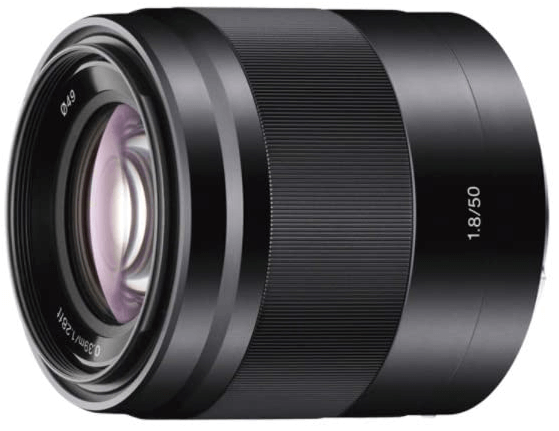 Our next prime lens is the 50mm Sony lens E, with a maximum aperture of f/1.8. This one comes in a choice of two colors, either black or silver, although the camera body is only available in black. There are seven rounded aperture blades on this camera, so again you get a natural defocus effect in the background of your images. The aperture range of f/1.8 – f/22 means this camera is ideal for shooting in low light situations, but can also produce a wider depth of field when it's brighter.
This lens is lightweight, at only 7.2 ounces, so it is a good choice for travel, too. The minimum focus distance is 1.28 feet, and the maximum magnification ratio is 0.16x. The angle of view with this lens is 32 degrees and it comes with a lens hood. Aluminum alloy is used for building this lens, so it has a premium feel and is a great mid-range option.
6. Sony 85mm f/1.8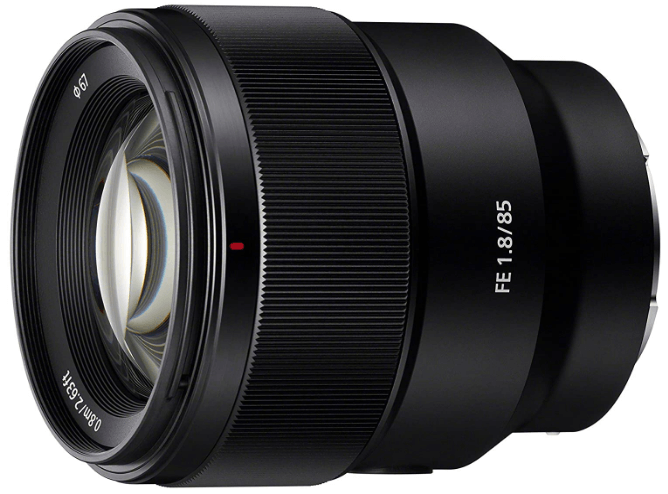 If you're looking for the best portrait lens for Sony a6500, the 85mm f/1.8 is the one to go for. This prime lens is one all portrait photographers will want to have in their kit bag, as it produces stunning, natural-looking portraits, without distortion of facial features. This lens is great in low light situations thanks to the fast aperture of f/1.8.
Like most portrait lenses, you can use the wide aperture of this lens to create lovely, round defocused areas to really make your subject pop from the background. You can expect fast, accurate, and almost silent autofocusing from this lens, thanks to the double linear motor system. The maximum magnification ratio is 0.13 on this lens, and the angle of view is 29 degrees. There is a switch on the lens to easily change between manual and auto focus for those who like being able to use both systems when they wish.
Zoom Lenses
7. Sony 16-55mm f/2.8G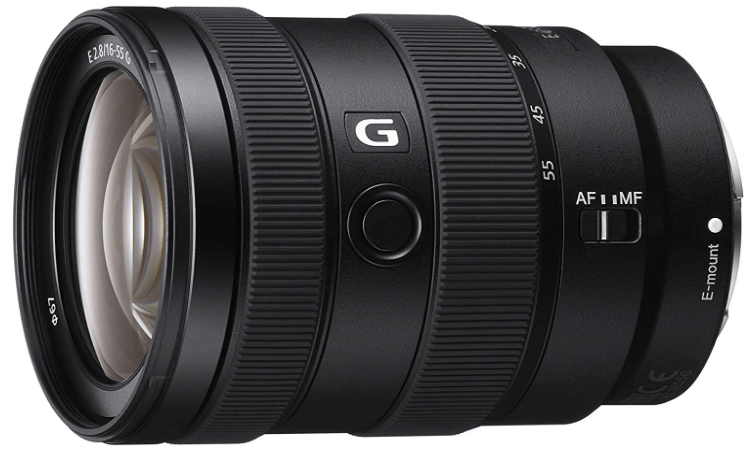 We've already seen one of the zoom Sony a lenses in our travel section above, and here we have another excellent pick. This one offers a constant maximum aperture of f/2.8 to maintain a constant exposure and depth of field upon using the zoom function. This f/2.8 aperture also ensures this lens offers excellent low light performance.
With some zoom lenses, the image quality is poorer, espeically as you reach the higher end of the focal range. However, with the 16-55mm, you get excellent corner to corner sharpness throughout the zoom range. You'll find aspherical elements inside this lens in order to elimate the effects of chromatic aberration. It also boasts the XD linear motor for precise, quiet, and fast focusing and subject tracking. This lens can even be used to create stunning bokeh thanks to the circular, 9-bladed aperture.
Wide-Angle Lenses
8. Sigma 16mm f/1.4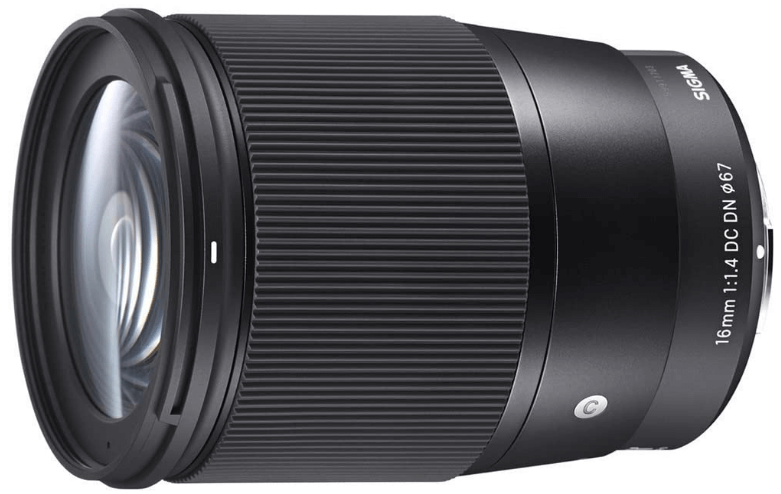 For landscape photographers, the best lens for a6500 will be a wide-angle option, such as this 16mm from Sigma. It offers a great field of view for shooting landscape scenes, allowing more to be captured in the frame. It is also excellent for shooting in low light situations thanks to the large maximum aperture of f/1.4. This lens was designed for use with APS-C mirrorless cameras, so it is excellent for pairing with the Sony a6500.
This lens comes bundled with a few accessories, so it is ideal for those who are just getting started with their new camera. These accessories include – a 64GB UHS-1 SD card, a neoprene pouch to protect the lens when it is not fitted to the camera, a camera and lens cleaning kit, and a petal lens hood. The lens itself offers excellent autofocusing, with a facial recognition autofocus mode for getting perfect portraits, even if the subject moves. Autofocusing during video also works very well, with smooth and accurate results. This lens is designed to be lighweight and practical for everyday use, so it's sure to be one which is on your camera often for daily shooting and street photography.
9. Sony 10-18mm f/4 G Wide Angle Zoom Lens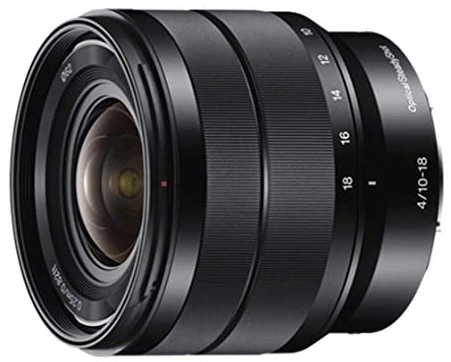 Another of the best lenses for Sony a6500 for shooting landscape scenes is this 10-18mm wide angle zoom. Like the Sigma above, you get a large field of view, 109 to 76 degrees, with this lens, but there is also some flexibility to zoom in and out if you wish. The low light performance is not as good as on the 16mm Sigma, as the maximum aperture of this lens is f/4.
Despite the fairly high price tag of this lens, it doesn't come with weather sealing, meaning it should not be used in inclement weather conditions. However, you do get highly detailed images, which will really make the most of your new Sony mirrorless camera. This is another lightweight lens that is comfortable to shoot with for long periods – it weighs in at just 8 ounces.
The aspherical lens elements and extra-low dispersion glass greatly help in reducing spherical and chromatic aberrations, thus enhancing the image quality even further. There is optical image stabilization built in to the lens which can detect even the tiniest movement when shooting, thus eliminating the effects of camera shake when shooting handheld.
Sports and Wildlife Lenses
10. Sony Alpha 70-350mm f/4.5-6.3 Telephoto Lens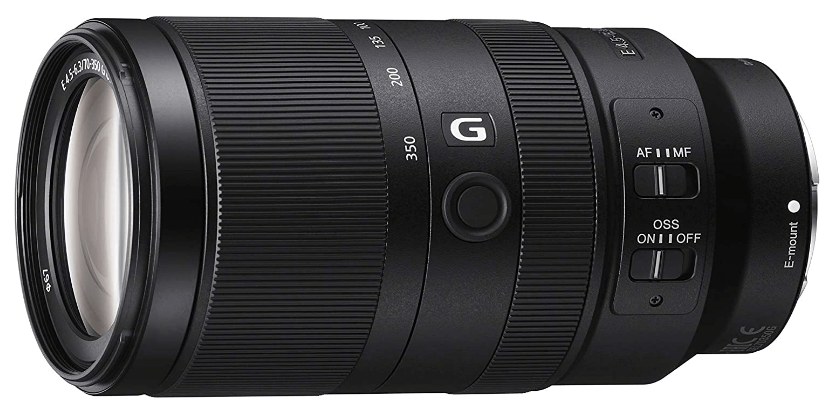 Our final pick of the best lenses for Sony a6500 is one of the telephoto lenses with zoom functionality – it has a focal length range of 70-350mm. Despite the telephoto range, this sports lens is reasonably light and easy to handle, weighing just 22 ounces. When used on a crop frame camera, this lens gives a full frame equivalent of 105-525mm, so you can really get up close to wildlife or sports action.
Like many of Sony's lenses, this one comes with the XD linear motor to help with the autofocus performance – it is precise, quick, and quiet. Subject tracking is also possible with this lens. As you might expect, SteadyShot, Sony's image stabilization is a feature of this lens, which will greatly help in avoiding blurred images when shooting at the longer focal length. This lens features a dust and moisture resistant design meaning it can be used in challenging conditions outdoors, however it should be noted it is not guaranteed to be 100% safe.
There is a useful focus hold button on the side of the lens. This can be used to maintain focus when recomposing your scene, or you can change the function of the button if you'd rather have easy access to a different setting. This could be aperture preview, eye AF, and more, depending on which you use the most often. This is the best lens for those looking to shoot distant subjects with their Sony a6500.
What Lenses Are Compatible With Sony a6500?
This camera uses the Sony E-mount system. It can also accept Sony FE lenses, although these are designed for Sony's full frame cameras. These are worth considering if either you also have a full frame camera and will share the lenses between the two cameras, or you plan on upgrading to a Sony full frame in the future. Otherwise, they are more costly than the E-mount lenses, and don't really offer any advantages on crop sensor cameras.
Is Sony a6500 a Good Camera?
In a word, yes! It offers an impressive continuous shooting rate of 11 frames per second, can record 4K video at 30 fps, and includes a 24.2MP Exmor sensor. The camera is also lightweight, so it is ideal for traveling or using for long periods, and It also has a three-inch tilting touchscreen so it is easy to control and you can clearly see your subject, even at difficult angles.
Is the Sony a6500 Good in Low Light?
The maximum ISO on the a6500 is 25600, and there is a setting to reduce noise in your images. Sometimes, the autofocus system will struggle a bit in poorer lighting conditions, especially when the subject is moving. On the whole, if you pair the a6500 with a fast lens, you are sure to have no problem shooting in darker conditions.
What Sony Lens Is Best for Video Work?
The Sony a6500 is a popular camera amongst YouTubers and vloggers. Of the lenses reviewed above, the Sigma 30mm f/1.4 is highly-rated for video. It is a high-quality lens that gives extremely sharp results, and the large aperture makes it excellent for low-light shooting.
If you prefer to consider other options, Sigma's 18-35mm f/1.8 is also highly recommended for video work. The aperture of this lens doesn't change as you zoom in, and it also performs well in low light. If you need more flexibility to zoom in on your subject, Sony's 18-105mm f/4 is our final pick. This lens is reliable, versatile, and offers a constant aperture when zooming in and out.
Last update on 2023-10-05 / Affiliate links / Images from Amazon Product Advertising API