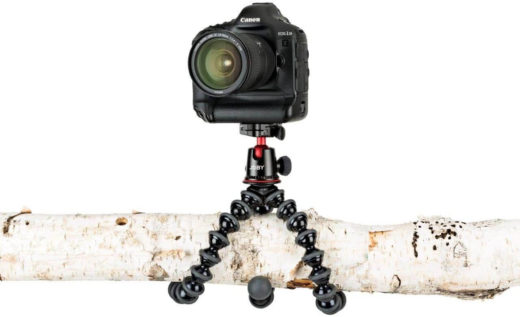 Unlike a traditional tripod, the Joby Gorillapod won't extend, however, it does do so much more to make for a fantastic photography experience every time. Loved by professionals and popular amongst even amateur photographers, the robust design that Gorilla tripods bring, says it all as it guarantees total stability for those sharp images. Dubbed the most versatile camera tripod out there, we've decided to put together a succinct set of Joby Gorillapod reviews s that you have an idea of exactly why you need one. A must-have for any photographer seeking a reliable and flexible tripod, the Joby Gorillapod offers excellent value for money and is made to last. Before you set out to buy one, here are some considerations to keep in mind.
Considerations When Choosing A Joby GorillaPod
Your Budget – When choosing a gorilla pod, there are various price points making it a great accessory for any photographer. For professionals, the higher end Joby Gorillapod tripods are worth the money, while even amateurs can find one of these tripods with a smaller budget in mind. Set a clear budget from the get-go and stick to it. This is common practice for any type of purchase as the budget should always be considered.
Camera Type And Weight – The good news is that the Joby tripods have been designed to support varying camera weights. If your camera weighs more than 1kg it is recommended to go for a Gorillapod 1K, however, there are options for smaller cameras too. This accessory will state clearly what weight it supports, making it easier than ever to choose the right type of flexible camera tripod.
Camera Compatibility – As with weight, you'll want to think of which camera gorilla tripod is best based on the camera that you have. For mirrorless cameras and compact DSLRs, a 3K gorilla pod is going to best suited for your needs. However, be sure to gather as much information as possible as to which type of camera tripod you should buy.
Joby Camera Mount Portability – Just as you have to consider the weight of your camera and its compatibility with the Joby Gorilla that you choose, you should also choose the mount based on its weight. From the 325 model to the 5K each comes with its own weight ranging from 49g to 600g. Depending on the way in which you intend to use your new Gorilla mount, the weight of the device will really matter. If you're an avid traveler you may want to consider a smaller pod that will be easily packed away into your bag, or even your pocket in the case of the smallest Joby, the 325!
Joby GorillaPod Tripod Review
In this guide, you'll find in-depth reviews about every type of Gorilla pod to help you best determine which is most suitable for your tripod needs. There are many different Joby camera mounts out there, each with its own features. If you're seeking to get the low down on each, you've come to the right place!
JOBY GorillaPod 325
First up on our list is the awesome 325 tripod gorilla mount which is a highly popular choice. Great for cameras weighing less than 500g, the accessory itself weighs in at 49g making it highly lightweight and suitable for travel. This option is most suited for those that are looking to attach small point and shoot devices, and it is so compact it can be put in your pocket. The bendy tripod is super flexible allowing the user to position it as preferred for photographing. It comes with all the same features as the 500 Gorilla tripod stands at a cheaper price, making it budget-friendly. While this Gorilla tripod is made using stainless steel and it features a reinforced ball tilt with a 90-degree tilt if you're seeking extra sturdiness the 500 may be a better option. The flexible legs, which are a trademark feature of all the Gorilla pods make it easy to wrap around objects to take the perfect snap when out and about. Thanks to its uber-cheap price, it makes a great gift for a beginner photographer who is looking to get creative with their digital camera and try out new shooting angles. The Gorillapod 325 is a perfect option for those who are looking for a feather-light option and the diversity of being able to photograph on the go!
Summary: 
A versatile and incredibly light camera mount that weighs in at just 50g. This accessory offers a surprising amount of sturdiness and is designed to be as reliable as the larger options. If you're seeking a Joby that can support a weight of up to 325g and will fit into your pocket, this is the perfect choice for you.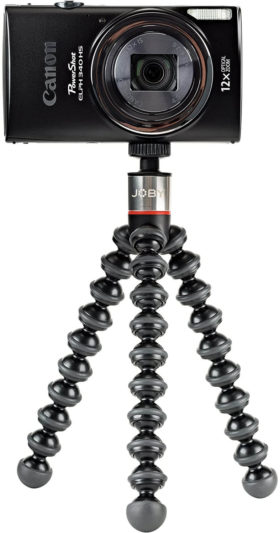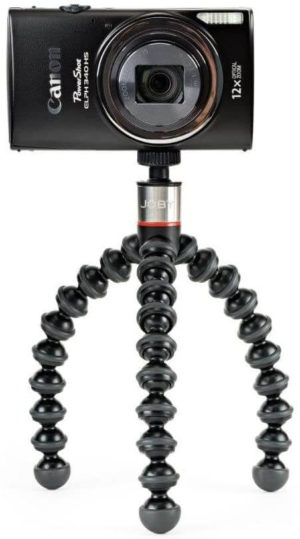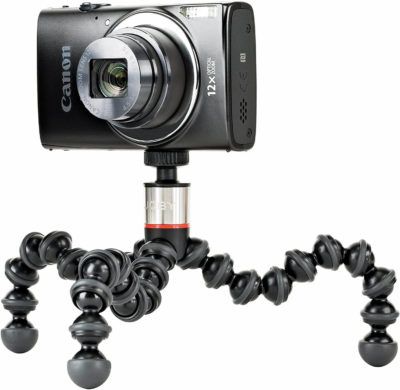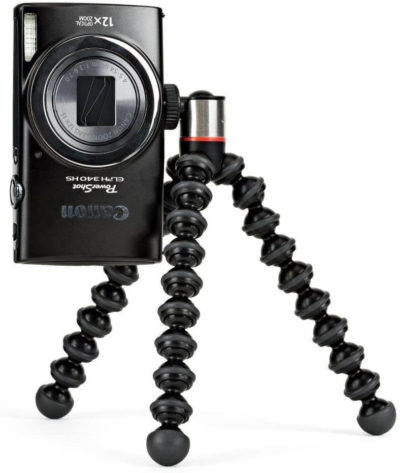 JOBY GorillaPod 500
Next up on our list is the 500 Gorilla camera stand which supports a maximum weight of 500g making it that extra bit durable for heavier camera types. Similar to that of the Joby 325, it'll fit in your pocket and is ultra-light making it an ideal choice for traveling. A newer sized Gorilla arm tripod, this product has grown to be one of the best-loved amongst photographers of all levels. A great option for point and shoot cameras and 360/action cameras, there are plenty of features to enjoy about this accessory. Unlike other tall camera stands, you won't need to use a separate knob to tighten the ball socket and place it into position, rather the ball is already secured and requires a simple twist to the position. The cut-way section allows for a super fast and convenient portrait orientation of your camera. Recommended as one of the best smallest camera tripods, there is lots to love about this simple yet satisfying mount including its bendable legs and precise composition control.
Summary: 
A step up from the 325, the 500 camera Gorilla grip offers stable support for cameras weighing up to 500g. As one of the smaller options, again this is a portable mount that can be comfortably packed away for any traveling needs.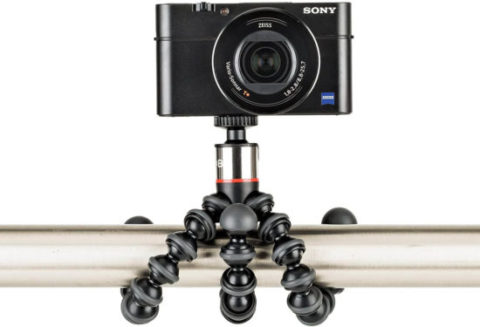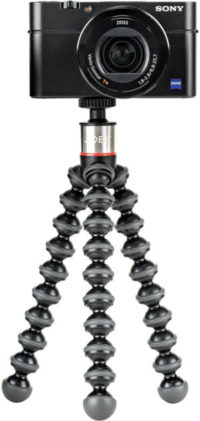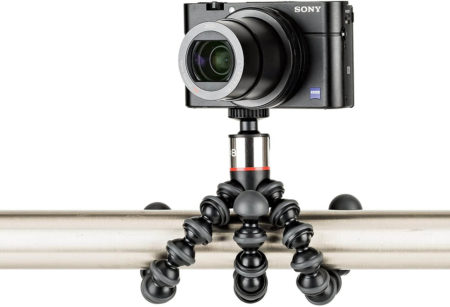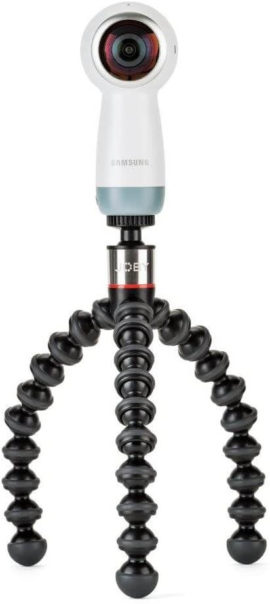 Joby JB01503 GorillaPod 1K
Next on the reviews list, is the 1K camera Gorilla grip otherwise known as the JB1503. Its name, as with the other product models indicates the weight it can support at up to 1kg making it an excellent choice for advanced compact cameras, mirrorless cameras, or any other type of device featuring a 1/4 mount screw. This product features premium grade ABS plastic sockets which allow for secure movement and complete fluidity with positioning. At just 197g, the large Gorillapod is easily transported and a breeze to carry out and about. The flexable camera tripod performs effectively and you can certainly secure mount a device of up to 1kg. However, if you're seeking more sturdiness, we definitely recommend paying more for the Gorilla mount 3K. Offering brilliant value for money, this option is recommended for anyone looking to get a solid photography accessory that is going to allow them to broaden their shooting capabilities.
Summary: 
With all the premium grade features you'd expect, this 1K Gorillapod is perfect for amateurs and professionals alike. Made of sturdy materials and offering a great amount of flexibility, this option is great for more advanced compact camera models and mirrorless cameras too.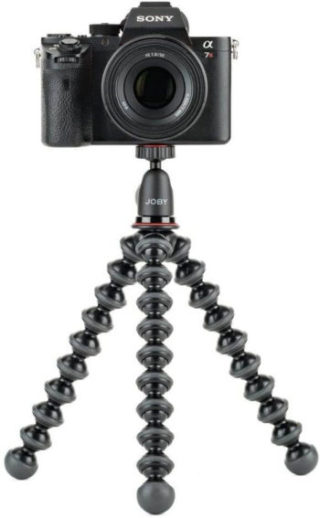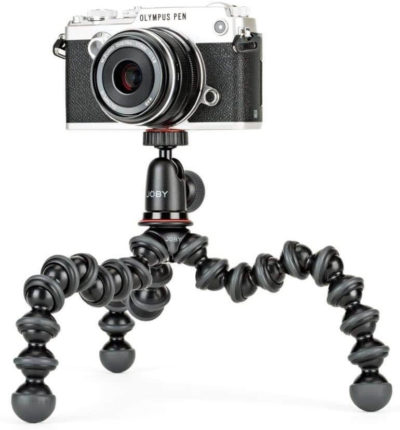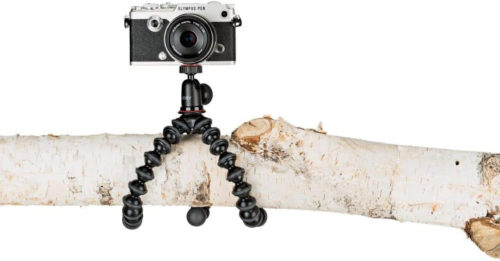 Joby JB01507 GorillaPod 3K
If you're looking for a premium Joby rollerball tripod that can support a max weight of up to 3KG, this is the camera mount for you. With a built-in bubble level, this is an ideal accessory for any professional looking to expand their equipment for a better photography experience. While the build of this best Gorillapod looks similar to that of the 5K, it in fact differs in several ways. The key differences include a plastic socket and a lighter build making it suitable for portability, unlike the larger model. Built with strength in mind, the JB01507 big Gorilla tripod comes with a handy bubble level that is built into the ball head to aid in capturing a level shot. It comes with a convenient quick-release plate that allows the user to fasten and unfasten the mount as and when needed with little to no effort. However, a word of caution is to ensure that the clip is fully fastened otherwise you could risk the accessory dropping quickly. This is a great option for tabletop shooting and the 3K tripod Gorillapod is sure to impress any photographer who gets their hands on it.
Summary: 
A step up from the Joby 1k Gorilla tripod dock, his Joby Gorillapod 3k kit is built with absolute strength in mind and offers outstanding durability. Like the other options, there is plenty of scope for flexibility while you can mount any camera weighing up to 3KG with confidence to get the shots you intend on capturing.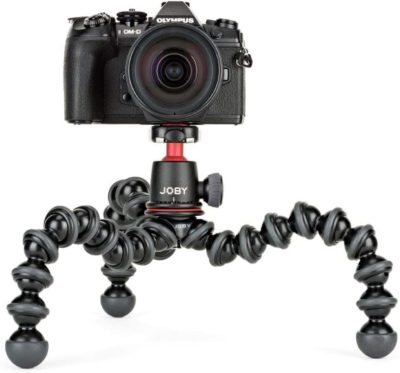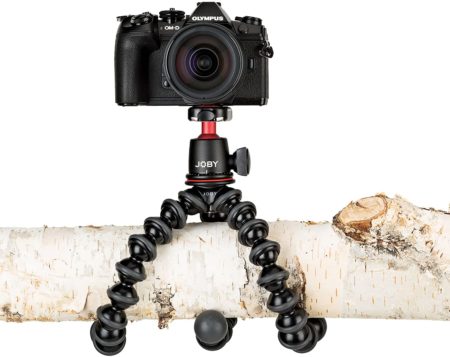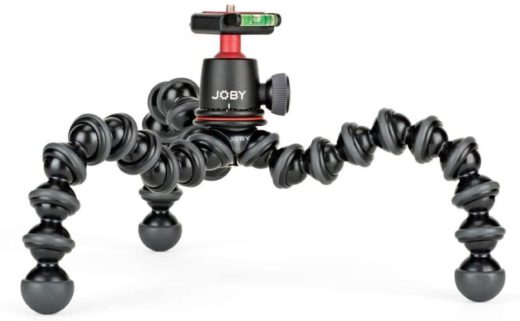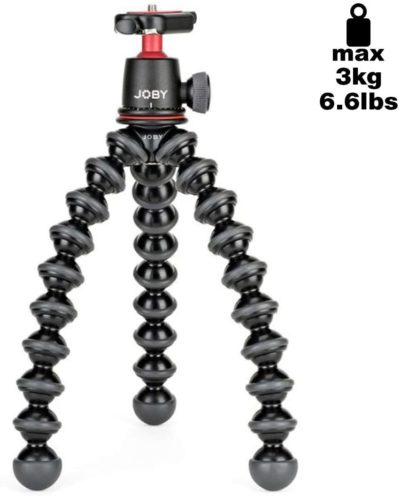 JOBY GorillaPod 5K
Finally, in this range of outstanding DSLR Gorillapods is the 5K option that supports heavier cameras and is most popular amongst professionals. The mount itself weighs in at under 600g, however, it's capable of supporting a max weight of up to 5KG. Made using robust stainless steel and with premium quality aluminum sockets for ultimate durability, this is the strongest Gorilla tripod stand out there. From vlogging to capturing high-end photographs from all angles, this camera accessory really is as versatile as it seems. It provides strong support and is highly reliable, coming with a 1/4 mount hole as part of its base. The 5K really does feel and look the part when it comes to kitting out the professional photography bag. As an added extra, the head on the ball has a red ionized coating for extra durability and fluidity when moving. The ball head also comes with a quick-release switch so that it can be attached to the camera as and when needed and it has a tightening knob on the side too. While weighing in on the heavier side, this Gorilla hybrid tripod is certainly up there with the best camera mounts available.
Summary: 
This Joby Gorillapod is the ultimate choice if you're looking to set up a durable camera mount. Though this option weighs more than the others, its offers fantastic durability, and fluidity for flexible shots.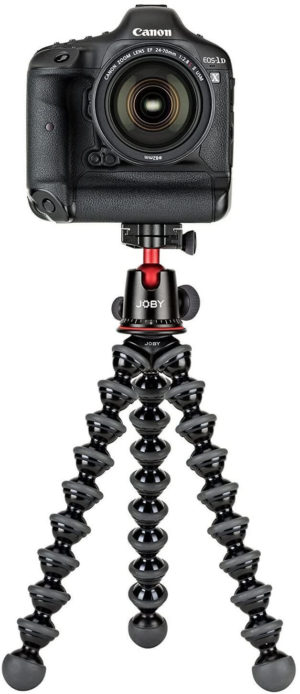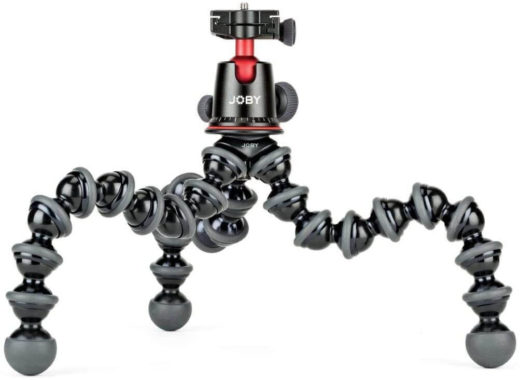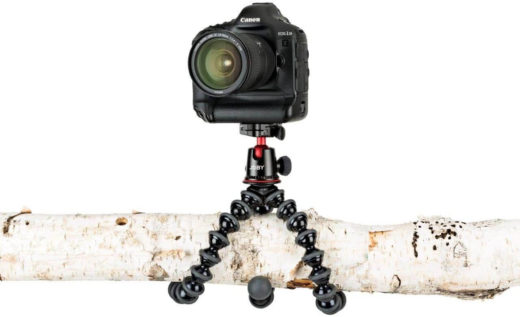 Joby Griptight Gorilla Smartphone Stand 
Offering universal smartphone compatibility, the Joby Griptight Gorillapod is awesome for any phone camera mounting needs. The mount is compatible with a wide number of different surfaces and objects, making it a fantastic accessory to have if you're an amateur photographer who enjoys travel and is looking for something portable. This Joby product can be confidently used to mount your phone camera to all types of surfaces thanks to its iconic bendable legs. A must-have for any keen phone photographer that wants to take their skill to the next level, there is plenty of fun to be had with this robust accessory. If you're seeking a Gorilla selfie stick, this could make a perfect choice offering no shaking and complete sturdiness where needed.
As we've come to the end of the Gorilla pod camera mount reviews, you should have a good idea of which will be most suitable for your photography needs. For those still seeking information, we've answered a couple of the most common questions related to this product below for you.
Which Is The Best Gorillapod For Me?
The Joby tripods are designed to accommodate different camera weights, while each carries a similar design intended to perform in the exact same way. There is no best product from the Gorillapod reviews above, rather it comes down to the user and their own needs. As you've noticed each tripod is designed with flexible legs that make mounting easier than ever for photographing. Add to this the use of robust materials across all of the products for ultimate reliability. Therefore in order to find the best possible Gorilla pod for your needs, it's essential to understand your requirements. Take into consideration your camera type, the weight of the camera, and the weight of the tripod. If you're looking to travel with your new camera mount, you may want to avoid a heavier 5K and go for a smaller version so long as the tripod can carry the weight of your device.
Where To Find An iPhone Gorilla Tripod?
Many people choose to use Gorilla Jobys for mini flexible camera needs which more often than not involves using an iPhone. Outside of the camera tripods, Joby also has a tablet and phone stand which is great for this need. While the tripod is probably more pricey than your average joe phone mount, it's certainly worth the extra dollars. If you've never used a phone stand before for photography, they can really enhance your photography abilities. The Joby Griptight Gorilla pod is perfect for an iPhone or any other smartphone and comes with all the features you'd expect. Its flexible legs can be easily wrapped around any object or stood on a flat surface too.