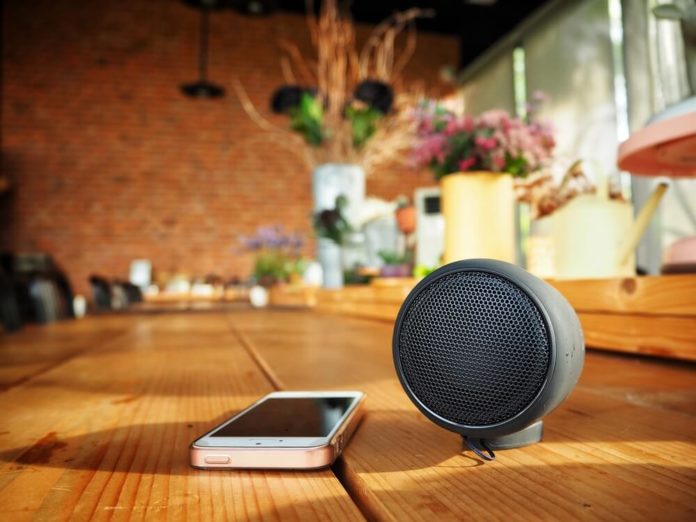 Ever thought of boosting your home or office security without making it so obvious? Well, you might want to know there are various ways you can achieve this, and one of the most covert options for you is installing a Hidden Camera Bluetooth Speaker!
These discrete devices take home surveillance to the next level, ensuring that there is a "hidden eye" to watch out for the nanny, kids, or possibly burglars without giving it away. They allow you to record whatever is happening without drawing suspicion while doubling up as an entertainment hub.
So, if the idea has ever crossed your mind, this is the closest to the answer you'll come! In the following review, we consider the best Bluetooth speakers with a hidden camera you can find in the market. 
In a hurry….
The best overall pick after 40 hours of research is the UOOYOO Speaker. This remarkable gadget comes with a sleek design that will camouflage anywhere you decide to set it up in your room for further discretion. 
It boasts a high-quality 1080p HD camera with 4x digital zooming and a wide-angle 160-degree field of view. You also get night vision infrareds, as well as motion detection, to ensure that your home remains monitored all the 24 hours of the day!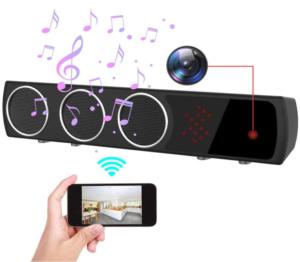 Best Hidden Camera Bluetooth Speakers
This hidden Bluetooth camera speaker comes in a nice black color that will blend easily with the surroundings. The clever design looks like any other speaker, which enables you to place it next to other electronic appliances so that no one can tell there is a hidden camera.
The speaker features a high-quality 1080p HD camera for clear video quality. A wide 160-degree angle lens provides you with a broad field of view. You'll be able to view larger visual range footage of every single detail in your space. The lens also boasts 4x digital zooming to bring objects closer into focus for whenever you want to get a closer look.
The speaker also uses motion detection sensors to trigger an alarm on your device as soon as it senses any movement. The spy camera will also start recording or snapshot pictures of the source of commotion to ensure that you have real-time evidence of any possible intruders.
Thanks to built-in night vision IR, the camera continues to record even in the dark, meaning it will remain useful 24 hours a day. The 850 IR has a monitoring range of 33ft and a night vision lens switch has conveniently been included to let you switch between the day and night modes without losing color. 
You can connect the spy cam to a wireless router and view whatever is happening in your home remotely on your phone or tablet from anywhere, at any time when you download the app. The app supports both Android and IOS devices, plus you get a version for PC. 
No need to worry about your personal info ending up in the wrong hands; the footage will only be recorded on the SD card or on your phone. It doesn't get to the manufacturer's server. You'll easily watch over your loved ones and valuables, as well as enjoy the music from the speaker when you get back home.
Unfortunately, the Bluetooth speaker doesn't have a built-in battery, so it has to remain plugged in to work. This can be slightly limited to the areas in the house you can position it. Other than that, it is a clever invention that will boost the security of your home! 
Pros
Compact design that resembles normal speakers

Night vision 

Mobile app easy to install

Good quality video
Cons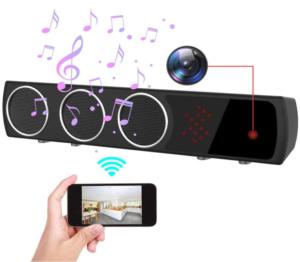 This is another great speaker that you can use to discreetly keep an eye on your property. It is compact, portable, and wireless, meaning you can place it anywhere you see fit inside your home. Its black color design also allows it to camouflage to the surroundings.
For budget buyers, this is the perfect Bluetooth speaker under $100 you want inside your place. The spy camera has covertly been fitted inside the speaker's frame to capture any uninvited guests without tipping them off. 
It can shoot videos at 1080p resolution with H.264 compression, ensuring that you get crystal clear HD footage on your phone. However, you are free to adjust the resolution to either 720p or 640p if you want to. There's a micro SD card slot that can support a maximum memory of 32GB. 
The surveillance camera will serve you diligently during the day, as well as at night, and this is thanks to eight-night vision infrared lights that have been incorporated. With a 33ft viewing range, you'll be able to see faces and other details clearly on your phone even in pitch dark environments.
For enhanced security, the speaker comes with motion detection sensors, as well as an alarm notification. Whenever there is a slight movement detected inside your property, the camera snapshots the motion, which is automatically saved in the app. Meanwhile, an alert notification is simultaneously forwarded to your phone so that you're always in the loop.
A high-quality built-in 1000mAh battery in the camera provides you with 2 hours of service before the need to recharge. There's, however, a backup battery available to you and when you finally run out of battery life, just power the speaker directly with an AC plug so that its operation is not interrupted. 
This multi-purpose creation will not only serve as the perfect home surveillance device but also double up as an entertainment hub when playing your favorite playlist via Bluetooth. It can also work as an FM radio or alarm clock for unrivaled all-in-one functionality.
Pros
Wireless design

Clear footage

Simple operation

Multi-functional
Cons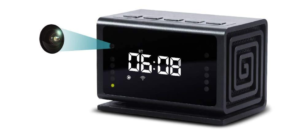 If you have a flexible budget and don't mind spending extra on your spy camera Bluetooth speaker, this will be a nice high-end option for you! It has a compact and cute design that resembles a computer speaker; nobody will even notice the close eye it's keeping on them!
The speaker carries a 1080p camera that offers great footage resolution. It also features a 1 2/.8" image sensor, bigger than the one on your smartphone, which enhances low light capability while focusing sharply on moving subjects. The camera perceives images 3 times better than the human eye in lowly lit environments.
This is reinforced by 940nM IR sensitivity to ensure nothing passes you even when nighttime sets in. The high-quality glass lens on the camera makes for more clarity when focusing on images compared to cheap plastic lenses in the market. 
Your home security will be watertight thanks to a motion detection feature that has been incorporated into the device. Anytime something moves inside the room, you will get an alert instantly on your device.
However, the feature is accurately zone controlled to prevent any false and unnecessary alarms. With 16GB of internal memory, you'll have unlimited storage space for all your recording and snapshots for future reference. 
The hidden speaker supports IOS and Android devices, although it doesn't come with a built-in battery. This means it has to remain plugged in to an AC power source throughout for 24/7 operation. 
You get a standard 1-year warranty when you buy this remarkable hidden camera Bluetooth speaker and another 2-year free warranty to guarantee that you're investing in a high-performance and reliable product.
The speaker is also shipped to you on the very day you place the order for those urgent-need buyers and the customer service is always on hand to provide answers to any queries or a solution to any glitches you may be facing. 
Pros
Superior quality optics

Huge image sensor

Accurate motion detection alarm

Great customer service

Easy setup process
Cons
A little pricey

No internal battery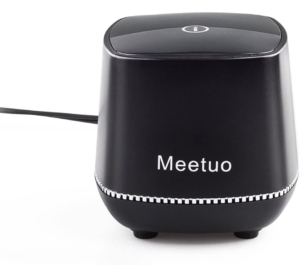 The Forthaus hidden cam speaker impresses with its unmatched versatility! The device will do everything from keeping a close eye on your home when nobody is around and acting as the entertainment to making sure that your kids don't miss the school bus in the morning!
This speaker is conveniently compact and portable with a wireless design that lets you set it up at any vantage point in the room. The installation process is relatively straight forward; you only need to switch on the power and connect to the hotspot before establishing a WiFi connection on the app.
The hidden camera records 1080p footage at 25 frames per second for clear viewing. It also features a wide 130-degree viewing angle and 1/3 CMOS sensor has been integrated to enhance the overall video quality. This speaker will also support up to 128GB of memory card, meaning you have more than enough space to store your recorded files.
Excellent night vision is ensured on this covert speaker with the inclusion of "no grow" LED infrareds that will allow you to see the surroundings clearly in complete darkness. This is paired with motion detection to make sure that your abode remains guarded when circumstances seem conducive to an intruder.
Whenever movement is detected by the camera, a screenshot is immediately taken and sent to your phone directly. You'll also get an alert to keep you updated on everything that is going on from wherever you are. The app can be downloaded on "App Store" or "Google Store", and supports both Android and IOS devices.
Once you connect your phone to the camera via a WiFi network. You can stream live footage of the camera to stay on top of everything. This completely discreet device resembles a regular clock with a touch screen, nobody will get the slightest idea that they are being watched.
A durable high-grade aluminum body ensures that it will survive any accidental falls while its multi-purpose usage will have it serving you around the clock. When you no longer require its surveillance service, the spycam speaker can act as an FM radio, alarm clock, or wireless Bluetooth speaker to keep you entertained. 
Finally, you get a 100% money-back guarantee when you purchase this speaker, so you can expect a refund from the manufacturer if the product falls short of your expectations. 
Pros
Easy setup

Versatile 

Great camera resolution

Durable construction

Nice coverage
Cons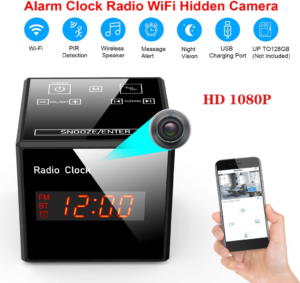 If you're looking to squeeze your budget even further, this will be a nice choice for a spy cam speaker. It possesses a cute design that will easily blend with the surroundings, which further enhances its covertness. 
For you to effectively monitor your home, the video quality has to be reliable. Well, you won't have to be bothered by this thanks to a 1080p HD camera that delivers crisp and clear footage. An ultra-wide 140-degree field of view allows you to see every detail in the room. 
The camera sits concealed in what will appear like a normal clock to any intruder, leaving them no chance of realizing they are being caught on camera. You can simply position it on the bookshelf or beside your TV and let it record everything for you!
The spy camera comes with six built-in night vision IRs that enable you to see clearly in the dark. You should be able to make out any faces that show up on the recording, as well as all the details in the room. This means that you get to enjoy 24/7 surveillance on your property. 
Additionally, motion sensors have been included on the camera to alert you to any movement detected inside the room. Instant alarm images will be sent directly to your phone when there's motion and this will be accompanied by push notifications to ensure that you don't miss a thing!
The app is available for both IOS and Android devices, and allows you to live stream the footage of the camera from anywhere you are once you connect via a WiFi network. The process is pretty easy and there is an instructional manual to guide you every step of the way. 
Don't forget that you get a full-money guarantee in case you want to return the product. Overall, this is a useful device that allows you to keep an eye on your valuables remotely at an affordable cost.
Pros
Very affordable

24-hr service

Crisp footage

Easy to use

Very covert
Cons
Not the best WiFi setup

Possible manufacturer's defects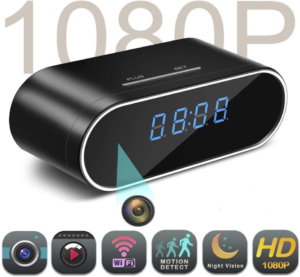 Conclusion
Investing in a home security system is paramount if you want to keep your loved ones and belongings safe. Thanks to modern gadgets like a spy cam speaker, you can keep monitoring your house without giving out the fact that someone is watching.
The next time you consider getting a hidden camera speaker for your home or office, the above models are some of the best you can get in the market today.