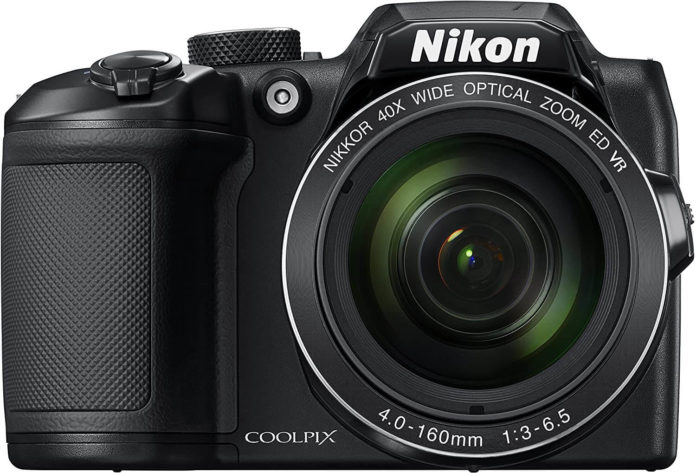 Are you looking for a new camera and wondering is the Nikon Coolpix B500 a good camera? You've come to the right place, as here we are going to review this model in depth, looking at all of the key features and functions so you can decide whether or not it is the right camera for your needs.
The Nikon B500 Coolpix is among the mirrorless bridge cameras – offering more control over the settings than a point and shoot, but without the need for interchangeable lenses as you would find on a DSLR. So, this makes it well-suited to those who are fairly new to photography but would like to take control over the look and style of their images. It's also ideal for traveling, as you get many of the features of a DSLR but without the need to carry multiple lenses. Thanks to its 40x zooming power, it is sometimes defined as a superzoom camera.
So, let's take a closer look at considering its performance compared to other cameras.
Considerations Choosing the Nikon B500
First, what should you think about when deciding whether or not to buy the B500 over the newer Coolpix B600? There are a few things to keep in mind;
Budget
This is a fairly inexpensive camera, so it's great for those new to the hobby – you can decide whether or not it is something you will pursue further without spending too much money on the latest gear. Nonetheless, be sure it is within your price range.
The B500 is a significantly cheaper than the newer model.
Specs
Check the image quality, ISO range, aperture, zoom, and any other specs that may be important. Ensure these meet your requirements before buying this camera.
Size
The camera is fairly heavy, at around 1.2lbs, but it doesn't require additional lenses, so you will save weight in that respect. The physical size of the camera is 4.47 x 3.08 x 3.74 inches. Make sure this will be comfortable to carry around if it will be used for a full day's shooting.
Accessories
Think about any additional accessories you might like to purchase and ensure they are compatible with this camera. You'll need a memory card and perhaps a carrying case and some spare, rechargeable AA batteries.
Video
If you will use the camera for video, ensure the quality is good enough. This is particularly important if it will be used for vlogging or other purposes where high video and audio quality are crucial.
Nikon Coolpix B500 Digital Camera Review
We'll now take a closer look at what you can expect from the Nikon B500.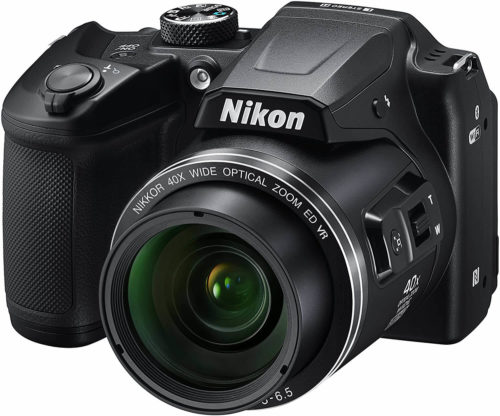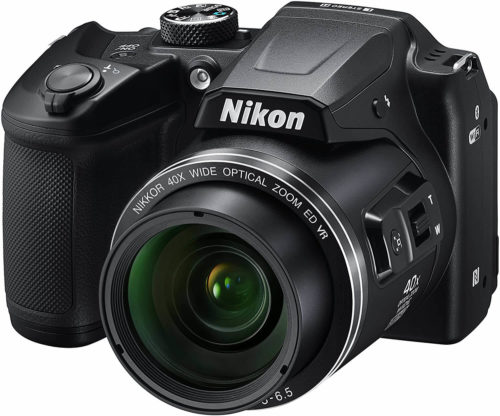 Specifications
First and foremost, you'll probably want to learn more about the Coolpix B500's specifications. The camera is equipped with a 16 megapixel CMOS sensor. There is also a 40x optical zoom lens, which is the equivalent of 22.5-900mm. The maximum aperture on the lens is f/3-6.5. ISO ranges from 125-6400 and continuous shooting is possible at a rate of 9 frames per second, but only for 7 shots at a time.
In terms of connectivity, you'll find Bluetooth and WiFi as well as NFC, so there are plenty of options for file transfer. There are three color options to choose from and vibration reduction also features on the cam. Finally, there is a 3-inch tilting screen with 921000 dots.
Key Features
As well as the specs outlined above, there are some other useful features to be found on the Nikon Coolpix B500. It has controls allowing the ISO and white balance to be adjusted according to the shooting conditions, but it doesn't have a full manual mode. In terms of the zoom, there is a quick-access control on the side to allow you to zoom out a bit to easily find the subject again if it has moved out of the frame before pressing the shutter.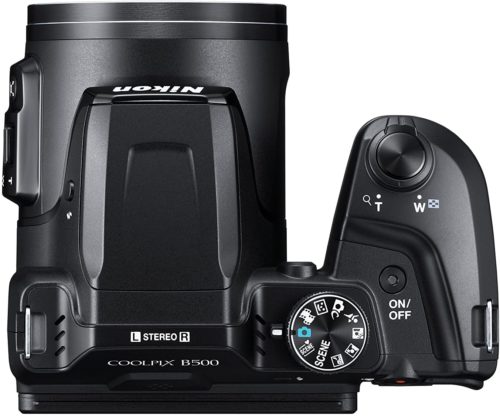 There is a compatible app available for download, which allows the photos to be transferred to a smartphone or tablet seamlessly. The app also allows the device to be used as a remote shutter, so this is ideal for taking self-portraits.
When taking video on the Coolpix B500, you can use the optical zoom at the same time. So you aren't restricted to one setting if the subject is moving. For stills, there are different shooting modes available. It's possible to take panoramas and there's also the 1cm macro setting for getting detailed close-ups. There are other pre-set modes for shooting different types of scenes, and there are also creative effect modes to give your photographs a fun and personal style. Changing between the modes is easy – there is a mode dial to do so.
Ease of Use
Whilst there are many controls on the camera, it is easy to use. Therefore, it makes a great choice for a beginner photographer. Each button is clearly labeled with its function and the screen also displays text to explain what each shooting mode means when you are browsing through them.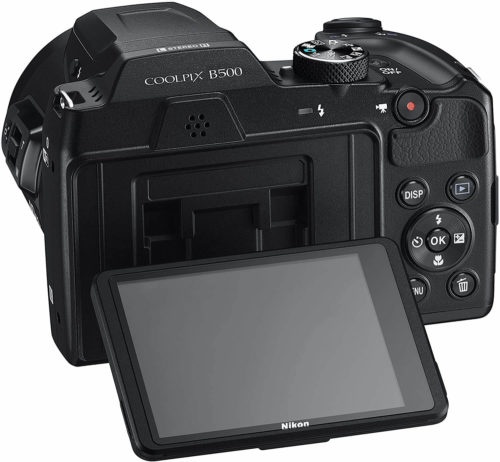 The menus are laid out in a clear and sensible way with text which is easy-to-read. The large screen size (three inches) also helps with this. And, the screen can be tilted to ensure it's always easy to read and see in any lighting condition, even harsh sunlight.
The mode dial on top of the camera ensures the most common settings are within easy access. So, you won't have to scroll through menus looking for them if you want to change something quickly.
A fully automatic mode features on the Nikon Coolpix B500 so even complete beginners can start taking great shots right away.
Image Quality
The 16 megapixel sensor ensures the images are high quality, although perhaps not as good as you might expect from a DSLR or a higher-end model. The vibration reduction helps make sure your shots are crisp and sharp and don't suffer the effects of camera shake. Even when using the 40x optical zoom or when shooting in low lighting conditions, the VR will keep your images pin-sharp. For the price you will pay for this camera, the images are very good quality.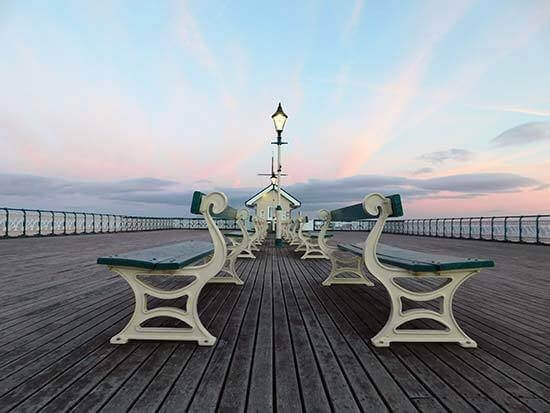 photo taken by Nikon a COOLPIX B500 camera
Video
The B 500 Nikon is ideal for taking videos as well as photos. The HD video recording makes it a great choice for vloggers, as well as those who simply want to capture their memories in the form of short videos. The 1080p Full HD video looks stunning, and it is accompanied by stereo sound which is great for making a short movie sound. Often, the sound quality is a lot poorer than the video quality, but thankfully that is not the case with this camera.
Battery Life
One drawback of this camera is that it uses AA batteries. However, the battery life is quite impressive. Using regular alkaline batteries, you can take around 600 shots. With lithium batteries, expect more than double that number – 1240 more or less. Rechargeable AA batteries can also be used in the Coolpix B500, and you'll get more or less 750 shots.
Connectivity
There are a few different options for connectivity on the B500 Nikon. It has Bluetooth which can be used with Nikon's SnapBridge app. There's also WiFi or NFC for connecting to a smartphone, tablet, or laptop. A phone or tablet can also be used as a remote for releasing the shutter at any time when the camera isn't within reach, such as when taking a self-portrait.
There's also GPS on the Nikon Coolpix B500. This means the location data can be added from a smartphone to the photographs.
Build & Handling
Next in our Nikon Coolpix B500 review, we are going to look at the build and handling of the camera. The camera looks and feels like a DSLR and it has a large hand grip so it is easy to hold. The grip is textured to further help make it stay comfortably in the hand when shooting so it can easily be kept stable. The Coolpix B500 doesn't have a viewfinder, instead the screen must be used when composing an image.
The screen can be tilted to different angles to ensure it is always easy to see when shooting up high or down low. Each button on the camera body is clearly labeled so you can adjust whatever settings you need to with ease.
The camera weighs 1.19 pounds and measures 4.47 x 3.08 x 3.74 inches.
Performance
For the price point, the Nikon Coolpix B500 performs pretty well. It's not the fastest camera out there, but it is reasonably fast. Starting up and shooting the first photo takes around two seconds. Afterward, expect around 1.5-2 seconds between subsequent shots. Autofocus is fairly quick and responsive, but it can be difficult to react when fully zoomed in or when shooting in low light.
The flash takes a bit longer to reset between shots, taking around nine seconds before it is ready to go again. In terms of continuous shooting, you can take seven frames in one burst, at a rate of around four frames per second.
The auto focus point can be set to anywhere within the frame. There is also facial detection to ensure you can shoot sharp portraits every time. Moving subjects are no problem for this camera either – it has subject tracking and a mode to help find what the camera thinks is the main subject of the scene. So, it's unlikely you will get a blurry shot with this camera.
Verdict
Overall, for the price point, this is a very good camera. Whilst it might not be the most top-of-the-range camera out there, it is perfect for many purposes. It's excellent for beginners who are looking for their first camera, or for taking on vacation if you don't want to carry around a lot of extra kit such as different lenses.
The image quality is very good, and the video resolution is likewise excellent. Even the sound quality is also great in the video clips. There are many different modes which make this camera fun to use – the creative modes are great for playing around with to see the different effects!
The main drawback of this camera is the inability to take full control of settings such as aperture and shutter speed. While the automatic modes will take care of this, it is limiting in that you can't control the final look of the image.
The 40x optical zoom is one of the main selling points of the Nikon Coolpix b500. It works very well, allowing you to get great close-up shots of very distant subjects. When the lens is retracted, wider-angle shots are also possible. So, this is a very versatile camera that will suit many types of users and provides excellent value for money.
Coolpix B500 FAQs
Here are the answers to some of the questions you may still have about this camera.
Does Nikon Coolpix B500 take good pictures?
The picture quality on this camera is very good, especially considering this is a budget option. The vibration reduction ensures shots don't come out blurred even at high optical zoom, and the low-light, 16 megapixel sensor ensures great quality shots every time.
Does the Nikon Coolpix B500 take video?
Yes, this camera takes 1080p Full HD videos at 30 fps. You also get stereo sound to accompany your video.
Can you add a lens to Nikon Coolpix B500?
No, this is a bridge camera rather than a DSLR and as such, no additional lenses are required or can be fitted. The lens can zoom in to a high level, so it is likely to be suitable for most needs without additional lenses.
Is the Nikon Coolpix B500 a DSLR camera?
No, as noted above, this is not a DSLR. It is a (mirrorless) bridge camera with superzoom capabilities. The lens is fixed to the camera body and cannot be changed. However, most of the settings can be controlled in the way they would on a DSLR, so you still get the flexibility to control the look and style of your images.
Last update on 2023-10-05 / Affiliate links / Images from Amazon Product Advertising API