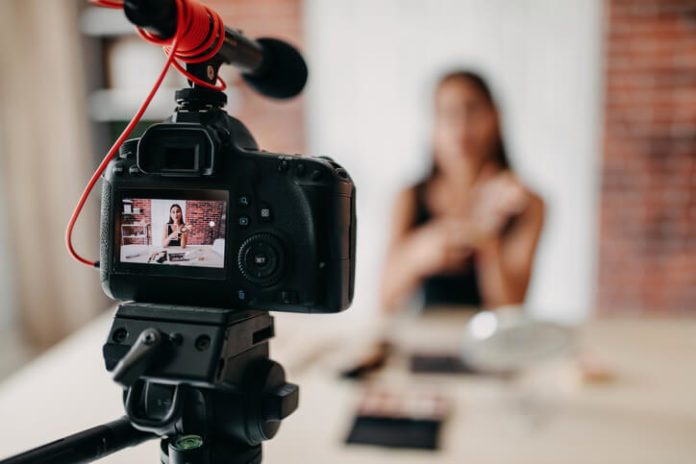 If you are new to photography, or are simply looking for a cheaper camera for traveling with, you might be wondering how to find the best digital camera under $200. The price of cameras varies greatly between brands and depending on the functions and features of the camera.
It's definitely possible to find a good-quality camera for $200, although of course, it won't give as high-quality images as a camera costing a lot more. With this in mind, let's take a look at some of the key features to look out for when choosing the best cameras for photography under 200.
Considerations Choosing $200 Cameras
When choosing cameras on a $200 budget, there are many things to consider. Here are some of the things we think are the most important to look out for.
Zoom
Most cameras in this price bracket are point and shoot, so it's not possible to change the lenses. So, check the optical zoom level of the chosen model and remember you won't be able to fit a new zoom lens in order to get closer to the action.
Battery Life
This is always an important consideration, but even more so if you are looking for a travel camera. Most cameras come with a rechargeable battery, but check roughly how many shots can be taken before a recharge will be needed. Some models include a spare battery so you don't have to worry about running out of charge in the middle of a shoot.
Image & Video Quality
This is a big factor to consider, although keep in mind that the image quality will be lower on a cheaper camera, especially if you are used to shooting on higher-end models. However, some cheap action cams can take 4k video, and the image quality from these cameras below is still great.
Ease of Use
When it comes to a $200 camera, there usually isn't a wide range of complicated features. Most are point and shoot so they are easy to use and don't require much knowledge of photography and controlling the settings of the camera. However, it's always worth checking how other users feel about how easy the camera is to use.
10 Best Cameras Under $200
We will now present our top 10 products – there is sure to be something here to suit!
1. Kodak Pixpro
Table could not be displayed.
What is the latest Point and Shoot Camera? Then this Kodak is the best point & shoot camera and is a strong contender. The 24mm wide-angle lens has 42x optical zoom, so you can zoom right in on faraway subjects. There is a 16.1MP CCD sensor so it's possible to zoom and crop without losing sharpness. If you shoot a lot of portraits of humans or pets, this is a great camera because it can detect these faces and highlight them well. There's also blink and smile detections to ensure every portrait is perfectly timed. It's also possible to beautify faces to even out the skin tone. Panorama mode is also included for 180-degree pictures.
Pros
Face detection and beautification for excellent portraits
Great zoom
Cons
No manual focus
Doesn't have a viewfinder
2. Sony DSCW800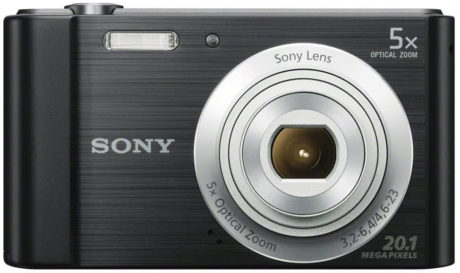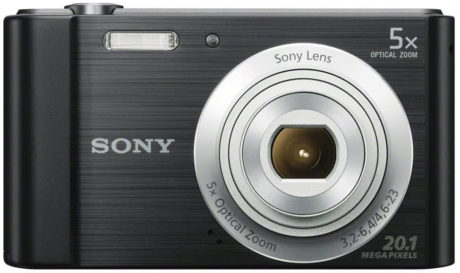 If you're looking for a cheap beginner camera, how about this Sony? It can take full 360 degree panoramas and has a 5x optical zoom lens. The video resolution is 720p HD, and you can also capture an image at 20.1 megapixel. Image stabilization is included to reduce blur, and there is an 'easy mode' in the menu so this is a great camera for new photographers. This camera is equipped with 'Smile Shutter Technology', so it automatically captures the subject when they are smiling. There are different effects that can be added to the photographs to make them look even better and more powerful.
Pros
Smile detection
360 panorama
Cons
Doesn't zoom very far
Needs time between taking each photo
3. Akaso Brave 4 Pro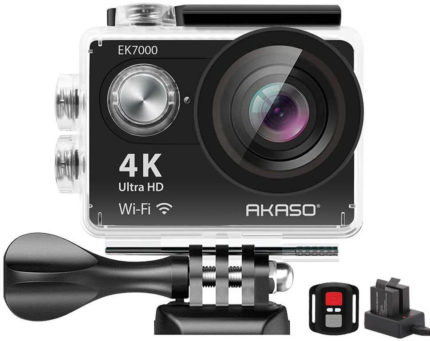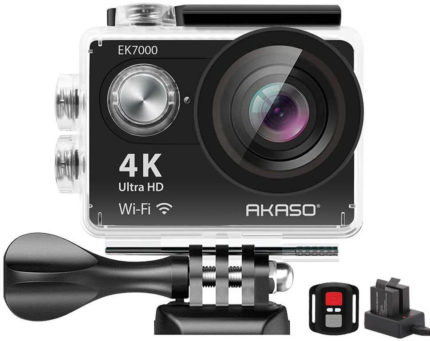 When it comes to finding the best travel cameras under 200, an action cam is often a good choice. They are small and lightweight, yet still take high-quality  20 Megapixels photos, and in this case, 4K video too with 30fps.The camera has built in Wi Fi for easily sharing the pictures and videos with others. It's also waterproof to a depth of 131 feet, making it ideal for using in and around the water.
Pros
Cons
Accessories could be better quality
Spare battery not included (sometimes they are)
4. Fujifilm Instax 9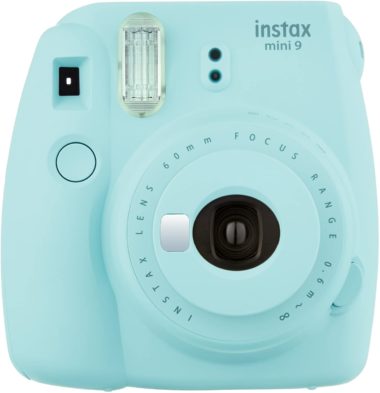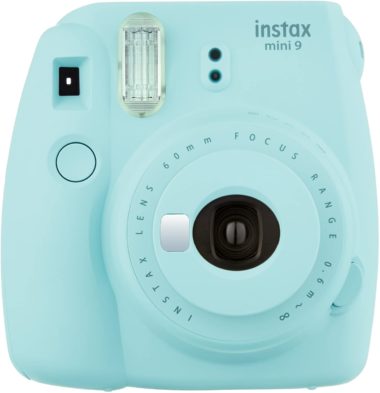 If you want to spend even less and perhaps find the best point and shoot under $200, the Instax Mini 9 is a great pick. It instantly prints out photos, and comes with the necessary paper as well as some accessories for displaying the prints. This camera comes in loads of fun colors and it takes clear photos thanks to the 60mm f/12.7 lens. There is also a flash on the camera.
Pros
Instantly prints photos
Fun color choices
Cons
Photos are tiny
Only works in perfectly light conditions
5. Kodak Pixpro FZ43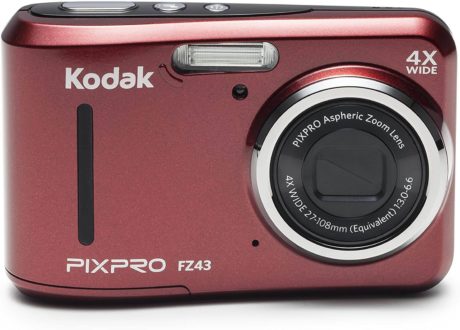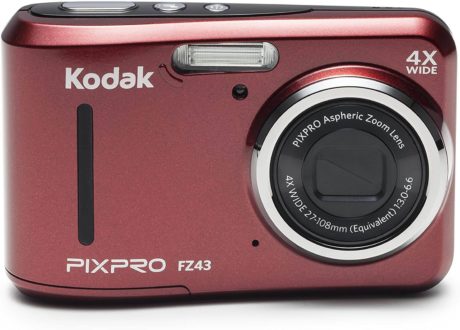 This digital camera is fairly basic in terms of features, but it takes very nice photos for the price. It takes two AA batteries, which are included, and it also comes with a wrist strap. The 16MP camera has 4x optical zoom and an LCD screen measuring 2.7 inches. It comes in a choice of black or red, and has a wide angle lens. The videos are recorded in 720p HD quality, and the shutter speed can be adjusted from 1/2000 to 4 seconds for different effects and subjects.
Pros
Good range of shutter speeds
Excellent value for money
Cons
Uses batteries quickly
Not excellent in low light situations
6. Seree Digital Camera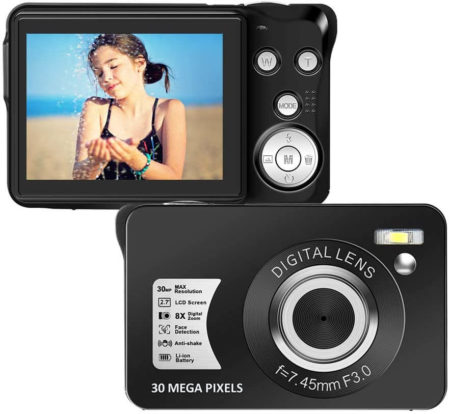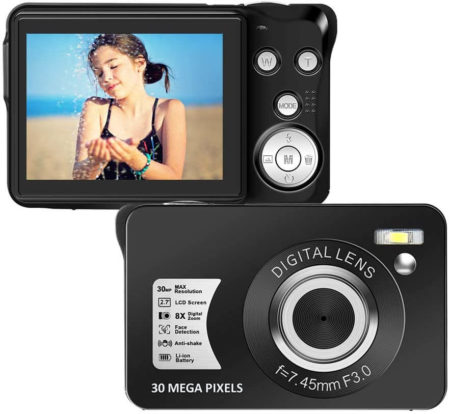 Next up is one of the cheapest point and shoot cameras on our list, but it takes 30MP photos and 1080P videos. There's a 2.7 inch screen to view the pics, and the camera is equipped with a self-timer for 2, 5, or 10 seconds. It also has useful features such as face and smile detection, anti-shake, and more. The digital zoom is 8x, and it's possible to record sound files without taking a video.
Pros
Nice picture quality
Helpful features eg timer and face detection
Cons
Buttons are small
Not very durable
7. Kodak Pixpro FZ53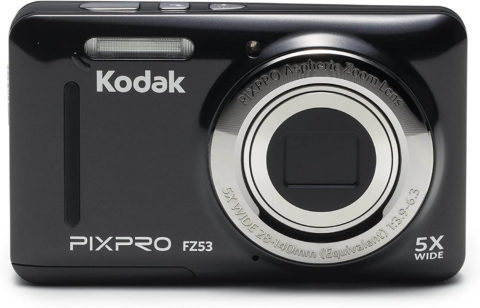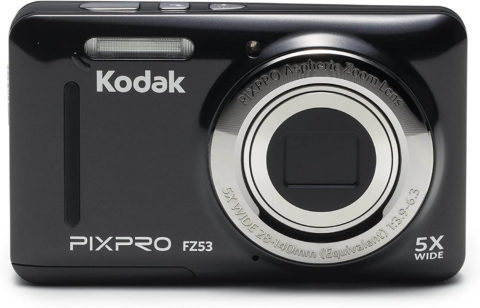 The display on this photography camera takes the form of a 2.7 inch LCD. The FZ53 takes 720p HD videos and 16MP stills. It only takes SD cards up to 32GB, so be sure to purchase the right type to go along with this camera. The 28mm lens also offers 5x optical zooming. The camera is portable and easy to take anywhere, and it also has image stabilization to ensure the chance of blurring is minimized.
Pros
Small and lightweight
Simple to use
Cons
 Not durable if dropped, so not great for kids
 Not great zooming
8. Canon PowerShot ELPH 360
Table could not be displayed.
The next product we have picked out is a Canon camera with 12x zooming lens and 20.2 megapixel resolution. The Powershot doesn't compare to Canon's DSLR cameras, but it can take high quality photos and videos and has many different effects to play around with. The Canon Powershot ELPH comes with Wi Fi and NFC to easily share pics instantly. The LCD is 3 inches in size, so it's great for lining up the perfect shot and viewing photos back afterward. This is a lightweight little camera and is therefore ideal for travel.
Pros
Good connectivity (Wi-Fi)
Image quality is good, even when zooming in
Cons
Close-ups are often blurry
 Made from plastic
9. Sony Cyber shot  DSCW830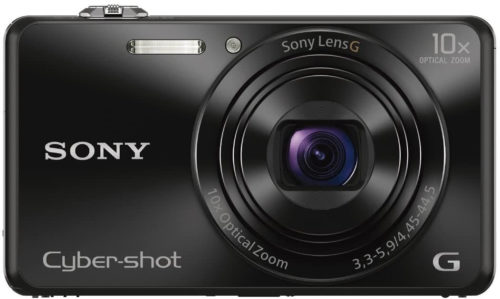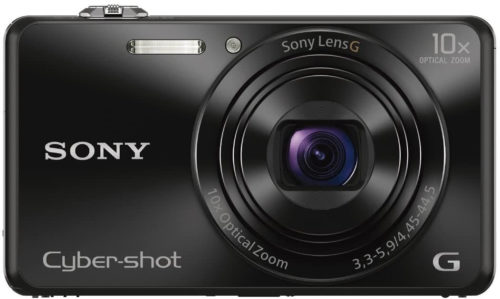 Kicking off our list, we have one of the top Sony cameras under 200 dollars. It comes with 8x optical zoom, enabling you to get right up close to the action. It also has a high-performing sensor 20.1 Megapixel that ensures images shot in low light come out well. Lcd Screen size of  6,7 cm (2,7″) (4:3). The camera is capable of recording video in Full HD quality. The  internal memory is around 27MB and battery life is around 200 shots or 100 minutes of video.
10. Nikon Coolpix B500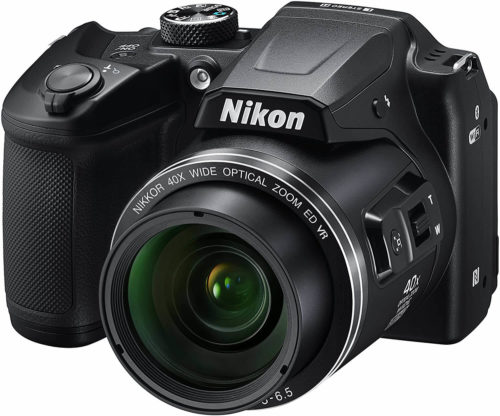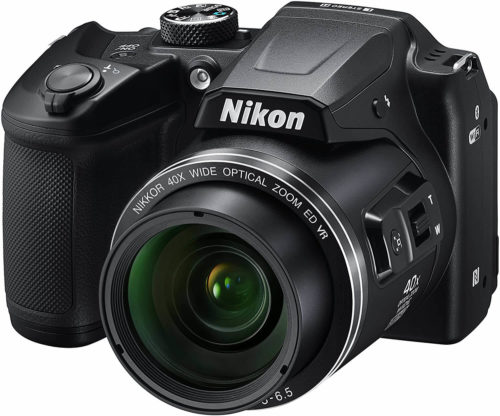 The final all-round photography camera we have picked out is the Coolpix B500 from Nikon. This 16 megapixel camera takes 1080p Full HD videos and has an excellent 80x dynamic zoom. Connectivity isn't a problem for this camera – it has Bluetooth, Wi-Fi, and NFC for sharing photographs. The LCD tilts for shooting at different angles, and the ISO can be adjusted up to 6400 for shooting in dimly-lit situations. One of the negative features of this camera is that it runs on AA batteries, and it goes through them fairly quickly.
Pros
Optical image quality is great
Tilting LCD screen
Cons
Uses AA batteries
Difficult to focus when highly zoomed-in
Best Camera Overall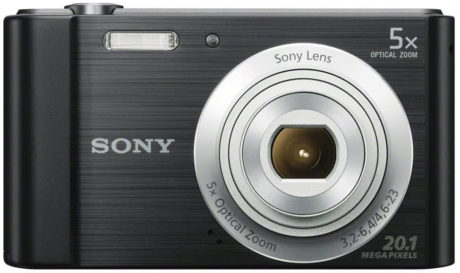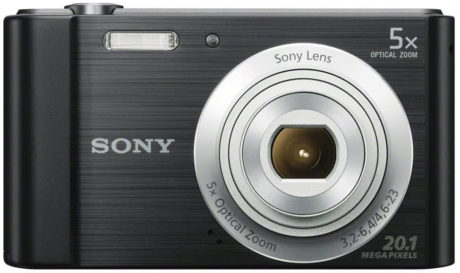 After looking at an action camera, a couple of Canon models, and many others, we have reached a decision as to which is the best camera at this price point. The Sony DSCW800, #6 on our list, is the winner in this case. It has a great image sensor, resulting in high-quality photos, and also takes HD videos. There are also useful features like smile detection and image stabilization, so getting perfect shots is easy!
Best Zoom Camera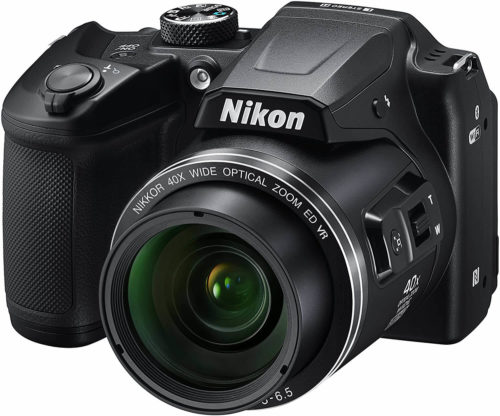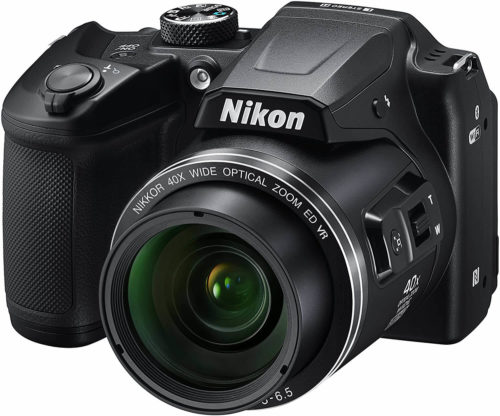 Not all cameras under 200 dollars have good zooming capabilities. The best is the Nikon, at #10, with an excellent 80x zoom. The Canon PowerShot is slightly disappointing in comparison, with 12x optical zoom lens, but other Canon cameras perform better.
Cheapest Camera Available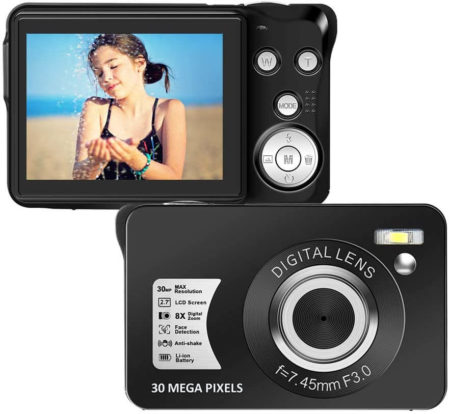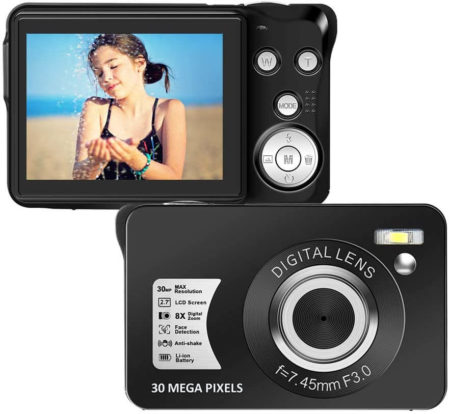 Whilst all of these cameras are priced very reasonably, the cheapest of all is not the Powershot, but actually one from a lesser-known brand. The Seree camera is the cheapest, at under $50, but it takes decent photographs, better than using a phone. It might not be able to take pictures underwater, but the next cheapest, the sports cam, can do this if this is a required feature.
Top Bridge Camera Under 200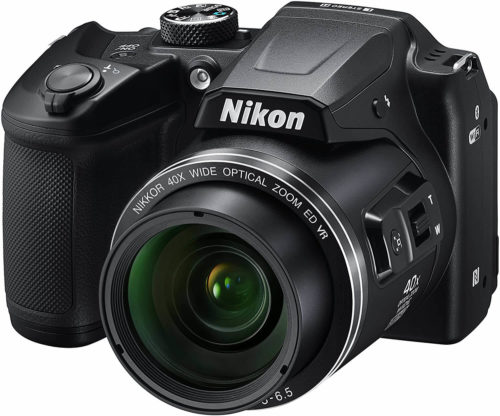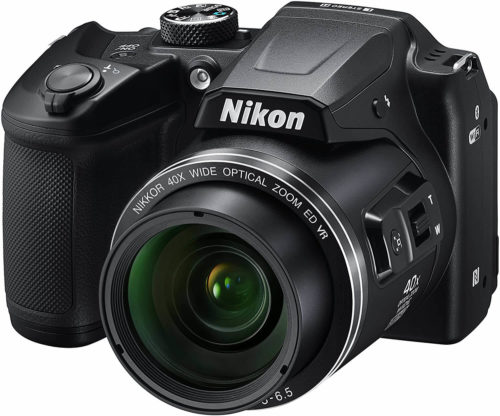 If you're new to photography and don't want to buy a DSLR, a bridge camera is a great alternative. The Nikon B500 is one of the best in this category, as it allows for many functions and settings to be adjusted and controlled, but is not quite as complicated to use as a DSLR. The wifi camera is excellent for sharing photos quickly, and the tilting LCD is a nice feature for shooting up high or down low.
The Best Pocket Camera under $200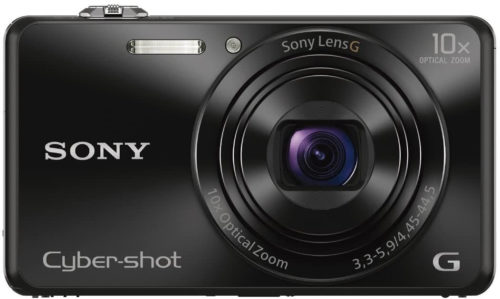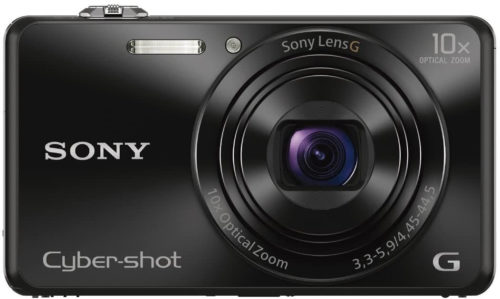 The ideal pocket camera should be compact and lightweight, and many of our point and shoot cameras above fall into this category. One which stands out is the Sony that was #6 in our guide above. It takes lovely images, with poor lighting being no problem, and it's the perfect size for taking anywhere.
What is the Best Digital Camera for the Money?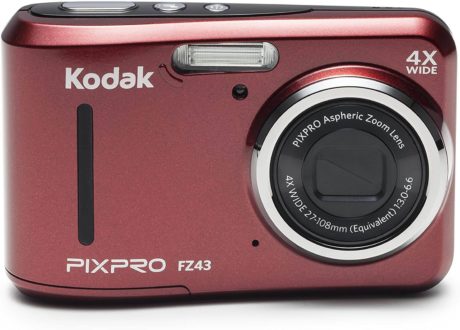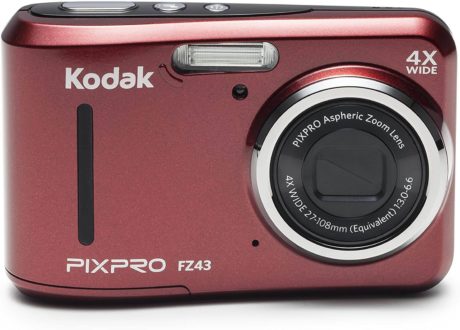 The camera which offers the best value, if you don't want to go for one of our top picks above, is the Pixpro FZ43. It's simple but takes lovely pictures and has a few adjustable settings to offer some control over the look of the images. The videos also look great, so it's ideal for starting a vlog, too.
What is the Best Camera to Buy for a Beginner Photographer?
Table could not be displayed.
If you are new to photography, a straightforward camera is what you will be looking for. The Kodak Pixpro at #1 ticks all the boxes – it has a range of great features to help you take stunning photos, and it the optical zoom lens enables you to shoot subjects from near and far. It comes at a great price point for beginners, too.
Last update on 2023-10-05 / Affiliate links / Images from Amazon Product Advertising API