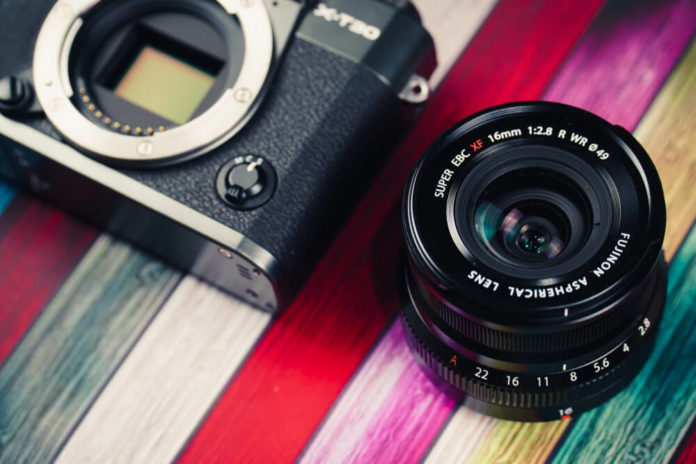 If you are looking for a new mirrorless camera the X-T30 from Fujifilm could be the camera you have been looking for. Fujifilm has been successful with its X-series cameras ever since the range was launched, with its rangefinder-style X-Pro line and DSLR-like X-T being very popular models. The Fujifilm X-T30 has been nicknamed the "Little Giant" as it is a small camera with a big performance. Previously the X-T20 was a condensed version of Fujifilm's X-T3 camera sharing a lot of the technological advances. The X-T30 digital camera follows this same idea, making it a great camera that is at the center of APS-C mirrorless camera technology, and all for an amazing price.
Considerations Choosing The Fujifilm X-T30
Video Quality – Video quality could be a big thing to consider when buying a new camera. The X-T30 from Fujifilm offers 4K ultra-high-definition recording, capturing videos in 6K and condensing them down to get the uppermost quality that can be achieved, a really great feature for filmmakers and bloggers alike. The different modes that are built in the camera adapt to all kinds of situations, such as lighting and mood-setting, so if you're not so handy with making adjustments manually then these preset modes can be a great addition to your camera experience.
Image Quality – The image quality of this amazing camera is outstanding, with JPEG images ready for use being pulled straight from the camera. The high-resolution screen containing a 26.1 MP sensor will help capture images with detail and shadowing that will impress more and more with every shot.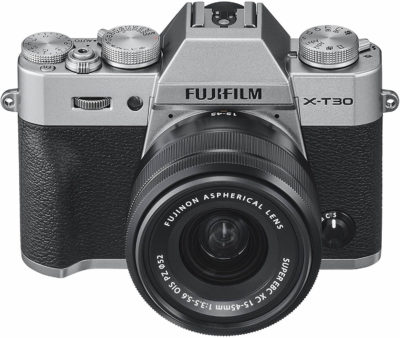 Camera Size – The size of the camera could be an issue for some users, with larger bulkier pieces of kit not being suited for holiday photography enthusiasts. Fujifilm's X-T30 is a great compact size but doesn't compromise on power and performance. A little concern is that this camera can sometimes seem a little too small, with it being easy to press buttons accidentally, and the use of larger lenses making the camera front heavy as would be expected from a device this size.
Fujifilm X-T30 Review
Key Features

Just like the other interchangeable-lens X-series models, the X-T30 camera makes use of Fujifilm's X-series lens mount. The 29 XC and XF lense have been designed for the system at the moment, also with the addition to two video-specific Fujifilm MKX optics. There are a few third-party options from companies such as Samyang and Lensbaby.
The X-T30 is fitted with Fujifilm's latest 26.1MP X-Trans CMOS 4 APS-C image sensor and an X-Processor Pro 4 image processor which can produce three times faster speeds than the previous third-generation version that is in the X-T20. This new design was first shown last autumn in the X-T3, another camera in Fujifilm's catalog and its back-illuminated design helps bring better light-gathering capabilities and image quality overall.
Video quality is another aspect that has been developed in the X-T30 and has some rather impressive features. Capturing 4K Ultra HD video at 30p, capturing oversampled 6K shots then downsizing them to 4K to provide maximum image quality, also Fujifilm's latest ETERNA cinema film simulation mode. The X-T30 can store 4:2:0 8-bit video internally or 4:2:2 10-bit via HDMI. In the lower quality 1080p, this mirrorless camera can shoot up to 60fps or 120fps in high-speed rec mode, and also supports the DCI 17:9 format.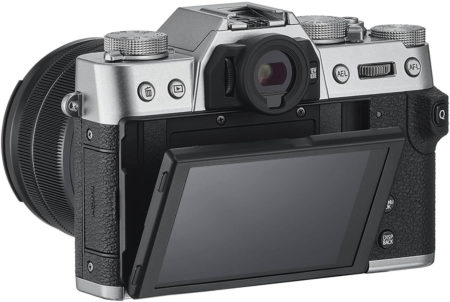 Performance

As ever, Fujifilm includes an extensive variety of its renowned Film Simulation modes, such as the Provia/Standard, Velvia/Vivid, Astia/Soft, Classic Chrome, Pro Neg.Hi, Pro Neg.Std, Black & White, Black & White+Ye Filter, Black & White+R Filter, Black & White+G Filter, Sepia, Acros, Acros+Ye Filter, Acros+R Filter, Acros+G Filter and the new Eterna/Cinema. These will all create in-camera JPEGs with the specific profile applied.
The improved face and eye-tracking works amazingly, though sometimes too effective as it seems easily occupied by people walking into the shot when you're trying to capture still objects. Due to all of this high tech, it will more than likely take a while to get used to all the settings that this mirrorless camera has to offer, finding out the perfect balance for your style of shooting. Autofocus performance is great overall, but the speed is not dependant on the camera alone but on the AF actuators within the lenses used. The 18-55mm f/2.8-4 kit lens is swift, fluid, and responsive, just as the other lenses recently developed by Fujifilm, for example, the older 27mm f/2.8 pancake prime will still puff and pant during autofocus, but a little faster than before.
Tonal control is better than ever, with more movement available if you need it, such as the dynamic range that the X-T30 offers, expanding range modes 200%, and 400% in addition highlight and shadow contrast controls. When using the Film Simulation modes these additional tonal adjustments, help you create JPEG images within the camera which are very close to optimum raw file reformations.
Fujifilm's X-T30 rear screen makes the camera great for horizontal images with its tilt action, but there is no sideways tilt so vertical shots are more difficult as you have to get yourself at eye level with the screen.
The X-T30 still incorporates Fujifilm's classic control layout, putting a shutter speed dial on the top of the camera and lens aperture rings on most of the lenses, not the actual camera. Prime lenses and 'red badge' zooms have aperture rings, yet 18-55mm f/2.8-4 kit lens holds a switch for auto/manual aperture control and an unmarked aperture ring. This means a mode dial isn't used, and you reach the normal program AE, aperture-priority, shutter-priority, and manual modes using different manual settings and the 'A' settings placed on the shutter speed and aperture dials.
In looks and style, the X-T30 is almost identical to the previous X-T20 but there are some slight differences with the LCD being 1.3mm thinner, and also grip shape has been revised for better control. There are variations on the back of the camera too. The four-way directional buttons on the previous model have been replaced by a new Focus Lever that also controls the menu navigation. It brings a new lease of life to the camera making the back look sleeker and less cluttered.

Auto Focus

The X-T30 naturally differs from the X-T3 in many ways, but the autofocus system used is basically the same, in some ways, this system is a little more advanced. The sensor used is the same 26.1MP sensor that is used by the X-T3 which means it has the same 2.16 million phase-detect AF pixels which cover roughly 100% of the frame. The camera is also able to choose from one of 425 individual points in the Single Point AF mode, but if this is not enough the Zone AF and Wide/Tracking AF options can also be used.
Previously the X-T20 had an AF range that only went down to -1EV, the 2.16 million phase-detect AF pixels now have allowed this to fall to -3EV, which will help the camera to focus in lower light with ease. A 300% improvement to focusing speeds with the non-stop Phase Detection.
When in use, the AF system brings subjects into focus swiftly between different shooting distances and proceeds to do this indoors as lighting levels reduce. Subjects that don't have the most definitive features also focus well with this new fuji camera, while there is still a little detection struggle amongst low-contrast items, if it can't get a lock on the object, the camera will let you know so that you can make any adjustments that are needed.
From the previous X-T20, the Face and Eye-Detection from the X-T30 are now twice as good as before and the system can now recognize smaller faces in the frame which is very useful when the subject begins to come close to the frame from far away. When using the continuous focus, Eye Detection now works, and an added face select feature lets you use the touchscreen to focus on specific faces. The Face and Eye Detect systems work really well in real-world scenarios as this digital camera performs really well in registering multiple faces as they appear in shot.
Image Quality

The image quality of the Fujifilm X-T30 mirrorless digital camera equals that of the upgraded X-T3 using the same sensor and processing engines. This camera is only the second model to use from the 26.1MP back-illuminated sensor keeping image noise low and details high the sensitivity is increased even making images captured at ISO6400 retain amazing detail and dynamic range is still good at lower sensitivities.
Film Simulation modes within this camera cover nearly all possible shooting, from everyday use with the Standard/Provia option then the Astia option which will offer a delicate softness for natural photography. Velvia is great when more punch is needed and this camera also offers various Black and White modes. The default setting is the Standard/Provia mode, providing natural but beautifully optimized colors and JPEGs are such a good quality they can be used straight out of the camera
Just like that of the X-T3, the Cool and Warm Monochrome Adjustment options are available in this camera. Both of these settings have nine different intensities, making it very diverse. When panning the camera there is a slight rolling shutter that is noticeable although this is usually controlled well. The wind filter setting is a great addition, as the built-in microphone, just like other cameras use their own built-in microphones is susceptible to wind noise. Changes to subject focus are smooth and reliable while recording and the touchscreen make this quicker than ever. Exposure changes are great when the aperture switch is set to 'A'on the lens otherwise, the camera changes aperture in obvious steps as lighting situations differ, sometimes not leaving as professional of a look.
Video are either 4K DCI or 4K UHD quality showing amazing detail and natural motion, and the stabilization system that comes from the lens does a great job. In fact it keep footage steady, especially in higher motion situations such as shooting from a moving vehicle, managing to smooth out the worst shocks and bumps encountered. Slow-motion footage captured at 120p is also very pleasant, even if it is slightly softer and inclined to noise.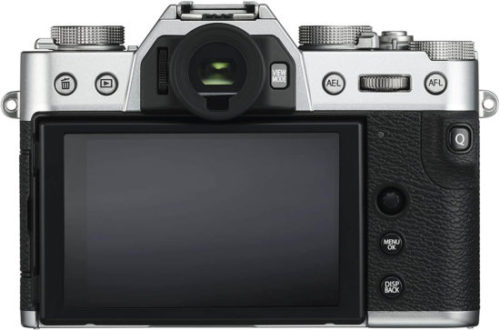 Verdict

The X-T30 has tons of technology and performance packed into a very small camera body with it sometimes wanting to be a little bigger as it is easy to press buttons accidentally, and bigger lenses leave the camera feeling very front-heavy.
Continuous shooting speed and autofocus performance make this camera great for sports and action subjects, but the feel of a bigger camera such as the upgraded X-T3 model would be more suited for these situations due to its larger memory buffer. 4K video is very good indeed in the X-T30 but still, the X-T3's is more solid although neither camera seems good for blogging without a front-facing screen.
This camera is currently one of the highest-resolution APS-C mirrorless cameras on the market, also one of the most powerful and versatile yet still compact into one of the smallest cameras of this range. Fujifilm's closest competitor to the X-T30 is Sony's 6500, but Sony does not have that same design finesse, screen quality, traditional photographic controls, EVF, or even lens range.
So while we can criticize certain areas of the X-T30's features and handling in this mirrorless camera review it is really just nitpicking. At this price, there is no other camera on the market that will deliver its all-round performance, different features, controls, and handling. Image quality is amazing for a camera of this caliber even if you spread your search to include DSLRs.The X-T30 is available in black and silver, and also a new Charcoal Silver finish. A really useful thing for existing Fujifilm system users is that you can buy the camera body-only with the compact Fujinon XC 15-45mm power-zoom lens or the more expensive but amazing Fujinon XF 18-55mm.
Overall this mirrorless camera from Fujifilm is top of its class regarding price and how much power and quality you get from such a small device, a real must-have for anyone with an interest in photography from any level of experience.
Buy this camera here:
Table could not be displayed.
Last update on 2023-10-05 / Affiliate links / Images from Amazon Product Advertising API