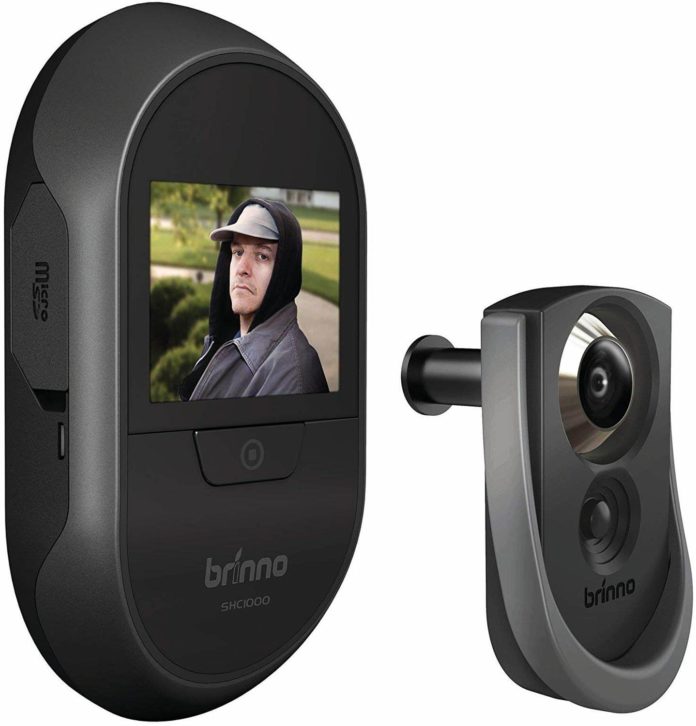 Security is important. And, even more so when it comes to our homes and families. With that said, many people choose to install a door peephole camera to help maximize security in this area. Great for monitoring traffic and visitors to your property, they can give you that extra peace of mind that's needed. Whether you live in a small town or a big city, these types of cameras are beneficial.
Allowing you to see whoever is outside of your property, many of these door viewer cameras can be connected to smartphones and tablets too so that you can monitor at all times. Some models are designed with both the elderly and young in mind and, others follow a more traditional design. Before you go ahead and choose your camera it's always a great idea to consider exactly what you're looking for. Here are a few things to keep in mind when making your decision:
Budget – For some, security is priceless. There are so many different peephole cameras out there, whether you choose to go for a high-tech one for hundreds of dollars or, just want a basic peephole doorbell, it's a great idea to set a budget and keep this in mind when shopping around.
Type of property – Depending on the type of property that you have, you may only require a single camera on the front door. Whereas other people may require multiple cameras, especially if their house or property has multiple possible entrances that can be accessed from the outside.
Picture quality – A grainy picture is certainly not ideal when you're trying to track visitors outside of your property. Be sure to check out resolution across all of the cameras that you're considering.
Camera angle – For those with a wider entrance to their home or property, it may be essential to see more than what is immediately outside of your front door. Wide-angle cameras can meet these needs.
Doorbell – This is another area of quality that you should be mindful of. If you have a bigger home, you'll want a loud doorbell.
Wi-Fi Connectivity – Some cameras in this category are really high-tech. To receive a cam that can send push notifications to your mobile device and more, you'll want to ensure it has Wi-Fi connectivity. This can also be handy for when you're away from your home too.
Best Peephole Cameras In 2020
We hope that the considerations above help you get a better idea of what matters to you when selecting a peephole cam wifi, it's time to reveal our top 10 choices in 2020. From great value for money cameras to those packed with every feature you could imagine, there are plenty to choose from.
1. LaView Wireless Peephole Camera And Doorbell
Built to be Wi-Fi enabled, this camera will allow you to peep out onto your doorstep in high definition. You'll also be able to see recordings in 720P HD.  Completely wireless and including a smart power-saving facility means that you'll get the most of battery life too. You will also receive notifications to your phone whenever someone touches your doorbell or if the motion sensors detect movement outside of your property. This smart device allows you to communicate with your visitors through a built-in microphone and speakers for additional convenience. You can view your video footage at any time or anywhere thanks to the multiple storage options that this cam has. And, with excellent reviews all round this peep camera is easy to install with a handy touchscreen too. Providing clear daytime video, great working night vision, long battery life and a sensitive touchscreen means that for the price you pay you're ticking all the necessary boxes. 
2. Ring Video Doorbell
If you're looking for a Wi-Fi doorbell that is compatible with the popular Alexa device, this could well be the best choice. Available in three different colors including satin nickel, brass, and Venetian bronze, this clever cam can also record video footage too. Compatibility with Alexa means you'll be alerted whenever there is a visitor. Reviewed highly for its ease and simple setup, some of the pros of this device include two-way vision and communication, instant alerts when the doorbell is pressed, HD video viewing and infrared night vision mode, live view on-demand and a 1-year long warranty too. Considered as one of the best doorbells in this category, if you're looking for reliability without having to spend a fortune you're in luck.
3. Danmini Camera And Doorbell
You can choose to have this product with or without a doorbell and with a wide lens, it's sure to help you monitor who is outside your property. The night vision mode helps you to boost security even further and it comes with 3 handy modes including  "at home", "leave home", and "do not disturb". You'll be able to use this product alongside your existing  peep hole camera and will only require 3 section AAA battery and a TF card to power the video doorbell. Providing excellent quality picture, the daytime cam is extremely clear meaning you won't have grainy video quality to deal with. The 24 inch HD screen is easy to set up and use, it also comes with automatic standby and energy-saving mode too.

4. Brinno Door Peephole Security Camera
This front door peephole camera is available in 3 different styles: SHC1000, SHC500, SHC500K.  Activated by either a doorbell being pressed or a knock, it's extremely high-tech and offers clear image at all times. The battery life of this camera is excellent, lasting about 1,800 triggers long. Only taking a few minutes to install, the device will operate from the inside so that you won't have to worry about it being stolen. Excellent for ensuring top security at your property, the large LCD screen allows you to clearly detect who is around your property. And, the camera itself is discreet enough for you to feel able to do so confidently from the safety of your home. This camera is ranked high for its battery life and sharp, clear image production. It also works efficiently in dimmer light conditions too.

5. Greeter Plus Doorbell
This digital door viewer is available in 3 attractive colors including golden earth, space gray and golden earth-plus giving you plenty of personalization for your front door. Working without a smartphone, it is capable of taking photographs and recording footage of daily visitors. You won't have to worry about missing anything thanks to a wide-angle lens with a 165-degree view. Offering clear images both day and night, this camera also boasts excellent battery life thanks to its rechargeables. Again, this option is very easy to install meaning that you can get using it right away and, it offers excellent value for money as one of the more affordable options. It comes with a long charging cord so that when it is time to recharge batteries you won't feel like this is a chore in itself.

6. Eques Digital Door Viewer
A top-seller when it comes to video doorbells, this camera is excellent for both the safety of children and seniors. Compatible with smartphones, this cam has a wide-angle lens so that you can see everything that is happening outside of the door at all times. Installation is both quick and easy and you won't need a doorbell or access to home electricity to use it. The Eques peep hole cam provides clear images across both daytime and nighttime conditions. If you're looking for a solid camera that will provide excellent security for your home at all times, this could be the best option for you. Once the paired app is downloaded, it is extremely easy to manage your new camera via a smartphone too and it has great audio quality at the same time.

7. Sonew Digital Door Cam
With a beautiful ultra-thin design, this camera is certainly appealing when it comes to the way it looks. However, outside of its exterior appeal, it will also provide you with precise monitoring outside of your door, 24 hours a day. Easy enough for both children and seniors to operate, it's extremely easy to use. You won't have to spend hours setting up this device and, it is highly reviewed for the excellent image quality it produces in the daylight. For a cheap, simple peep hole camera that you know won't let you down, this could be ideal for your needs. It boots up quickly and has a great battery life too, meaning that you can set it up and begin using right away.

8. Blink Indoor Home Security Camera System
Another great yet affordable peephole security camera, the Blink indoor system has an in-built motion sensor alarm for extra security. Whenever motion is detected, the cam will alert your smartphone using the Wi-Fi network. This can be extremely useful for those that are out and about during the day but still want to know that their home is secure. It has the ability to save a short clip of the motion detected which is stored on Cloud for you to view whenever and wherever you want to. Its battery-powered system means you won't have to worry about the camera ever losing power as you'll simply need to replace the 2 AA lithium batteries as and when required. Easy to install, it requires minimal fuss and can be powered up in a matter of minutes. You'll have access to real-time live footage of your home and it comes in 5 different configurations too.
9. Wireless Door Cam With Peephole
The same size as a regular door peephole, this cam gives an extremely natural look and is discreet. Low illumination means that it's easy to see who is outside of your door even under poor lighting conditions. For those that are looking for a hidden camera option, this product really does offer just that. With 16 different channels, you'll have complete peace of mind and won't have to splash the cash to know that your home is secure at all times. We love this camera for its simplicity and efficiency, while it doesn't come with some of the features the other options in this list have, it does fill the essential criteria.
10. Digitsea Digital Doorbell And Peephole
This doorbell peephole cam offers an excellent LCD screen that works well even in night mode, a wide-angle lens for total coverage and automatic picture and video capturing. You'll need 4 AA batteries (not included) to power up this nifty device which is easy to set up. It comes with various sized screws so that you can fit it correctly to your door and while this camera is lesser-known it still consistently ranks as one of the best types in this category. If you're searching for a simple device that you can get started with immediately, this Digitsea option is great value for money and will provide excellent image quality even during the night too.

Tips Choosing Peephole Camera Recorders
After reviewing our list of options you may still be left feeling confused about which option to go for. As you can see there are lots of different models available, each comes with its own price tag and set of features. Here are a few further tips to help you choose the best door eye hole camera for your own needs:
Prioritize clear image – This may seem obvious but make sure that you're choosing a cam that provides clear image quality during both the day and night. While the image doesn't have to be entirely crisp, going for an option that provides HD footage which always is useful.
Take notice of motion sensor adjustments – You should try to choose a camera that allows you to adjust the sensitivity of the motion sensor. With these type of cams, customers have reported receiving alerts of cars driving by, birds and other natural occurrences that take place outdoors. This can become extremely frustrating as you can imagine!
Try to meet the majority of your requirements – Go for a keyhole camera that meets most of your requirements. A camera's capabilities will narrow down your results and then you can take further factors into consideration such as a budget.
How To Protect My Digital Peephole From Theft? 
Plenty of people worry that their new cam could be stolen and, this is completely normal. If you're hoping to better secure your home from thieves it can be a bit of a headache to also put measures into place to protect the camera too. The only way to ensure that your new device can't be stolen is to buy an interior installed theft-proof camera. These devices all have the hardware required and visitors will see the peephole outside of your door. Some of the cam manufacturers will offer theft protection, so keep an eye out for this too.
Do I Need To Install A New Peephole? 
In the majority of cases, you won't need to fit an entirely new peephole. Most can instead be directly fitted into your existing slot, however if your door doesn't already have a peephole you'll need to use a drill bit to do this.
Will My Door Be Too Thick To Install A Peephole Cam?
Most peephole cams are designed to fit the average door size which is no thicker than about 3.5 inches. Though, you may need to use the various sized screws that extend beyond these measurements to properly fit your new device to your property's door.
Choosing Your New Hidden Front Door Camera
As you come to the end of our guide, hopefully, you'll have a much clearer idea of the different features to look out for in peephole cameras and know which is best for you. Taking the steps to make your home more secure is certainly going to be beneficial whether you live alone or have a family. Peephole security cameras are great as they provide a convenient and clever way of alerting us when expected and unexpected visitors arrive at our property. With plenty of safety advantages, you can then choose to open or not open your door and deter people from entering your home.
Think about what is important to you when considering the functionality of this type of camera. Be sure to evaluate all your options and not just go for the cheapest as a means of saving money. There are lots of reviews circulating around these products so take advantage and do your research. Once you've filtered down your choices make sure that you're aware of any cons in your final product. This way, you won't be surprised or have any complaints further down the line.