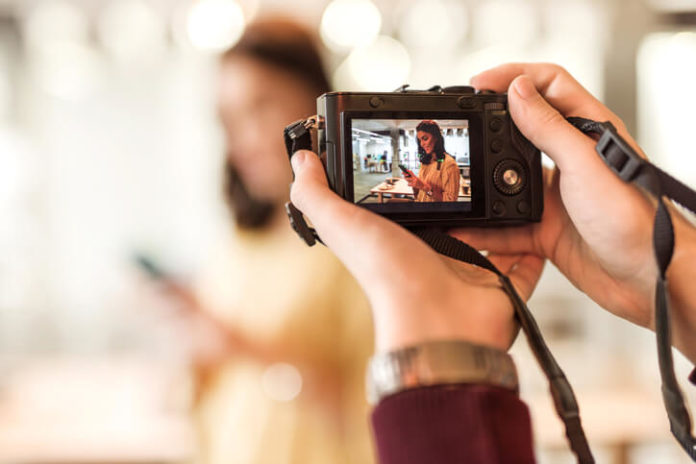 Photography certainly isn't the cheapest hobby to enjoy, but for those starting out, it is possible to find a decent camera under $50. Whilst a digital camera might have once been a luxury few could afford, the technology behind them continues to come down a price all the time. This means there are now many cheap digital camera options out there, which are capable of producing high-quality images. Of course, the quality of photographs taken by these cheap cameras can't match that of a high-end DSLR or mirrorless camera, but for those on a tight budget, they can be a great choice.
In the guide below, we have picked out some of the best digital cameras under $50. These are easy to use cameras which are ideal for children, travel, or anyone looking to upgrade from their phone camera. So, let's first take a look at what you need to know before making a purchase.
Considerations When Choosing Digital Cameras Under $50
There are a few things worth keeping in mind when choosing from the many cheap cameras out there. Some of the main points to think about are as follows.
Image Quality
The number of megapixels the camera has will tell you how good the quality of the shots taken will be. When shopping, you want to keep an eye out for cameras with a larger number of megapixels. For this price range, your best bet would be 20 megapixels, although 10 – 12 megapixels would also deliver decent image quality.
Size
Regardless of the price or intention of the device, people often like their cameras to be easily portable. This makes them easy to use and causes little to no discomfort when shooting for long periods. Small cameras can be safely stored in the pocket, waiting to be used, and can be packed in bags when traveling. Their small size makes it ideal for capturing the sweet little moments with family and friends.
Build Quality
With budget cameras at this price range, you need to be watchful of the build quality. You want to pay attention to the kind of materials the body is constructed from and compare the durability of the different materials.
Battery Life
One feature that can really make or mar your choice of digital cameras is the quality of the power source. You want to make sure that for this camera type you get a model that works with rechargeable batteries. Ideally, a camera should be able to handle a day's worth of shooting on a full charge. Also, make sure to check the recharge time on the batteries to ensure they can be charged up fully in time for the next use.
Best Cheap Cameras under $50
1. AbergBest 21 MP Camera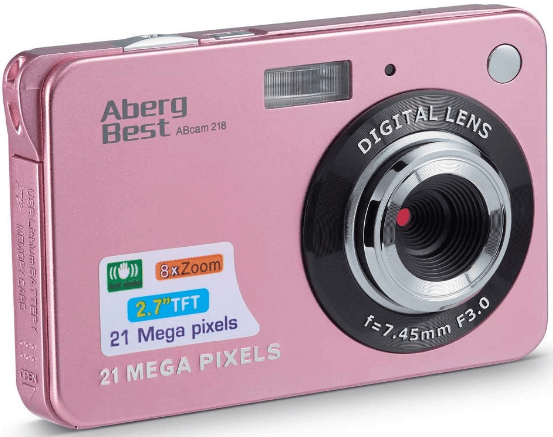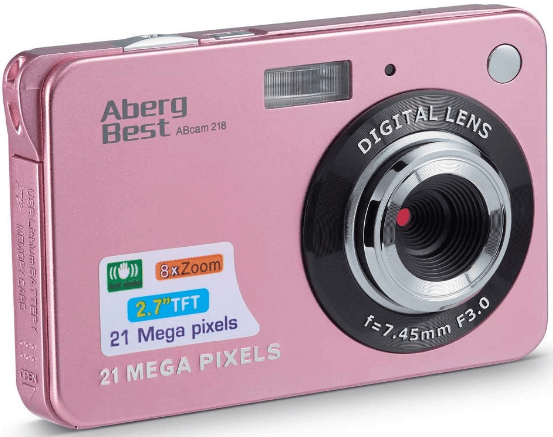 The AbergBest 21 is the best digital camera under 50 as it is very mobile and feels almost weightless in your pocket or backpack. The camera boasts a 21-megapixel sensor, offering excellent image quality, and a 2. 7 LCD screen. So, it captures clear and bright digital pictures and videos of both macro and distant subjects in HD. It supports external memory cards up to 64GB for storing the files on.
With its dial for continuous shooting speed of 6 frames per second, anti-shake system, and eight times digital zooming, you are assured not to miss the significant moments with this camera. It is also equipped with a 550mAh lithium-Ion battery, meaning you won't have to use disposable AA batteries. Photos captured on this camera are geotagged so you can remember where they were taken at a later date when using the playback mode.
2. KODAK Printomatic Digital Instant Print Camera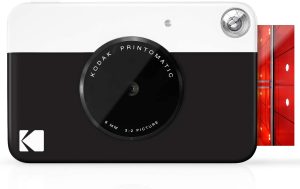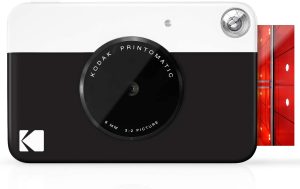 This instant full color camera feature a powerful 5MP sensor with a wide angle f/2 lens that instantly prints vibrant photos. The device uses Kodak Zink Photo Paper, so no ink cartridges, toners or film are needed. The photo prints are durable, water-resistant, tear resistant and smudge free comes.  Kodak Printomatic Camera is an easy-to-use product. Saves photos to a MicroSD card. Unfortunately the USB Cable is not Included.
To conclude you don't need an internet connection for this Camera. No app installation. Just point, shoot, and the picture comes out very good. It is the best digital camera under 50 dollars available on the market that is good for all ages.
3. WOWGO Kids Digital Camera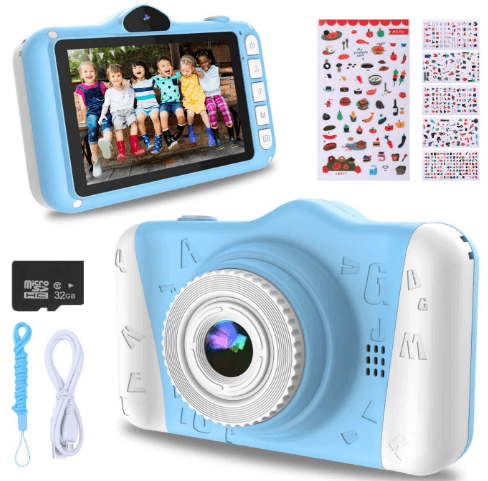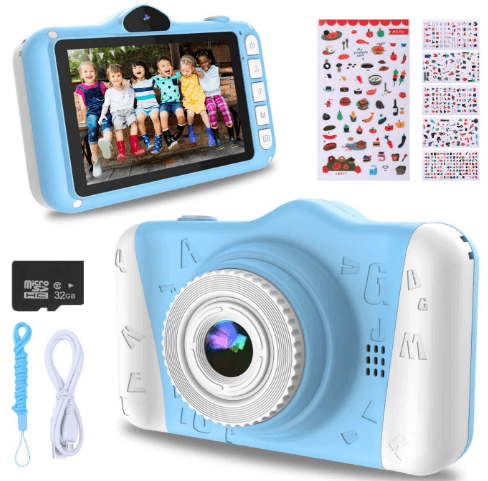 Our final pick is one which would be the ideal first camera for kids. It would help them develop an interest in photography and the quality that this camera provides is sure to keep them interested. The camera has a 12-megapixel sensor and is capable of recording full HD video. It has cool features like timed shooting, burst shooting, stickers, and amazing filter effects. And you need not worry about running out of space as it comes with an external 32GB SD card. All of these amazing features make this camera one of the best available at this price point.
4. Digital Camera 2.7 Inch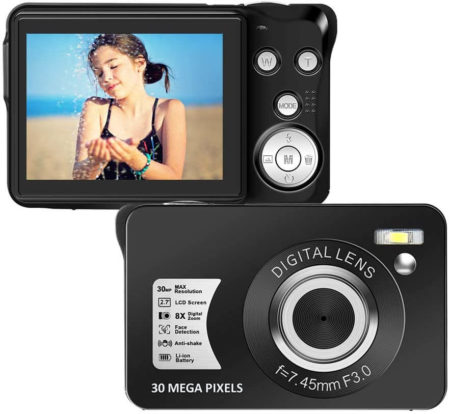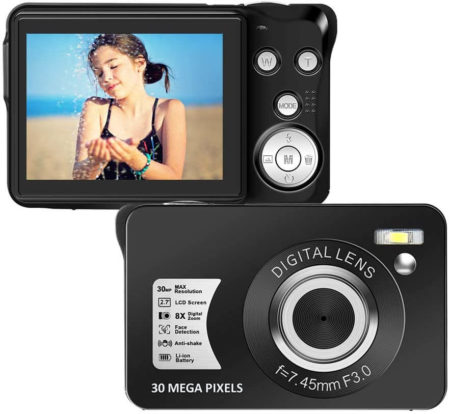 This a wonderful budget camera and is easily one of the best, if not the best, cheap digital camera under $50. It features an impressive 30 megapixel CMOS sensor and can capture beautiful 1080p videos. It has an 8x zoom that seamlessly enlarges images and allows you to take images of objects and events that are not close to you.
It features self-timer and continuous shooting feature options that allow for several settings, letting you have the utmost control over how the images are captured. With dimensions 4.2 x 4.1 x 3 inches and weighing 16 ounces, it is a lightweight camera, ideal for travel. It comes with a built-in flashlight, microphone and speaker, and features a long-lasting battery life.
It has an anti-shake function that prevents blurry images and enhances image stabilization, a versatility of imagery under different lighting conditions, and supports up to 128GB additional storage. This is definitely one of the best cheap digital cameras under $50.
5. HD Mini Digital Cameras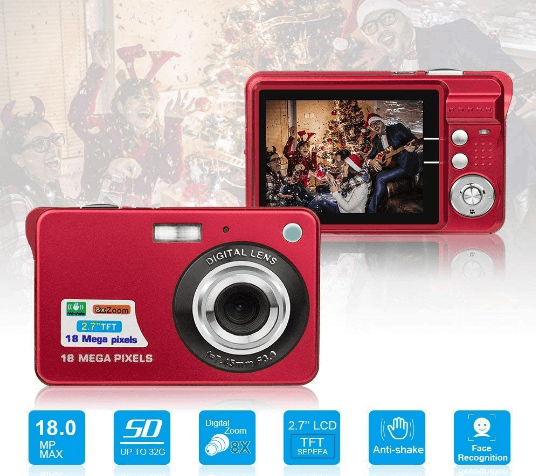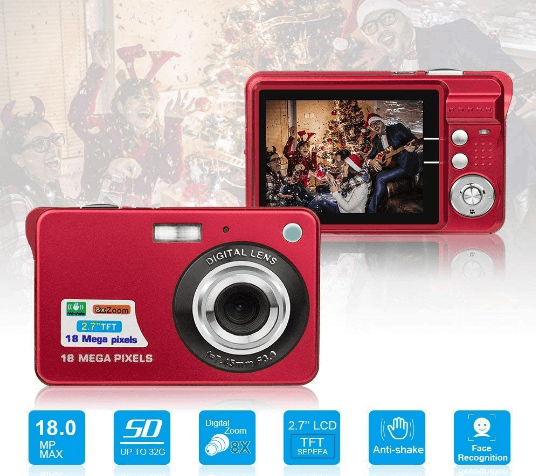 This is a cheap digital camera under 50 that offers excellent value for money. This point and shoot digital camera possess an LCD display and a user friendly zoom lens, as well as a resolution that favors good photo and video recordings. Interesting features include the anti-shake, high sensitivity, and face detection that makes the item comparable to those with a higher price tag. It comes with an SD card, a camera bag, and a user manual. The Sunpak camera is lightweight and has a portable size, handy and ready for use anywhere.
6. Mini Digital Camera, Vmotal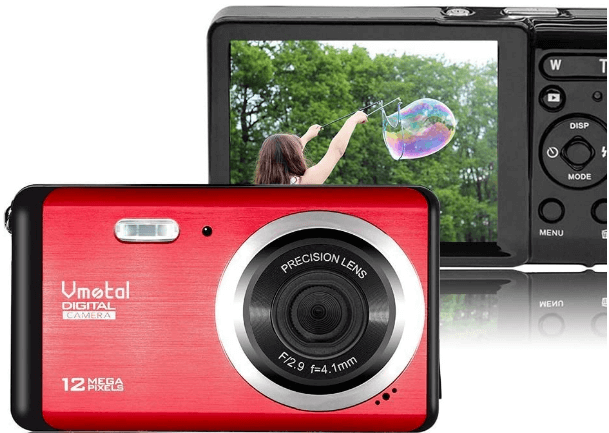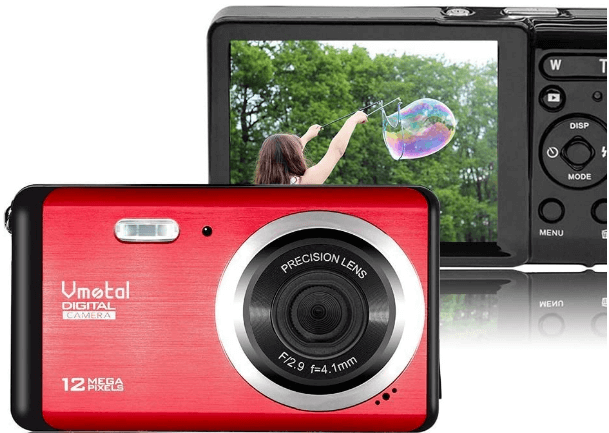 This digital camera has a 12MP sensor, built-in flash, and image stabilization software that functions together to produce sharp pictures. The IS corrects blurry pictures caused by camera shakes. It also works as a webcam camera for your PC and has standard features like continuous shooting, smile capture, face detection, self-timer, and panorama.
The camera is powered by 800mAh lithium batteries that lasts for 80 minutes of constant shooting per full charge. You can make use of its 2.8-inch TFT LCD screen to monitor your settings and shots. HD videos, as clear as 720p, can be created by this mini digital camera. You can use micro SD cards with a storage capacity of up to 32GB. It has an electronic shutter control with an 8x digital zoom and a wide range of image effects for creating magic.
7. AKASO EK7000 4K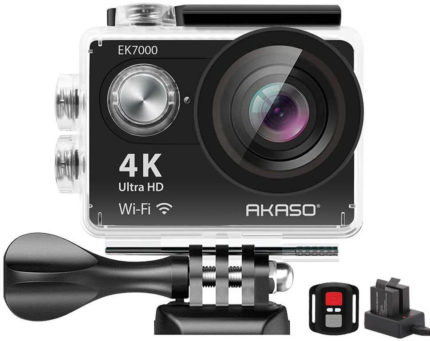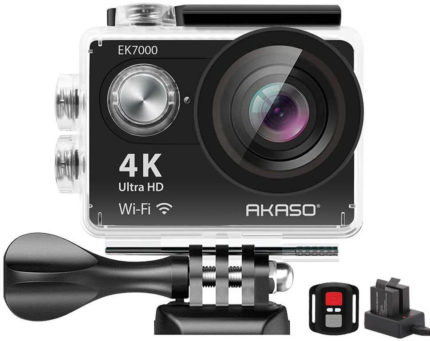 Our first pick is the Akaso EK7000, which is simply one of the best video cameras under $50. It offers outstanding video quality; this camera boasts high resolution 4K ultra HD video recording capability, which is able to capture beautiful and sharp videos. 4K video is captured at 25 fps and 2.7K video at 30 fps.
It is a multifunction camera offering several shooting modes like time-lapse, burst photo, and looping recording. It features a splashproof remote control mode that eases the switch between video and photo mode and is Wi-Fi and HDMI-enabled to facilitate ease of transfer of content with mobile devices.
With dimensions 0.9 x 2 x 1.5 inches and weighing 12 ounces, this compact beauty is designed to withstand taxing conditions. It is also waterproof and comes with a rechargeable battery. Its 170° wide-angle lens provides an expansive field of view making it one of the best cheap digital cameras under 50 dollars.
8. Digital HD 1080P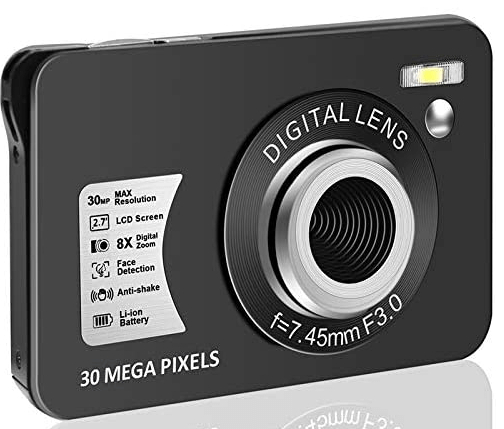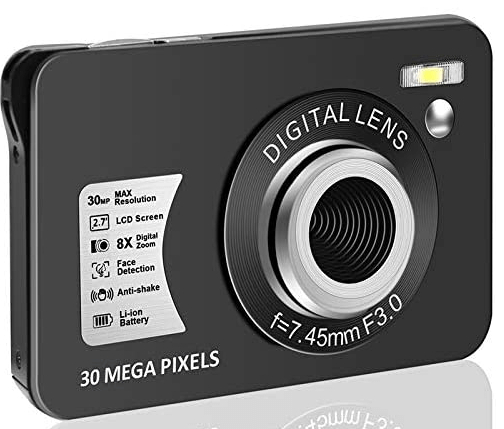 This camera features a 36MP sensor, a 2.4-inch LCD screen, and a rechargeable 600mAh battery. The camera not only creates video content at HD resolution, but it also has an 8x optical zoom, continuous shooting, and vibration reduction features, which ensures that the camera can take photos from a distance whilst still producing great quality. The camera also allows for an card with memory up to 32GB so that you can take as many pictures as possible without having to worry about storage problems. This is the best cheap 2.4-inch camera on the market today; it is the best cheap digital camera under 50 dollars, pocket-friendly, and suitable for the entire family and with a good battery life for enjoying lots of photography.
9. HD Digital Camera 2. 7 Inch LCD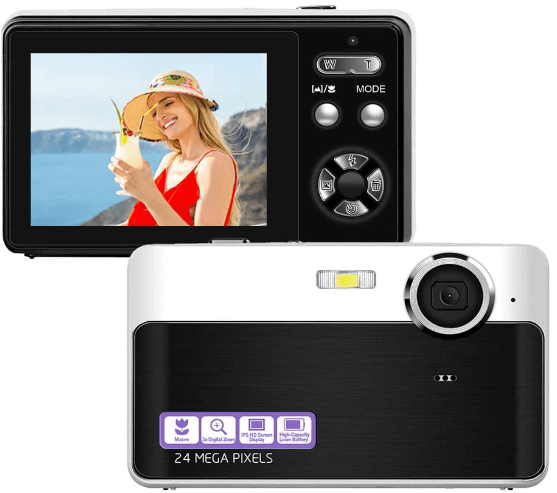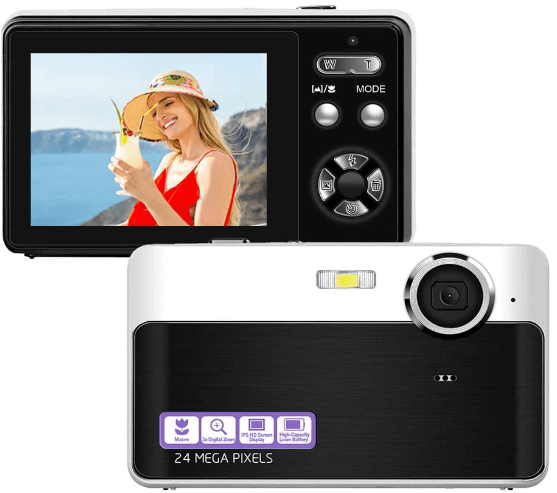 This lightweight, compact camera has a 24MP CMOS sensor and an 8x digital zoom for capturing clear pictures and videos. It is easy to operate and can serve as an entry-level camera for amateur photographers. This camera is one of the best, cheap digital cameras under $50. This pocket-sized digital camera can be carried around easily to capture the random, beautiful moments in your life.
It has in-built 600mAh rechargeable batteries that last for 60 minutes of shooting on a full charge. There is an integrated express software for editing, sharing, or printing your pictures after shooting. It has vibration reduction, facial detection, timer, continuous shooting, and smile capture functions available when creating your videos or photos.
All these features are accessible through its 2.7-inch LCD and buttons. This device is the best digital camera for anyone searching for an affordable, quality unit. It can serve as an accessory during activities like parties, weddings, travel, etc. The digital camera supports a micro SD card of up to 32GB, which helps you store those beautiful memories.
What to know before buying a cheap camera?
If you are new to photography, you will come across these words in the different product descriptions. We have defined their meanings and explained their importance below.
Image Sensors
These help you, with your camera, take quality pictures regardless of the lighting situation. The best image sensors come in two variants – Micro Four Thirds and APS C. The APS C sensor gives you better quality but suffers because it is bulkier. The former produces pictures of lesser quality but makes up for it in portability. However cheap digital cameras will be equipped with mush smaller sensors, and it will result in high noise levels in low-light conditions.
Lenses
The lens type matters in most cases the most when choosing cameras. In the higher-end models, you get the option of using different interchangeable lenses. You have the option to choose among wide-angle lens, telephoto lens, standard zoom lens, and others. However, in budget point and shoot cameras, the lens cannot be changed. Instead you should look at how far it can zoom in on your chosen subject.
Manual Controls
Manual controls are a welcome feature in both pro and beginner cameras. These controls allow the photographer to make adjustments and finetune settings like the depth of field, exposure, and shutter speed, to control the final appearance of the image. On a budget camera such as those featured above, you will be limited in what you can control.
What is the best cheap digital camera under 50?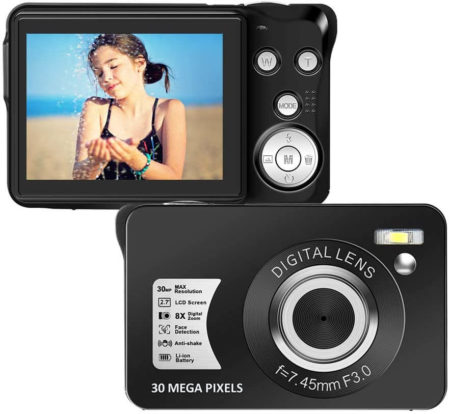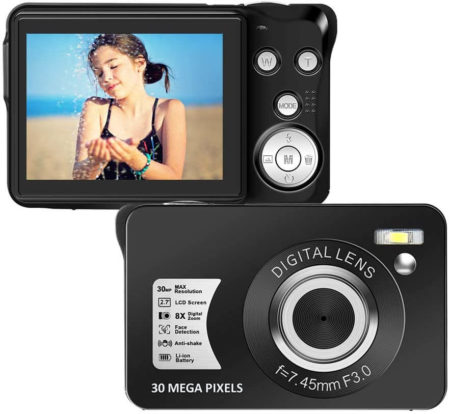 Our favorite of all the cameras we have looked at above is #3 on our list. It features an impressive 30MP sensor and an 8x digital zoom lens, meaning you get excellent picture quality even for faraway subjects. The camera has some other great features like the rechargeable lithium battery, image stabilization, and face detection for shooting perfect portraits. Overall, for the price point, you can't go wrong with this little camera.
Which is the best $50 camera for video recording?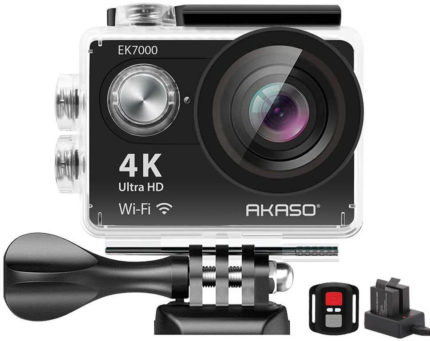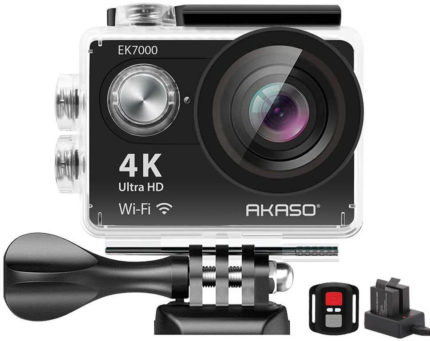 The Akaso EK7000 4K. This, without any doubt, is the best camera to record videos on this list. It is capable of recording videos in 4K ultra HD, unlike many of the others we have featured. It comes with a wireless wrist remote that enables you to control the device remotely. This action camera comes with batteries that can be recharged and built-in HDMI and Wi-Fi for the easiest connectivity across devices, with the Wi-Fi having strong reception up to 10 meters. It is no doubt the best cheap digital camera for video recording, as it is designed to withstand the harshest environments with its waterproof case.
Last update on 2023-12-06 / Affiliate links / Images from Amazon Product Advertising API