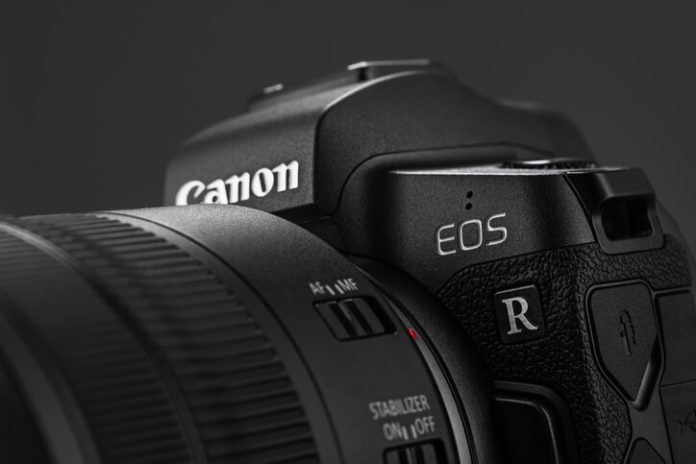 The Canon EOS R is one of Canon's flagship mirrorless cameras. This high-spec, full-frame camera is quite costly, but it has some incredible features and produces stunning photographs. It's ideal for professionals and hobbyists alike, so if you are thinking about a Canon mirrorless camera, read on to find out more about this excellent model, which is considered one of the top Canon cameras. We will show how it ranks next to its closest competitors from the other big brands.
Considerations Buying The Canon EOS R Camera
There are a few things to consider when deciding whether or not this is the right camera for you. Some of the main factors to think about include;
Budget – The Canon EOS-R doesn't come in cheap, so make sure you are prepared to spend a considerable sum. If you are new to photography, it might be out of your price range.
Specs – Think about which features and specifications are necessary in your new camera, and be sure they can all be found in the Canon EOSR.
Screen – Like some other Canon APS C cameras, this one has a multi-angle touchscreen. The LCD has 3.69 million dots so it offers an excellent level of detail when viewing photos or using it to shoot with. The screen can be tilted to different angles for shooting high or low, which is sure to be an advantage to most users.
Size – If you will be using the camera for traveling around, be sure the size and weight aren't restrictive. This model is more compact than many comparable DSLRs, but it's not the smallest or lightest mirrorless camera out there.
Compatible Lenses & Accessories – This is a big factor to consider when buying a camera. Not only should you check the type of lenses and other accessories you want to use are compatible with the chosen camera body, but also check out their cost. High-quality lenses can cost hundreds or even thousands of dollars, so be sure to factor this in to the budget, too.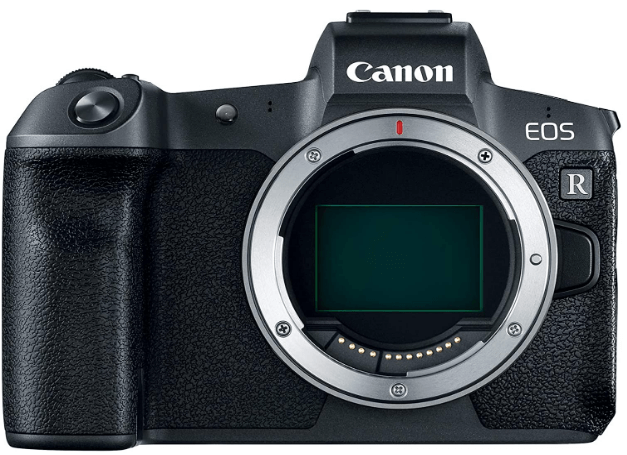 Type: Mirrorless | Sensor: 30.3MP CMOS | Video: 4K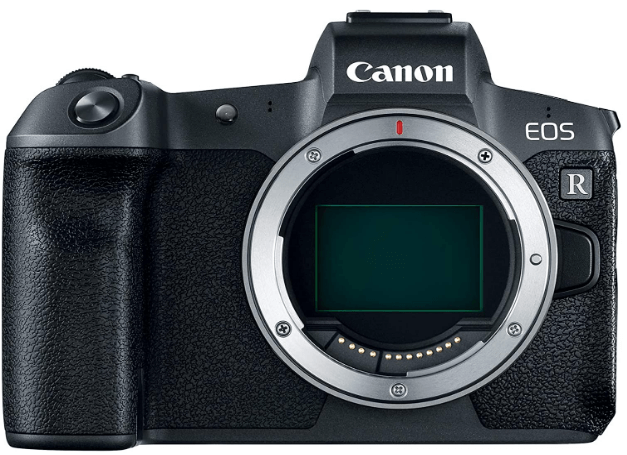 Type: Mirrorless | Sensor: 30.3MP CMOS | Video: 4K
Canon EOS R Review
Let's now take a more in-depth look at the EOS R from Canon.
Specification
First and foremost, you'll probably be interested in the Canon EOS R specs overall. The camera has a 30.3 MP CMOS full-frame sensor, and a Digic 8 image processor. The ISO can be set from 100 to 40,000 but is expandable to 102,400 for very low-light situations. Video quality ranges from HD to 4K, at varying frame rates. In terms of memory cards, this camera accepts SD, SDHC, and SDXC.
A fully articulated LCD touchscreen measuring 3.15 inches can be found on this model. Connectivity takes the form of WiFi, Bluetooth, and NFC, and burst photos can be shot at a rate of 8 fps. The EOS R Canon weighs in at 580g, body only, not including the battery or memory card, and the dimensions of the EOS R body are 135.8 x 98.3 x 84.4mm.
The new lenses for this model come with a control ring, and an adapter is also available to give older lenses this feature. With it, photographers can have very easy access to a function of their choosing, whether its exposure compensation, shutter speed, ISO, or aperture. Buttons to change many of these functions are no longer on the top or the rear of the camera body, as it is quite small. So, having the control ring is highly convenient, and it's possible to set it to control a different setting depending on the mode being shot in, or the photographer's preference.
Canon and Sigma EF lenses are compatible with this camera, so if you are already a Canon user, you can continue to use these lenses. The camera is equipped with built-in Wi-Fi which is very convenient for viewing and sharing photos. There's also a compatible app that can be downloaded to a smartphone, allowing the phone to be used as a remote shutter.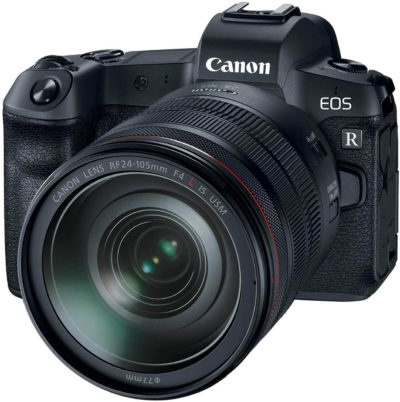 Key Features
The Canon R has a decent autofocus system, a phase-difference detection system. It is incredibly accurate and has 655 autofocus points to manually choose between, and it's possible to set the focusing point using the touchscreen. There's also face detection which will automatically focus on the subject's eye, so getting sharp portrait shots is made easier. The only downside is eye tracking is only available in the single AF mode, whereas there are many other autofocus modes to choose from.
Unfortunately, when it comes to in-body image stabilization, this Canon EOS digital camera is completely lacking. It doesn't have any form of image stabilization, despite the fact that its nearest competitors from Nikon, Panasonic, and Olympus have had it for years. However, some of the RF mount lenses that will be used with this camera have in-lens image stabilization, so it's not a complete loss. Of course, this unfortunately still means there are certain lenses that won't be able to benefit from it.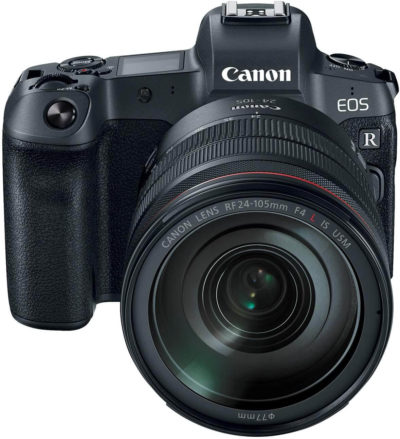 Video
Like most of the high-spec mirrorless cameras you can find on the market today, the Canon mirrorless EOS R is capable of recording 4K video. Video can be recorded continuously for a total of 29 minutes before it will need to be stopped and restarted.
However, there are a few downsides to shooting video on this camera. 4K can only be shot at 30fps, although 1080p (Full HD) is possible at up to 60fps. If you want a higher rate of 120fps, you'll have to lower the quality to 720p, or HD. Another downside of taking video on this camera is that it is subject to a crop factor of 1.7x.
So, these drawbacks might mean this model isn't going to be a hit with vloggers, YouTubers, or videographers – it's far from the best Canon camera for video.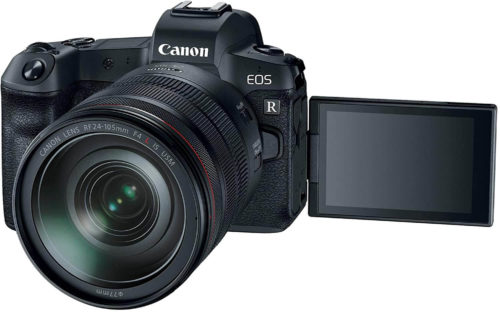 Build And Handling
This is a premium camera, and it has the look and feel of one, too. The camera body is made from magnesium alloy which is lightweight and compact, yet also sturdy and durable. Particularly when compared to similar DSLR models, this camera feels really sleek and compact.
Whilst this lightweight body is, in many cases, an advantage, it also poses problems. Larger lenses can cause the camera to feel off-balance, particularly those such as the RF 28-70mm. If this is an issue, it's possible to use a different battery grip in order to allow for vertical shooting. Despite the slightly awkward feel of certain lenses on this camera body, they do perform very well. The RF 24-105mm f/4 is one that fits exceptionally well – it feels very balanced.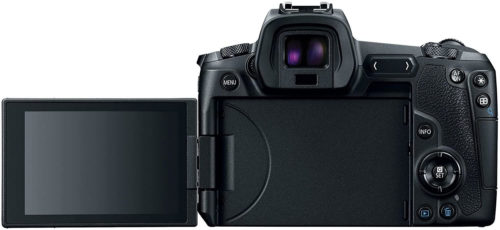 Performance
The image quality of the Canon EOS R mirrorless varies depending on the shooting conditions. In terms of resolution, it doesn't perform quite as well as its closest competitors such as the Nikon Z7 or the Sony AR7 III. This could be expected, as their sensors have a much higher number of megapixels. However, the EOS R shines in low-light situations. It is much less noisy than its competitors at the same ISO setting and has an excellent dynamic range at ISO 400 and below.
The colors produced by this camera are stunning, and the image quality remains equally impressive whether shooting in dimly-lit conditions or in full sunlight. The RF mount lenses also give great results on the Cannon EOS R, even when shooting wide open.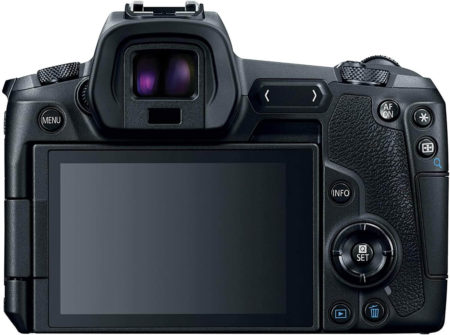 Verdict
When it comes to finding the best Canon camera, this one is a strong contender. However, if you are searching for the best mirrorless camera and are open to considering other brands, there are better options out there. Whilst this model produces excellent images, there are a few issues which means that it falls behind its competitors. The cropping of 4K video is a big issue that isn't found on Nikon and Sony's mirrorless full-frame cameras, as is the limited resolution at 60 or 120fps when shooting video. The lack of in-body image stabilization is another factor that puts the EOS R behind some of the other leading brand's mirrorless bodies.
Despite all there are some excellent features on this camera, primarily the new control ring. It also has a higher resolution sensor than the EOS RP, Canon's previous mirrorless camera. And, if you are keen on sticking with Canon in order to use lenses you already own, keep in mind that these do perform very well on this model.
The variable-angle LCD is nice on this model, as are the colors of the images. The autofocus system is another highlight of the R EOS – the facial recognition and eye-tracking make it a great choice for users who frequently shoot portraits.
But, if you are looking for the very best of the best Canon professional cameras, you might  want to go for the new R5.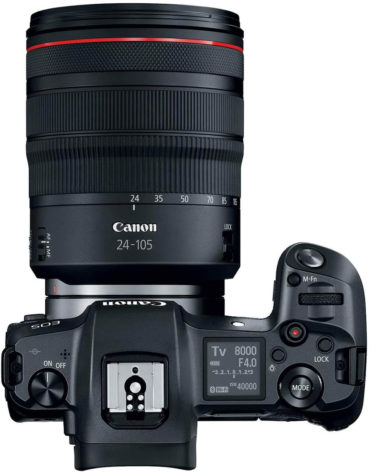 Last update on 2023-10-05 / Affiliate links / Images from Amazon Product Advertising API