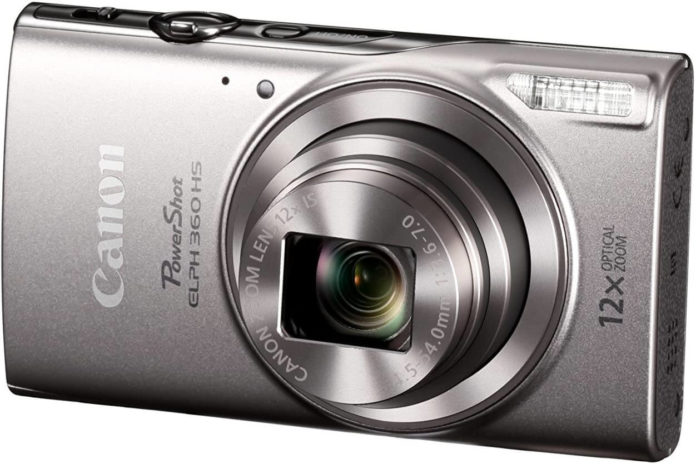 The Canon Powershot elph 360 hs digital camera is in the Cannon range of high-performance compact cameras. This is a fairly low-cost camera with a range of nice features, sure to suit a variety of needs. Like most of the Canon Powershot range, the 360 is a creative and innovative camera with a high performance level to match. Below, we will outline the key specifications and features of the Powershot ELPH so you can determine whether or not this is the compact camera for you.
Considerations buying the Canon Powershot ELPH 360 HS
There are a few things to think about before deciding if the 360 is the cam you should buy. Let's take a look at some of the key considerations below;
Budget 
Think about how much you are planning to spend on a new camera and ensure this one fits within your set price range. It doesn't break the bank, but cheaper options are also available, so it's always worth shopping around.
Specs
This isn't a top-of-the-range cam, but it does have some nice features. Don't expect it to have all the same features as a higher-end model, but ensure that the specifications meet your needs.
Size 
This is quite a small and lightweight camera, so it's unlikely to be too big for your needs. It's ideal for traveling with.
Accessories
Finally, think about the range of accessories available to go with the ELPH. It doesn't require different lenses, but you might like to think about a memory card, a case, a tripod, or a strap perhaps. If you have any existing camera accessories, check if they will be compatible with the new model.
Table could not be displayed.
Canon ELPH Powershot Review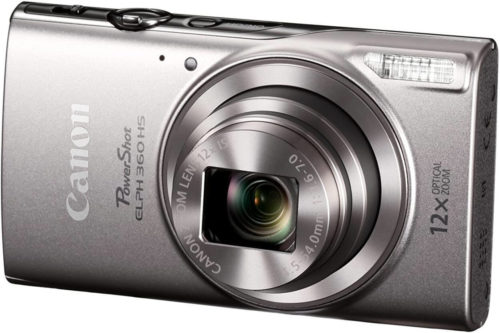 Let's now dive in and take a good look at the key features of this budget-friendly digital camera.
Specifications
First up, let's look at the main specs of the Canon Powershot ELPH HS 360. It has a 20.2MP sensor, and a 12x optical zoom lens. The ISO ranges from 80 – 3200. There's a 3-inch digital LCD screen, but it is not articulated and there is also no viewfinder on the 360. A DIGIC 4+ image processor can be found on this model, which means it performs well in low light. It is capable of recording HD video and has a battery life of around 180 photographs. In terms of size, it comes in at around 4″ x 2.3″ x 0.9″, and it weighs a little over 5oz. It isn't possible to control the aperture.
Key Features
One notable feature of the Canon Powershot ELPH 360 HS is the image stabilization system. This helps reduce the effects of camera shake to minimize the risk of your images coming out blurred.
The 360 ELPH Canon Powershot is equipped with both Wi Fi and NFC to allow your images and videos to be instantly shared to a mobile device, such as a phone or a computer. So, if you enjoy sharing photos to social media like Facebook or using email to send them to friends and family, this is made really easy with this cam.
It has a great zoom range thanks to the 12x optical zoom lens. So, it's ideal if you want to capture models and subjects in the distance. This level of zoom isn't always found devices this thin, so it's a nice feature to have. It performs well at high zoom levels, thanks to the image stabilization system – shots don't get blurred even at a distance.
One final notable feature of this model is the speed at which it operates. If you plan on taking a number of photos in quick succession, there is very little shutter lag on this camera body, so it's a great choice. That means when you press the shutter, the photo is taken quickly, and it won't be long before it's ready to take another.
Image Quality
The image quality of the Powershot ELPH HS 360 is comparable to its predecessor, the ELPH 320 HS. The 360 has a small image sensor, whilst that of the 320 is larger. However, the 360 is more megapixels, at 20.2 compared to the 16.1 MP found on the 320.
The autofocus system on this camera is excellent, and this leads to it performing well, and fast, in situations with good natural lighting. However, the CMOS sensor fitted to this camera helps it to perform well in low light situations. The maximum aperture is f/3.6, which is just about sufficient for producing a shallow depth of field effect. The shutter speed also ranges from 1-1/2000 seconds, which is ideal for controlling the effect of the final image. The number of recording pixels varies according to the aspect ratio, and is 5184 x 2912 for a 16:9 format photo.
Video
Video can be recorded on the Canon Powershot ELPH 360 HS in full-HD, 1080p resolution. It's very easy to start a video, as there is a recording button on the rear of the camera. There's no need to worry about storing the movies, as the camera takes SD, SDHC, or SDXC memory cards. The video quality is very good, Unless you were searching a camera for filming or vlogging this camera is already at professional level .
If you are looking for a cheap vlogging camera, this could be a good pick thanks to its high-quality video resolution and how easy it is to use.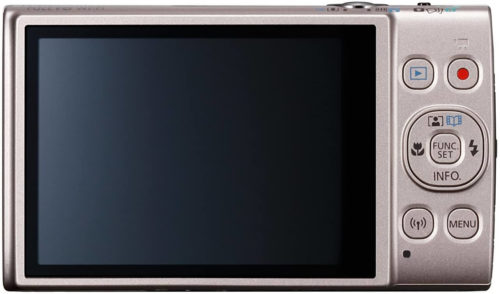 Battery Life
If you are looking for a camera with excellent battery life, unfortunately the Powershot ELPH might not be the best pick. The camera's small, compact dimensions means the battery was shrunk in order to compensate. This is a common problem found in many product reviews of comparable, slim point and shoot cameras.
Less than 200 photos can be taken before the battery will be completely drained, which is particularly disappointing if the camera will be used for travel.
However, the battery is charged outside of the camera. Therefore, it's possible to buy spare batteries so one can be charging as the other is used in the camera.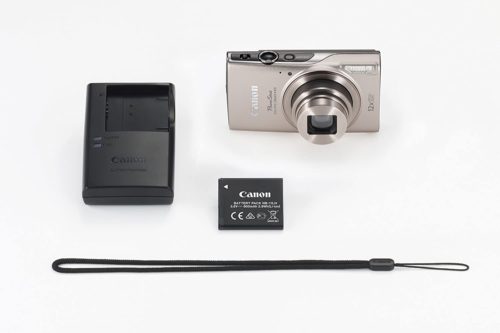 Build and Handling
Any Canon Powershot ELPH 360 HS reviews will tell you this model has a simple, basic-looking design. It comes in a choice of three solid body colors – silver, black, or a nice shade of purple if you are looking for something a bit different.
However, this simple design is no bad thing. The camera is slim and lightweight, at 0.9 inches thick, and it doesn't have a lot of buttons to add to the complications of learning to use a new camera. The lens is fixed to the body, and can't be changed, as on any point and shoot device.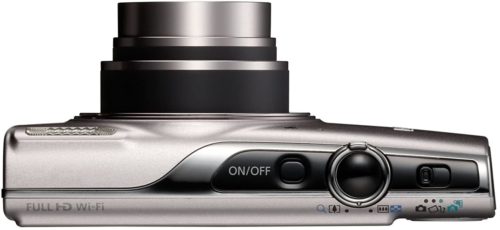 The few buttons means the menu is the place to go if you want to adjust any settings like shutter speed. Some customers, especially those with bigger hands, may find using the buttons problematic, as they are quite small. In particular, the four-way button can be tricky for bigger fingers.
The camera is a great size for travel, and you will get some great photos of your trip. It's easy to slip into a pocket for a day out, and won't take up much room in your luggage either.
Performance
The overall performance of the Canon Powershot ELPH is very good for a camera of this type. It takes great pictures and very high quality videos. It is, in general, very fast, although the speed does suffer when the flash is being used. This is particularly true when using the flash when recording video.
The low-light performance on this point and shoot is not great either. That's because the maximum ISO is 3200, and noise starts to become an issue from around ISO 800 and above. The sensor size of 1/2.3 inches also contributes to the reasonably poor performance in darker conditions.
However, we do love that camera shake doesn't affect the finished images and the optical zoom lens also performs very well even at a distance.
Verdict
Our overall verdict of the Canon Powershot ELPH is positive. Whilst it does have some minor drawbacks, overall it is a very good point and shoot for under $200. The image processor and CMOS sensor are high-quality for a camera at this price point, which results in excellent image quality. The optical zoom lens performs very well whether up close or at the maximum distance, so you can get up close to distant subjects.
The multiple connectivity options (WiFi and NFC) ensure it is possible to send JPEG files and videos to another device for easy sharing. One great advantage of this camera is the stabilization system, which ensures that the finished image isn't affected by camera shake. The compact dimensions of the Canon ELPH HS 360 are also excellent when compared with other similar cameras.
There are a couple of drawbacks with the Powershot ELPH 360 HS from Canon, however. The lack of many buttons means it's necessary to use menus to adjust most of the settings, and the buttons are very small so can be difficult to use. The battery life is a big issue with the ELPH 360 HS, too, as it is limited to under 200 shots. Low-light performance is also not quite up to scratch, although shooting in the daytime does give stunning results.
The Canon HS 360 is a very nice little digital camera that we would particularly recommend as a travel-friendly budget camera companion.
Last update on 2023-06-09 / Affiliate links / Images from Amazon Product Advertising API