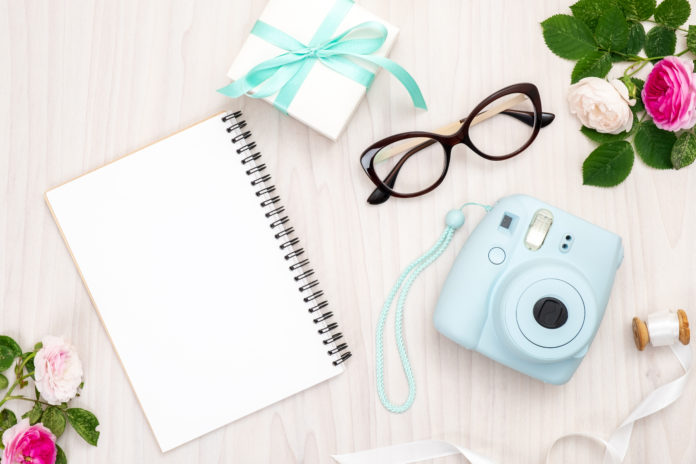 Looking for the best Polaroid camera available online? Not surprising as Polaroids have made a comeback in recent years!
Whether you're a seasoned polaroid camera owner looking for a replacement or you're here to buy your very first, we have put together the top instant cameras of 2020 below, so that you can choose a new instant camera with confidence.
Considerations Choosing Polaroid Cameras
For those that are new to polaroid instant cameras, you may be wondering what exactly you should be looking for. With so many options available, it can certainly be handy to get some insider's tips before buying. Here are the main features that you should take into consideration to make the right selection for you:
Film
The type of film that your new polaroid will use is important. Instant film cameras can get expensive and a large part of this comes down to the film costs. Assess each camera based on this so that your new instant digital camera is affordable for you.
White balance
This feature is particularly handy for when a photograph isn't automatically using the correct white balance. The color of the images will be altered in relation to the surrounding lighting conditions. Most Polaroid cameras will have incandescent, fluorescent, daylight, cloudy and manual white balance options
Dynamic Lighting
Again related to lighting, this feature is predominantly used for when surrounding lighting conditions are not ideal. It will help to brighten up underexposed areas of a photograph to replicate more ideal lighting conditions.
Blur Function
A feature found amongst more modern Polaroid cameras, this function will automatically select the continuous mode when it encounters a blurred photo.
Multiple Image Layout
This feature allows photographers to record images with ease. Up to 3 shots can be combined to make a single photo.
Storage
Files from a Polaroid's internal memory can be copied over to an SD or SDHC memory card making backup copies of the images that are taken.
Print size
There are different sizes when it comes to instant prints. Before buying check the size of the prints produced to ensure that you'll be fully happy.
By keeping all of the considerations when it comes to specs above in mind, you'll be able to ensure that you are getting the right product for your money.
10 Best Polaroid Cameras Reviewed
Now that we've introduced you to some of the features to keep a lookout for across Polaroid cameras, it's time to reveal our best instant cameras 2020. From diddy colorful pocket cameras to larger vintage looking ones, take a look to decide which is the right one for you.
1. Fujifilm Instax Mini 9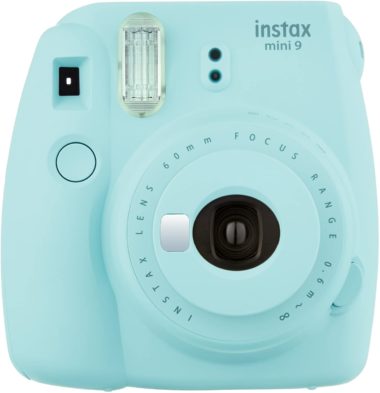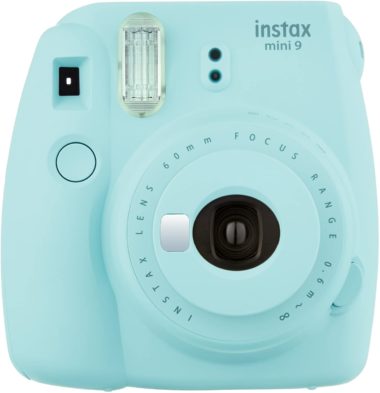 This hip cheap instant camera takes on bubblegum colors and despite its compact size, it delivers big on quality photos. With a 60mm lens, the camera uses an Instax Mini film and Real Image Finder. At a bargain price, it's a great introductory Polaroid camera as it's easy enough for a child to use but is equally as suitable for an adult who wants an on-the-go camera too. Great for snapping memories of events as keepsakes, the small photographs produced can fill a mini-album. The instant cam is at the lower end of the budget when it comes to Polaroid so you should expect some compromise on features. One example is the need to use the flash facility for indoor photographing. As one of the best instant print cameras out there, the Fujifilm Instax Mini 9 is great for those looking for a bargain, however, due to its smaller price tag, it does lack the features found amongst other Polaroids.
2. Lomo' Instant Square 
Born out of a Kickstarter project the Lomo' Instant Square has quickly become one of the best instant film cameras out there. Its unique USP – that it is the first fully analog Instax square format camera. Featuring a 45mm lens, with Instax Square / Instax Mini film and using the Real image viewfinder, this camera sits at a mid-range price. The foldable bellow design is quirky, making this new instant camera stand out from the others when it comes to design. And, the instant polaroid camera's back means that Mini format can be used too. While some buyers may be looking to instant camera reviews for more compact options, this product produces high-quality photos every time and gives the user freedom with a range of different modes. There is plenty of photography exploration to be had with this great gadget.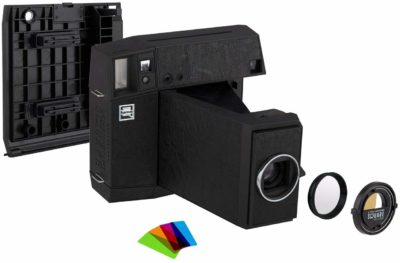 3. Fujifilm Instax Mini LiPlay
Dubbed the quintessential instant digital camera, this device's compact size delivers big on excellent print quality. The instax camera features a 28mm lens, uses Instax Mini film and a 2.7-in. TFT color LCD monitor. Pronounced as "Lee-Play", this Fujifilm camera is extremely popular and has been recognized as producing the perfect hybrid of instant and digital photography making it one of the best instant print cameras available. Small and lightweight, the LiPlay has a 2.7-inch display to show exactly how your print will turn out. Unlike other instant cams, it allows the user to easily frame scenes and ensure that the lighting is perfected before printing. This feature alone helps users to save considerably on wasted film and consequently their money. Owners of this camera can also take advantage of the unique voice function for a bit of extra photography play.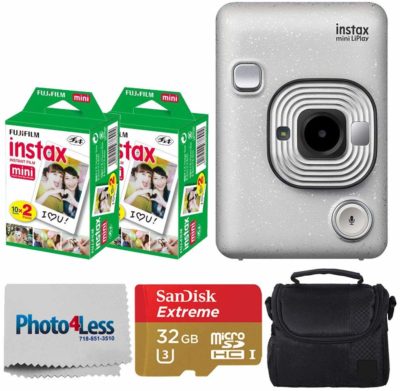 4. Fujifilm Instax Square SQ10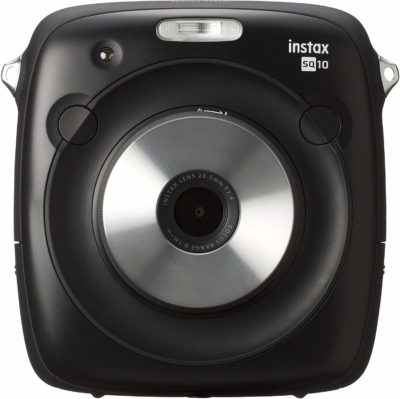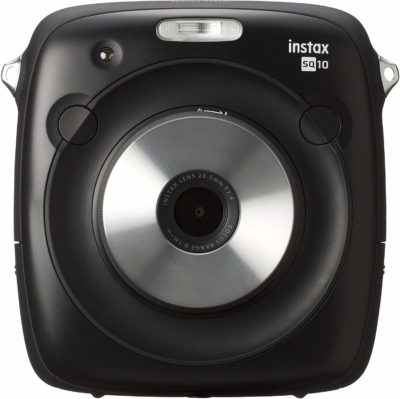 Instant print cameras come in all shapes and sizes, however, the Fujifilm Instax Square camera is considered one of the best. The digital/analog hybrid helps to save on film and it features a 28.5mm lens, uses Instax Square film and has a 3-inch, 460k-dot monitor for previewing photos too. With a boxy and rounded edge appearance, this instant camera ticks all the boxes when it comes to style. Essentially a digital cam with a built-in printer, this instamatic camera allows you to preview your shot before committing to using the cam's film. While this fuji instant camera certainly appears cool and perfectly blends digital and analog, you should bear in mind that photos produced aren't the largest. With that said, this product offers great value for your buck and comes in a range of fun colors for personalization. We love the classic black model pictured here!
5. Polaroid Originals OneStep+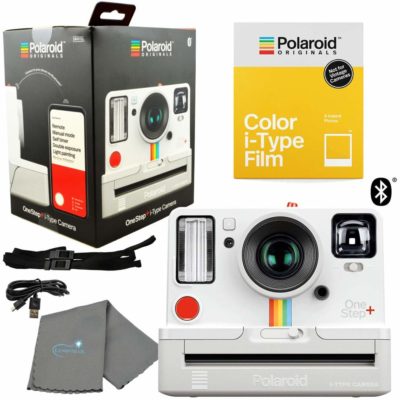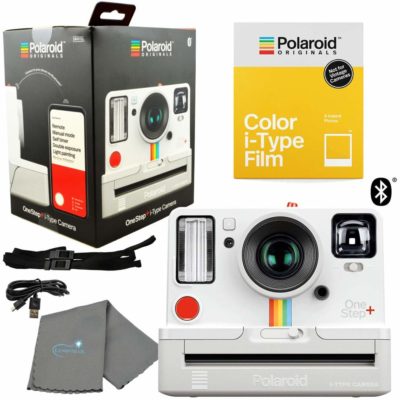 Take a step back in time with the awesome Polaroid Originals OneStep+ which offers a retro design and all the features you'd expect. This modern polaroid camera has an interchangeable 89mm to 103mm lens and uses i-Type Film. This instant camera pays homage to the '70s-era original, with its chunky design. All of the device's modern additions are cleverly hidden including LEDs positioned on the top that displays how many shots remain and a micro USB charging port on the rear too. While this camera certainly isn't compact enough to slip into a pocket, it can be attached to a neck strap and looks great! The square viewfinder gives a fairly close representation of what the lens captures, and what the user's instant picture will look like once printed. As one of the top polaroid instant cameras, the Originals OneStep+ is ideal for capturing all moments while on the go and will match any vintage lover's aesthetic.
6. Kodak Smile Instant Print Digital Camera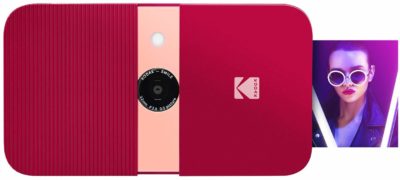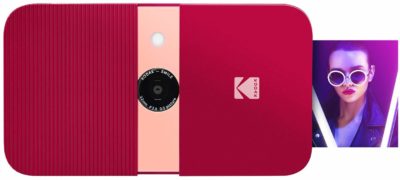 Kodak is a trusted camera brand and the Smile Instant Print model ticks all the boxes when it comes to a polaroid style camera. The instant print cam is both sleek and contemporary, offering buyers the ability to shoot, preview, edit, and print. The Kodak Print Camera features a powerful 8mm lens and an LCD viewfinder display for looking at snaps before using film. This instant photo camera also boasts an automatic flash, color filters, borders, and a photo booth mode too. Available in a range of colors to choose from, this nifty gadget is capable of printing sticky-backed photos in under a minute. When it comes to instant camera reviews, this camera certainly deserves its high ranking amongst the top-rated instant cameras.
7. Leica Sofort 
For those that are working with a budget, it's easy to feel limited when it comes to instant camera comparisons. However, the Leica Sofort instant pic camera offers a happy solution. Buyers can experience a prestige product at a surprisingly low price with this product. Featuring everything you'd expect including a 34mm lens, a small optical viewfinder and using Instax Mini film, this camera is also on-trend with its style too. Attractively designed, we love this model for its instant print credit-card sized snaps and its affordable price tag. If you want to get your hands on a Leica camera, this could be the perfect introduction while equipping you with the perfect gadget to snap when out and about. The Lecia Sofort is available in a range of colors too, giving you the freedom to personalize your photography gadget.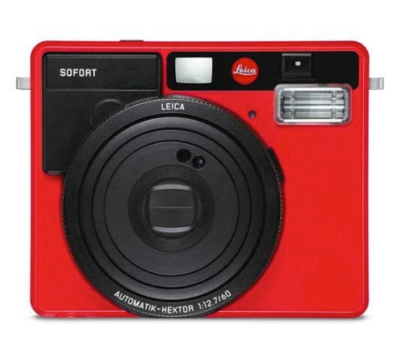 8. Polaroid Originals OneStep2 
Those looking for a large polaroid camera can take a step back in time with this original design. Using Polaroid Originals 600 Film and a Simple optical finder, taking photos on this device will inevitably conjure up memories of the Polaroid we all remember. Altered slightly with some modern assets including a chargeable battery and USB port, outside of this the instant film camera certainly strips it back to basics. Delivering the delightful unpredictability of polaroid camera photos, this model is unique in its own right. While this camera comes at a cheaper price than other comparable models, the film is one of the most expensive. However, with that said there are lots of fun film types to choose from including gold, silver and bright colors for extra fun.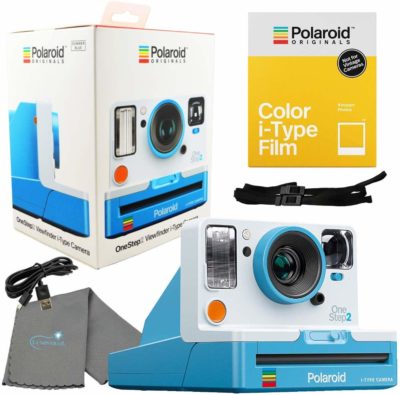 9. Lomo Instant Automat Glass
This fully analog instant picture camera will have you taking a leap of faith with every shot. Featuring a 21mm lens, a small optical finder and using Instax Mini film, it's a great choice for those that want the original polaroid camera experience. Taking its name from the good quality glass lens, photos can be taken using the handy automatic operation. Easy to use for beginners who want to dabble with instant print cameras, this model is affordable and the film type makes it feasible to repeatedly use too. The instamatic camera is a great size for tucking away into a handbag and it also looks trendy too, making a winner all round. We favor this camera for its high reputation and organic instant camera actions. Available in a range of classic colors including the deep red shade below, this gadget is perfect for those who enjoy traditional models.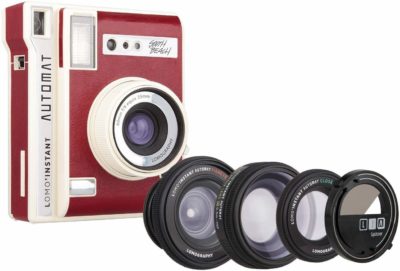 10. Polaroid Snap Touch
There's something so nostalgic about polaroid photos. Whether it's filling an album to create memories or hearing the whizzing and stirring of the machine as it's printing – all in all using instant cameras is a joy in itself. If you want to get your hands on a modern polaroid touch camera, the Snap Touch is the right device for you. It features a 28mm lens, uses ZINK film and is affordable all round. The Snap boasts a sleek design making it convenient and easy to transport while its magnetic lens cap offers carefully thought out practicality. Unlike the original polaroid camera, the Snap Touch has been modernized and comes with a touch-sensitive screen which while appealing to some might deter those who want a more retro feel.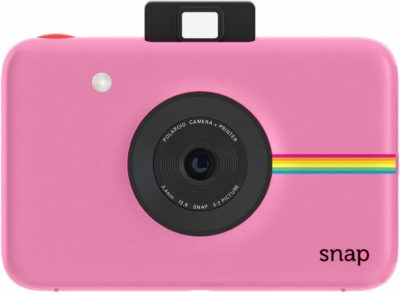 We hope that the reviews above have given you a better idea of which camera is the right one for your needs. With so many different options out there, it can be a task in itself to commit to one type. If you're in need of a bit of extra guidance after reading, take a look at common questions answered below…
What Is the Best Polaroid Camera?
From the list above there are so many different polaroid options out there. So, with the question above looming: What is the best polaroid camera, we hate to say it but there really is no right answer! If you're seeking a camera that prints out photos, you can opt for the original Polaroid brand or choose one of the other popular camera brands such as Kodak, all of our selections provide the same product. Instant digital cameras have evolved over the years, however, the original retro cameras are also as popular too. It all comes down to personal taste and preference. Whether you're a Polaroid style camera collector or, want to expand your photography skills, make a checklist of the features you're looking for and go from there. In addition to our reviews above of the best polaroid cameras, you'll also find further instant camera reviews online to help guide you as to which is best for you.
Best Budget Pick
Fujifilm Instax Mini 9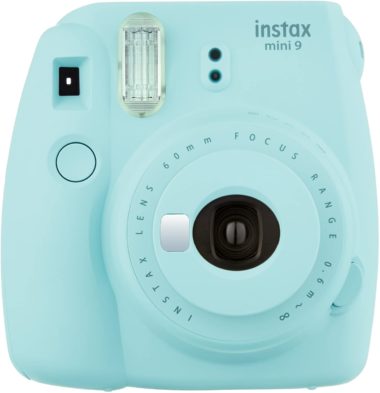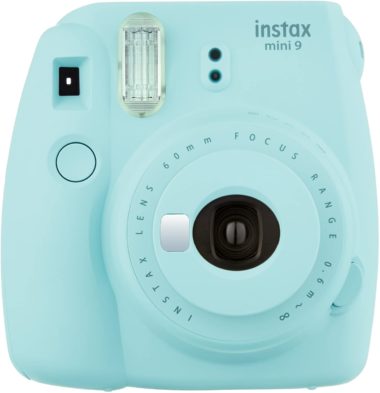 Our best budget pick is this super cool fujifilm instant camera which comes with all the features you could need and looks smart too. The instant pic camera won't break your budget and comes in a number of stylish colors including a modern bubblegum shade. Compact in size with cheap film, the 60mm lens allows users to capture all the special moments they want to. As one of the newest polaroid cameras out there, it's a great introduction to instant photography and is guaranteed to soon become your photography best friend. The camera can be used for events too, snapping memories at birthday parties, weddings and more – give your guests the freedom to capture their own highlights too.
Which Polaroid Camera Takes the Best Pictures?
You should be mindful of the quality of the photos produced with any instant print cameras, however, as a general rule of thumb the higher the price tag the better the quality of images. From the list above the top reviewed cameras when it comes to photograph quality include the Lomo' Instant Square and the Leica Sofort. All Polaroids take the same style of photo, that being an instant print that varies in size from a passport photo dimension to a larger photograph. However, a camera's features and facilities can greatly impact the overall print so keep this in mind!
What Instant Camera Is Best Polaroid or Instax Fuji?
Both the Polaroid cameras and Instax Fujis offer similar functions but are different in style. There are both modern and classic polaroid cameras, so buyers can choose an original, retroversion or opt for a modernized polaroid. With Instax cameras, they are fairly recent products and therefore take more of a modern look anyway. Younger people tend to favor them for their fashionable pastel colors, while it is important to consider that they're also great for doing their job too. There is no right or wrong answer to this question, again it all comes down to personal taste.
Where Can I Buy a Polaroid Camera?
You can buy a polaroid or instant digital camera from major high-street tech retailers as well as online. Amazon offers a great range of instant print cameras for sale and the great thing about buying online is that you can take advantage of the extensive reviews left by other buyers too. If it's your first time buying an instant pic camera, we recommend visiting a professional photography shop where you can speak to staff that is knowledgeable about the different types of cameras available. Otherwise, you can also buy products such as the Fujifilm Instax Mini from retail stores too.
How Does a Polaroid Camera Work?
As polaroid instant cameras are such impressive devices, there's no wonder you want to know how exactly they work! All instant print cameras are preloaded with film negatives that are coated in chemicals (which vary in type depending on the product). When a photograph is taken on an instant camera film, rollers inside of the camera remove one of the negatives from the pack and holds it in front of the camera lens. The negative film is held in the position for a while as the shutter opens which exposes the film to light given off from the camera's lens. Once the required exposure time has passed, the rollers eject the negative film allowing the user to take their instant print.
Optics amongst all analog cameras operate in the same way. When a snap is shot, the camera's aperture will open only briefly to allow in the pattern of light which reflects from the photographed scene. A camera's round lens allows light to absorbed in all directions and it cleverly reflects it back into the camera in one direction towards the preloaded film. When the polaroid camera's shutter opens, the reflected pattern of light hits the instant film – chemicals covering it have 3 layers of silver compounds, each to absorb a different primary hue of light: red, blue or green.
How Much Does a Polaroid Camera Cost?
Self printing cameras vary in price and this is generally indicative of the brand, the device's features and capabilities. You can pay less than $100 for a FujiFilm Instax cam for example or hundreds of dollars for a more complex camera. It's always a great idea to shop around and check out any deals that may be available to you. Plenty of instant picture cameras go on offer during seasonal times of the year. We always recommend checking both prices online and in major photography stores to get the best-priced camera for you. There is no fixed price for an instant print cam, however, if you want to save on costs consider buying a second-hand product. You can find many second-hand products in electronics stores that sell used cameras, laptops and more. Also, give major selling platform sites a visit to grab a bargain too.
Conclusion 
Such instant film cameras are favored for their convenience. Being able to develop photos 'on-the-go' revolutionized the photography world when they were first introduced to the consumer world. While the development of digital cameras caused instant cameras to decline in popularity, today there are many different types for sale. Polaroids are best known for their small, handy size and have become one of the most iconic gadgets of the noughties.
Last update on 2023-10-05 / Affiliate links / Images from Amazon Product Advertising API