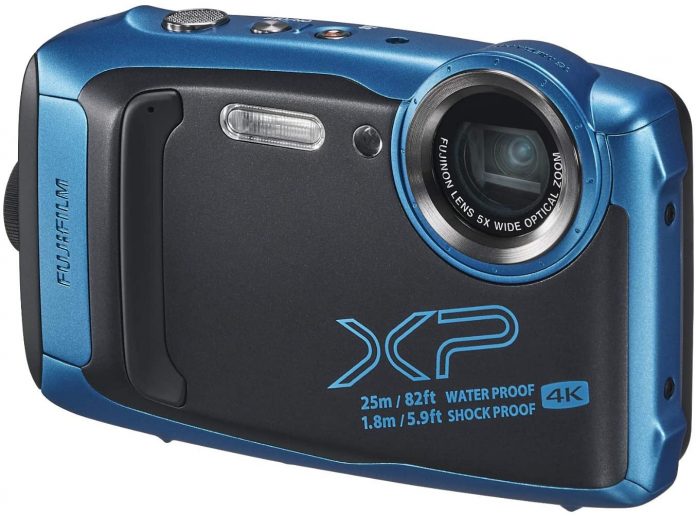 The Fujifilm Finepix XP140 is the latest and greatest compact, waterproof camera replacing the popular Fine-pix XP130 and XP120. Just like its previous models, it is just as easy to use and is excellent for use in difficult environments.
The 16-megapixel sensor is paired with a 5x optical zoom lens and Wi-Fi connectivity, and the camera is waterproof to an improved depth of 82 feet (versus 65 feet of the XP120). It has many other great features and comes at a very reasonable price point, although there are also some downsides.
In our guides below, we will discuss all the ins and outs of this camera in great detail, so you can make a decision as to whether or not this is the best camera for your needs.
Considerations When Buying the Fujifilm Finepix XP140
When buying any camera, it's important to make an informed decision as to which is the best for your needs. So, if you are considering the Finepix XP140, here are a few factors you might like to keep in mind.
Image Quality
Perhaps the most important consideration when buying a new camera is whether or not the image quality is sufficient for your needs. If you intend to print the images, the size you wish to print at will determine the minimum resolution the camera should have. The 16MP of the Fujifilm Finepix XP140 allows a maximum print size of around 11″ x 16″.
Budget
This is a budget-friendly camera, coming in at under $150. So, it should be within the budget of most users looking for a waterproof camera, however, there are other options to consider if not.
Features
Check out the full specifications of the camera below and ensure it has everything you need. Ensure it can zoom far enough for the subjects you wish to capture, has all the shooting modes you need, and is sufficiently waterproof.
Size
This is a lightweight and compact camera, which is easy to pop in a pocket for use on outdoor adventures. It is unlikely to be too big or bulky in most cases, but some users with larger hands may indeed find it a little on the small side, particularly when it comes to operating the buttons. Check the dimensions to ensure it is a suitable fit.
Water-tightness
If the camera is being bought for underwater use, ensure it is sufficiently waterproof. The Finepix XP140 is waterproof to a depth of 82ft, or 25 metres, so it should be suitable for most users. However, Scuba divers may need something which can be taken to greater depths.
Fujifilm Finepix XP140 Review
Let's now dive in and take a look at the key features and specifications of this compact, waterproof camera.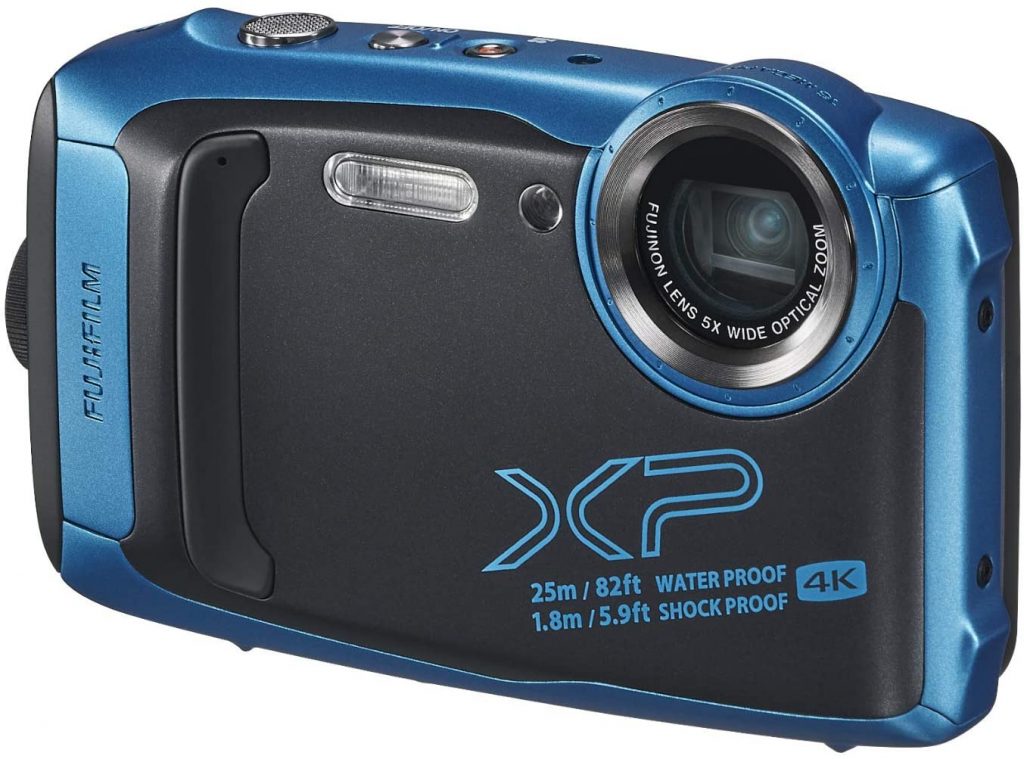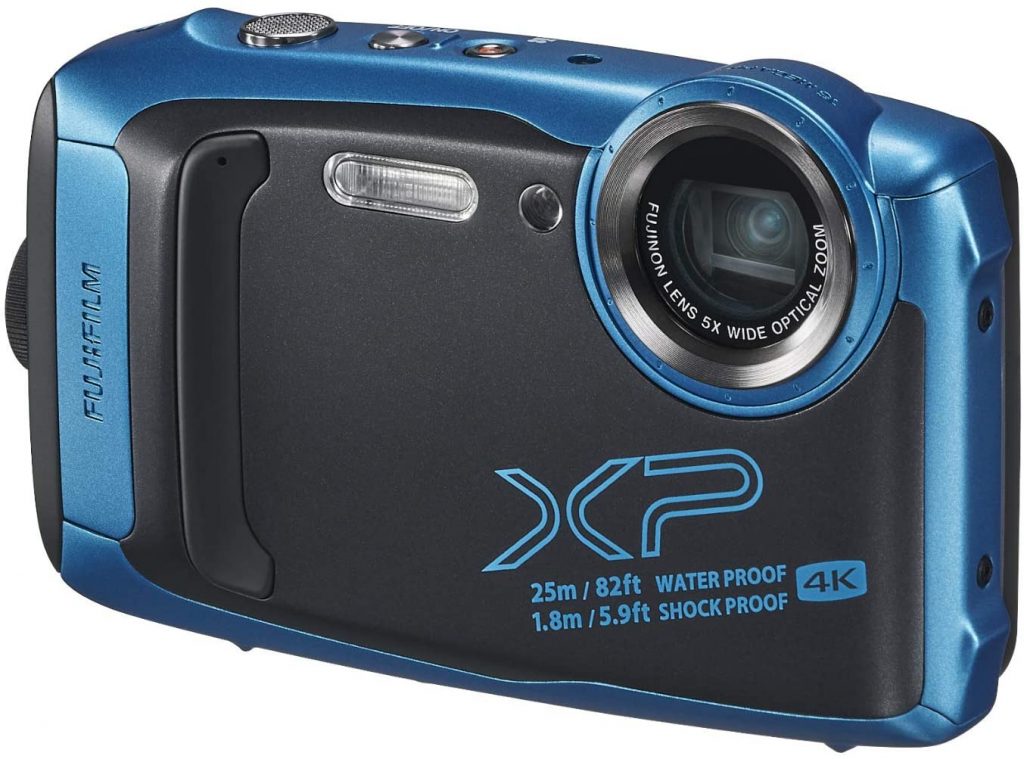 Specifications
First things first, let's look at the main specs of this camera.
16 megapixels
1/2.3″ BSI CMOS sensor size
96MB internal memory
SD/SDHC/SDXC memory cards accepted
Maximum image size 4608 x 3456
120, 180, or 360-degree panoramic shooting
5x optical zoom lens (28 – 140mm equivalent zoom range)
Max aperture f/3.9 -f/8
ISO 100 – 12800
Image stabilizer to reduce camera shake
3″ LCD screen
Face detection
+/- 2 EV exposure compensation
Pre-set shooting modes
Shutter speeds 1/2000 – 4 seconds
10 frames per second continuous shooting
Subject-tracking autofocus
2 or 10 seconds self-timer
Time-lapse movie shooting
Built-in flash with different modes
Full HD video recording
WiFi
Geotagging
Dust-proof IP6X
Waterproof IPX8 (up to 82 feet / 25 meters for 2 hours)
Operating temperature 14°F / -10°C (freeze proof)
240 frames battery life
Li-ion battery NP-45S (700mAh)
Build and Handling
The next part of the Fujifilm XP 140 review will cover the overall build quality and handling of this camera. It comes in a choice of a few different colors, with a coordinating wrist strap also included. The brighter colors are ideal for underwater use, as the camera can be spotted more easily should it fall to the bottom of the pool or sea in which it is being used. Most of the camera is made from plastic, and there are rubber grips on both the front and the rear.
The shutter button is well-sized and is also textured so it is easy to find. Whilst this might not be much of a problem on land, it can really prove useful underwater. Underneath the camera is a tripod mount. There is also a HDMI input and a MicroUSB charging point inside the battery compartment. This has a double seal to ensure it won't be accidentally opened underwater.
The LCD monitor measures 3″ so it is easy to frame up your shot. The large screen also displays the menu options, so it is easy to scroll through the different shooting options. The menu button brings up clearly organized menus so it's easy to find the setting or function you are looking for. Overall, if you are looking for ease of use, this is one of the best cameras to choose.
Lens
The Finepix XP140 features a 5x optical zoom lens, allowing for both wide-angle and telephoto shots to be taken. Without zoom, the lens has a 28mm equivalent focal length, whilst at full zoom this increases to 140mm. The maximum aperture ranges from f/3.9 – 4.9 depending on zoom. This isn't particularly bright, so it's something to keep in mind if the camera will be used underwater, where it is often on the darker side.
To zoom in and out, there are two buttons labeled W for wide and T for tele, on the rear of the camera. These are easy to press with the thumb when holding the camera. A bar appears on screen to show how far zoomed in or out you are, which is ideal when shooting underwater with few landmarks around. The lens doesn't move upon zooming, which ensures it remains water and dust-proof.
Whilst the 5x optical zoom might not seem like much, it is often sufficient in the kind of situations in which one would use a rugged, waterproof camera. Capturing a very distant subject underwater can be difficult, framing it when moving around. So, it's likely the 5x zoom will be more than enough. The wide-angle option is probably going to be used much more often than the telephoto.
The closest focus distance is 9cm on this camera, which isn't really good enough for macro shots of very small subjects. So, if this is the type of shot you are looking to take, it is better to consider a different model.
Image Quality
Many waterproof cameras don't offer the best image quality, as they tend to focus instead on being usable where other cameras are not. The Finepix XP140 unfortunately follows the same pattern, however, in certain conditions the camera can perform quite well.
Noise is a big problem when shooting at higher ISOs on this camera. Whilst this won't be an issue in natural day lit conditions, it can become an issue in low light conditions, such as underwater. Up to ISO 400, there is little noise, however it becomes an issue from ISO 800 and above. At higher ISO values, photos are fine for viewing on a small screen such as a phone, but won't make good quality prints.
In general, the automatic white balance setting gives good results, sometimes giving a slightly warmer tone, but this looks fine in most cases. Exposure compensation is rarely needed as the metering system in the camera tends to perform very well and give a balanced exposure with most subjects. The underwater mode will ensure your shots look their best underwater, rather than relying on automatic mode.
In terms of zoom, the wide angle end of the zoom produces the highest-quality images. You can zoom in to most subjects quite well at the telephoto end, but be prepared for images to become less detailed when shooting at full zoom. It isn't possible to control shutter speed or use manual focus, which may deter some more advanced photographers.
Overall, in most cases images will be usable, but could be sharper. The camera is useful in that it can be used in locations where other cameras can't. So, although the image quality isn't the best out there, it is better than missing the shot altogether.
Video Quality
The Finepix XP140 is capable of recording Full HD videos at either 30 or 60 frames per second – just like the previous models – and finally adds 4K UHD video support but only at 15FPS. Audio is captured using the in-built mono microphone. The optical zoom can be used when recording, which is ideal for a moving subject. Digital image stabilization only works in Full-HD resolution at 30FPS.
The biggest shortcoming of the XP120 and XP130 was the lack of 4K Video, and altough Full HD video quality should be sufficient for most users, most of the latest models of digital cameras offer 4K video recording at a higher framerate.
Different video modes are also available on the Finepix XP140. It's possible to record high-speed video, but bear in mind the resolution will be lower. VGA video can be shot at 120 fps, 320 x 240 video at 240 fps, or a very small 160 x 120 video at 320 fps. This is a lot smaller than the standard video size of 1920 x 1080 on this camera. Cinemagraph mode is also available, which creates a video file with part remaining still and part moving. These can be a lot of fun to make, and look really effective with certain subjects.
To record video on this camera, there is a button next to the power button on the top of the camera. There is a raised texture between these two buttons so it is easy to distinguish between the two without looking, to avoid accidentally capturing videos.
Battery Life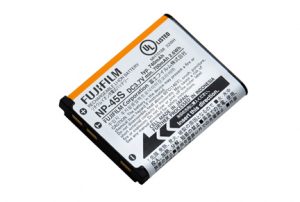 The Finepix XP140 uses the 700mAh NP-45S battery which is the same as the previous model, however it achieves a slightly improved battery life: at 240 shots (versus 210) it gains 30 shots mostly due to software optimizations. While it is a welcome improvement it fails to impress us and reach the average 300 shots that many non-rugged competitors can achieve.
Shooting Modes
There are many different feature modes available on the Fujifilm Finepix XP140. The scene recognition automatic mode is perhaps the most useful, and many users will be fine to leave the camera in this mode most of the time. In this mode, the camera detects what is being shot, and selects the appropriate settings automatically. However, when you want to override these and choose your own settings, there are a range of options to choose from.
There are many pre-set scene modes that automatically provide the best settings for a certain type of scene. Some of these include underwater, underwater macro, action camera, portrait, landscape, night, beach, sunset, snow, and text. So, this camera isn't just for underwater use – it can be used to capture a variety of subjects with aesthetically pleasing results.
We've mentioned the new cinemagraph mode above, and there are other interesting video modes, too. A time lapse movie can be created by capturing stills at set intervals then blending these together into a video of either 10, 30, or 60 frames per second.
Panoramic shooting is also possible with the Fujifilm XP140, right up to a full 360 degrees. In this mode, simply press the shutter release button and sweep the camera around to pan the full scene. Continuous shooting is possible at 10 frames per second for a maximum of 10 frames at full resolution. Ultra-fast shooting can be done at 60 fps for a maximum of 70 frames, but with a lower resolution.
Connectivity
The Fujifilm Finepix XP140 is equipped with WiFi for easily transfer of photos to another device. Connecting the camera to a smartphone or PC allows the photos and movies to be viewed and selected for download. Furthermore, a phone can be used to remotely control the camera, which can be useful when setting up group shots when there is no one left to take the photo! In this mode, the live view can be seen on the phone screen before releasing the shutter, so you can ensure the shot is perfectly framed.
Connecting the camera to a phone will also allow GPS data to be transferred from the phone to the photos on the camera, which is useful for those who like to geotag their photos to remember where they were taken. The camera itself doesn't have GPS, so this is a nice additional feature to have.
The mobile app is fairly basic, but easy to use and efficient. One downside is that it can't be used for burst shooting or using the self timer. The images load up quickly and it's possible to zoom in a little on the images before downloading so you can check if they are good enough.
Verdict
So, after reading the full Fuji XP140 review, you're probably left wondering what is the overall verdict on the latest in the line of waterproof Fujifilm cameras. Using the using the Fujifilm, even using the camera underwater, is a breeze, so even the most novice photographers can get great results with it. The range of automatic modes ensures it is extremely easy to great shots in almost all conditions – simply point and shoot.
Like many digital cameras these days, it offers an excellent battery life, enabling you to capture hundreds of shots on a single charge – very useful when taking it underwater. In terms of image quality, it might not be one of the best cameras out there, but it comes at a very reasonable price point and has a wide range of other great features which make it a worthwhile investment for many types of user.
FAQs
Here we have the answers to some of the most frequently asked questions about this camera.
Is the Fujifilm Finepix XP140 Good for Snorkeling?
This camera is perfect for use when snorkeling thanks to its 82 feet waterproof rating. It also comes with a wrist strap so the camera can safely be held when underwater. The bright color options mean it can easily be found again should it be dropped under the water. The camera is very durable for taking on vacation and using underwater, and the photo quality underwater is very good.
How to Connect the Finepix XP140 to a Smartphone?
This camera supports Wi-Fi for easy connecting to a PC, smartphone or tablet. The photos from the camera can then be viewed on the other device and some can be selected to be downloaded to the device. A phone can also be used to control the camera remotely, perfect for setting it up to capture self-portraits. In fact, you can see what the camera sees from your phone screen when the two are connected.
A free app should be downloaded to your phone to enable these features to be used. It is available for iOS and Android and is easy to set up.
Is the Fujifilm Finepix XP140 a Good Vlogging Camera?
If you like to shoot vlog videos when out and about, this camera could be a good choice for vlogging. In fact, the camera actually has an action camera mode, however, it doesn't perform as well as a dedicated action cam. The angle of view isn't quite wide enough to capture the scene fully in many cases. This mode can be used to capture video, or to take stills at fixed intervals of between three seconds and ten minutes.
Last update on 2023-06-09 / Affiliate links / Images from Amazon Product Advertising API