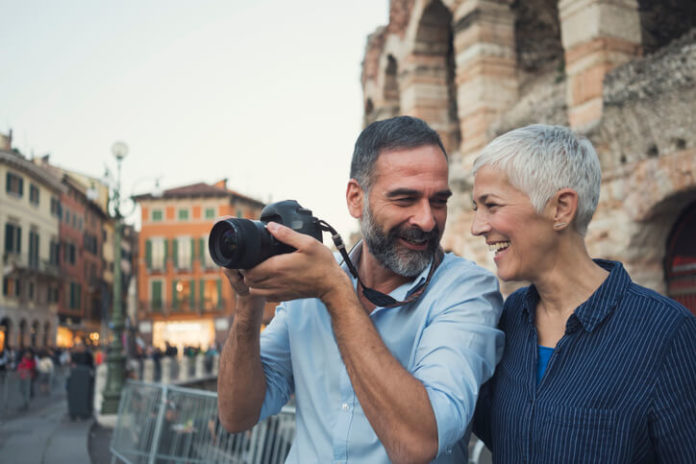 Choosing a camera for seniors can be difficult – there is so much to think about to ensure you get the right one. Senior friendly cameras should be easy to use, but that doesn't mean you have to compromise on quality. There are many great point and shoot cameras out there that are simple to use and take pictures that are high quality. So, whether you are looking to take up a new hobby, or photography is something you have enjoyed for many years, read on to find out more about choosing the best digital cameras for seniors.
Top 10 Senior Friendly Cameras Buying Guide
Here, we have picked out 10 of the best, easy to use digital camera options for seniors. There is a range of models from some of the biggest brands, so there's sure to be something here to suit your loved one.
1. Kodak Pixpro FZ43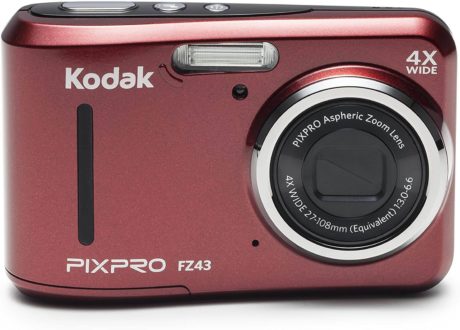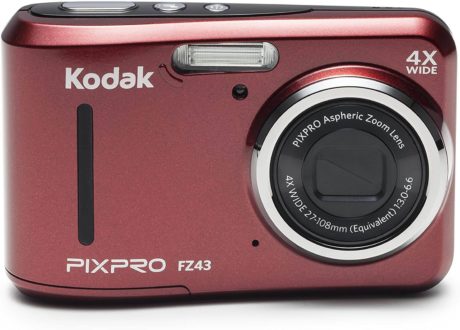 The first of our digital cameras for seniors is the very popular Pixpro FZ43 from top brand Kodak. This 16 MP camera has 4x optical zoom and a large, fixed, 2.7 inch LCD screen, so it is easy to read. The high number of megapixels means you can zoom in and crop the photos afterwards, whilst still keeping a nice level of detail.
It has a wide-angle lens and comes in the choice of red or black colors. This digi cam can capture videos in 720p HD, which is a nice quality for a budget-friendly camera. An SD card of up to 32GB can be used to save photos, but SDXC and MicroSD cards are not compatible with this model.
AA batteries are used to power this model, so be sure to stock up on some rechargeable batteries before gifting this to a loved one.
Key Features
16MP photos, 720P HD videos
4x zoom
2.7″ screen size
Pros
Compact and lightweight
Great image and video quality
Cons
Uses batteries quickly
Could zoom further
2. Kodak Pixpro AZ421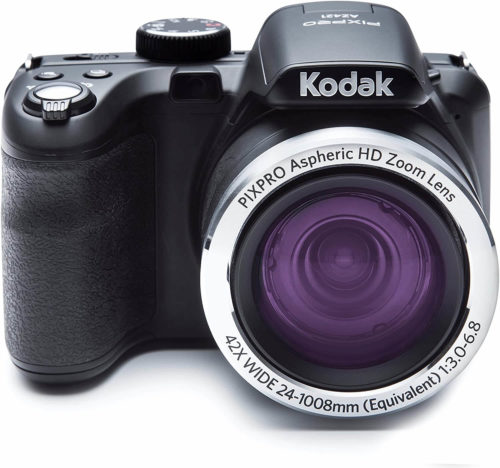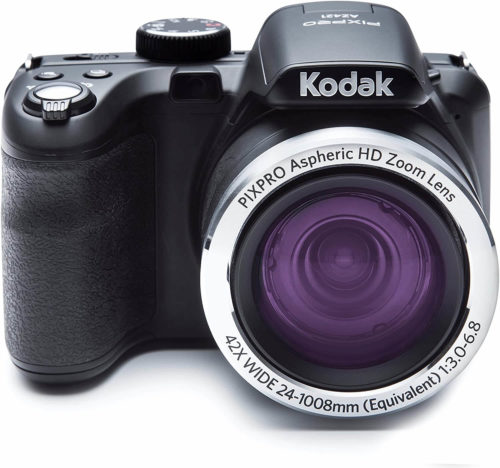 Here we have another Kodak, this time it's the Pixpro AZ421. This one is a bit bigger than our previous picks above, which might make it preferable for senior users as it is easier to hold and to press the buttons. The 24mm wide angle zoom lens offers a massive 42x zoom, so you can get up close to faraway subjects. And, there are 16 million pixels, so cropping and zooming in to photos afterward is no problem – there will still be a lot of detail. So, this is a good pick for printing photos.
There is a 3 inch, bright LCD, so it's easy to look back at your photos. The camera has a 180-degree panorama mode, which is excellent for capturing landscapes or large group shots. Memory cards should be no bigger than 32GB for this camera, and it requires AA batteries.
Key Features
IOS
42x optical zoom
Bright display screen
Pros
Panorama mode is ideal for capturing more
Excellent zoom
Cons
• A bit heavy (1lb)
• Video quality could be better
3. Kidscam Compact Camera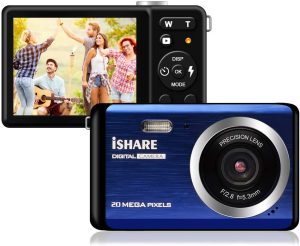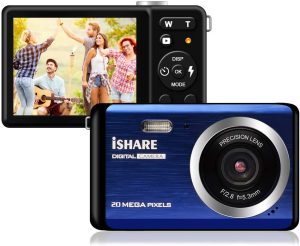 Our next seniors point and shoot camera is one of the cheapest on our list, but don't let that put you off – the picture quality is excellent. The LCD display size is 2.8 inches, and there aren't many buttons to get used to. The camera is capable of 8x zoom and has a video mode in which you can record 1080p HD videos.
There are 19 different photo effects to play around with, so no matter what subject you are shooting, you're sure to find a style to suit. The image stabilization capacity helps reduce camera shake, making this a great pick for older people who have trouble keeping their hands steady. You can still get great shots that won't be blurry.
There is a rechargeable battery and the power consumption is not bad – you can expect about 80 minutes of continuous use from a single charge. Up to 6 photos can be taken in a burst, and face detection and self timer modes are also available. Capturing images with a 20MP sensor ensures a good quality at a budget price.
Key Features
20MP, FHD 1080p
Battery included
Different photo modes
Pros
Very good quality photos and videos
Image stabilization technology
Cons
Not many settings to control
Looks and feels a bit cheap
4. FujiFilm Instax Mini 9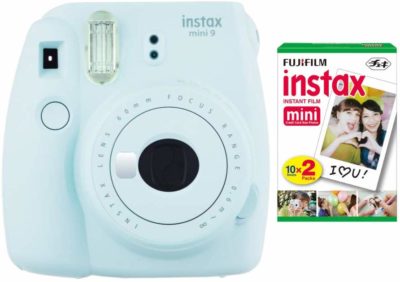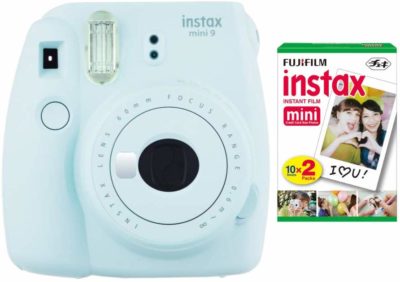 Ending our guide to digital cameras for seniors we have the Instax Mini 9 from FujiFilm. This is one of the best cameras if you are looking to print out your photos, as it does so instantly after they are taken! The camera comes bundled with a range of accessories, so it makes an excellent gift for a loved one! There are 40 sheets of photo paper, a case, a photo album, and more. The instant camera also comes in a choice of five great colors so there is sure to be something here they will love.
This model is great for capturing memories and putting them on display for everyone to see. The design of the camera makes it easy for the elderly to use, and they will never miss precious moments again. The case that comes with the camera will protect it well against bumps or drops, so it's ideal for the elderly who may struggle with this sometimes.
This is a great modern version of a film camera so is sure to appeal to the senior generation. No other lenses are required, as it comes with a 60mm lens fitted.
Key Features
Instantly print photos
Comes with accessories
Takes vibrant and sharp photos
Pros
No need to buy a computer and printer to print photos
Looks great
Cons
Camera and photos are small
Requires good lighting to get nice shots
5. Sony DSCW800/B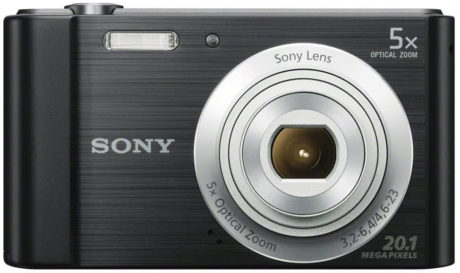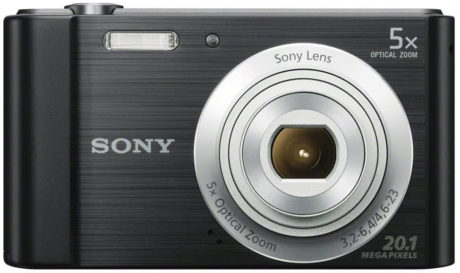 Sony have some great cameras for seniors, such as this DSCW800 with 5x optical zoom. It has a SteadyShot function which helps reduce blur in your images – sure to be of benefit to seniors. There's also an easy mode, which simplifies the menu, which can help make it easier for seniors to understand.
The 20.1MP camera has a CCD sensor, so photographs are captured with a lot of detail. It's also possible to take 720p HD videos with this digital camera, up to 29 minutes at a time. The camera is quiet to use and has an awesome panorama mode which can capture a full 360 degrees. There is also smile shutter technology in this camera, so it automatically captures a portrait when the subject is smiling.
Key Features
20.1 MP and 720p video
Image stabilization
Fun effects to emphasize certain features of your photos
Pros
Smile shutter technology makes getting perfect portraits easy
Handles low light well
Cons
Doesn't zoom far
Difficult to navigate menu for different capture options
6. Vetek Video Camera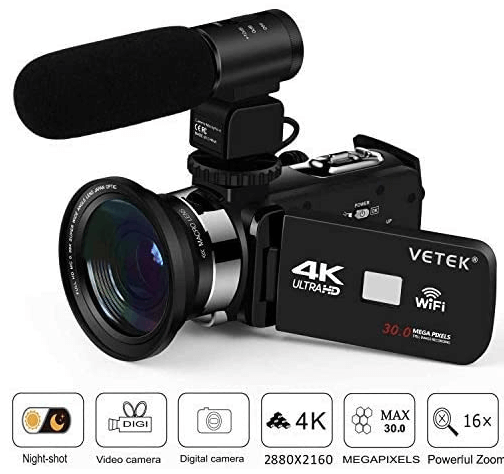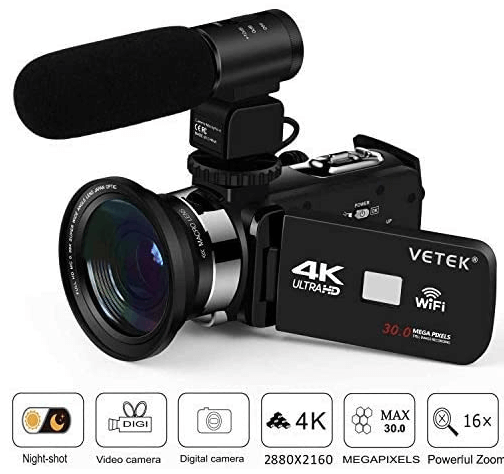 Whilst all of the above are cameras with video recording capabilities, perhaps you are looking for something more specifically suited to video. This camcorder is perfect for shooting HD video, even in low light thanks to the infrared night vision mode. It offers 16x digital zoom and a 1080p 60fps video resolution. It can also be used to capture still images at 48MP, 3840X2160 in JPEG format. The 3 inch display is a touchscreen and it can rotate through 270 degrees so it is easy to see at any angle – none of the previous picks have LCD screens like this!
This seniors action camera comes with a built-in tripod on the bottom, so you don't need to worry about anti shake. Two rechargeable batteries are included and they each offer between 60-90 minutes of use, depending on what you are doing with the video camera. This means you can keep one in your camera bag as a spare so you won't run out of charge when out on a day trip. SD cards of up to 256GB can be installed in this camera so you shouldn't run out of storage space in a hurry.
An external microphone (not included) can be added to these camcorders to increase the audio quality. It comes with a remote, ideal for use with the self-timer. There are different modes like night shot, slow motion, and time-lapse, so there is the freedom to control how the video looks.
Key Features
UHD video
Different video modes
Rotating LCD type screen
Pros
High-quality video
Built-in tripod for stability
Cons
Photos are dark when shot indoors
Touch screen can be difficult to use
7. Panasonic Lumix FZ300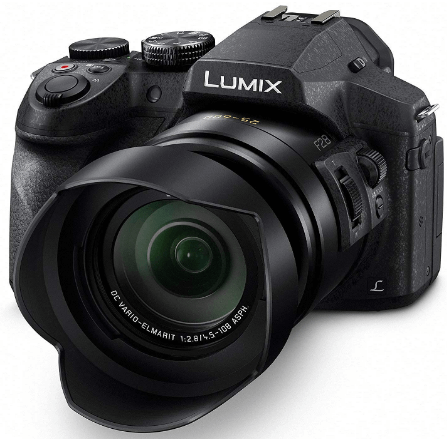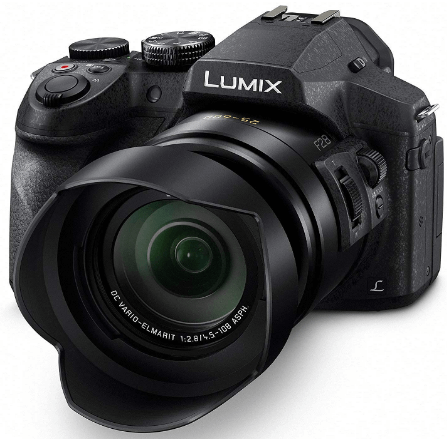 Our next pick is the Panasonic Lumix FZ300, which is a bridge camera ideal for those looking to improve their photography skills. It also takes stunning, 4K video at 30 frames per second, so it's ideal for those looking to shoot video, too. It has a Leica 24x zoom lens, with a maximum aperture of f/2.8. This means it handles low light very well. And, you can use a higher shutter speed in low light to avoid blur. The level of zoom means you can get really close to small, distant subjects – much more so than on a cell phone.
The camera body is dustproof and splashproof, so it's ideal for taking outdoors. The autofocus system is fast and accurate so you'll never miss a shot again. Bursts can be shot at a rate of 12fps, and it's also possible to take macro images at a distance of just 1cm. The touchscreen swivels and tilts, so it can easily be seen at any angle for shooting up high or down low.
Key Features
4K video
Swiveling touchscreen
Excellent autofocus system
Pros
Offers more control over the settings like shutter speeds
Great for shooting up close or far away
Cons
Photo quality is more comparable to a point and shoot than a DSLR
When not zoomed in, the edge of the lens barrel is visible in the shots
8. AbergBest 21MP Camera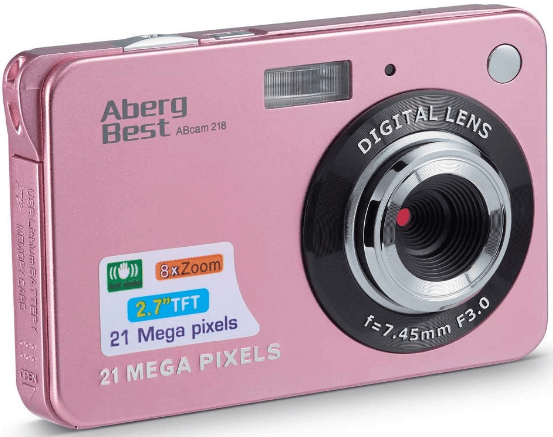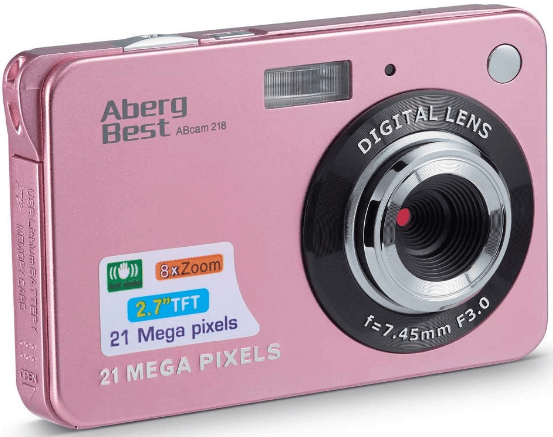 Next up we have a simple digital camera that is ideal for seniors as well as kids, so it's ideal for the grandkids to play around with, too. It offers 21 megapixels, so you can capture a photograph of your grandchildren in stunning resolution. There are four different color options of these digital cameras to choose from – pink, black, blue, or red.
These gadgets come at a great price yet offer excellent functionality – the li-ion battery works for more than 60 minutes at a time, and there is a 2.7″ LCD. It also has HD 720p video recording capability and can take 6 shots per second as a continuous burst. The photographer will need to supply an SD card of up to 64GB before shooting with this camera.
Some of the useful points of this camera that improve its performance include – anti-shake, facial detection, self timer, and smile detection. So, you can always get the shot you want.
Key Features
• Very simple
• Choice of colors
• Good range of features for the price
Pros
• Video looks great
• Lightweight and simple to use
Cons
• Doesn't work well at night
• Lens isn't well protected when not in use
9. Canon PowerShot ELPH 360
Table could not be displayed.
Here we have another PowerShot ELPH, this time it's the more recent 360 HS.
This is one of the best point and shoot digital cameras and not just for seniors – so much so that we have made an entire review of it.
As you would expect, it takes excellent pictures and it's packed with some great features. It works in temperatures ranging from 32F to 104F, so it's ideal for traveling to both hot and cold climates – just pair it with a shock proof case for added safety.
It's one of the best cameras because it comes with Wi-Fi, allowing photos and videos to easily be shared with family. The CMOS, 20.2 MP sensor ensures the photos taken with this camera are great quality, and the DIGIC4 processor helps it to work well in low lighting conditions.
The Canon PowerShot comes in three colors – black, silver, or the stunning metallic purple. It has some cool features like smile detection, fish-eye effect, miniature effect, and more, so you can really get creative with this camera. There are video modes use to capture a few seconds of video before taking a still image, so you can have even more memories of your day.
Key Features
Excellent sensor and image processor
Choice of three great colors
Many different modes to experiment with
Pros
Large shutter button and screen
Wi Fi for sharing photos
Cons
Battery life only lasts around 180 shots
Flash isn't very good
10. Canon PowerShot ELPH 180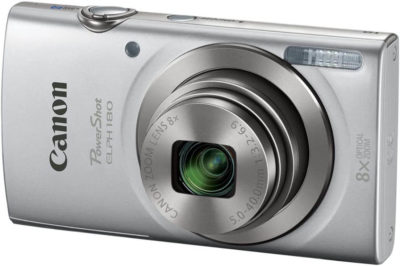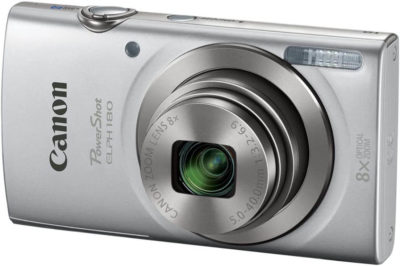 The Canon Powershot ELPH 180 is very popular with this age group thanks to its range of senior friendly features as well as it's excellent image quality and great price. Grandparents and elderly loved ones will enjoy this camera's 8x optical zoom as well as 20 megapixels sensor, which ensures great quality photographs. Video can also be captured in 720p HD quality, which should be sufficient for most users.
The Canon digital camera is a great size – it is compact and lightweight so is the perfect travel companion. The auto mode is excellent – it selects the best settings for the conditions and still gives high quality results. So, this camera is really easy to use even for those with no prior knowledge of photography. It comes with digital image stabilization to reduce camera shake or the impact of moving subjects.
There are some fun effects for taking photos with a different look, like fisheye or monochrome. These features mean kids might like a turn with the camera, too. It comes in a choice of red or silver, and can also be bundled with a memory card so you're ready to start shooting right away.
Key Features
20 megapixels
8x zoom
Fun photo effects
Pros: Excellent price price for the quality and Easy to use in automatic mode
Cons: Too slow to take photos in quick succession and Feels a bit plasticky
Considerations When Choosing Cameras for Seniors
There are a few things worth keeping in mind when it comes to picking out the best digital camera for a senior user. Here are some of the main factors to think about in order to make the best choice for their needs.
Ease of Use
This is probably the main thing to consider when buying for seniors. A camera that is easy to use will save them many hours of stress trying to figure out what all the buttons do. Something they can power on and start shooting with right away is ideal.
Large Screen
Most seniors struggle with their eyesight to some degree, so a large LCD screen will help eliminate problems associated with this.
Durability
Older people can be more prone to dropping things, so it's important to choose a digital camera that is durable in case of an accident.
Easy Printing
Printing out photos can be a bit complicated for seniors, so look for a camera that makes this easy. Some cameras have the option to print straight from the camera, whilst others will require a computer. Seniors often enjoy having photos printed out for display around the home, so this is probably going to be an important feature to have.
Size
The size of the camera may or may not be important. It might be preferable to have a smaller one that can easily be taken out in a pocket when going for a walk or on a day out. But, sometimes a slightly larger camera will be better to make it easier to see the screen and the buttons. Also, consider the weight of the device and ensure it isn't too heavy to carry around for long periods.
Camera Use
Think about what the digital camera is going to be used for. Some cameras are compact and ideal for travel, whilst others take high quality videos so they're great for older people who wish to capture video footage. Find the camera that is best suited for the purposes it will be used for.
Settings
Some cameras offer a lot of control over the different settings, whereas others are more fixed. Some users like to take control of the camera settings, but for beginners, it can be a bit overwhelming. A good point and shoot camera will have an automatic mode so you can easily take great pictures in any situation, but also have some control over the settings if you wish.
Accessories
It's a good idea to choose a case to keep the camera in when not in use, to keep it safe from bumps and falls. Look at which accessories are compatible with the chosen camera and ensure you can find everything you will need. Also, check what size of memory card can be inserted in the camera and ensure it will be sufficient to store all the photos being taken.
Image Stabilization
Shaky hands is an unfortunate part of getting older, but it doesn't need to be a barrier to taking great photos. Thanks to image stabilization, you can take crisp, clear shots even if your hands are moving when the shutter is pressed. This is one of the best camera features to look out for when buying for an elderly loved one.
Our Best Buy
Table could not be displayed.
After considering 10 of the best digital cameras aimed towards seniors, we have picked out which is the best overall. The Canon PowerShot ELPH 360 is the winner, thanks to its outstanding image quality and built-in WiFi for seamlessly sharing photos. We love the range of colors and the high spec of this camera, as well as how easy it is to use. The range of shooting modes makes this a good pick for all abilities – beginners and more experienced senior photographers alike.
Best Budget Pick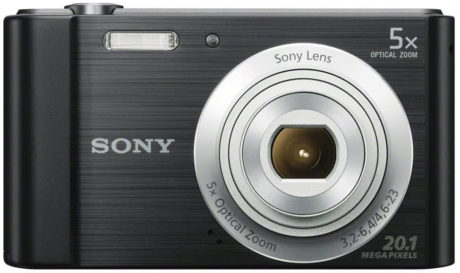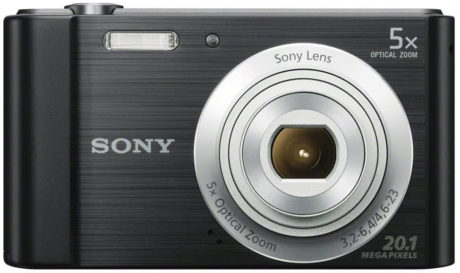 Whilst any digital camera featured above will not break the bank, there is one that stands out if you are on a very tight budget. Like the Canon PowerShot, the Sony DSCW800/B is one of our favorites. It has just a few buttons to work with and has a decent battery life. An elderly loved one can take great shots with this cam, and it comes in at under $100, too.
Last update on 2023-10-05 / Affiliate links / Images from Amazon Product Advertising API