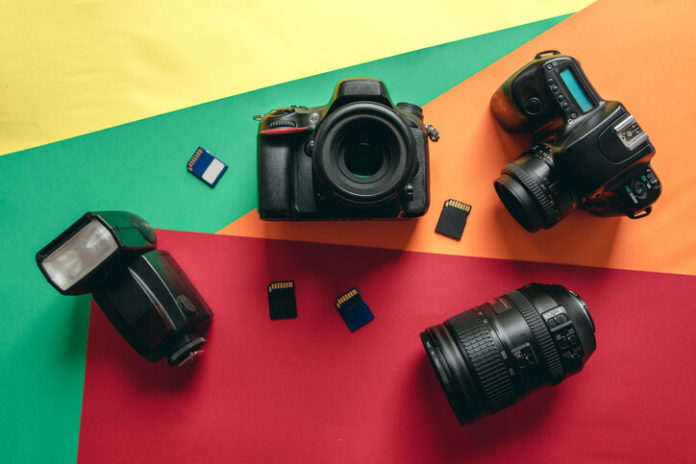 Wondering what is the best digital camera for under $100? On a budget but want to bag yourself a decent digital camera? No problem. We've scoured the net high and low, read every review back to back and even done some reviewing ourselves to compile the list below.
There are plenty of cheap digital cameras out there to choose from, that's why making a choice can become so difficult. For those that are unsure about what features they should prioritize, what brand to go for or just what quality they can get for a $100, we've answered all your questions below.
When it comes to this category of "camera 100", even though you'll be shopping on a budget there is still lots to think about. From models that can survive freezing temperatures and be submerged in the sea to cameras that produce instant photographs, each comes with its own unique range of features.
Before we dive into our list of 100 dollar cameras that won't make you splash your cash too far. We've put a list together of considerations to get you going with your search…
Considerations Choosing $100 Cameras
The word cheap can sometimes rub us up the wrong way. But when it comes to the world of cameras, manufacturers realize the need to put out quality products at a lower end budget price. Great news! There are tons of cameras to choose from for under 100 bucks. And, buyers aren't going to suffer from cameras that will break easily or produce non-quality photos. Here are some considerations when choosing the best action camera under $100:
Brand – Everyone loves a brand when it comes to buying and when it comes to a camera, this can especially help to build trust that a product is quality. In our list below you'll find options from top brands including Fujifilm. Just because you're buying on a budget doesn't mean you can't buy quality!
Features – You may be wondering exactly what features you can get for a $100 camera. The answer is lots. When it comes to identifying the features you need think about lens length, frames per second (fps), viewfinders and flash capability.
Portability – It may be sound obvious but the ability to carry around a camera comfortably is important. Digital cameras are designed to fit in our pockets and bags. Weighing up the pros and cons between aesthetic and practicability should always be considered.
Battery life – For those that want a camera they can take on their travels, battery life matters. Always check the reputation when it comes to this to save yourself being frustrated with a camera out of battery before you know it.
Now that we've covered some of the basics that you should consider before buying cameras under 100 dollars, it's time t present our options. As always you'll find further information to help the buying process at the end of the list, so don't forget to scroll down!
10 best digital camera under $100
In our list of the best cameras under 100$, we've included everything to inspire you to make the right decision when it comes to your purchase. From recognizable brands to lesser-known but quality camera designs, there's the perfect budget camera for you below.
1.

Kodak PIXPRO Friendly Zoom FZ43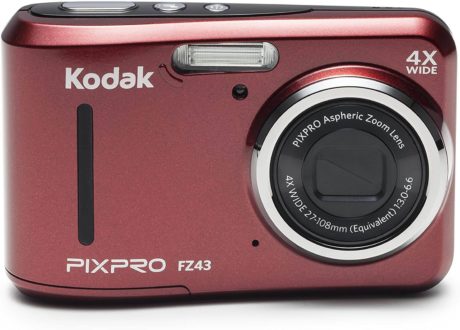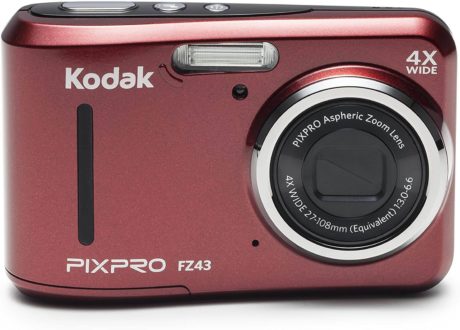 For those that want a simple camera for under $100 that is going to deliver when it comes to quality, the Kodak PixPro is an excellent option. A true beginner camera, its easy to use and is incredibly lightweight too. Perfect for adventures and on the go snapping, this product isn't going to let you down in any way. It's packed with features including a 2.7-inch LCD screen, 4x optical zoom, 16-megapixel photos and can be used to record HD videos in 720p. This camera's slim design makes it stylish while its intuitive controls allow the user to take quality photos with ease. A fantastic option for the budget-conscious buyer, perhaps the best point and shoot camera under 100, this Kodak is great as an entry-level option for those that are looking for an alternative to a phone camera for on the go. Kodak has built a solid reputation over the years for its consistent dedication to producing amazing camera technology and the PixPro doesn't fall short when it comes to pleasing its buyers.
2. Fujifilm Instax Square SQ6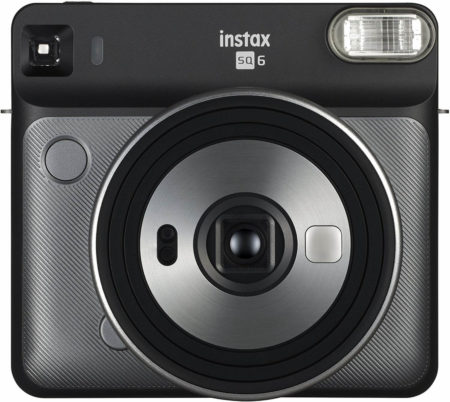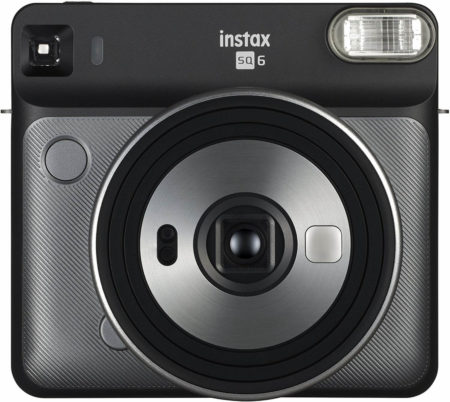 If you're looking for a fun camera below $100, this instant Fujifilm Instax Square SQ6 has all the features to produce excellent quality images. A perfect gadget for party pictures, this budget camera has a great build and produces instant photos. You'll find a front-mounted mirror to take perfect selfies. While you may not consider an instant print camera in this budget range as the most obvious choice, these types of cameras give tons of creative opportunity. There are different modes for macro, landscape and double exposure, and three different color filters for extra entertainment. For more ambitious photographers, this cam comes with a tripod socket and the handy LED display allows you to see shooting information. Users can take control of flash suppression, brightness and this gadget comes with a useful self-timer function also. We really love the different color options available for this camera including Graphite Grey and Pearl White.
3. Kodak Pixpro FZ53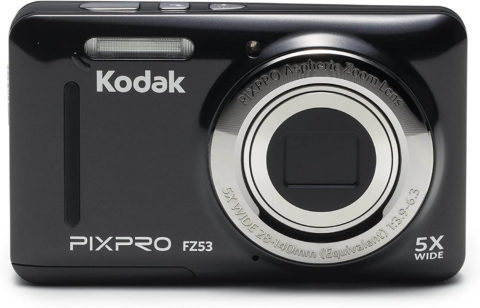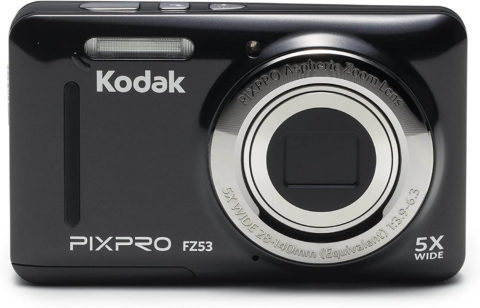 The display on this photography camera takes the form of a 2.7 inch LCD. The FZ53 takes 720p HD videos and 16MP stills. It only takes SD cards up to 32GB, so be sure to purchase the right type to go along with this camera. The 28mm lens also offers 5x optical zooming. The camera is portable and easy to take anywhere, and it also has image stabilization to ensure the chance of blurring is minimized.
4. Kodak Pixpro AZ421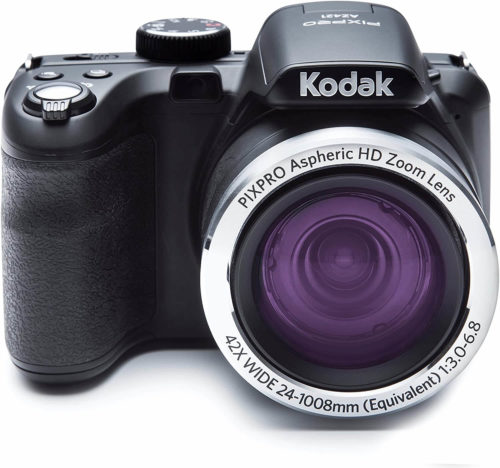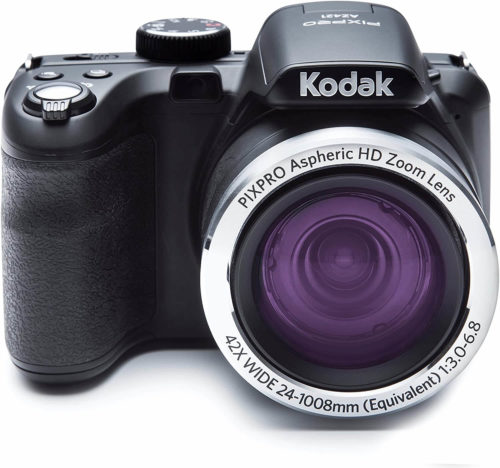 This model's highlight is a powerful 16. 1-megapixel CCD sensor which allows the user to enlarge, crop and zoom without comprising image quality. Added to this are a powerful 42x optical zoom facility and a 24mm wide-angle lens for photographing subjects closely. A facial detection feature allows you to easily recognize when an animal or human face is in the picture and this camera has a number of touch-up enhancements too. From the beautifier mode to the Panorama mode, this model is great for those that enjoy the post-editing side of photography. The AZ421 will take a standard SD memory card that doesn't exceed 32GB and while the gadget isn't compatible with Micro SD, it's still a great camera all-round.
5. Sony Cybershot DSC-W810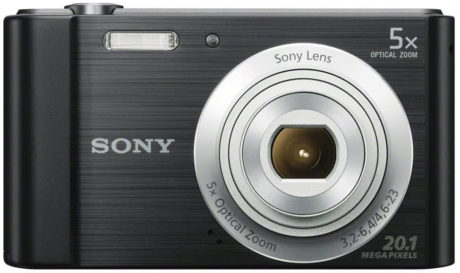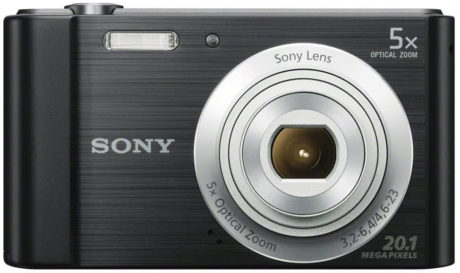 Offering great value, the Sony Cybershot DSC-W810 is a nifty little compact that you can snatch at a bargain price. Again, great for beginners it features a 1/2.3-inch sensor, max video resolution of 720p and a 6x zoom which is pretty impressive for its size. Both light and petite, it's easy to carry around and perfect for those searching for a budget camera for travels. There are plenty of features to experiment with including Sweep Panorama, Night Scene, Beach and Pet modes too. As one of the lightest models out there when it comes to a digital cam, it's equally as convenient when it comes to user-friendliness. While features are somewhat limited, for the price you pay, this option is a solid one. For Sony gadget fans, if you're yet to invest in a camera product from the brand, this could be the opportunity you've been waiting for – at a steal price of course!
6. Canon Powershot ELPH 100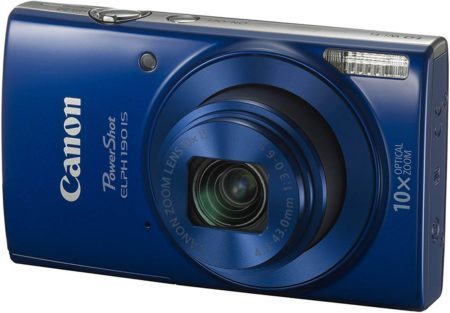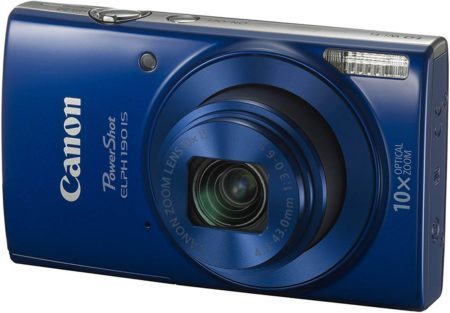 This ultra-slim, sleek digital camera comes with generous features for its price tag. With this option, you'll get a 12.1 Megapixel sensor, a 3-inch screen at 230k resolution, 4x zoom and a max burst speed of 8.2 fps. Awesome for beginners, this cam also comes with video capture capability sits at 1080pm. The combination of a low price tag coupled with the gadget's feature set and its ultra-light model make it a winner all round. This camera really does tick all the boxes when it comes to this category – compact, stylish, quality and available in a range of colors for an extra touch.
7. Sony Cybershot DSC-W830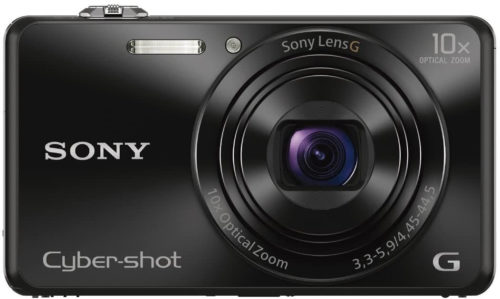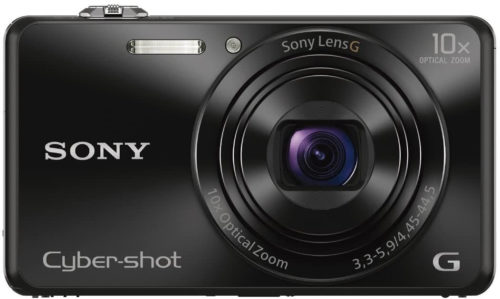 With the Sony Cybershot DSC-W830 you'll benefit from extra zoom at a bargain price. This compact cam features a 1/2.3-inch sensor, a 2.7-inch screen, and 8x zoom capabilities. The Cybershot deserves its spot as best camera under 100$ and it comes with the same 20.1MP sensor as its cousin, the W810. The camera also offers fantastic image stabilization and 720p video capture too. With face detection for up to 8 faces, red-eye reduction, blink detection and fantastic results for group shots. Lighter than many comparable products, this Sony gadget is most certainly a camera worth considering in the price bracket range. In addition to this camera's capabilities thanks to its clever design, for photographers that want a trusted brand behind the camera they choose, Sony's reputation isn't due to change any time soon. We love this simple yet efficient digital camera for a whole heap of reasons, make sure you check it out if you're looking for a Sony camera in this category.
8. Fujifilm Instax Mini 70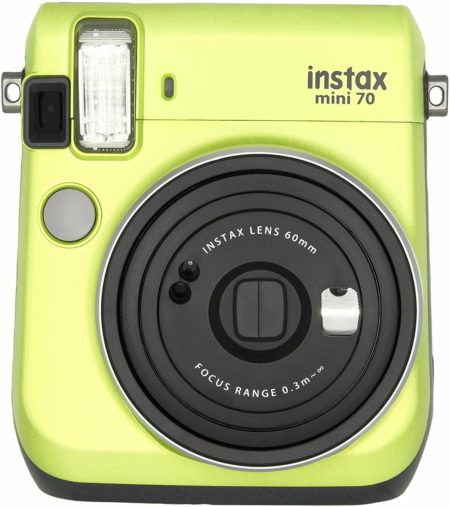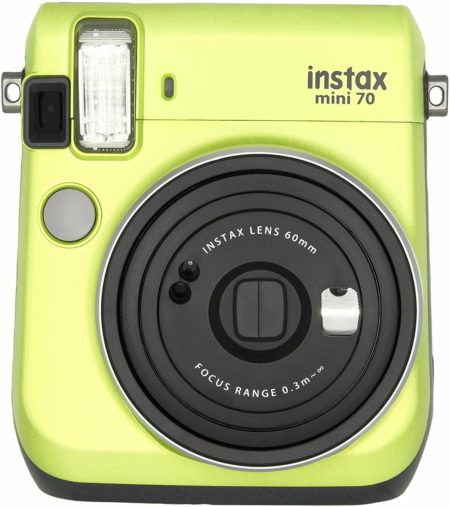 Another instant best camera under $100, the Fujifilm instax mini produces images of 6.2cm x 4.6cm and comes with a 60mm f/12.7. Simple to use and fashionable in design, this camera is great for beginners who are looking for a smart camera that will allow them to practice their photography skills. This model uses CR2 batteries and the credit-card-sized shots produced are great for parties or capturing memories to put into an album. The lifestyle camera is predominantly aimed at younger adults and comes in a range of eye-catching colors to choose from. Its retro design is both small and light enough to carry while out and about and like that of other instant cameras from this range, it's equipped with the selfie mirror. You'll also benefit from modes for landscape and macro images too. While Fujifilm is renowned for its offering of budget cameras, if you want a bit of fun with photography and are looking for a camera that isn't your typical digital model, the Instax Mini 70 could be perfect.
9. Panasonic Lumix DMC-TS30/DMC-FT30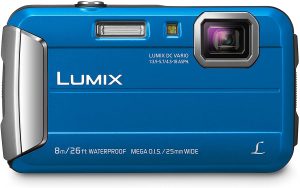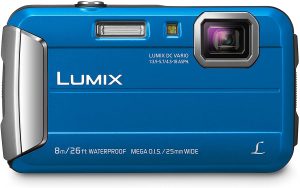 If you're looking for a waterproof camera to take out adventuring, this camera could be the one for you. While it comes at an entry-level with its features, the product's tough build means it's extra durable and at a compact size too. Minimum shooting distance starts at 40cm, giving great focus on subjects and the camera can be used up to 8m deep in water. Its smart, cool design makes it appealing on the eye and it stands firm as a solid option for those looking to photograph on the go. Small and light enough to carry easily, users can buy a strap for the camera as an add-on to ensure its safe under aquatic conditions. While the video functionality is limited on this gadget due to only 720p max being captured, this camera still remains an excellent choice in this category. The Lumix is a strong candidate for budget cameras as it falls under the 100 dollar mark, design by Panasonic – pioneers of electronical engineering.
10. Nikon Coolpix A300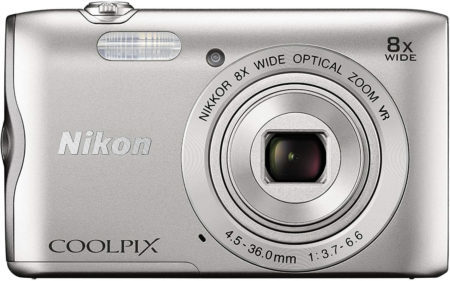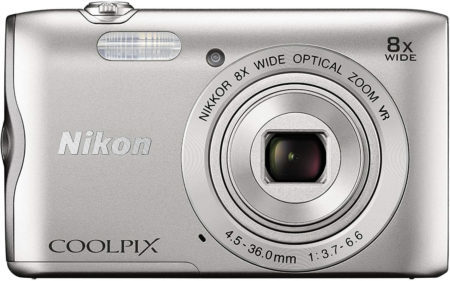 Nikon has built a reputation for its cameras and rightfully so. This cheap digital camera has a 1/2.3-inch sensor, a 2.7-inch 230k screen, 8x zoom and is perfect for photography beginners. As well as these basics it also features Wi-Fi/Snapbridge too for extra convenience. Users can easily sync and share their photos while benefiting from a good product from a reputable brand. Ideal for travellers due to its small and lightweight design, this camera can also be used a back-up if you want to leave the more expensive gadget at home. Available in a range of fun colors, there are lots of pros to choosing the Nikon Coolpix as your budget camera.
We hope that from the list of cameras above that you've found your perfect camera for under $100. However, if you need further inspiration or advice about budget digital cameras we've got more help below.
What Is The Best Vlogging Camera Under 100?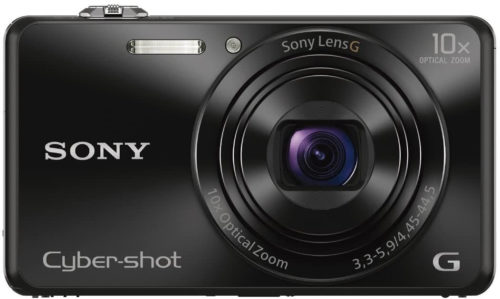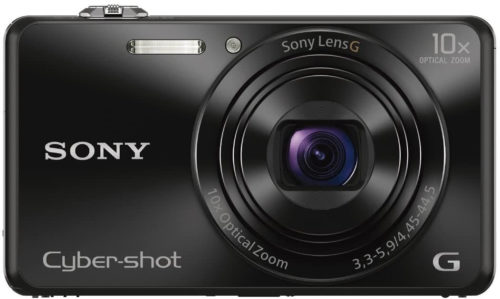 If you are a Vlogger or, you're hoping to start your own vlog there are certain features you should be looking out for. From our options above, common sense will tell you that the instant photo cameras aren't going to be useful for recording video content. Some of the options that we've included above are great budget cameras for vlogging needs. You'll want to keep video resolution in mind and opt for a camera that can record at high quality.
Consider buying the Sony Cybershot DSC-W830 as it comes with a video capture feature making it a firm budget favorite amongst those that want to record vlogs. It also is stylish and easy-to-use which fulfills all the needs of someone starting out with this type of content. Depending on how much time you would like to spend editing and uploading content, we suggest that you look out for other handy features such as Wi-Fi built-in and filter options that can be directly applied.
Of course, like with any camera – personal preference will come into play. Some vloggers may want as many features as possible for their budget while others may opt for a durable design they can rely on when travel vlogging. Be sure to check out all of the available options to you both online and in stores, and for extra peace of mind why not check out online reviews from other vloggers?
The Best Budget Camera For Travellers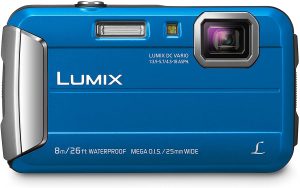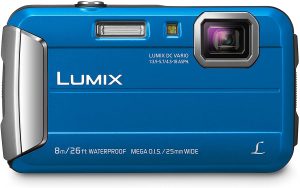 Lots of photographers need a camera that is suitable for travelling. If you are one of these individuals it can be difficult to know exactly which camera to buy, especially when looking for cheap nice cameras. For starters, it's always recommended to go for a cam that is durable under different weather conditions. We've included a popular waterproof entry-level digital camera in our list above – the Panasonic Lumix DMC-TS30/DMC-FT30. This camera is favored for its durable design and its flexibility when it comes to aquatic environments, allowing the user to submerge the camera up to 8m.
As a general rule, travellers tend to opt for a trusted brand. While it can be difficult to find a camera under 100, Sony and Panasonic options deliver on both quality while supplying the photographer with a robust enough design to ensure that it can be transported. A lot of travellers think of weight when selecting their new camera. The great news is that all of the above cameras boast a lightweight and slim designs meaning they can be carried in a pocket or bag with complete ease.
Which Digital Camera Offers Best Value For Money?
Even if you've only got a certain amount to spend on a camera, value for money will still matter as it does with every buy! Out of the cameras that we've selected for this guide there are a couple that stands out when it comes to the features they boast. However, for some – a long set of features may not be what sways a purchase decision. If you're looking for a really great deal it's always wise to shop during sales and discount periods. You may even be able to buy a second-hand camera that would generally cost a lot more than what you pay if the buyer wants to sell it quickly. While it's tempting, however, to go for a cheap deal, be sure to only buy from trusted stores whether online or in person.
The obvious times to snag a great deal when it comes to a budget camera is of course during certain times of the year. Black Friday is a good time to shop around for a quality camera with a slashed price tag. Generally speaking, you're going to receive more value for money if you choose a camera from a trusted and reputable brand such as Sony or Panasonic. With that said, however, this will largely come down to preference. Some of the lesser-known brands such as the Lomo' option we've included in our list offer superb value for money with cameras packed with features that also hit the mark in terms of design too.
Which Is The Cheapest Digital Camera? 
All of the cameras that we've included in our list above fall under the 100 dollar price tag. Though you may be able to find cameras at a cheaper price, it's always a good idea to keep quality in mind. Like with all products the less you pay you'll likely have to compromise on the quality of the camera. Since photography heavily relies on certain features such as lens size and a robust camera body to be able to capture good photos, you should be suspicious of cameras that seem too cheap.
There are lots of great options for choosing a camera on a budget as you can see, and all of the cameras we've selected have great reviews making them solid choices. From point and shoot cameras under 100 to instant print cameras, there's a camera for every type of person on a budget!
Last update on 2023-12-06 / Affiliate links / Images from Amazon Product Advertising API