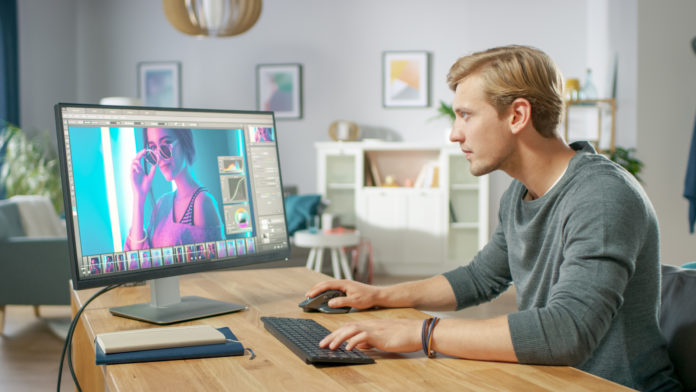 Photography in this day and age has made significant leaps and bounds since it first emerged in 1826. Anybody can get their hands on a camera, with so many accessible options readily available in camera stores online and on the high-street. However, for some photography isn't a hobby, rather a profession.
For those that want to become a professional photographer, a university may be the best route, while others prefer the self-taught route. Whatever your circumstances you may be here to better understand the best photo software out there. The great news is that there are a ton of different picture editing software to choose from, for both beginners and experts.
We've selected the most popular options, each comes with their own features and price tag. With the right choice, you can take your image and transform it into bringing about focus, highlight key subjects and elevating it to an incredible image. You'll find the best software for beginners below to the top choices for professional image editing too.
Who Needs To Use A Photo Editor?
Anybody can use photo programs to edit their own images. However, those that may need to use photography software the most are likely to be professionals and students studying the subject. With so many photo edit software reviews out there, it can be difficult to identify which is best for your own personal needs. For students, pricing will likely need to be factored in when deciding which image editing program to buy.
If you want to learn how to improve your own photography, photo editing programs offer endless tools to do so. Today, such editors are used amongst heaps of businesses to bring about desired effects when it comes to graphics, photos and images. From better know software such as Adobe Photoshop to accessible Canva, there are loads of options to choose from.
What To Look For In the Best Photo Editing Software? 
There are a number of reasons why people may choose to use digital photo editors. But knowing what type of features you'll use most is of importance. Here are some of the most used features amongst good photoshop programs that you should keep an eye out for before buying:
Camera and lens-based corrections – This feature allows those using the photography editing software to offset any imperfections. It works on every camera image and it may involve darkening corners, curving lines and more to improve image quality overall.
Fixing and blurring tools – Though a blurry image may seem like a lost cause, these tools allow the photos to be fixed. By sharpening the image and applying shake reduction, the end result will be the original photo you had in mind with a focus on the subjects.
Image Layers – Layers are used in a number of photo editors to separate different elements of a whole picture. By applying layers you can edit elements without affecting the entire photograph or image.
Filters and brushes – Filters and brushes are tools which allow the user to give a whole new look to their photograph if wanted. The effects are limitless with the variable brushes found across many types of photo software.
Best Photo Editor Software Reviewed
Let's take a look at the best photography editing options out there, from free programs to well-known software. You'll find all the image editing software reviews you need below to help you make the right choice based on your needs.
Adobe Photoshop 
Whether you're a photographer or not, Adobe Photoshop is so well known that most people have heard of it. With a well-deserved reputation, this program consistently ranks as one of the best photo editors out there. It's designed for artists, illustrators, photographers and designers and has SO many features, it's difficult to know where to begin. What gives this raw image editor an edge when compared with its competition is its masking, retouching and layering tools. Photoshop's sophisticated touch-up tools make it extra appealing to professionals who know that they can rely on the software when it comes to perfecting an image. Other features and the photoshop program include filters & brushes, 3D design functionality and pro editing. Adobe Photoshop can be purchased directly from Adobe's online store.
Skylum Luminar 
As one of the top 10 photo editing softwares, Skylum Luminar is lesser known than the Adobe programs but still delivers everything you'd expect from a photo editor. Having become one of the most popular choices amongst professionals in recent years, Skylum Luminar can be bought for a flat fee unlike most other programs giving it a tad more appeal. Users can expect to have access to all of the raw photo processing tools they'd expect including AI Editors/Sliders, exclusive filters, adjustment layers, image layers and more. The AI Editor allows photographers to carry out an automatic quick fix on photos including brightening, toning and editing other elements of images.
Adobe Lightroom
Another highly popular Adobe product, Lightroom is possibly the highest-ranking piece of pictures edits software out there. For many, Lightroom's cousin Photoshop can cause a bit of a headache when learning how to use it. Adobe Lightroom, on the other hand, offers a simpler solution to photograph editing. With plenty of incredible effects including face detection & photo organization, fixing and blurring tools, brush/gradient adjustments, customizable sliders and camera/lens-based corrections, Lightroom is a pandora's box of editing fun. Its intuitive interface makes editing easy to carry out and this program too can be bought directly on the Adobe online store.
On1 Photo Raw
Everybody likes something for free, right? On1 Photo Raw can be trialed for free before committing to a purchase. Easy to download and install, this professional photo editing software comes with hundreds of features to make use of. Presets, filters, texture & borders, live adjustments and previews, all make this program worth trying. On1 effects can be used in conjunction with any operating system to cut out complexity and with 170 different tools, you're sure to learn something new to enhance your photography every day!
Capture One 
This raw editing software designed by the camera company Phase One comes with an abundance of features that are distinct from other editors here. With Capture One user can benefit from changing the program's layout, seamless layering options, advanced color editing, annotation options, fast speed and the option to pay a flat one-time fee only. The software is certainly worth buying if you're looking for a concise program that can be bought straight up rather than subscribing on a monthly basis.
Corel Paintshop Pro
As one of the easiest digital photo softwares to use, Corel Paintshop Pro is straightforward and doesn't skimp on features. Great for beginners, the programs image editing options are effective for upgrading originals. While not the most advanced photography editors out there, users will still find everything they need including filters, layering, brushes and more. The one-time flat fee that is paid to purchase also comes at an affordable price, making it a great option for photography students who want to acquaint themselves with tools. From 360-degree photograph editing to guided learning tutorials, there are lots of perks to this cheaper option.
Gimp
A FREE image edit software, Gimp is easy to download and is fantastic for carrying out retouches to photographs. With a built-in file manager, everything is accessible in one place, making the process of editing even easier to do. Users can create image authority with GIMP and edit all image formats using Windows, Mac, and Linux operating systems. Its versatile range of editing features includes photo enhancements options including corrective mode and vignette, digital retouching, clone & touch up tools and much more. Even better than affordable software for photo editing, this free option is great for carrying out basic editing without having to reach into your pocket.
ACDSee Photo Studio Ultimate
A newer digital photography editor, ACDSee Photo Studio Ultimate is becoming increasingly popular amongst photography professionals. Offering an all-in-one package, the editor can do everything a user could wish all whilst being easy to use thanks to its simple interface. Some of its features that are worth noticing include no need to import, facial recognition, indexing options and the fact it can be bought for a flat-fee rather than as a subscription service. While not as hot as the other contenders here, this program has still made it into the top editing software for images list and is guaranteed to become better known.
Portrait Pro 
Portrait Pro is designed especially for photographers specializing in portraits. The software includes everything to edit all aspects including skin tones, blemishes, the ability to add and remove makeup and more. Users can also adjust lighting and lift the subject's features such as cheekbones. With advanced layering options and award-winning sliders, professional portrait photographers are guaranteed to benefit from this bit of specialist editing kit.
Snappa
This online photo editor software is designed for graphic designers and photographers who want to transform their images further. Whether images need to be placed into social media banners or, edited for blogs, Snappa will help to transform images through an array of effects that are easy to apply. With a range of stock photos to choose from, text features, drag and drop options and more, this is a great option for anyone working in a creative field who needs a straightforward image editing program. Once a design is complete, it can be uploaded and shared to social media too.
Inkscape
Inkscape is 100% free, with no catch. While not offering the same features as some of the better known photoshop edit software, this program is a great option for budding photographers. Downloadable on Windows and Mac, this photo program is designed to give the user control completely over the their own images. Colors can be manipulated for a cleaner look and other tools too including multiple text formats, copy-paste object cloning, calligraphy as well as further add ons. Inkscape is certainly not as complex as some of the other image editors above, however, for those searching for a free option it's worth considering!
Serif Affinity Photo 
Serif Affinity Photo is quickly becoming a contender with popular professional photo edit software including Adobe Lightroom classic and Adobe Photoshop. With a similar interface to Photoshop and as many features, this vector graphic design application comes at a far lower price making it that extra bit favourable. Features include touch up tools, brushes and everything else you'd expect from a fully comprehensive photo edit program. All in all, a really good option for those seeking cheap photo editing software.
Fotor
A cloud-based piece of digital photo software, Fotor has over 300 million users worldwide. From beginners to professionals, the program is sought after for its free desktop version which are available on the alternative online version too. With a scalable editing option, users are able to review their RAW camera files and use layers to apply different effects and alterations. Incomplete designs can be saved too for future editing meaning that work can easily be picked back up again. To get started simply upload an image to edit and create new designs. Features of this software includes an editing suite, HDR effects, filters and touch up options and lots more making it one of the best best image editing programs out there.
PixIr Editor
For those searching for an online site with alternative to picture edit software, Pixlr Editor is an awesome option. Users can upgrade to "Pixlr X" for more advanced editing features, however, the basic program contains everything needed to create unique effects. Similar to Adobe Photoshop, this photo editor allows users to create images from entirely blank canvases and has over 2 million free effects for plenty of experimentation. Different tools included in the program include filters and overlays, a creative editing app and more to be enjoyed.
Canva
Designed for those that want access to digital photo editing on the go, Canva, gives anyone the toolbox to tackle any creative design tasks. Extremely popular, the easy-to-use program can be used as an app or online. With multiple editing tools and products to choose from, there are tons of templates, photos, cards and icons preloaded into the program to mix things up. Users can apply various adjustments to their images including fonts, photo blur, image straightening, stickers, image transparency, textures and enhancers to name just a few. The great thing about Canva, is that it's also free to use with the option to upgrade to a paid version to unlock extra features.
What Is The Best Photoshop Program For Budget Buyers?
Included in the list above are plenty of affordable options when it comes to photography software. And, there's even a couple of free options too such as Canva and Inkscape. While users who go for a free option will inevitably be limited in terms of the features they can access on just photo editors, for students and budding graphic designers both of these programs are great for little bits of editing here and there.
Serif Affinity Photo is probably the best software for image editing for those on a budget. Offering almost identical features to that of Adobe Photoshop, users will pay a fraction of the price to access all of the professional editing tools included. From object cloning to application of different brushes, there is lots to be enjoyed in this program at a bargain price.
Why Edit Your Photos with an Editor?
There are many reasons that somebody may wish to edit their photographs. Whether it be a perfect snap opportunity missed because of image blur to adding effects to create an interesting graphic for a poster. Professional photographers, students and hobbyists all turn to use digital editing for a number of reasons.
Editing photos can certainly be valuable as many design based roles will generally prefer a candidate to have Photoshop (or similar) skills. While accessible programs such as Canva are a great stepping stone into the graphic design world, there is lots that can be learnt form regularly trying out tools and effects in the photos edit software of your choice.
Almost every photo that goes to digital print for commercial use, advertising or in the public eye is edited using a picture editor. This is because the tools and features available help to bring about a more quality finish to the image. However, many people choose to use photography software simply to experiment, options such as Adobe Photoshop give the user the option of starting with a blank canvas which can be especially great to get creative juices flowing.
Which Image Editing Software Is Right For Me?
Deciding which photo editor is best for you can be quite difficult to do. For a start, taking into consideration how often you'll be using the program and what you wish to achieve through engaging with it really is important. If photography is a hobby, it may be worth investing a little more and going for software that offers extensive features to really push yourself to grow. Again, for professionals an image editing program with more features than less is going to be beneficial.
While there are certainly more popular choices when it comes to this type of software, it is a completely subjective matter. For some, certain programs may be too complex to use and cause frustration. In cases such as this, it's best to go for a simpler option that provides guidance. The truth is that different software such be tested to conclude which is the best option for you. Most of the photo programs above offer a free trial period – take advantage of this and make your decision afterwards!
Which Photography Software Is The Best Value?
From the selections above there are a few different photograph editing softwares that stand out when it comes to good value. Serif Affinity Photo offers excellent value for money when compared with its counterpart – Adobe Photoshop. With as many extensive features as Photoshop, Serif Affinity Photo will cost you a lot less while not limiting your capabilities when using the program.